Entrepreneurs tell us about starting their businesses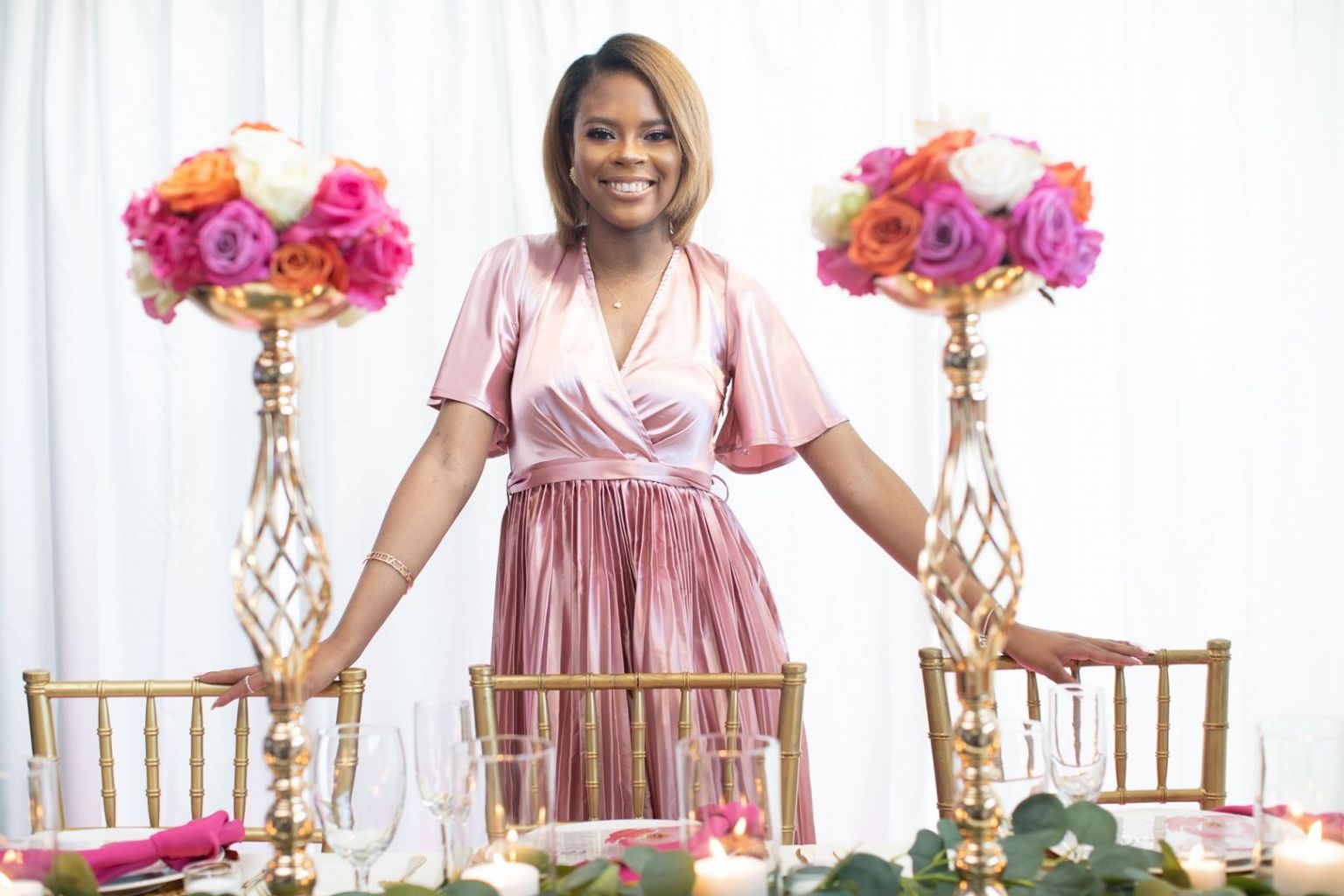 Thinking through whether to start a business – whether to take the risk, whether to go out on your own – isn't easy. So we asked some entrepreneurs we admire to tell us about how they thought through the process of starting a business.
Chad Herbert | Chef

I had a broader view from day one. I always wanted to own my own business to express my creativity through food and culture. Being able to tell a story with flavors and techniques while crossing other cultures with my cultural background. Read more>>
Tisha Johnson | CEO/Co-Founder

My thought process behind starting my own business was having complete freedom from a 9 to 5. I was thankful for a job at the time because it paid the bills, but I always felt like it was more for me to do. I felt empty, angry, and like time was being wasted. I knew I had more to offer and being at a job was holding me back from that. So, when I finally started my business the time freedom that I have, not being stressed out everyday and being able to be a full time mom made being my own boss…. the best decision I ever made. Read more>>
Juan Mejia | Consultant & Commercial Real Estate Agent

My business endeavor started "naturally" . I was an internal consultant for a corporate group. My job was to help start new locations from the ground up. I learned much on the job and was always willing to go outside of my job description and gain new knowledge. I became involved with different organizations in Atlanta and through networking opportunities word started to get out about what I did for work. Once people found out that I helped new businesses start up and assisted them throughout the growth stage, I had people that were interested in hiring me for just that! I had a conversation with the rest of leadership at the company and that is when I decided to transition to an external role to help more businesses and organizations. The commercial real estate part of our business started about three years later once several of our clients were ready to expand, open other locations, or go from e-commerce to a brick and mortar location. Read more>>
Sammie Hasen | Young Change Maker & FemTech Innovator

I have had my fair share of corporate world experiences, and I started to realize that large corporations typically lack innovation. And, if they don't lack innovation, the process to bring innovation to market is very slow. I know where my passions lie, and I understood that I wouldn't be 100% happy sitting at a desk doing the 9 to 5 everyday. Once I came to this realization, I started to dive into other career paths that would be a better fit. The best way for me to move quickly and innovate is to run my own company, so that is exactly what I did. During my sophomore year of college, I co-founded medsur Inc. with the vision of creating a suite of innovative products for women. As soon as I founded medsur, I knew that was going to be my future. I set it up in a way that allows me to innovate whatever products I want to, so my passion of product development can constantly be utilized. Read more>>
Ashlyn Carter | Owner & Conversion Copywriter

No, in seriousness, I definitely went into it thinking "I'm a business owner" and not "I'm a freelance writer" and that made all the difference. It's a mindset thing. Even when putting myself in a business owner mindset felt more "mature" than I likely felt at the time with various freelance writing projects for clients and magazines and outlets on my desk, I started to shape my workflows, my processes, my system. I looked at my time differently. That was integral to starting Ashlyn Writes. I also was—am still!—passionate about telling students to go find the YOU shaped gap in the market and fill it, and that mattered too. I don't ascribe to the "follow your heart, the money will come" thing. Instead, I worked to see where my skillset and passions Venn diagram-overlapped with where there was a hole in service providing, and went after THAT market share, then built from there. Read more>>
Christopher Everett | Film Producer & Director

My thought process behind starting Speller Street Films was that I was tired of complaining that Hollywood wasn't making the type of content (films, tv, media) that I wanted to see so I decided to make the type of content that I wanted to make and that an audience would want to see. I knew at first it would be tough and a struggle, but I also knew that this was my calling and passion. Once I got my first film under my belt and out to the world, the rest was history and the support came from everywhere. Read more>>
Chloé Noble | Performer artist – dancer and actress

I could not select only one question as they were all interesting and complementary to me. I did anwser all the questions, please pick the one you prefer. I apologize if that is any inconvenience. What was your thought process behind starting your own business? I used to have my own business back in France and I do love to generate and produce things on my own. When I met with Natalia Minasian and Gabrielle Scott, my 2 colleagues through the American Academy of Dramatic Arts it was very clear that we shared the same passion for acting, movement, performing art and also the same vision and hope for the need of arts in the world.
Then during the Covid-19 lockdown in NYC, the three of us needed a structure to develop and share our artistic projects. As Broadway was closed and many theatrical and artistic company were shut down, the motivation was high to create something to support ourselves professionally and creatively. This is how we conceived and created Artistic Resonance Collective. Read more>>
Ayanna Reed-Castillo | Lash Technician

My thought process was simple, I couldn't see myself going back to dancing in the strip Club after giving birth to my second daughter. So I was really trying to find a way to make money doing something I'd love. Just so happened my lash tech was hosting a call and I decided to try something new. Read more>>
Joy King | Onwer Eat.Drink.Ride Food Tours

Initially I was planning to become a full time clean comedienne after my daughter graduated high school, but the death of my mom in 2014 made me want to live the life I wanted. I've always worked for other people and would get fired or company downsizing. So I knew I could get a job, but for once I wanted a career. I fell in love by the foodie scene and the locals behind it. Once I started the Eat.Drink.Ride Food Tours, it was clear I could use my gift of making people laugh and my passion for good food for my entrepreneurial journey. Read more>>
Malik Taylor | Business owner and content creator.

It started as an impulsive decision. I wanted to make money but I didn't want to get a job lol. So that's how my business started and the rest is history. Read more>>
Noel Pipkin | Founder, Barre Belle

Over the last few years, I have referred to Barre Belle as my passion project. Ballet has always been a huge part of my life. Many of my high school afternoons were spent in class and rehearsals for studio performances and pre-professional competitions. It is not a secret that the ballet world lacks diversity. We now have Black principal dancers at renowned companies who have shared their experiences as what Shonda Rhimes describes, "First. Only. Different." My desire to cultivate a space for low-income students and children of color to learn classical ballet grew from my own experiences as a Black ballerina. I wanted to build a studio that supported a communal pursuit of the arts regardless of access to resources. With the encouragement of friends and family I developed Barre Belle, a 501c3, portable dance studio designed to provide universal access to the art of dance through local community centers and schools. Read more>>
Olivia Thompson | Wedding and Event Planner

I've always had a passion behind planning and managing events. I was approached by my friend Taylor, owner of The Brand Flourisher LLC, to plan her wedding in 2019. It was my first time planning and managing a wedding, and it was an experience I didn't want to end. After that, I started interning with my mentor, Hester Parks, owner of Park Avenue Events, and gained a lot of experience with a variety of couples tying the knot. During my internship, I made the decision to form my own wedding and event planning company so that I could have something of my own that could even be passed down to my future children. Read more>>
Dimension Boiz | Aspiring Musicians

We started out with Roy and BankaiBlack freestyling together at parties and get togethers. At some point we wanted to reach for our collective dream of making music and started writing together. Needing a producer, Exferno, offered his help and we soon found ourselves making bedroom rap. Read more>>
Teryn Simmons | Founder & Creator of Top Twelve Clothing

I started Top Twelve Clothing with the intentions of creating a brand that would inspire. I wanted to make clothing that evoked a sense of self confidence, self expression, and self love in whoever was wearing it. A brand that not only represented creativity, individuality, style, and innovation, but a LIFESTYLE. I knew that the ability to accomplish this ,while also creating, was something that was very possible and something that truly brought my heart joy. So, I decided to focus more on my passion. Life's too short to not go after what makes you happy. I set out to create another stream of income to supplement my then 9-5 and ultimately to create a legacy that I can pass down to my family as well. Read more>>
Allicia Washington-White | Lip Gloss Boss

Cosmetics, a field that has countless choices for our glam favorites can often be intimidating for new companies. I knew that I was not (by any means) a makeup "pro," but I knew that I can decipher between 3 seemingly identical nude lip glosses! I decided to find a niche within a niche and focus only on the area that I was most acquainted. Vanity Cosmetics Lipwear LLC gives peace of mind to others who too share in the feeling of being overwhelmed by products they may not need or even know how to use. My customers not only have a stress-free shopping experience, but they can shop even quicker without having to sift through miscellaneous items. Read more>>
Kimberly Robinson | Owner of Professional Cleaning Service

In 2017 I decided to go into business for my self after being laid off from my previous job. Instead of going to find another job that I had no passion for, I decided to invest in myself. Cleaning has always been something I truly enjoyed and it was a second nature to me. Living in a military community I noticed the need for professional cleaners and I know I could fill that need. Read more>>
Cami Barnes | CEO & Staffing Expert

I have extensive experience in various human resources disciplines, including but not limited to candidate sourcing and recruiting. What makes me different? My background also includes an education and experience in industrial and organizational (IO) psychology, social work and mental health with training in motivational interviewing. I'm able to connect with others, assessing their talents and what drives them. My expertise and my heart for helping others is what assists me in creating opportunities for candidates and employers to thrive. All of these things contributed to my decision to start my agency, ExecuThrive Staffing. Read more>>
Laneesha James | Co-Owner and Founder of LA Luxury Body

The thought process behind starting LA Luxury Body began organically. I have always known that working for myself would be my end goal in life but I was uncertain as to what capacity that would be in, initially. It wasn't until I was pregnant with my second son, Cross, that I realized that my aspiration to regain my confidence postpartum aligned with my desire to create a brand that embodied body positivity and determination. I knew that my journey to achieving my desired body would come with obstacles so I decided to create a line of products that I truly believed in and knew would assist me in the process. Read more>>
Christopher (Cal) Radford | Clothing designer/owner

I got tired of spending 8-10 hours a day in a warehouse to make less than $200 per day. One day I started designing t-shirts and started a pre-order and made a week paycheck in 2 hours lol that's when I knew I had something better than picking orders and slaving in a warehouse. Read more>>
Derrick Tré | Style Curator, Creative Director, Booking Agent & Talent

It wasn't really a thought, more so a feeling. I've always known that I would have my own business, I never really pictured myself working for anyone but I wasn't in a rush because I wanted to gain experience and the knowledge to be able to start my own business. I wanted things to happen naturally and organically. Read more>>
Millioyn Delegance | CEO, Owner, Founder, Producer, Artist, Engineer

I was taught early in life that it's better to have your own so you don't have to ask for someone else's. Not to mention growing up in a house where I was encouraged to learn and work for something that I wanted. The more, I learned just about money gave me the thought of having my own business, but it took years before I had any idea of what type of business. After few years I acquired the knowledge that "if you love your job you will never work a day in your life" and that was the birth of Milliyon Ent. LLC., Perfek Soundz Studio Multi-Media Solutions, and so on. Read more>>
Portia Shepherd | Commentator, Activist, Advocate

I started the show to inform the people. One of the many problems in our community is lack of communication between the public official and the people in which they serve. I believed it was important that ALL voices be heard. Not only heard, but understood. There was one thing I wanted to create an outlet for the people in the Blackbelt of Alabama. On May 17, 2016, after attending a city council meeting in Greensboro, Alabama, "Portia Takes on the Blackbelt" was born. I attended the meeting and thought someone should be covering it, outside of local weekly newspapers, there is NO visual coverage or commentary of what happens in the Blackbelt, from the people's perspective. My thoughts was simple, give the people an opportunity to speak and from listening come up with SOLUTIONS, its easy to identify a problem but what about the solutions, and my show and the spin-off The blackbelt experience is doing just what we want, to inform the people and make change in a forgotten region!. Read more>>
Stephanie Purcell | Interior Designer

I'm actually a freelance producer for TV, film and live events, but a few years ago my husband ventured into real estate investing and asked me to help him fix up a few properties. What started as a fun, artistic side venture eventually grew into the business I have today. When I was starting out I was just creating designs that I liked, but along the way decided to become a certified designer and have since, produced DIY videos for Home Depot, been quoted in Realtor.com, Apartment Therapy, Martha Stewart, Bob Vila and more!. Read more>>
Lacey Hennessey | Traveling Artist and Muralist

FREEDOM. I've always been self-motivated, never really enjoying being micromanaged by a boss. Give me a task and you'll never be worried if it will get done or on time. So when I was in the corporate world, sitting at a desk all day, I thought to myself, I can do this on my own. I want to make my own schedule, take as many vacation days as I want because I know that the work will still get done, and done well. I wanted to have the freedom to make as much money as my hustle would allow. Being an entrepreneur seemed like it was meant for me, I just had to start. And so I did. Read more>>
Bianca Paggi | Bilingual Brand Designer & Strategist for product based businesses

I've always had a very entrepreneurial mindset since I was young and always wanted to start my own business. After working in corporate for 6 years, I felt like I was still missing this passion and creativity that I didn't have in my current jobs that if there would ever be a time that presented it self that would be the best opportunity to launch my business and give it a real shot I could. That moment happened June of 2018. It was a blessing in disguise that the brand I was an Account Executive for, pulled out of their contract with the showroom years early and the showroom didn't have any other brands for me to rep, so ultimately lead to me thinking that THIS was the time to just go for it, if not now then when. Being able to do something I loved where I could still build relationships with people but also be creative and have full control and direction over it was amazing, and not having a cap was even better. Read more>>
Cynthia Jackson | Founder of Tiny Tots & Tikes

For years, society has taught us that only those of European descent are beautiful, smart, and solely qualified to hold certain job positions. Unfortunately, I experienced this firsthand when my then 3 year old daughter began to question if her skin tone and hair texture were beautiful. After much thought about this surreal moment, I realized that I had completely underestimated the impact on my own daughter's self-image when I decided to enroll her in a predominately white pre-school and when I was serving as a pastor of a predominately white church. My daughter was receiving conflicting messages about her self-image because everyone and everything around her at the time were white. Therefore, our decals are meant to creatively affirm Black children so they, too, will see themselves as beautiful, smart and equally qualified to hold any job position they desire. Our goal is to produce creative fun products that highlight Black beauty and success so no other parent or child will have the same experience. Read more>>
SJ Stephens | Author, Grant Writer, Business Builder

My business was birthed out of the pandemic. In February I launched SJS. Business Building and More and focused only on business plans and grant writing. April 15, 2020 I was fired from my position as Program Director at a local nonprofit. I had never been in trouble before , there was no warning-I simply was not what they wanted anymore. I was deemed insubordinate (I have an opinion) and not a team player (the absolute opposite of my personality). This took place why I was on a 14 day quarantine after being exposed to the virus at this same job. This job loss showed me how truly dispensable I was, any of us are, to these jobs. No matter how hard I worked, no matter how many extra hours, with no extra pay, that I put in-I still was not valued. It was from that moment forward that I set my intention to never solely depend on anyone else to ensure that my child and I can eat. Read more>>
LaDonna Hampton | Author, Tutor, & Organizer

I'm an advocate for literacy in all senses. Financial literacy, reading and writing. I wanted to provide a service affordable for our community as a tutor in reading and development. I have a background in early education it made sense! I also offer services as an organizer & facilitator for community events. Read more>>
Shay Pinckney | Creative Director and Business Advisor

The thought process behind starting my business was to connect people with all the knowledge they would need to be successful in running their own businesses. My goal with Partner for Purpose is to increase the knowledge of those who are in business and help those who desire to start a business. The Company was designed to meet the needs of the community and help bring wealth and wisdom to those who desire to lead a better life for them and their family. Partner for Purpose is all about Legacy and establishing a solid foundation for generations to come. Read more>>
Demarkus Drumwright | Licensed professional groomer

When I began barber school the only thought I had was to be able to spend time with my soon to be born son. Through him being born did I grow to love and really want take my barber/ grooming career far. Being able to cut professional athletes, being on the news , articles being written , and more. Because of everything that has happened ups and downs , my business has grown me other business and other streams of revenue. The end goal was to be successful no matter and take care of my now 4 year old son. Read more>>
Stanley Adams | Artist /Label owner

My thought process behind starting my own business was I was broke , but at the same time i had a job. Going to work daily trying to feed my family, and please my needs as well, was driving me nuts! I didn't have time for anything, and i mean anything. I knew i was going to have to change that, but i didn't know how or even where to start. I took it upon myself self to seek, What am i good at? What is my passion? What makes me happy or feel at ease? Thats when i found out music is what my soul calls for, and ever since then i have been pursuing my own record label ; and me as an artist. Read more>>
Mercedes Sykes | Event Decorator & Graphic Designer

I've always liked the idea of making my own money. Every since I was younger, I knew I wanted to own a business. At first it was a daycare, but then God started giving me different visions. He wanted me to minister to people using my other gifts. Read more>>
Elbi Elm | Founder/owner of The Culturist Union

When I started The Culturist Union, I was really set on solving a major problem for my community: to open an inclusive gathering spot. A place where a Black creative could go a 2pm on a Tuesday. That was my driving force…to take up space, every event and project was to create that space. My goal was to either inform, educate, or commune with like-minded individuals. Read more>>
Lisa Guadalupe Clarke | Founder & CEO of ATL Search Group-Connecting Latinos & Diverse Talent with Emerging Opportunities

I have a passion of helping others. After successfully creating start-up offices for other businesses, I decided to found my own company, ATL Search Group, in May of 2017. My company grossed over a million dollars in a little over a year. I started my company with only $325.00 and a big dream. I was lucky enough to start my company in Buckhead inside the Georgia Hispanic Chamber of Commerce. My focus has been to volunteer in the Hispanic community. I have helped as many people as I could thrive and find jobs that allowed them to build their skill sets. I love to see people prosper. Over the years our community has grown in economic and political power. We have tried to improve conditions for those in north and south Georgia. I continue to look for ways to grow and develop, personally and as a community. I have received many awards for the work I am doing in the Diversity and Inclusion space. I volunteered as ALPFA Atlanta President to bring a national asset to members of the Hispanic business community here in Georgia. Read more>>
Malcolm Banks | Media/Clerical Specialist

I was introduced to computers at a very young age from my mother. I used to sit in the back of her Office Administration classes back in the 90's. I was only six years old taking in computer skills that have advanced me through my life. I have done odd jobs for people over the years. Whether it be clerical, video editing, social media work, creating presentations and many other tasks and I was given an opportunity to do some high paying contract work and it dawned on me that it was time to take it to the next level. I instantly applied for my business license and go to work. Right after that, work began pouring in and it validated my decision to the highest degree. I also felt like I owed it to my mother. She passed back in November of 2008 and I wanted to honor what she taught me and her legacy. Read more>>
Martika Locke | Body shaper specialist & Women motivator

My thought process behind launching my business Remake Couture was to embrace women to know that they are beautiful regardless of their color, shape, or skin. To share black love between women around the country. To embrace the word love & not hate. Show our younger generation that if we stick together as one, that we can empower our beauty across the nation. Read more>>
Kimberly Meadows Clark | Sportspreneur

Well my thought process was pretty simple. We have an opportunity to change lives on and off the court. I decided not to look at our business as a traditional sports organization, but more if a social enterprise. I wanted to see what commercial strategies could be applied to make a positive influence or change for social, economical, mental, and cultural improvement in our communities. Ee just want to help develop and empower better humans. Read more>>
Patrina Smalls | Self-Fulfillment Coach | Transformational Speaker | Workshop Facilitator | Author

My thought process behind starting my own coaching business was to provide a safe place for women like myself ages 40 and over to re-discover and in some cases discover their purpose. I meet so many women who sacrifice their dreams to be mothers and wives. Their first priority is supporting their husband and then focusing on the growth of their children, They put their life on pause for years. What happens when the children head off to college? What happens if the marriage does not work out? Prophetic Sculpting Coaching was created so women can breath and invest in putting themselves first for a change with a support system. Starting my own business came very easy because this is ot my first busness and people have been asking me to Coach them for years. I wanted to educate myself to the best of my ability and gain as much knowledge as possible from a psychological standpoint so I enrolled into a Masters Program that taught me tools that I use to help women excel beyond anything they could have invisioned for themselves. Read more>>