What was your thought process behind starting your own business?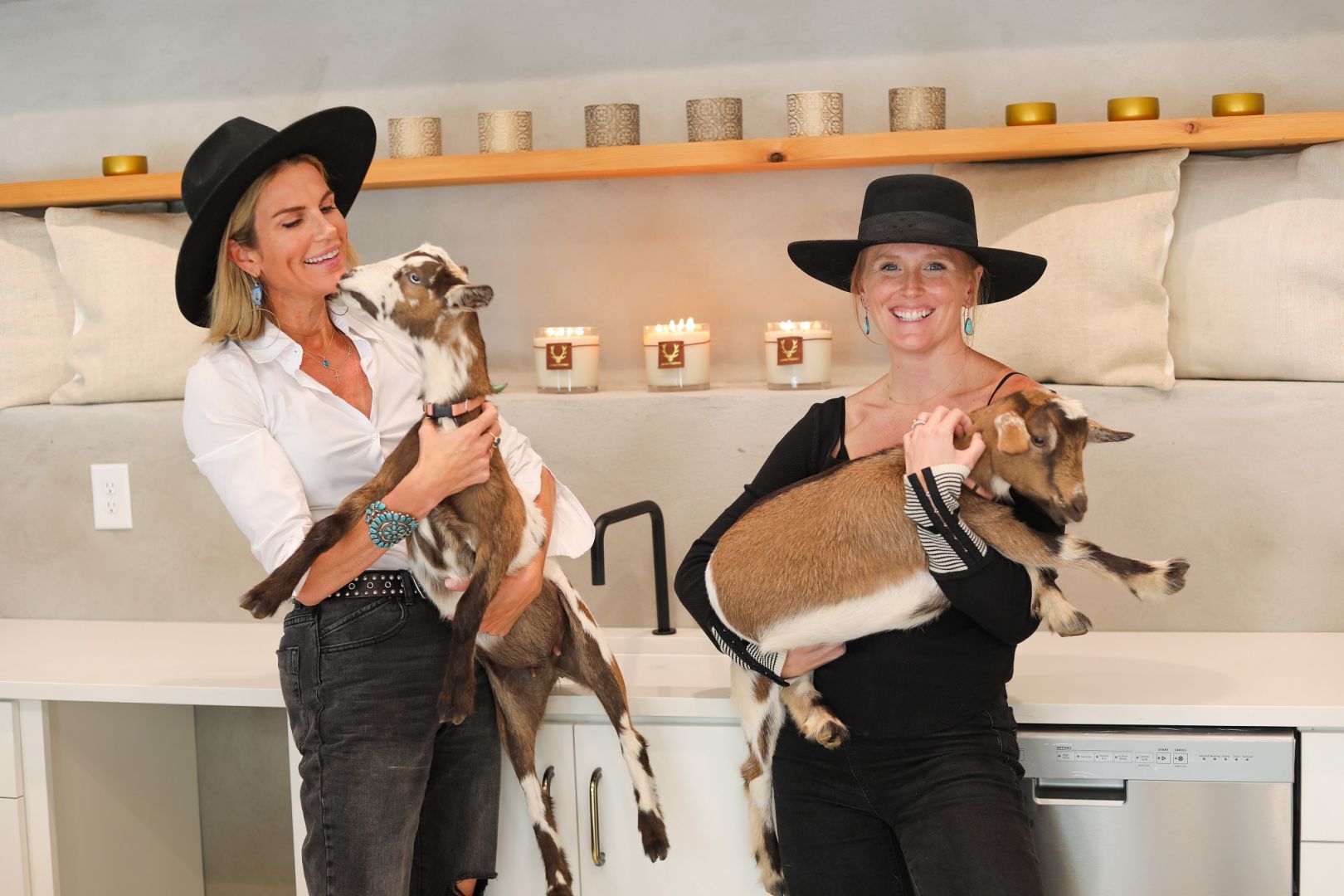 Starting a business is a commitment and requires dedication, resources and sacrifice. We asked some of the rising stars in our community how they thought through the idea of starting their own businesses.
Charla Ruschelle | Fashion Designer & Shop Owner

I started my own business because I felt there was a need for my products, services and presence. I had always wanted my end goal after college and through corporate experience within my field, to position myself in building my womenswear clothing brand, as well as, implementing my additional skills in alterations, custom-made-to-order, wardrobe and creative consulting, as well as, class workshops and internship opportunities being available in my shop. My passion and mission to establish all of this came in full circle in 2015 when I opened my shop, Concoction theWork_Shop, in Atlanta's Old 4th Ward area. As I continue with growth of my businesses, I'm looking forward to expanding into other locations and providing additional products and services in fashion, art and curating creatives. Read more>>
Deidre Baker – Roberson | Owner of MY Hand Candy LLC

My thought process was connected to a pull in my gut and my spirit. My mind had to align because it was thinking of fearful thoughts. I actually start to speak to my mind and shift in the direction of the pull in my gut and spirit. 1. I began to do research. 2. Budget my business. 3. Create a product. 4. Market the product 5. Pray and lets see how this goes. That was my first process. Read more>>
Arha Holt | Licensed Massage Therapist & Owner

When most people think of massage therapy they feel it is a luxury experience and private. So I though to myself how can I take something that is often seen so private and make it fun and that is when I thought of a massage party. The black community has supported my business in such a tremendous way and I am so proud of that. Mainly because a lot of us, African Americans, do not practice enough self care. For most of them its their first time ever receiving a massage and its such a heart warming experience to watch. Read more>>
Jessica Garner | CEO of Virginia Gold Products

My thought process behind starting my own business came from losing my grandmother in 2013. It was an unexpected loss & it effected my entire community. Her name was Virginia Duster Davis! She was a gospel legend & an angel! When she passed I wanted to create something that would forever honor her name. Read more>>
Hudson Hower | Director – Unify Visual

Comically enough, I wanted to start Unify because I never wanted a job with a strict dress code. Following that, it all came down to working with cool people. Building relationships while playing with cameras and lights is lucky career to be in no matter how you cut it. Read more>>
S. Watkins | Professional Organizer, Singer, Actor, Dancer, Model

At first I didn't want to. First I tried to apply to other organization companies in the city because the idea of starting my own business was SO intimidating, I didn't think i wanted or even could handle the responsibility. But in applying, I think I was perhaps too 'edgy' or not 'on brand' enough for other brands because I didn't hear squat back from any of them. And it started to become this big "what if" you know? "Wouldn't it be wild if I started one of my own?" "Could you even imagine if I became a business owner?!" Then it just became more and more apparent that there was a great opportunity here for me to fill a niche of accessible, affordable, affectionate organization. And since I love a good alliteration a friend actually helped me come up with the name while I was still toying with the idea and once we landed on Sort My Shit it just felt so… me. So on brand, so funny, so clever, so RIGHT. The idea took off and two years later I'm still growing and learning as a business owner but I'm also incredibly proud of what I've accomplished and truly, deeply, in love with my job. Read more>>
Tae Lee | The Money Maximizer

My thought process behind starting my own business has many levels, but I will simplify it. I learned that the classical American dream was not my destiny. I went to college, graduated, then I found myself without a job and several student loans that had to be repaid. I finally landed a job I hated because I could not find an opening in my field. Through deep thought, I realized that there had to be more to life. The question to myself was should I stay at a job I hate that is barely keeping above water? What can I do to change my situation? I had to change my outlook on my life and career. The process took time because I wanted to start a business that would give me my version of the American Dream. I knew I couldn't go through life being broke while working for someone. I would be very unfulfilled. After weighing my pros and cons, my passion vs my purpose, I started my first business. Read more>>
Talessa Smith | A Jill of Many Trades & A Boss Mom of Mini Bosses

My thought process behind starting Laila's pudding business was to challenge her to channel her focus on something that she can control which would not only make her happy but also bring confidence and the best out of her. You can't control who loves you, or who wants to spend time with you, but you can control you – your own happiness. I see Laila out making a difference in adults lives, it's beautiful. My son, Liam, is the face of my bow tie business " The Liam Carter Collection " My reason behind introducing Liam to bow ties, is because I've always thought that little boys are even more handsome when they're dressed for success. It's something that I've implemented in my children since they were babies. Now Liam is almost 5 and most days he doesn't want to leave without his bow tie. He loves the extra attention. My goal was to make that image cool again, I'd love to see more young children wearing bow ties. Let's reestablish the gentleman – starting with our youth. My oldest is 10, and she has her own book that will be published soon. We wrote that as soon as we went into quarantine. She also has her own popcorn business that we're working on and a few other business endeavors that she'd like to jump into. Read more>>
Stephen Johnson | Barista and Servant Leader

I have always had the burning desire to call my own shots when it comes to my work. I worked for a long time, for great companies and leaders, under their plans, their influences, and their agendas. This never ultimately sat well with me when I would think about the future. I did not want to be accountable, from a business perspective, to someone who could die, retire, or shift their mindset about how they ran their business. I did not want to be put in a situation where I would be miserable for the rest of my working life, or be forced to find new job after new job where I could provide for my family and still be engaged with my work. I came to the conclusion that the only way to have ultimate fulfillment and ultimate control out of and over my work was to find a way to be my own boss. After discussing this with my wife, we decided together to take the next steps. This desire grew in me and ultimately provided the fuel to overcome the many challenges and pressures of starting a business from scratch and growing it into a profitable one. Of course, there were many unanswered questions and a lot of research and meeting with people who know more about this than I did before I ultimately took the leap into business ownership. Read more>
Tim Spiker | Leadership Advisor and Author

Some of the data and conclusions I share with people is out of the traditional river of leadership ideas. Given that, I was having trouble finding opportunities to speak and teach freely from the research I'd been involved in. There were always limitations due to certain personalities or organizational dynamics and politics. I decided that I didn't want to hit 50 years of age without having at least tried to create space where I could more thoroughly share from this research. So, with my wife, a 4-year old, a 2-year old, and a newborn, we took the leap and started this adventure called The Aperio. Read more>>
Tejai Moore | Singer, Songwriter, Record Producer, and Business Owner

For me, it was about others. In the journey of pursuing my career thus far there's been a lot of experiences that no one could ever learn without being hands-on or going through it. Many of the experiences were not "easy" and some were even discouraging at times. I kept Faith in God and continued forward because it is my Purpose; to make a difference in this world via my calling and my gifts with music. And because of that Faith, I have overcome so much. So, I started my company to inspire, help, truly assist in the careers of those who have the talent, have the drive, but who needs guidance in this industry and even the world, period. This is why Moore Muzik, LLC was born. We assist with Faith just as much as we do with progress musically. Read more>>
Kunaga Nakhash | Breathing Practitioner & Indigenous Psychologist

I decided to start my own business to lay the foundation for financial freedom while also helping people gain the tools to self by using knowledge. When I created my business I implemented tools that would allow self development and encourage healthy living. Ultimately, my mission is to become a beacon of light within my communities. Read more>>
Khladun OLUWA | Oil Painter & Builder

The idea of someone else determining the value of my energy and time based on an hourly wage never made sense to me. With all of the work that has to be done in our communities and the unemployment rate is ridiculous, we should figure out ways to develop, construct, cultivate our neighborhoods, and learn the fundamental principles of living and doing for SELF. Read more>>
Jalen Collins | Photographer & Model

My thought process behind starting my own business was pretty simple. I was tired of working for other people on their time when I knew I could achieve far greater on my own. I wanted to create something that could take me to the next level in life and eventually pass on to the next generation. I wanted the opportunity for my business to grow into something far greater to where I could eventually buy my parents a house or something. Read more>>
Nick Pantano | Owner Dude

If I truly wanted to be able to do what I loved to do for the rest of my life, I had no choice. Ever since I was in high school I always thought about starting my own business. When I was younger the thought was, "well if my band doesn't make it I will open a music venue". After carefully exploring that idea with my mentor and speaking with friends who worked at venues in Atlanta, I realized that the life that came with that was not something I wanted. After the band broke up I decided the first step to keeping the guitar in my hands as a way to make a living was to go to school and take the professional musician path. I knew at the very least it would lead me to teaching private lessons. I took private lessons from 13-18 and loved it. I had multiple teachers through the years and all of my instructors were amazing. I knew that teaching lessons was something I would enjoy. After talking with some of my teachers at AIMM where I went to school and friends who were already teaching part time, I was confident that it was a path I could take and build a stable future for myself. Read more>>
Shenet Beasley | Women's Health Advocate and Founder of PainFreePeriod.com

My primary goal is to spread awareness of the health concerns plaguing our community and solutions on how to fight them. Both teens and women globally often suffer in silence monthly with pain, heavy bleeding, unhealthy menstrual cycles and general discomfort. Many women are looking for a safe, natural alternative to traditional pads and tampons sold in stores. That's where PainFreePeriod.com comes in. Read more>>
Ilaya Brown | Author & Online Retailer

My businesses were birth out of my passions. I became an author in 2010. My love of poetry and story telling oozed out of me while completing my Associates degree. The Turn That Floozy Series was birth. I worked for other employers and I didn't want anyone else will hooks or entitlements to my work. I decided to self publish my works. When you're self published you're the one that does the writing, editing, advertising, marketing and legalizing the body of work so no one can steal it. And Amazed, my online clothing store, was birthed when I was laid off in 2015 and I could no longer work retail management due to scheduling being a new mother. I missed styling for photo shoots and fashion shows. Online retail was gaining more traction and was super convenient for a single mother. My thoughts at this time was centered around running my business conveniently so that I can balance work and life. Read more>>
Mitchell Tulloch | Accountant

I have always wanted to own my own business, I wasn't sure how or if I could do it. I started doing research, watching videos, learning about the different business structures, the steps to take to start my own business and following others who were already doing what I wanted to do. When I opened my first business, it was very challenging because I was clueless about running a business. I had to learn as I go along. I was in no hurry to build, I took my time and ensure I do something everyday in my business. I kept my 9-5 and worked on my business in the evenings and weekend. What I realized about three years was that it was not possible for me to build a service based business while working a regular job because the hours I am working was the hours I clients needed me, so I had to come up with a plan and work my plan. I set a date and stick to the date when I would leave my job to go into my business full time. Read more>>
Steven Williams | Certified Bug Assassin

I wanted financial independence and that's why I started my own business, Atlanta Outsourced Service Professionals. I have a strong customer service background from working in retail management, insurance underwriting and direct consumer sales. I believe in treating people in the way that I want to be treated. Altruism, putting others first before company's revenue is my reason to start a business in the home service industry. Read more>>
G. Torres | Rap/Hip-Hop Artist

As an independent artist, outside of what inspires and motivated me, I wanted to build something that I could represent and stand for as I grow in this music business. Something not only myself but my city can be proud of. Not only something that I can call my own but also some thing I can call home for everything I create. Read more>>
Reggie Kelly | Former NFL Player & Owner KYVAN Foods & KYVAN Body Essentials

Here at KYVAN Foods our goal is to specialize in innovative, never-before-seen sauces and seasonings. Our mission is to grow our business the old fashion way with honesty, integrity and hard work. Creating premium, great tasting, quality food products that nurture the body and soul has always been our priority. As our motto states: "One taste and you will Appreciate the Goodness"" Read more>>
Britt Spencer | Artist

I was in my early twenties. I'm not sure there was much thought or strategy at all, really. I was accustomed to making nothing and living in abject poverty anyway, so it was a good time to take risk. The thought of getting a job was distant, but making money with side hustles was actually easy to imagine. I mean, 1 editorial job a month would be significantly more than what I had been living off of for the past few years in college. During my summer break, in between my junior and senior year, I went to New York with a backpack full of drop-off portfolios. Out of the thirty or so I dropped-off I only got a couple positive replies. But that's all you really need to get going. Read more>>
Tiffaney Whyte | Teacher & TeacHERpreneur

In 2018, I was having a tremendously hard year at work. I felt discouraged and overlooked. I was being questioned about my teaching style and ethics. I needed something to encourage and bring back my zest for teaching. Every year, for the past six years I would have an idea of different types of business I would like to start but never commit to anything. This journey first started as a teacher planner and stationery but I was facing stumbling blocks. That was not my purpose! I always had a love for fashion and graphic tees. I woke up one morning from a dream and what came to me was #Teach a simple but powerful word. That helped the twinkle in my teaching heartbeat faster about the profession I desired as a child. I decided to put it on a tee-shirt and the rest was history. Read more>>
Jermeir Stroud | Financial Professional & Media Operations Director

Legacy and independence were the key factors in starting my own business. Legacy, because I wanted to show my children that it could be done. We often fear failure as if it constitutes finality. Failure is just an allusion. I've found that while coming short of a goal doesn't feel good, in reality, failure itself is nothing more than a new opportunity being born. It takes a winning mindset to see that. I want to be an example to my children that there is no reason to fear anything in this world when it comes to your God given vision. As for independence; it was a pretty clear choice based on fortitude. After successfully battling an unfair termination that was initiated by a personal dispute, I decided that I would resist placing my financial legacy in sole control and at the behest of another human. Instead, I chose to place it God's control and step out on faith. This was especially clear coming out of a career in law enforcement. Read more>>
Camilo Diaz | Writer-Director & Co-Founder of CineAstra

I began the production of my first feature film, Decadent Love, along with my producing partner, Aidan Guthrie. The film started very small and quickly blossomed into something bigger. Due to delays caused by the current pandemic, we decided to establish a production company to handle the growing project. So Aidan and I began a long series of talks where we deciphered what the company would look like. Some of these were basic business questions, but it also inspired us to consider what kinds of films we'd produce. What are the films that speak to us? What kind of films do audiences want to be challenged by? What is the type of film that only we could create? These conversations were explorational and meticulous. Like the night we sat in the cold and refused to go inside until we came up with a name. Over five hours in, I leaned back, exhausted, looked up to the sky, and blurted out the word, "CineAstra." Aidan immediately knew it was the one, but asked what it meant. And I said, "I don't know, I like stars." However we soon came to find its significance. Read more>>
Ashleigh Byrne | Blogger | Cooking, Gardening + Home

A friend of mine persuaded me to start my own blog. It honestly had never crossed my mind. She thought that I had a lot to in terms of sharing my love for cooking, home and garden. I'm so glad I listened to her because it has been the most life giving and positive thing to come out of 2020. I didn't know how much I needed it. Before I became a stay at home mom, I was a teacher and I missed using the creative side of my brain. Don't get me wrong, I love staying home and it's the most rewarding job, but now that my kids are getting a little older, I wanted to do something for me. Read more>>
Craig Johnson | Creative Entrepreneur and Branding Expert

I've always worked on the business side of a creative endeavor. In High School and College, I played in rock bands and eventually ended up managing bands after college. While I loved what I did, I wasn't sure I wanted to be in the music business, so I tried to find other creative professions where I could help run the business side of things. I met a graphic designer and we began working together. Eventually, we started a creative agency together and have been working together for the last 17+ years. Read more>>
A PLUG NAMED PABLO | Artist, Influencer, Creative Director, Music Executive

Basically my thought process was simple I I already had my mind maid up on music So basically I just visualize and learned everything about the music industry that simple. Read more>>
Silvia Saey | Silvia Saey. Founder. Good Tidings Style.

I grew up with a passion for authentic beauty. After studying Fashion Management in Paris, I started working with a young fashion designer in Antwerp, Belgium. I loved to be submerged in such a creative world, but moved away from my home country, Belgium for my husband's career and raised 3 kids. I started to design my own accessories, inspired by my personal life and cultural travels. I felt there was a need for for sustainable fashion, handcrafted with vintage materials. Read more>>
Jerome Taylor | DISC JOCKEY/ENTERTAINER

After working 25 years as a Manager for The Sherwin-Williams Co. and wanting to make a difference with my music I decided to take a leap of faith and retire and pursue my dream full time in Sept 2018. After singing and dancing all my life and watching other people do what they love musically I knew in order to be successful, I had to put a little twist to my skills as a Singer, D.J. and Dancer. I go by the name of DJ ENERGIZER. I was first hired as D.J. at a small club in High-Point, NC called JACKIE'S PLACE JAZZ VENUE in Sept. 2012 which I knew I had to really stand out to get my name out there. They wanted me to do karaoke for the club which became a success, but what I would do is play music that other DJ's was not playing in the area, which was the MOTOWN SOUND and then afterwards added a little LINE DANCING, which created the PERFECT COMBINATION. The excitement grew and my name was out there. My passion then grew to nursing homes (singing to the residence and dancing with them) Community Centers (teaching line dances and helping with rehab patients). Read more>>
Khalil Johnson | Photographer, Videographer and Studio Owner

Initially, I did not seek out to start my own business. I enjoyed progressing in the photography and digital media space, so I eventually began charging for services. It was not the idea of earning money that caused me to being photography. I simply enjoyed it and the money naturally came later. Once I decided that it was what I wanted to do, I absorbed all of the information that I could about good business practices and customer service. I realized that things were more serious once people's money was involved. Read more>>
Day Kennedy | Stained Glass Artist, Daylight Glassworks

I started my business on a whim in 2018. I was miserable in my day job, my dad had just passed away, and I just felt sort of lost. I had fallen in love with stained glass the year before and was having minor success selling on Etsy and at local art markets. I didn't plan for it to become anything more than a hobby but I needed a change. I decided to quit my job and spend that 40-50 hours a week on glass instead and hope for the best. If it didn't work out, I could just get another job! I feel incredibly lucky I haven't had to do that yet. So far it's still working out and I'm so grateful to my customers who allow me to pay my bills doing something I absolutely love. Read more>>
Jeyneen Lewis | Business Owner, Model

I have spent so many years avoiding what was in my heart for various reasons. I was scared to fail. I suffered from anxiety and depression, leading up to a hospital visit due to suicidal thoughts and anxiety attacks. I had low self esteem. Hell, I was a young black woman in America. Every possible obstacle or distraction to keep me from pursuing my goals, I had it. I got tired of ignoring what I wanted for my future. I got a therapist and a life coach, and with that support they helped push me to live a better life. I started this business because its been something I wanted to do since childhood, and with Covid shutting things down, I had no choice but to go for it! My business is called KNOCKOUT Cosmetics, because from this point on I plan on knocking out every obstacle, every negative thought, any sleepless night, ANYTHING that will get in the way of my dreams and goals. This business was me jumping head first into a better path. Read more>>
Danielle Hollins | Wedding Photographer

In 2011, photography was just a fun hobby for me, but as the years passed, it quickly turned into a passion. I started shooting weddings in 2012, but I could never fully give my all to photography due to school and a hectic work schedule. It wasn't until 2016 that I realized the importance of photography after I lost my grandfather. It was capturing some of the most intimate moments of loved ones that my couples valued the most. For me, it's personal. So December 2018 came, I decided to focus solely on wedding photography and building my business from the ground up. 6 months later, in June 2019, I quit my full-time job and went Full time in my wedding photography business. I haven't looked back since! It was one of the best decisions of my life. Read more>>
Authoress Charmayne Bradberry | CEO/Purposeprenuer

Growing up a little girl back home in Chicago was eye opening. I always dreamed of becoming a nurse and owning a restaurant. For decades I talked about this restaurant that God revealed to me I would have one day. Go's showed me some times and I stepped out on faith. I relocated to Atlanta summer of 2009 with high expectations. Honestly and this may sound cliche it was simple I dreamed I could do it, I believed that I could do all things through Christ and by His grace "I did it!" Lastly know what you want, due your due diligence, perfect your craft, network and put in that hard work it won't be in vain. Read more>>
Robert Wright | Author, Wedding Officiant & Credit Specialist

Growing up, I saw my father and uncle and a few other people around me that had businesses that were successful, and I wanted that same thing for myself and family. I didn't grow up with a lot, so at an early age I had to figure out different ways to make money. In high school, I sold my god-mother's cookies, fixed computers, and sold other products on eBay. All of these things helped me learn how to start businesses. I've always learned to take my life experiences and turn them into a profit, and this is one thing that brought me to where I am today. Planning our wedding helped formed our wedding business. I became an officiant and married over 500 clients within 7 years. While fixing my own credit, I used what I learned to start a credit repair organization. I also used my love and my son's love of super heroes to write a children's book. My thought process usually starts with what I am going through or what is happening in my life. Then I think to myself "how do I make a profit off of this?" Then I execute my plan. Read more>>
Alyson Calloway | Founder of The Mamas Movement

The thought process behind starting my business was an easy one – I desired to fill a much needed void. However, the void, at the time was an internal one. Shortly after having my son, Thomas, I realized the vast need for a strong, like-minded community centered around motherhood. So, I created one. After doing so, I realized that there were so many mothers that were in desperate need of the same. So, what started off as being an opportunity for me to connect with fellow mothers, turned into a movement – a space for mothers to take the journey that we know and love alongside one another. Read more>>
Chimere Scott | International Entertainer and CEO

I started my Entertainment Company Southern Chocolate Ent because I wanted to open the door for others the way doors were opened for me. I wanted to give other dreamers like myself the opportunity to share their gifts as well as share my knowledge and all the things I've learned from my years of experience as an entertainer working in the Industry. I also wanted to produce and create more rolls for people of color as well as represent the female voice in the executive position in what is still, to this day, known to be a male dominated industry. By starting my entertainment company I don't just get a seat at the table but I'm building my own house to put several tables in and there is room for many and much diversity. Read more>>
Ashleigh Esprit | Startup Founder & Interior Designer

My thought process behind starting my business was me ultimately working for myself. I wanted to use a few of my many ideas and create business and workplace that held values I believed in. I have had many jobs in the past. From big corporations to small businesses and I've always felt like this was not something I was suppose to be doing. None of those jobs gave me the excitement I was yearning for. Also, none of them were helping the select group of people I wanted to help. As time went on, the stars aligned for me to use my skills, eagerness, and connections to build a service that helped people with their livelihood. Read more>>
Marco Shaw | Chef / Restaurateur

When I opened my first business, I wanted a place that I would go to everyday to eat that I didn't think existed at the time in the city where we lived. I had spent a decent amount of time working for other people and I felt that I was ready to have my own voice. Read more>>