Thinking through the first steps of starting a business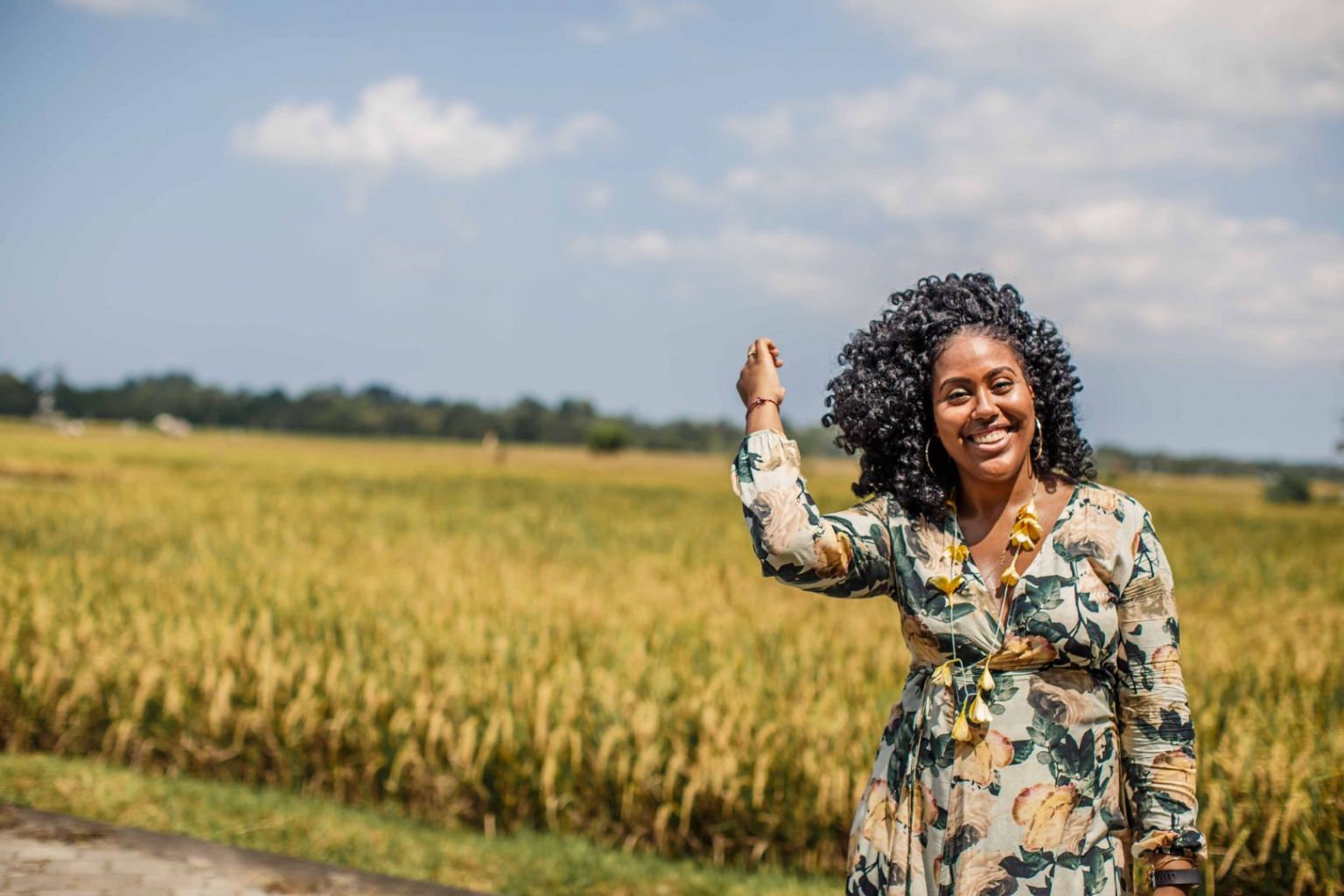 Starting and growing a business is hard, but often deciding to start the business in the first place is even harder. We asked some successful entrepreneurs from around the community to open up to us about how they thought about starting a business.
Brittany Hawkins | Graphic Designer & Artist

I created Black Angel creations to highlight the importance of black female artists and black women in general. Since growing up I've always been a minority in the artistic field and was told this would not be a real career field for me to be successful in. I've always felt black women through media and art history have not been shown in a light of respect that we truly deserve. I wanted to create a platform to do what I love which is to create art while simultaneously promoting diversity , strength and the beauty of black women. Read more>>
Tara Carter | Photographer

A friend of mine actually noticed my interest in photography and asked if I would take pictures of a recent project she had just completed. I was doubtful but she saw my ability and trusted my eye. I took the photos and realized how much I loved the whole experience. It combined my love for design, art, and photography and sparked my creativity energy. I realized then I could turn my hobby into a tangible job that I could create into a career. Read more>>
Scottie Johnson | Award Winning Chef/Author

I started my own business for several reasons. First after serving 27 years in the Army and supervising over 120 Soldiers as a First Sergeant, I wanted to utilize my work skills that made me great at what I did. Secondly I wanted to showcase what I truly had a passion of doing, cooking! What better way of doing that was creating a product or service to people because as we know, food is love! And lastly I wanted to be in control of what service I was presenting, answering to myself and of course, my wife Lowanda. Read more>>
Danielle Holmes | Founder of the Crown Jewels Dance Team at GA State University

The thought process behind starting the Crown Jewels Dance Team at Georgia State University was to give girls like me the opportunity to dance, majorette style, at a collegiate level. I come from an urban area where band was my life and going to an HBCU was my dream. Unfortunately, I could not afford to attend an HBCU and was only able to pay for college through receiving the HOPE scholarship and the PELL Grant. Dance was still in my heart so I thought it would be nice to dance here, at this big, diverse institution, and from that idea, the Crown Jewels were born. Read more>>
Mo Clark | CEO & Media Personality

I actually started was my lipstick line, Myka J Lipstiks. The thought process behind that one was to create something that my daughters would one day own and help make even more successful. The second one that I created was the radio show/ multimedia group, DaPostUp Ent, LLC. This was created as a followup for my tv/podcast, DaPostUp hosted by Ms Mo Clark on Status Network. This was created because although I have my own show, I also offer media coverage of events and PR services for clients who are wanting to expand their brands as well. Read more>>
Miracle Allums, LMSW | Licensed Psychotherapist, Doula, Reiki II Practitioner and Registered Yoga Teacher

Have you ever taken a supplement or a vitamin that you knew was good for you, but it was just nasty? I'm talking about cod liver oil, castor oil, even sea moss, and some mo' stuff? What about taking so many vitamins and supplements that you just decide to take absolutely none of them? Yup, me too. I'm Miracle Allums, holistic health enthusiast, serial entrepreneur, and Founder of The Mossy Mob. A premium sea moss and wellness company that provides a complete and high-quality plant-based supplement with tasty and creative infusions to support optimal health and wellness shipped straight to your door. Forget having to take multiple vitamins and supplements that taste bad and that you have to go to specialty stores to find. The Mossy Mob's sea moss is the answer! A red algae often found in the warm waters of the carribean that provides 92 out of the 102 minerals your body needs. Read more>>
David Cain | Celebrity Dj Turned Mogul

My thought process behind starting my own business is motivated behind having more personal time. I also just feel my purpose in life is something greater than just a 9-5 lifestyle. It's always more that can be done. I'm here to work, create and build. I like being my own boss. It's just something about being passionate for something your creating. Read more>>
Kelly Harding | Digital Artist

I have always worked for other people and knew I had the skills to have my own business. I saw a need, which aligned with my passion and decided to put a plan in place. A year later, my business came to life. Read more>>
Katie Bishop | Co-Founder, Yalla Public Relations

The journey to starting any business, in any industry, isn't easy. The thought process for starting Yalla really came from seeing services that were not offered in our area. We took advantage of that gap in the marketing industry and launched a marketing agency specializing in social media and digital marketing. We started slow, building our portfolio of clients as we worked from home. I waited tables while building Yalla on the side. It wasn't until we built enough clientele to support both myself and my co-founder, Stephanie Woodham full-time that I was able to leave my serving job and go all-in at Yalla. Read more>>
Antonisha Andrews | Writer & Suicide Prevention Advocate

Growing up I truly believed TV shows and movies had a huge impact on the way we viewed our own lives. With this interpretation,I began to think of ways I could bring H.O.P.E. (Healing Over People Everywhere) to those around me while using a creative, visual concept. This is how my production company to light. Read more>>
Qiana Camille | Poet, Actress, Entrepreneur

I've always loved the idea of making money however my boss always gets on my nerves. Lol. Seriously though I've struggled between the idea of having financial stability and doing what I've wanted to do most of my life. I realize there has to be a better way to do things. Since I know the struggle all too well, I figure, I might as well apply it to my life in a way that makes it worth it. Read more>>
Venilla Barnes | Owner of Provision Physical Therapy

In 2017, I began thinking about starting my own outpatient therapy clinic. Being a physical therapist for 15 years made it easy to decide what business I wanted to provide people. I love helping people improve their quality of life. In addition, I always wanted that financial freedom and flexibility to control how I provided my services to patients. Allowing me the ability to provide an environment where patients can turly get one on one interaction with a licensed physical therapist. Read more>>
Darryl Humes | CEO / Co-Founder

My brother and I have a very strong relationship, and in many ways, we share many interests. Since we were kids, we've always valued the investment in our image and overall presentation. We often travel together for leisure and when doing so, we identified the staple independent stores and anticipate the unique shopping experience. Ultimately, we felt we had the opportunity to create an experience of high regard in our home city of Detroit. So instead of complaining, we just decided to start our own men's clothing store and named it "Mature". Mature was established to offer a balanced wardrobe for the elevated lifestyle. Our unique offering of contemporary casual and modern upscale attire was intended to compliment the client growth- "As you grow in life, you wardrobe must compliment that." Mature has evolved into a lifestyle brand and our clientele trusts our selection. Read more>>
Marcus Foggle | Film Director

Just to be able to tell people I'm a business owner. I run a black owned business at that. Growing up many of my family members owned their own establishments back in Fort Worth, TX. Most of those being their own BBQ joints, hair salons, barbershops or churches. Having your own always meant a great deal to me. It's the fact that control is in your hands and you can go out and determine your own success or failure. Nipsey Hussle & Dom Kennedy inspired me years back to that that leap of faith and build something I can call mine. So I did, and it failed but those losses became huge lessons and had me understand what I need to correct the next time around. Then, Tyler Perry made the famous 'build your own table' speech and I was hooked. My thought process was all about going for what I truly want and not waiting for it to fall in my lap. In order to do so I had to put people around me that's just as driven and have greater aspirations. Read more>>
Paige Reid | Executive Director

I started my own business because I believed in my skill and my ideas and at the time, I worked in an organization that did not support my ideas. I knew Covid-19 had put a lot of strain on the industry I work in but I felt like some of the ideas I had would support a working program even during the time of a pandemic. After many thoughts, prayers, and discussions with my husband we decided now was the time to take the leap of faith to leave a secure job. I have always wanted to either lead an organization or be a founder and have worked hard when it comes to what I do and the time I put into my education. I knew at some point the dream would happen, I just didn't know how or when. Read more>>
Nicole Omuteku | Wardrobe Stylist

My thought exactly was, "how can I use the knowledge that I have to help other people." I went into it very unsure. Like most people deciding not to work a traditional job it's kind of scary. But that fear was not enough to stop me from changing the lives of women, like the ones I had helped in the past. Read more>>
Dominique Young | Esthetician

When I decided to start a business it was pretty spontaneous. I was just making a gift using body care products that I made and my mom was like you should sell that. I literally ended up listening to her, which is rare lol, and started a business like a month later. It has changed and grown and now I sell hand made body care products online and at the studio where I do facial treatments. I have always had the thought that I want to work for myself. I am drawn to beauty care so I have been doing my own thing in this industry so eventually I can just work for myself without the need of working elsewhere. Read more>>
Kimesha McDowell aka Rev. BlaQ Fire | Ordained Metaphysical Minister & Teacher

When I decided to start my own business it happened very gradually and was not very well planned. The process behind it was very much spirit-based. I did not wake up one day and say to myself "Hey, I think I want to be a teacher of metaphysics today". I had already been teaching spiritual law via social media since about 2015. I had also become very well known for metaphysical interpretation of the bible, name interpretations, and teaching about the mother aspect of God. Once I realized that I was actually helping people, I started to think of myself as running a business with God as the CEO. I also began accepting and using my spiritual gifts. These things took some time to cultivate and build up my confidence. Up until 2018, I was still working for USPS as a sales representative. The thought of leaving a corporate job where I had been for 22 years absolutely scared me. However, the heaviness of waking up and going to a place where I felt I had outgrown and could not use my God-given gifts frustrated me daily. Read more>>
Gayneté Jones | Founder and CEO of Best, Periodt.

I've been an entrepreneur for the last 6 years. Up until this point however I had a service-based consulting model and created e-courses. I also have a podcast, book and am a keynote speaker. I recently founded Best, Periodt. ( https://bestperiodt.com ), a unique menstrual care brand that launched in January of this year. This is my first product based business and I'm so excited about it. When it comes to entrepreneurship, I'm truly obsessed with getting to the root of my customer's problem and creating unique solutions for it. In recent months, I've pulled away from my consulting business and have been pouring everything into Best, Periodt. as I'm on a mission to create real, meaningful change for period havers around the world and that takes a lot of time, focus, effort and energy. Read more>>
Alison Broderick, NCRC-II, CPS-AD | Founder/Owner of The Recovery Coach, LLC

I love and it goes like this: "God doesn't call the qualified. He qualifies the called." That sums up my career over the last 10 years to a "T." If someone would have told me 10+ years ago that my career would become what it is today, I would have dismissed their words almost immediately. When I (reluctantly) entered recovery from alcohol addiction on April 11, 2011, I certainly did not intend to remain sober a decade later… and I definitely did not plan to work in the mental health field. Yet, here I am: I celebrated 10 years of continuous sobriety on April 11 of this year, and I am an entrepreneur in the mental health industry. I am grateful beyond words. I began working in mental health in 2012, at a local, nonprofit addiction treatment center in the Atlanta area. In 2015, I transitioned to a renowned treatment facility in Tucson, Ariz., but worked remotely from my home in Marietta, Ga. This change allowed me to continue doing what I love – helping others find freedom from addiction, eating disorders and other mental health disorders – while being a present wife and mother to our boys (now 17 and 15). Read more>>
Jessica Singleton (Fulks) | Menswear Designer, Food Blogger, & Private Chef

I first started my brand in college on impulse. I started off as a Zoology major at NC State University and after a Final Exam with a snake involved, I immediately changed my major. I had no background or knowledge of the apparel industry, but I wanted to go all in. I've always been into art, even taking AP Art classed in high school. My thought process was since I don't know anything about garment construction or apparel design, I could put just art on clothing. Today even thought I have the knowledge and skills needed, I still try to hold true to that by designing the prints used in my collections. Read more>>
Dameika LaTrice Adams | Owner of S'MaDa Production Management Company/Jill of All Trades

When starting S'MaDa PMC, I wanted to bring something different to the production sets. I wanted everyone on set to be treated just as important as the Artist(s) we are filming. I also wanted my sets to look different from the others. From the set up to the break down, I wanted nothing but professionalism. At the end of the day, I want to see smiles on everyone's face. Read more>>
Hadassah Joseph, MSW | Mindful Wedding Officiant & Premarital Coach & Wedding Wellness Strategist

I don't think there is a specific story about how Beau Beginnings started. As a narrative theory enthusiast, it takes many connected stories to create Beau Beginnings. The one I choose to share today is how I turned my hobby into a side hustle story to a full fledged business. Initially, Beau Beginnings was created to pay my student loans as a side hustle and provide some income while I completed Grad school at University of Georgia (UGA). It later served as a space to sharpen my interviewing and coaching skills. Throughout grad school, mindfulness, and mental wellness became an integral part of my personal self-care plan as I tried to find my balance in my roles as a mom, grad student, and a working person. I could see tons of women just like me building new careers, creating bigger-than-life goals, birthing new ideas while planning a major milestone – marriage.Of course with any major life event, comes the natural stresses and anxiety. Read more>>
Lauren Bearden | Lifestyle & Wedding Photographer

At first, my photography began as a hobby. My babygirl had just turned 6 months old and I wanted to have some fun photos of her. I invested in a camera and lens and started taking pictures of her. My sister in law had me do a photoshoot with her and her husband at home. She shared the pictures on her social media page and the attention it received made me realize I could turn this hobby into a business. I created a Facebook page, held a giveaway and that is how Lauren Bearden Photography began. Read more>>
Kim Cook | CEO/Owner All Living Things LLC

I truly didn't aspire to be a business owner! I've always had a love for plants but late one night in 2017, The Most High spoke to me that growing a business to teach my people how to love, grow and care for plants. That instantly struck fear, worry, doubt. But then, I was given the foundational scripture Psalms 145:16 "You open your hand and satisfy the desire of every living thing" and from that point I haven't been afraid to move forward Read more>>
SHELLEY SMITH | Owner & Head Chef

I always knew I wanted to do something with the food industry since my time at Meadowbrook High School in Richmond, VA. It was at Meadowbrook when I got my first glimpse of how to run a restaurant per se. We had convinced our culinary arts teachers Ms. Goode and Ms. Burke to let us open a café on the culinary wing of the school where we cooked and served the teachers during lunch. I mean we had it laid out from creating spreadsheets for pre-orders, having cashiers, etc. It was amazing but it was also a lot of work and made me realize owning a restaurant isn't something I wasn't looking to initially do. Even while I played college basketball at Fayetteville State University, I would cook for my teammates and the men's team all the time. However, it wasn't until 2016 when I finally got serious about taking steps to submit the necessary paperwork to officially create my catering business. Read more>>
Stacey Grant | Director of Student Life & Our Girls Rock Too!

When starting OGR2, I knew there was a need for mentoring in the community for young girls and I wanted to be of service but I was afraid to step out into something so new and without financial support. God kept speaking to me about it until one day I gave in and said ok Lord if it's your will. It amazes me at the financial and community support that the organization has received during this entire journey. Read more>>
Letia Wyatt | Author and Higher Education Professional

My thought process behind starting The Coco Student and becoming an author was that I finally wanted to take a risk and believe in myself. Oftentimes, I can hold my talents and gifts back, but I believe that God was telling me to trust Him during this time and take the leap. I started writing the Carlie Rae and Crew Series in 2015 and released it in 2020. I was holding back from fear of the unknown, but I realized that every day is unknown and not promised, so why not go for it. My doctoral journey has played a role in cultivating that confidence that was hidden. This has given me the push and drive that I needed to tackle any endeavor. Read more>>