The Early Days: why did you start a business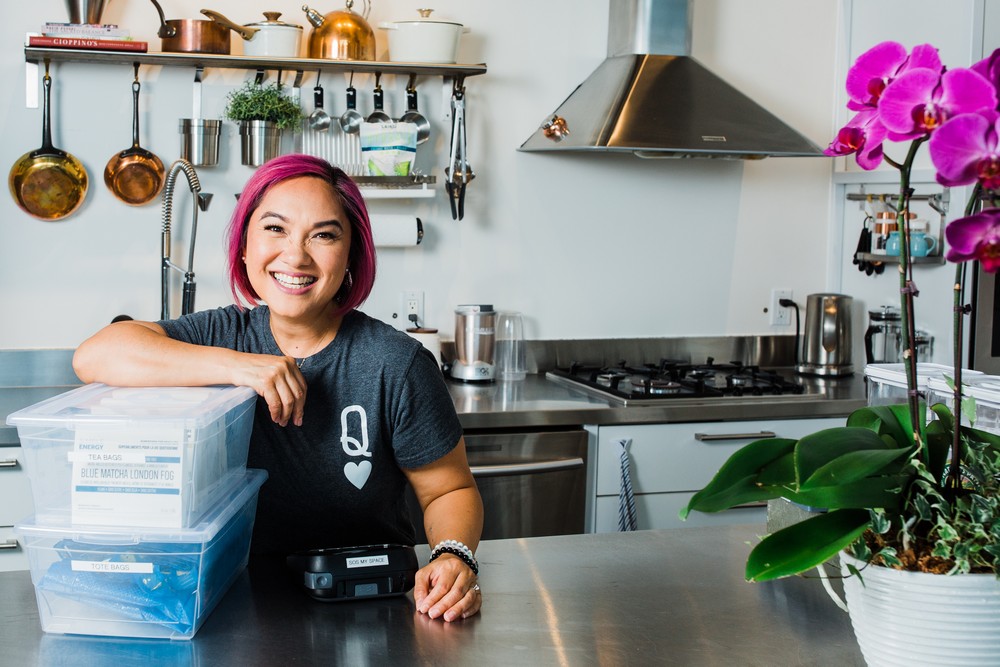 Are you thinking about starting a business? If so, we think you'll enjoy reading about how these seasoned entrepreneurs thought about the question when they were in your shoes.
Nia Gilleylen | Entrepreneur and Wig maker

Once God gave me the vision for N. Alexandria Empire, I knew that I wanted it to be the best of the best. So I didn't rush the process of finding a vendor, creating the website, putting together how I wanted the logos/presentation. Read more>>
Teresa Baldwin | Model and Entrepreneur

I wanted to create a space fire down that looked like me to build a confident movement. To show plus size worn we can be in there from beautiful happy confident and bold. Read more>>
Alicia Marie | Rapper. Singer. Songwriter. Poet. Model. Rose out the rubble.

Freedom. When you are able to benefit financially from something that genuinely feeds and balances your soul everything aligns. I became tired of investing the majority of my energy into someone else's vision. I want to leave an empire behind for my son and his kids and their kids. Read more>>
Michael Diego | Creative, CEO at Wise Assistant

Media is evolving and it's being driven by tech. More people have the ability to create and be creative and the millennials want to do this full-time. I'm creative by heart. I grew up creating visual art, video games, short films, and more. Read more>>
Shawne Arceneaux | Board Certified Nurse Coach & Business Mentor for Healers

Well, I became a nurse 7 years ago because I absolutely love helping people. After working in several different healthcare settings, I found that I wasn't connecting with my patients in the deep and inspirational way I really wanted to. Read more>>
Colton Anderson | CEO – Prysm Talent Agency

I've always been an entrepreneur at heart, I love the challenge of building something from the ground floor and that's exactly what I did. Read more>>
Agatha Marshall | Business Consultant

I have a servant's heart. I helped people in any capacity that they needed and wouldn't charge a dime. I was married at the time J.A.K.S Management was formed and it was a management company in the entertainment industry. Read more>>
Tia Nicole | CEO of Tia Nicole Media

My thought process behind starting my business was me helping others while helping myself simultaneously. My company was created during the middle of a Global Pandemic in 2020. Read more>>
Jamie Briscoe | Owner

I actually started a month or so after the pandemic! Everyone's life was turned upside-down and because I'm a single parent and kids could not go to school, I ended up quitting my job in the accounting field to stay home with my kids. Read more>>
Shannan Hunt | Candle Enthusiast & Entrepreneur

Starting out as a young adult, I've always known that I wanted my own business but I didn't know how to go about it. It wasn't until I had my daughter that I realized that I actually needed to make it happen. Read more>>
Bella Roberts | Hair Care professional & Holistic Trichologist

I didn't particularly set off with the intention of starting a business. Entrepreneurship wasn't always the goal, however, being an immigrant forces one to improvise on career paths and that was how my business was founded. Read more>>
Timi Conley | Wild Rumpus Exec Dir. and Master of Ceremonies

My business, which now is a Halloween parade and celebration organized into a 501(c)(3) non-profit, pretty much started on a whim. Read more>>
Anthony Owen | Master Colorist and stylist

To be completely honest I thought had never crossed my mind until quarantine at the start of the pandemic. During this time it became quite clear to me that I needed to reevaluate and re-prioritize some things in my life. Read more>>
Carolyn Glover-Erves | Body Contouring expert & CLT

My thought process behind starting my own business was what can I do to help other obtain their health and body goals. My mother had a stroke on Mother's Day and could no longer walk or talk. Read more>>
Jennifer DUPREE | Meal prep specialist

How I got started in my milk for business started when I had my weight loss surgery back in June 2016. II want it to live and eat healthier because this was another chance for me me to be healthy. Read more>>
Lisa S. Jones | Founder & Chief EyeMail Officer

My thought process centered around how could I develop a product that would deliver value and engagement on a global scale. Read more>>
Chance Valentine | Photographer & Digital Media Consultant

My biggest passion is storytelling; from writing short stories in school as a child all the way to creating movies for projects in college, I've always loved the art of storytelling. Read more>>
Erica Scales | Independent Film Producer, Media & Healthcare

My father was a dedicated business owner so growing up he inspired me to become one. I would call myself a serial entrepreneur but one main thing I'm doing is to focus on one business at a time. Read more>>
Aveus Johnson | Founder of I Am Somebody (IAS) Girls Club | Educator | Writer | Sewer

I've always had a passion for helping young women reach their goals and grow into their best selves by attaining the necessary knowledge and skills to do so. Read more>>
Sierra Joseph | Trader/ Content Creator

When I think of starting a business. My first question is how can I create a thriving, yet fun business for myself and also for my collogues. Read more>>
Drew Hardee | VP of KHG Sports & MLB Certified Agent

Coming out of law school, I knew I wanted to be a sports agent but wasn't sure the best way to get into it and really be able to do what I would like to do in the industry. Read more>>
Darrius Magee | Editor & Colorist

I started out shooting music videos and commercials for small businesses and brands. I often enjoyed putting the pieces of the visual together, behind the scenes through post production rather than actually going out and shooting. Read more>>
Malachai Steele | Graphic Designer & Urban Gospel Singer

I wanted to create a space where everything that a person needed to function in ministry and business could be done in one company. Read more>>
Angela Bowman, MHS, CMLC | Counselor and Life Coach

My thoughts were how to bring my God given gifts to the people struggling with life on life's terms. Some of which have no guidance in their struggle so I want to be their beacon in the night. Read more>>
Tyler Richardson | Wig Designer & CEO

Hair and beauty has always been an interest of mine since I was young, but I never really thought about about having my own business. Read more>>
J Chris Sears | Photographer & Videographer said

My thought process was all over the place! I didn't realize that photography at the time could be a real career! All my life I wanted to work for my self and be my own boss. So at 21 going on 22 I just did it! Read more>>
Isaiah Joseph | Visual Storyteller

My thought process behind starting my own business came from me first discovering and getting in tune with my long-term desires, goals, and vision. Read more>>
Alyson Fields | Owner of Aly's Party Creations

Creating party favors has always been my favorite part of party planning, so when my daughter was born and I was throwing these over the top birthday parties every year, I decided that I could benefit from my passion and started Aly's Party Creations. Read more>>
Paris Williams | Professional Track and field athlete and athletic coach.

My thought process was I wanted to give the youth knowledge and training I didn't know or have going into college. Midway through college as a track and field athlete I started taking a big interest in coaching as My teammates looked to me a lot of times for advice in their particular event. Read more>>
Quincilia Siah | Professional Organizer

Some would say I am an accidental entrepreneur. I became very interested in the Professional Organizing industry after a friend planted the seed for me to check it out. Read more>>
Felicia Menal | Makeup Artist/Business Owner

As a child I have always had a love for beauty. I would always paint my nails with marker or act like I had acrylics by applying long pieces of tape to my nails. Read more>>
Jayson Wells | Enhancement & Performance Coach

My thought process for starting my own business came from a deep passion and my own personal experience in the athletic space. Having been the athlete that was "uninformed, misinformed and ill-informed," Read more>>
ShonTe' Smith | Children's book Author

Children's books written by authors of color in 2020 increased by 3% to 26.8% compared with 2019, according to the University of Wisconsin-Madison's Cooperative Children's Book Center. Read more>>
Donald Lamb | Momasboy Event Planning and Coordination

Honestly, it wasn't a thought process, it just happened. I began in the business helping someone (my military experiences prepared me for planning.). Read more>>
Faith Wrighten | Entrepreneur

Freedom. Freedom to do what I want, how I wanted and when I wanted to do it. Being free to grow and focus more on myself, my passion and my son. The more I worked and became exposed to different rules from various employers… Read more>>
James Dean T | creator

I wanted to bring back the customer service you used to receive from the milk man when milk was delivered. I wanted a trusted-quality driven brand that was approachable. Read more>>
Jasmine Griffin | Entrepreneur, Mother & Wife

I started my business during the pandemic. I was furloughed from my previous job. During that time, I was dealing with my own skincare issues after being diagnosed with autoimmune hepatitis stage 4 cirrhosis and the stores were empty of skincare products. Read more>>
Devin Jackson | Crystal Candle Maker

I was honestly lead by God to start my business. I had been suffering with postpartum depression and depression for a very long time. Something in my spirit (God) told me to buy a candle making kit, so I bought one and made my first candle. Read more>>
Yvette Caslin | Tax Strategist & Mortgage Specialist

Supernatural forces are definitely governing and have landed me here. One, I have worked for two very successful black entrepreneurs who are now multimillionaires. Read more>>
Andrew Ferrell | Husband, Father, Author, Publisher

To get to the why I started Cloaked Press, we have to start with my first novel. I had queried and submitted to a few publishing houses before deciding to self publish through Createspace. Read more>>
Susan Ellis | Business Owner, Living Kidney Donor, Wife, Mother

My Husband, Lance, was very ill, receiving Dialysis 3 times a Week, waiting for his kidney transplant, often not able to make the drive to his own job where he worked for someone else. Read more>>
Brandi Swift | Parent Engagement

My thought process behind starting my own business was simply to become for others who I needed for myself. Being a mother, single or not lacking support can really be challenging. I want to give support and be support for all mother's. Read more>>
Darius Thomas | Writer & Producer

I knew that the only way that I would be able to write the stories I felt were important and see them through the entire creative process to the end product, I would need some organization. Read more>>
Richard Israel | Photograper

I had a successfull career as a hairstylist in London, I wanted to immortalize my work, photography was how one would achieve that. I got a model, hair and make up artist and a photographer friend to show me how, I got the film back from the lab and I was completely and utterly hooked. Read more>>