Meet Shambi Broome | Web Developer & Nonprofit Founder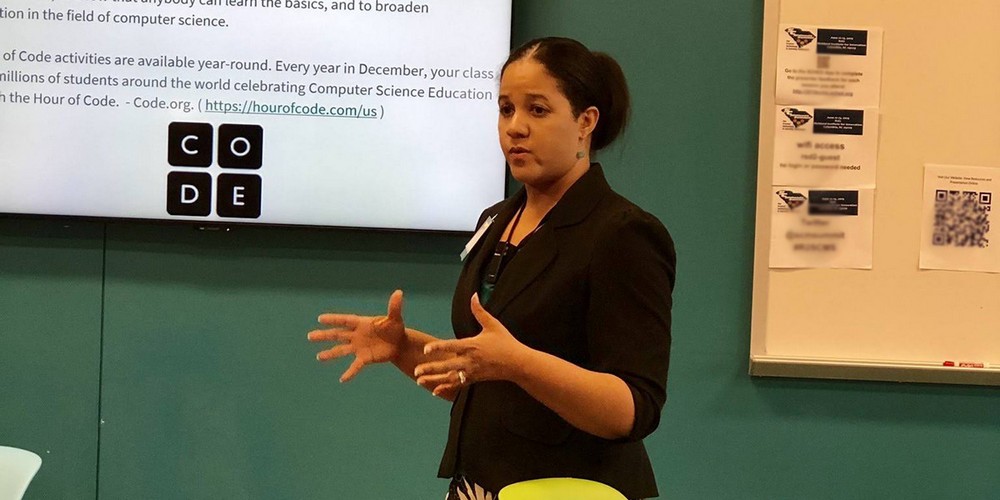 We had the good fortune of connecting with Shambi Broome and we've shared our conversation below.
Hi Shambi, can you walk us through the thought-process of starting your business?
I was that kid selling my "gently-used" toys to the neighborhood kids so I could get money over the Summer to go to the store. In high school my daydreams about my future career always involved figuring out how I could be my own boss. Of course, life happens.
After high school I did a few different jobs and finally went to college years later to pursue a web design certificate. Web design had been a fun hobby for me for a few years and now I finally had a chance to get professional training. In the year 2004 web design as a career was still fairly new so our professor had us create a business plan for a fictious web agency. She knew the only options at that time for employment in the industry was to hope to get hired by a startup (rare in South Carolina) or start your own agency. Little did I know my final would change my life.
After graduation I was actually excited to go work for a web agency to improve my skills after college. I interviewed at 2 different tech companies. At each company the men who did the interviews spent more time in the interview trying to convince me that I didn't want to build websites for them but instead I would be the perfect salesperson for their company.
Needless to say, after I left my second interview, I was beyond mad.
When I got home I told my husband, "well fine then, if they think I'm such a great salesperson then I will be a great salesperson for myself." Finally, I was going to fulfill my childhood dreams. I had a business plan, my college final project, so that's when I decided to start my own web design agency, JMB Designs, LLC.
Fast-forward 10 years and I'm now a mother of 2 girls, still running JMB Designs. and I am volunteering in my daughter's 4th grade class teaching the kids how to build a Google site. I saw myself in the little girls in the room who were too shy to get involved in the discussions and just quietly sat and did the work.
That experience stirred in me the desire to develop a program that creates safe spaces for girls to learn about computer science and not be afraid to speak up in the classroom, or elsewhere, when "tech" is being discussed. I stayed up all night and wrote out the plan for my company Webgyrlz Code. A nonprofit that focuses on giving girls and women superpowers through computer science.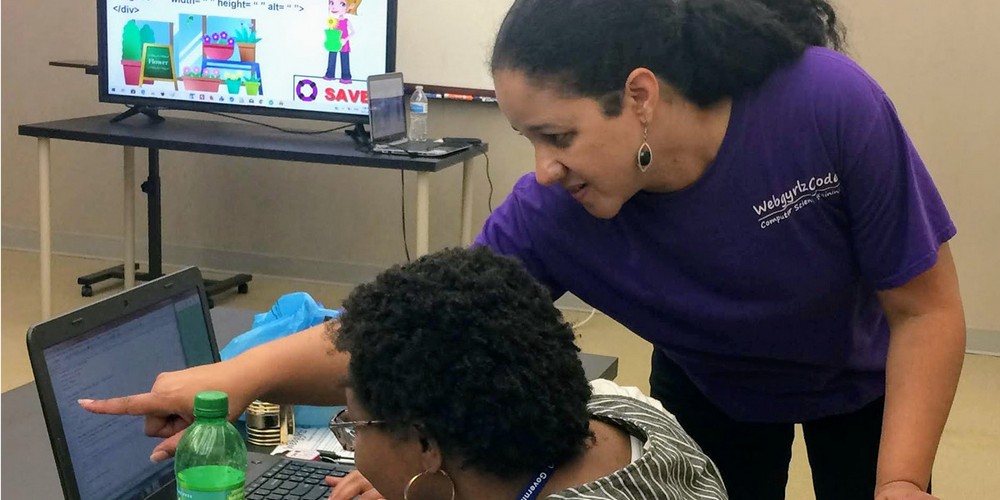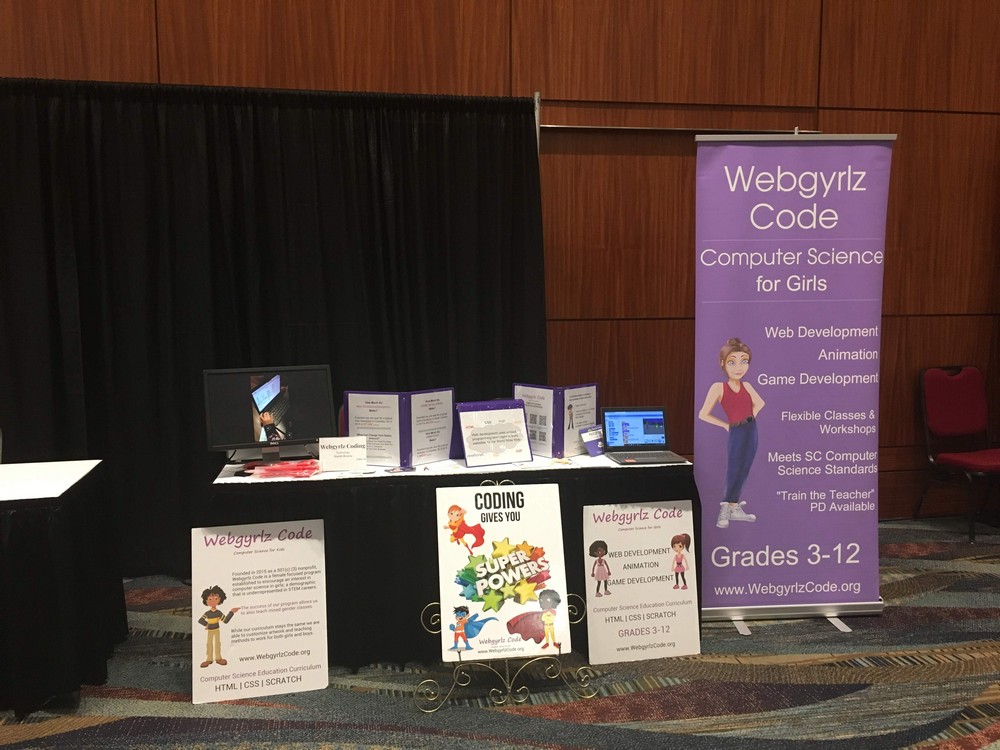 Alright, so for those in our community who might not be familiar with your business, can you tell us more?
When you own 2 companies it becomes hard some days to know who you are as a founder. I was cleaning out some boxes one day and found an old decoration from my daughter's room. It's a picture of "The Little Engine That Could". In that moment everything fell into place for me. I realized who I was as a founder: I'm the little engine behind JMB Designs and Webgyrlz Code. What I do each day drives each company in their own space in the market.
JMB Designs started out as a web design company that built website for small and startup businesses. The mission was to give businesses with small budgets the same opportunities to have a professional website like their larger competition. We still hold to that mission and have added Internet marketing over the years.
We now market ourselves as a data-driven digital platform management company. Our advantage over other web agencies is that we rely heavily on data insights for our website development and social media posting. Our posting strategies can change weekly for a client based on how users are interacting with their content.
There have been a ton of challenges over the years. I started JMB Designs when my oldest daughter was 2 months old. I learned to schedule phone calls during her nap time, schedule in-person meeting and events when her Dad was home from work, and, yes, I've been on phone conferences in my bedroom closet where it was quiet while she was in her Pack N' Play watching Dora. There was a time I had to take on part-time employment when business was slow. I hired an accountant who gave me bad advice and that meant I spent years paying off IRS bills.
By the time Webgyrlz Code was founded I was able to take those experiences and lessons learned running JMB Designs and create a better foundation to make sure the company had a solid start. It allowed me to really enjoy the experience of building another company from scratch.
I feel like I am in a sweet spot right now as a founder. In 2022 JMB Designs will celebrate 18 years of being opened. We have a strong book of business and are at the point that we can be selective and make sure we are onboarding the right fit client.
Webgyrlz Code is where most of my energy is now focused and I get so excited at what we are doing in our local community. Our strategic plan for the next 5 years shows we have potential to grow beyond our local borders. Our web development, app development, game design, and animation curriculum is the foundation of the training we offer for girls and women.
I get so excited to see girls who started with us in elementary school and are now in high school and college continuing their computer science learning. Two girls who were part of our 2016 pilot Scratch programming camps and learned how to use blocks of code to make animations are now digital artists and creators selling their art. We have plans to make a way to offer web development training in communities with no Internet access and we have just been funded for a project that will teach high school students how to develop a website as a community resource to address food insecurities.
Through both companies I have learned valuable lessons. Some of my biggest takeaways are:
1) Own your space. I have to fight imposter syndrome often. It's always there. Some days the voice is a whisper, other days it's shouting at me with a megaphone. I have to remind myself that I belong. I have worked hard to be where I am today. I have to own the space I occupy and not let anyone (not even myself) make me feel like I am not worthy to be in the room.
2) Be humble and kind. It's not always easy to be humble, especially when you have experience or have been a successful business owner for awhile. I have to remind myself there is always something to learn and that means sometimes I need to be quiet and listen. Kindness has always worked out in my favor. It's non-negotiable.
3) Have fun and set boundaries. In 2022 I implemented a "No Friday Deadlines" rule for JMB Designs. I realized I was getting way too stressed at the end of the week and would be too wiped out to enjoy my family on the weekend. This change has made such a difference in my stress level and physical health. I set boundaries for work communications and make sure I stick to a Monday-Friday schedule with clients. I have changed my social media marketing strategy for my personal brand and I have fun sharing who I am as a founder, web developer, and mom.
I built two companies founded on things I love: technology, creativity, and helping others. This has allowed me to see the trueness of what Steve Jobs said, "Your work is going to fill a large part of your life, and the only way to be truly satisfied is to do what you believe is great work. And the only way to do great work is to love what you do."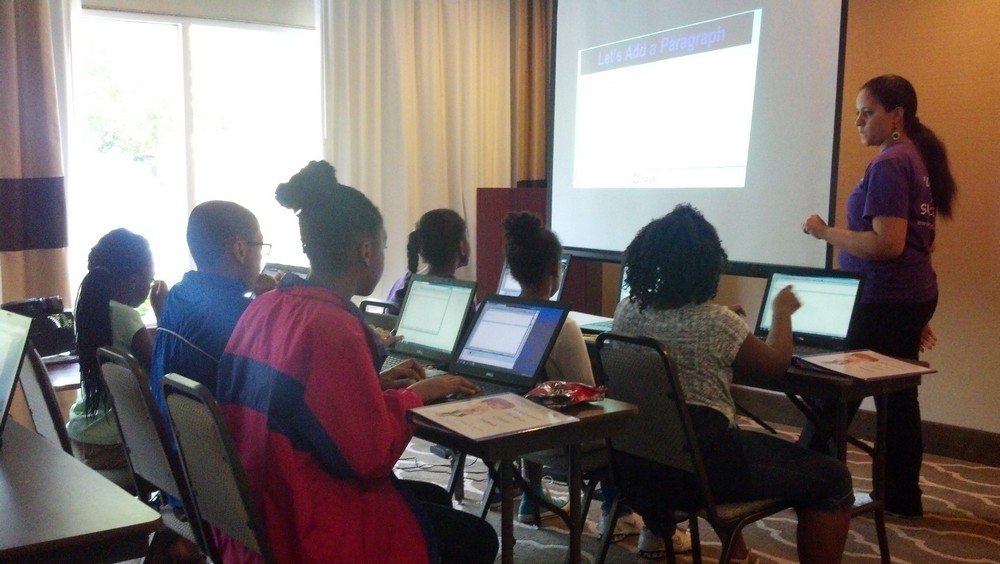 Let's say your best friend was visiting the area and you wanted to show them the best time ever. Where would you take them? Give us a little itinerary – say it was a week long trip, where would you eat, drink, visit, hang out, etc.
Ponce City Market has so much to offer. We'll start the afternoon hanging out while doing a little people watching and shopping. Next is dinner at Tasty China Jia and we are ordering the smoked duck…so good. To finish the night we'll take a walk over to City Winery for drinks and a show.
After resting up the next day when the sun goes down let's head over to Loca Luna for some salsa dancing and chicken and chorizo paella.
Another afternoon will be spent taking in a little history at The King Center. When it's time to eat we'll make our way to Fayetteville to the Truett's Luau Chick-fil-A for a once-in-a-lifetime unique experience.
Before leaving town, a visit to the Georgia Aquarium is a must! It never disappoints. It's a great way to spend a day, and if you have kids they will love it. Bonus, if you're a content creator there are plenty of opportunities for amazing content to film.


Who else deserves some credit and recognition?
It takes a village and my collective includes so many people. My Mom brought the ideas of innovation and technology into our home and, as a result, I grew up loving tech and the opportunities it creates. She taught us about God's love and to follow Jesus' example to love our neighbor and be kind. This is what moves me to give back in my community and mentor others.
My Dad made sure I could take advantage of opportunities throughout school that allowed me to see beyond the neighborhoods I may have lived in. It helped me realize there is a great big world out there with lots of tables and I deserve a seat at anyone of them.
Gerald, my husband, for putting up with my weird brain and crazy ideas. He was on board when I said I was going to start JMB Designs. He was there to cheer me on when I won the pitch competition to get the seed money to start Webgyrlz Code. He sits and listens to my tech chatter when I know I'm rambling a little to much.
Mrs. Karlton, my junior high school social studies teacher, that was the coolest teacher ever because she drove a DeLorean, She taught her students about non-conformity. She helped me to appreciate there is nothing wrong with being different and not following the crowd.
EngenuitySC who created an opportunity for me to make my idea for Webgyrlz Code a reality. They supported, mentored, and cheered for me during the early stages of the nonprofit.
There are so many people who were mentors when I start Webgyrlz Code such a Greg Hilton and Matthew Lesko. They were always just a phone call or email away if I had questions. I can't leave out Ebony Looney who is a friend and fellow "techie girl" that has challenged me and taken me out of my comfort zone which has helped me grow as a person and content creator.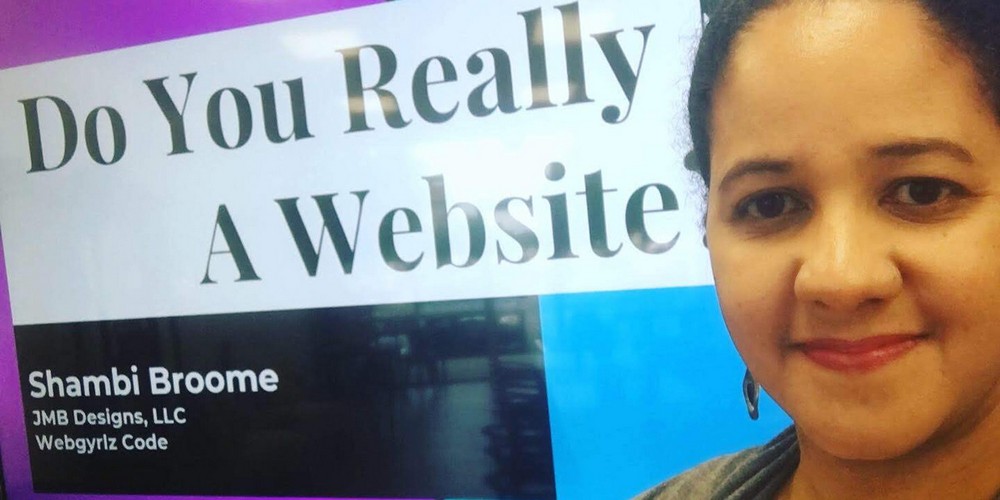 Website: https://webgyrlzcode.org & https://www.jmbdesigns.net
Instagram: @webgyrl2
Linkedin: https://www.linkedin.com/in/webgyrl2/
Twitter: @webgyrl2
Facebook: https://www.facebook.com/JMBDesignsLLC
Yelp: https://www.yelp.com/biz/jmb-designs-columbia
Youtube: https://www.youtube.com/channel/UC0qxMPJ-VOs_qAswAwr_Img
Nominate Someone:
 ShoutoutAtlanta is built on recommendations and shoutouts from the community; it's how we uncover hidden gems, so if you or someone you know deserves recognition please let us know 
here.