Meet Karen Reynolds: lettering artist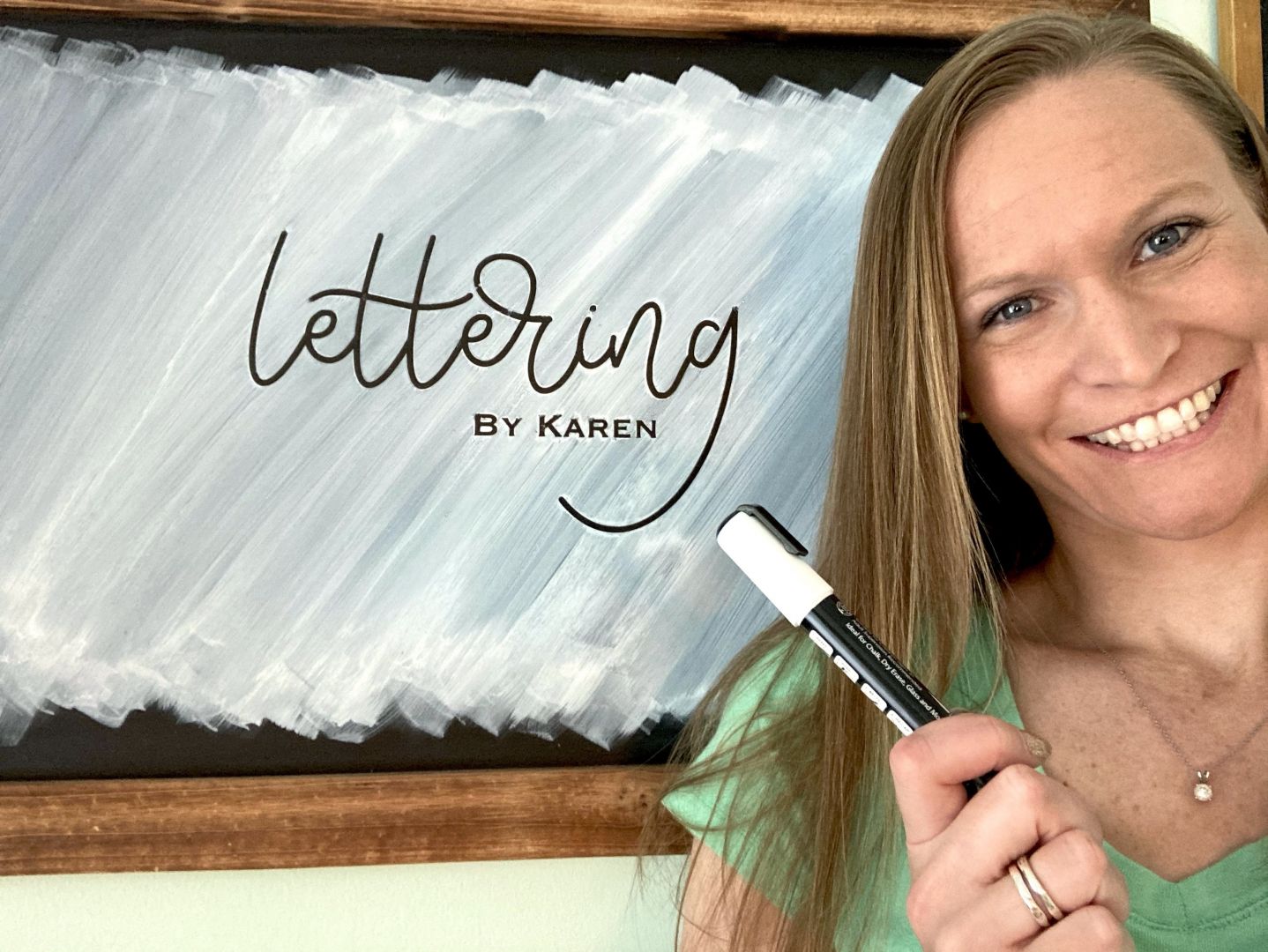 We had the good fortune of connecting with Karen Reynolds and we've shared our conversation below.
Hi Karen, every day, we ask about how much execution matters, but we think ideas matter as well. How did you come up with the idea for your business?
I get asked this question all the time. To be honest, it turned into a small business before I even realized what was happening! I picked up lettering as a fun hobby and absolutely fell in love with it. I began making small things for fun – cards and envelopes, teacher gifts – and several people told me I should try to sell them. I opened up an Etsy shop, spent a short exhausting period of time making lettered prints as "end of school year" presents, and then it was over. I had no desire to keep up with Etsy after that, and I returned to lettering as a hobby. I found myself randomly making custom orders for family and friends, but it was still just something fun to do on the side. The commissions grew when I decided to try chalk lettering and began making chalkboards for weddings, showers, and memorials. Word-of-mouth was turning my hobby back into a business, and I was having a blast. About a year after my attempts on Etsy, I had followers on social media asking where I had learned lettering and showing an interest in my letters. I was flattered by the first few messages regarding my lettering, but when they kept coming in, I knew there was something more there. I slowly developed my first set of lettering worksheets. There was so much to learn, but the idea of teaching my letters to other people was thrilling. After those first worksheets, I churned out several more in various lettering styles; I would publish one on Etsy, and a handful of people would ask for something else. My online business was completely driven by what my social media followers wanted. Online lettering worksheets eventually grew into local in-person classes, and my business continues to grow with the prospect of instructing at the Pinners conferences in Utah and Arizona later this year. If you would have told me two years ago that I'd be running a small lettering business, I wouldn't have believed you!  
Alright, so let's move onto what keeps you busy professionally?
It's still so funny to me to be considered an artist. I have absolutely no artistic background, but I have easily found my place in this amazing lettering community in such a short amount of time. As far as my professional journey goes, there have definitely been some hiccups to keep me busy along the way. The biggest challenge for me has been my lack of experience; early on, every new commission I took on required a new skill set, whether it meant figuring out supplies or tools or trying to price my own work. I still struggle with pricing! Learning different skills along the way was extremely time-consuming, but finishing a piece made it all worth it. Plus, then I had yet another skill that I could use in the future. Those early commissions really helped me grow as a lettering artist, and I'm thankful to have had so many different kinds of projects. Since I've grown as a lettering artist, beginner letterers often come to me for advice. I never thought to ask when I was starting; I usually learned by online research or social media videos. Now I know that other lettering artists are a great resource if I'm struggling with something. I find that I am always busy with lettering, regardless of whether it's for business or pleasure. I am not afraid to try different techniques or different mediums or different anything, and I think that part of me has really helped the commissions aspect of my business; I'm not afraid to make a custom order when I've never done it before. I'm willing to try until I get it just right, and I'm willing to share my mistakes and successes with other lettering artists to help them grow. On a separate note, I have been told that my lettering style is very clean and easy to read but has a certain I-don't-know-what that makes it stand out. I'm known for blending with chalk and chalk markers, and I believe that I have assisted this whole world of chalk blending grow among the lettering community. I am so proud of where I started and where I am today. All of that time invested into lettering and into practicing really does pay off, and I always enjoy looking back to see where I came from. Yes, some of my old stuff makes me cringe, but it's truly amazing to see the progress. I think that so many people believe they cannot pick up a hobby like lettering if they feel like they aren't artistic enough, but I am proof that that is simply not so! I guess you could say that Lettering by Karen is basically a one-stop shop for lettering. If you're interested in learning how to letter, I offer downloadable lettering worksheets that range from faux calligraphy – perfect for a beginner with no supplies – to brush lettering, serif lettering, and even lettering for bullet journals. If you're local and learn better with instruction, I offer in-person classes for faux calligraphy and chalk lettering. If you are interested in purchasing anything with lettering on it, whether it's painted, digital, vinyl stickers, a chalkboard, or even chalked on your driveway, I am always available. Yes, I chalk driveways for birthdays, graduations, parties, you name it! I once chalked a school entrance for Teacher Appreciation Day. I am always open to hear new ideas and give them a try.
Any places to eat or things to do that you can share with our readers? If they have a friend visiting town, what are some spots they could take them to?
Oh, that's a tough one! There are so many things to do here in Atlanta, and I have been fortunate enough to live in lots of different areas of town. A hike to the top of Kennesaw Mountain is always a great way to start the day. I recommend eating at Honeysuckle Biscuits and Bakery for breakfast or desserts, The Nest for some delicious barbeque, or a trip to The Frozen Cow Creamery for the coolest custom liquid nitrogen ice cream experience! Marietta Square is just down the road and offers a lot of fantastic restaurants as well.  A few of my favorites are the Marietta Local, Stockyard Burgers and Bones, or the Marietta Square Market. Make sure you hit up the Marietta Local early, though; they close after lunch, and it is definitely worth a trip!  I never pass up a trip to Tiny Bubbles for bubble tea when I'm in the Square; I recommend the coconut brown sugar. It pairs well with a nice walk around the fountain, and if you have kids, it will give you something to do while they play on the beloved train playground. On the other side of Atlanta, I suggest spending some time in Decatur for a bite to eat at the Square Pub or Brick Store Pub and then heading down the road to play pool at Twain's. I've also been known to lose the occasional game of shuffleboard there! Stone Mountain is always a great place to visit. You could pack up a picnic dinner and blankets one day and head over to Stone Mountain to climb to the top. Oh, and the laser show at night is a must! I still remember going to the laser show when I was younger, and not much has changed. It's just good ol' wholesome fun. As far as big tourist sites, the GA Aquarium and the World of Coke are always exciting places to visit, and nothing beats trying all those drinks from around the world. While downtown, I recommend grabbing a burger at the Vortex, watching the Centennial Olympic Park fountains, and driving through the super cool Krog Street Tunnel. For a calmer change of pace, it's always nice to walk along the Chattahoochee River trails. I'm familiar with the trails off of Akers Drive that head towards metro Atlanta, but I know you can head to Roswell Mill to see the waterfall. There really are a ton of places and things to enjoy here!
The Shoutout series is all about recognizing that our success and where we are in life is at least somewhat thanks to the efforts, support, mentorship, love and encouragement of others. So is there someone that you want to dedicate your shoutout to?
There are a countless number of people who have encouraged me along the way, but I want to dedicate my shoutout to the incredibly supportive Matt and Amber Staples of Loddie Doddie. Loddie Doddie is a California-based company that sells chalk markers and chalkboards who reached out to me last year in hopes that I would try their products. From the beginning, I knew that this company was different from others. It was run by two genuine, considerate people who truly wanted the best for everyone, and it showed through their customer service and attention to detail. Matt, who primarily runs the company, spoke with me after reviewing their products, and he showed interest in me as a person and an artist rather than just the content or review I provided. It's sometimes strange to produce art that is rarely seen somewhere other than social media; people often forget that there is a person on the other end of the brush or marker. Since that very first phone call, I have developed a strong relationship with Loddie Doddie. Matt is incredibly supportive of everything I do and everything I'm trying to accomplish, and he is always there to offer encouragement. After releasing lettering worksheets, I was teetering with the idea of teaching in person. I honestly don't think I would have taken that next step had Matt not been there to listen and offer his support. He helped me through logistics of chalk lettering classes, both in person and online. Matt and Amber helped me produce a chalk lettering workbook that they now advertise for me on their company website. They have asked me to join them at the Pinners conference as their instructor, which is such an exciting step for me. Matt and Amber have helped Lettering by Karen grow to unimaginable heights, and I am so thankful that they are on this wild journey with me. I wouldn't be where I am today without their oodles of support. They are truly two incredible people, and I am so fortunate that our paths crossed.
Website: www.letteringbykaren.com
Instagram: www.instagram.com/letteringbykaren
Facebook: www.facebook.com/letteringbykaren
Image Credits
Wedding chalkboard images courtesy of Mike Moon Photography.