We had the good fortune of connecting with Jamarra Fraley and we've shared our conversation below.
Hi Jamarra, we'd love to hear about how you approach risk and risk-taking
What is a reward with no risk? Right?!
Some of my biggest successes happened after taking some of the biggest risks of my life.
Whether that risk was quitting a job without any other steady income because I wanted to pursue my passion just that much or whether the risk was dropping out of college before obtaining a degree, I think it's safe to say I have taken my fair share of risks in order to get to the place I am in today.
Growing up, my daddy, who is now my guardian angel, always taught me, "Scared money don't make no money." In other words, if you're afraid to make investments in yourself, you'll never truly attain all that you desire. Life is a gamble; a game of chess, if you will, and I strongly believe that you have to be willing to do things others may call you crazy for doing, make decisions no one else is willing to make, sacrifice things others so desperately cling to, and even lose people who may not align with your vision. All of which are dangerously risky but necessary if one truly desires to reach new levels of success.
So, when I think about taking risks, personally I know how vital it is to have a mindset that isn't afraid to step into the path of the unknown, and OWN it. Besides, I still have more risks to take. I have bigger dreams, bigger goals and an even bigger vision for my future which means it's time to take even BIGGER risks!
Can you open up a bit about your work and career? We're big fans and we'd love for our community to learn more about your work.
I am a licensed cosmetologist. As a young kid my mother taught me how to braid, and I would always braid my friends' and my dolls' hair. I loved giving my dolls the same braided hair styles my mom would give me. As I got older, the love for doing my own hair and my friends' hair grew to the point where I always had a lingering thought in the back of my mind that I wanted to "do hair" for a living. However, that idea was never truly nurtured because there was thought to be no real security or benefits in working for yourself, especially as a hair stylist. The income was considered inconsistent and not as guaranteed as a job in the medical field for example.
I graduated high school with honors, went to Valdosta State University on an academic scholarship, and majored in biology because I had dreams of becoming a pediatrician. I always enjoyed working with and helping children, so I figured a job in the medical field working with children would be perfect, right? Wrong! It was HARD. College was nothing like high school, and after making straight A's all K-12, I felt so ill-prepared because nothing was the same. Unfortunately I ended my freshman year on academic probation, lost my scholarship and had to move back home because my parents couldn't afford out of pocket tuition.
I had no idea what else to do, but I knew being a biology major was NOT FOR ME! So, I transferred to another school – Georgia Highlands College – where I switched my major to Nursing! This should be easier, I thought. I could be a pediatric nurse and still ensure job security and work with kids. Perfect, right? I thought so until I took a microbiology course and realized I could in no way stomach some of those diseases, infections and bodily trauma we had to see each day! It was tough. My family wanted me to graduate, and I couldn't even fathom creating a career in this field. I stuck it out until I obtained my associate degree in nursing, but I knew I had to find another path and another school because I had gone as far as I could at this institution. The next step was to apply to nursing school.
I couldn't do it. So, I transferred colleges again. I transferred to Georgia State University where I chose to major in social work. It wasn't long before I realized how traumatized I would be by some of the situations and circumstances presented by this career path. I can't witness child abuse or take children from impoverished homes and place them in state custody. I saw what foster children went through when I spent years working in child care and day care centers in my teens and early 20s. This major wasn't going to satisfy me either. I was stuck. I wanted to quit so bad but I didn't have any back up plan whatsoever. Finally, I found a major that I felt would suit me perfectly. Exercise science. (Mind you I hated science but loved sports). I figured this would be perfect because I could be an athletic trainer and work in women's basketball, something I've loved and been involved with my whole life. Again, once I got into the major I realized, I loved the sports but hated all the science behind it and never realized how in depth my studies would be. It got to the point where I hated going to class, I hated labs, I hated practicals and daily I was miserable, racking up thousands in student loans and still feeling helpless and stuck!
This whole time, I always braided hair on the side. It brought me so much peace and really made me feel the most in my element. After 7 years trying to chase a bachelors degree, 3 college transfers, and 4 major changes, I knew something had to give. I was 5 classes from completing my exercise science major but felt I couldn't go another day. I called my dad, and told him everything. I was miserable and wanted to quit college and go to hair school and get my license. My dad told me, "Marra, if that's what you truly want to do and if that's what is going to make you the happiest, do it! Step out on faith, trust God, and do it. I got ya back if nobody else does." That was seriously all I needed to hear.
I withdrew from Ga State University that day, and enrolled in hair school the next week. I have never been more satisfied or content with a decision in my life. I knew this was what I was supposed to be doing. The irony of it all is the fact that while going to Ga State, I was working part time at a warehouse. I randomly got a call one day; it was the owner of Salon Ramsey located in downtown Atlanta asking me to come check out his shop because he saw my work, loved it and wanted to offer me a chair at his salon. I had never worked in a salon. I was ecstatic. How did this opportunity literally just fall in my lap after so recently closing the last chapter of my life in college.? Everything unfolded so effortlessly. My hair school fees were all paid in full by grants, meanwhile I had thousands and thousands in student loans at Ga State. I landed a salon home without even searching for one. This was my big debut. This was destined to be my path, even if it didn't look so ideal for those around me or that raised me.
Salon Ramsey was huge, and I felt so out of place and like everybody was so much better than I was. I had to build so much confidence to keep up and also learn how to build a clientele with zero shop experience amongst 150+ other stylists, barbers and other beauty professionals all under one roof. Talk about being thrown in with the wolves and having to figure out how to survive. It made me such a better stylist and business owner. It gave me a drive and work ethic that is unmatched, one I don't think I would have developed has I started anywhere other than Salon Ramsey. I had to figure out so much, so fast but the experience made me one of the best locticians in the city. I started out as a hair braider, but after a few months I decided I would like to specialize in dreadlock styles and maintenance. It allowed me to be the creative I was destined to be. Each day was a new experience as I learned how to properly shampoo and maintain locs and how to thoroughly care for the specific needs of each client. Plus, I could do all kinds of styles for my clients and they loved to grant me creative control which was perfect for me.
7 years later, I am one of the most well known, respected and sought after locticians in the industry. The natural hair and loc community know me as CombYoKitchen. My clients respect me as a professional because of the way I conduct business, care for their hair while addressing specific needs, provide top quality service with quality products, and deliver impeccable results every time. My clients have become family, and they know that when they sit in my chair it's more than just a retwist, it's an entire experience. Because of the trust and reputation I have built over the years, I am often booked out for months at a time and have clients both nationally and internationally. I literally have clients all over the world. I have had the pleasure of rendering services for major recording artists such as Lil' Uzi Vert and Skeme Inglewood to name a few as well as professional football and basketball athletes. I've flown across the world to provide services for individuals in Europe and the Middle East and have had clients fly to me from Africa, the Caribbean Islands, and the Middle East. It's truly an honor to share my gifts with the world.
My empire is expanding and I have also developed an all natural product line, CYK Essentials, that focuses on restoring hair loss, reversing scalp and skin conditions, and encouraging healthy hair care practices both at home and in the shop. We have an online store (cykessentials.com) where you can find our CYK Essentials hair oil, which thousands say have helped them reverse scalp issues associated with alopecia, psoriasis, eczema, and even seborrheic dermatitis. You can also find our beard oil and jumbo sleep and shower caps in various sizes to fit any length and thickness of any hairstyle (afros, braids, cornrows, locs). I also provide all loc services ranging from hair/scalp treatments and detoxes to color, maintenance, loc reattachment and permanent loc extension services.
Although my path wasn't necessarily the easiest or the straightest, I wouldn't change a thing. I've learned so much about resilience, faith, trusting God, following your dreams, cancelling out the naysayers, and business operation and ownership over these last several years. I have a team that works with me in administrative areas (Lesley Henderson-Sanders of Seven21 Designs) as well as marketing. I'm so thankful I had a father who encouraged my dreams and passion. I've built an empire from scratch and it's such a blessing to be able to watch my vision unfold, while building a team of individuals to help execute it.
My brand is built on quality and customer service. We are an unanimously 5-star rated entity! We will be expanding our team this year and look forward to being able to train other ambitious individuals who have a passion for meeting the needs of each client who needs their crown to flourish by hands they can trust. Thank you Atlanta for trusting me, CombYoKitchen, to bless your crown!
Any places to eat or things to do that you can share with our readers? If they have a friend visiting town, what are some spots they could take them to?
I love the big well known spots like Ponce City Market and areas like Atlantic station, but I also enjoy the tucked away gems as well. Like breakfast or brunch at Virgil's in College Park or Breakfast at Barney's downtown. I also love a good midday cocktail and wings from the Original JR Crickets on North Ave or Tom Dick and Hanks!
I'm not big on the club scene night life but I don't mind spending an evening at Cru Lounge, VVS, or even Sivas or Views downtown.
Thai 26 downtown has some awesome food too!
Crab Pot Lounge on Old National is an absolute MUST HAVE!!!
If you like wine and have time, definitely contact Pop The Cork Wine Tours for a nice full day of wine tasting and fun!!
You can also never go wrong with a bike ride, picnic, or renting scooters or skates for a day at Piedmont Park.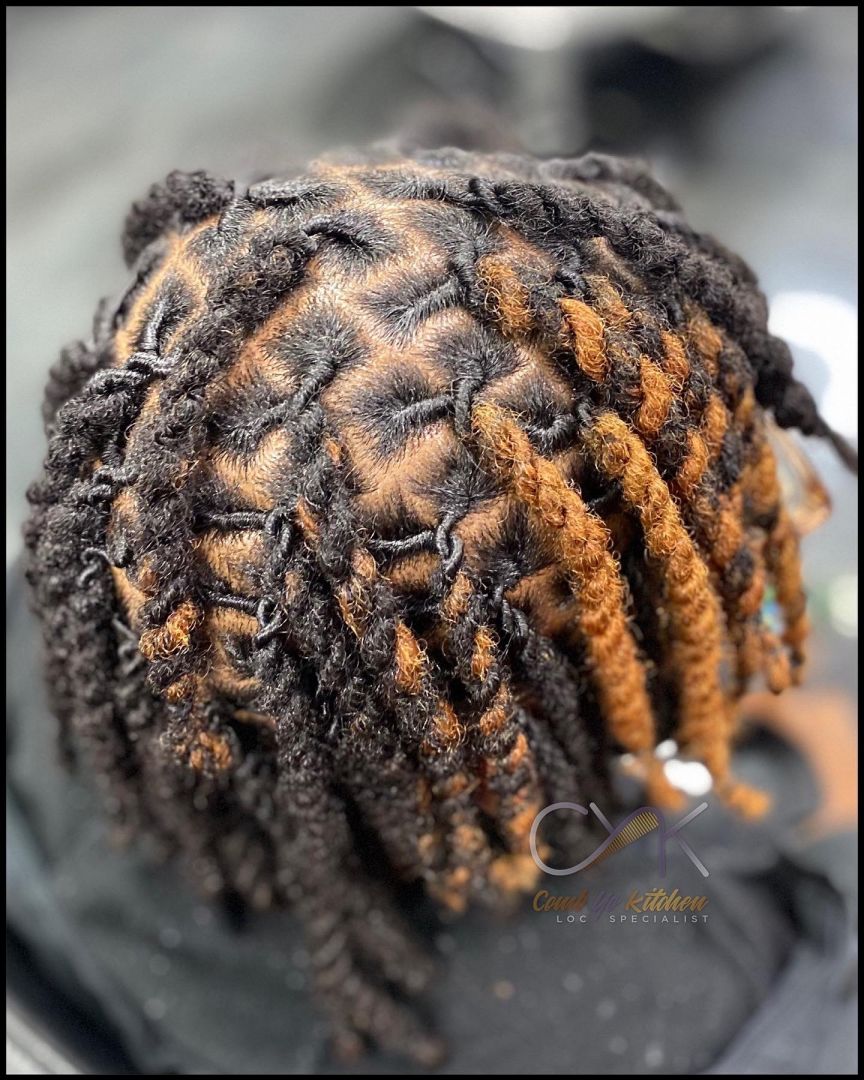 Who else deserves some credit and recognition?
I would like to dedicate this shoutout to my closest friend, my "Big Dawg", my guardian angel, and my motivation for pursuing my passion and chasing my dreams. My father, Alex Fraley Sr. My father was always my biggest cheerleader, my main support system, and my truest reason for stepping out on faith and doing what it was that I truly wanted to do for a living. Even though I had to drop out of college to pursue my passion, my father encouraged me to chase my dreams unapologetically, no matter what that process looked like.
He never missed an opportunity to promote my business or to tell people with locs, "You need to go see my daughter, she's the best loc stylist in Atlanta," as he would make jokes with them about their hair needing to be done.
My father was my diary; he housed all my secrets and never judged my failures.
Without his guidance, leadership, friendship, encouragement, support, and unwavering love, I NEVER would have followed my passion with such ambition, tenacity, or hunger! The day he gave me his unfiltered approval to share my gift with the world, was the day my entire life changed and I really discovered the power of my potential!
Thank You, Daddy!! You created a Legend in the making.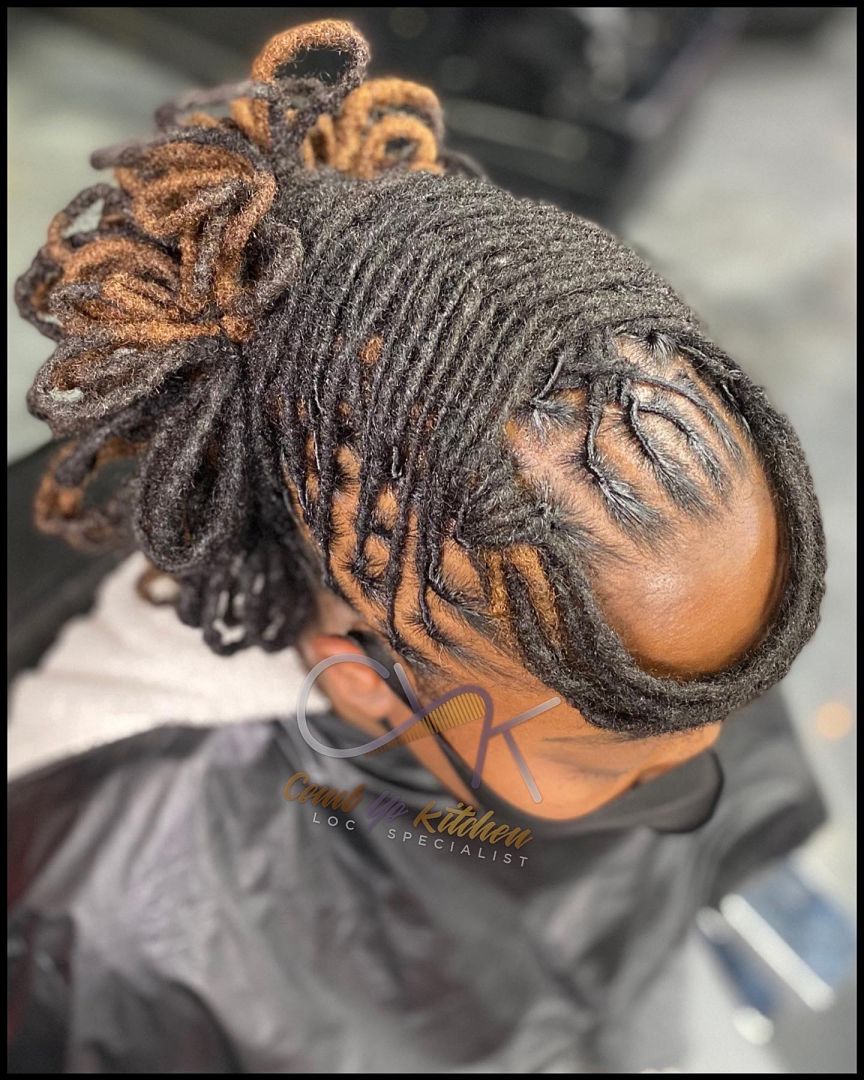 Website: www.cykessentials.com
Instagram: @_combyokitchen, @cyk_essentials
Facebook: facebook.com/combyokitchenllc , facebook.com/cykessentials
Other: tik tok: @combyokitchen
Image Credits
Bryant Andrews Photography
Nominate Someone:
 ShoutoutAtlanta is built on recommendations and shoutouts from the community; it's how we uncover hidden gems, so if you or someone you know deserves recognition please let us know 
here.