Meet Cornelius "Mr. Come On Somebody" Turner: National Fitness Presenter, Zumba & MixxedFit Instructor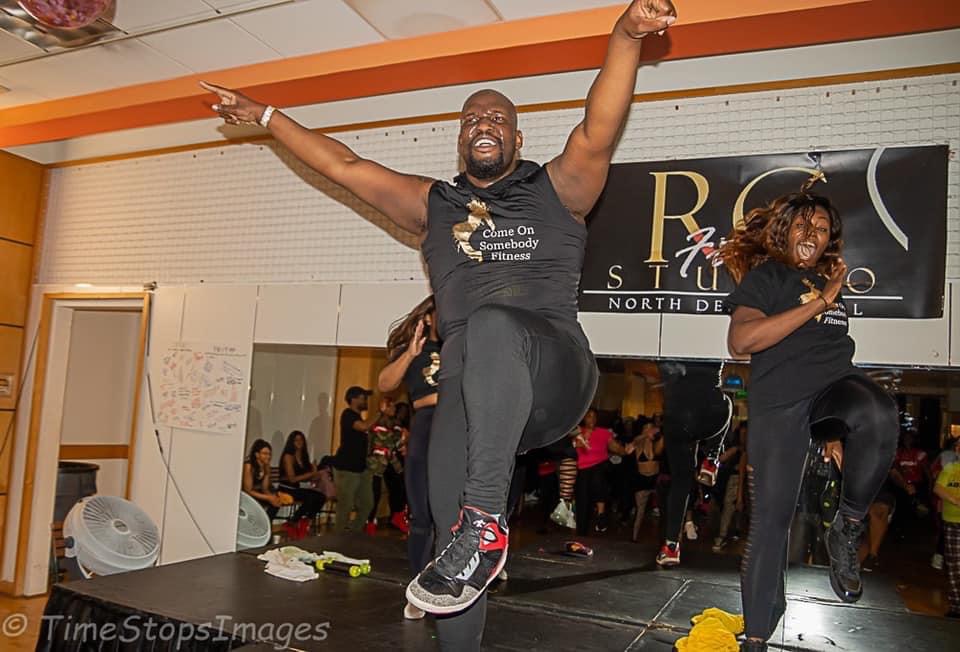 We had the good fortune of connecting with Cornelius "Mr. Come On Somebody" Turner and we've shared our conversation below.
Hi Cornelius "Mr. Come On Somebody", how has your background shaped the person you are today?
I was born and raised in Mobile, AL. My background and upbringing significantly fueled my drive for success. Growing up, it was hard to hear how others would judge those that lived in low income homes or "The Projects" as some would say. Kids made fun of me and my family. Parents even discouraged their kids from being friends with "The Project Kids." I remember my high school prom date's mother told her she didn't want her going to the prom with someone from the projects. That shattered my young heart. However, I didn't allow those negative words to sway me from my greatness! I used those words as a catalyst to fuel my hunger for success. Those very words helped me to get a leading role with a Fortune 500 company, get a Masters degree, start a small business, write/ produce plays, give back to the community through innovative projects, become a fitness professional, and inspire others along the way. With all this being said, my upbringing taught me to look pass negativity and focus on the greatness that God has instilled in me because winning is engraved in my DNA. Come On Somebody!
Can you open up a bit about your work and career? We're big fans and we'd love for our community to learn more about your work.
I'm a National Presenter and dance fitness professional in the Atlanta, Douglasville, and Camp Creek surrounding areas. I'm licensed to teach multiple fitness formats including Zumba, MixxedFit, Cardio Jam, and Hip Hop. I currently offer classes at LA Fitness Douglasville and Camp Creek. In addition, I have expanded my platform to offering virtual classes through Zoom. My ability to instill confidence, love, and positivity to individuals through dance fitness and through my social platforms sets me apart in the industry. I learned the value of having self confidence at an early and I constantly strive to help others recognize their value and self worth. Growing up, I lacked self confidence because I suffered from Alopecia. Alopecia areata occurs when the immune system attacks hair follicles, and may be brought on by severe stress. One of the main symptoms is hair loss. For me, I began losing my hair at the age of 16, which is normally the time when teenagers should be discovering who they are and enjoying life. For me it became a time of self doubt and low self esteem. When I made it to college, someone innocently snapped a photo of me and posted it on the school's website. When I saw the photo, I was immediately brought to tears because I could clearly see bald spots in my head. One day the Lord spoke to my spirit and told me that I was making my hair into a God and it was true. I had focused so much on the lack of hair that I didn't realize the great qualities that the Lord had blessed me with. I vowed to myself that I would never let something like that take away from me again. As a result, I decided to completely shave my whole head bald. As I shaved my head, tears flowed down my cheek like a river of water. When I finished, I felt a strong sense of relief and found my inner confidence in being me. The very thing I was trying to hold on to was the thing that was holding me back the most! Come On Somebody! Since then, I have created fitness platforms to share my testimonies with those with similar journeys. This year, I was blessed with the opportunity to host my first confidence building and fitness workshop. I was able to partner with the amazing and dynamic fitness specialist, Nina Mallett, in a workshop we titled "Diary of Me." This workshop was special because we both challenged ourselves to reach deep down in the depths of our personal diaries and share our stories with the community in order to uplift and inspire our brothers and sisters. In this workshop, the participants learned confidence building techniques in life, dance, business, and fitness. We are currently on tour with this workshop and open to spreading this ministry throughout the United States and one day internationally. My biggest lessons that I can share is to never be afraid to be uncomfortable. I have grown the most as a person by stepping out of my comfort zone and trying something new. I constantly challenge myself by seeking out further education in my field, creating, developing new projects, participating in various conferences, seeking out mentors, and building up others along the way. Remember to always strive to be the best version of yourself! Come On Somebody!
If you had a friend visiting you, what are some of the local spots you'd want to take them around to?
If a friend was traveling to Atlanta, I would make sure I took them to relax and Piedmont Park. For fun we would definitely have to visit Six Flags. I would also show them the amazing sea life at the Georgia Aquarium. I absolutely love taking photos so we would have to go to the Krog Street Tunnel, the art walk, and downtown ATL. To get a great fitness experience, we would climb Stone Mountain and attend classes at LA Fitness, Express Fitness, and RC Fitnez. Let's not forget food! We would go to many Mexican restaurants such as LA Fiesta. Lastly, we would sing karaoke at J.R. Crickets.
Shoutout is all about shouting out others who you feel deserve additional recognition and exposure. Who would you like to shoutout?
There were a multitude of people that poured their light and love into my life that contributed to my success. I would first like to recognize my parents, Carl and Briggett Turner. Since I was a little kid, my parents always told me that I was special. Their confidence in me empowered me to believe in myself and gave me a "Can Win" attitude at an early age. I would like to recognize my pastor, Steven Cox. He played many roles in my success. He significantly built my foundation on loving people, fighting for my passion(s), dressing for success, organizing, leading, and managing projects, and pulling others up along the ways. I will always remember him telling me to "create projects that you are passionate about and you will find yourself putting your heart into it." Those words continually speak to my spirit in every project, event, class, and lecture that I lead. I would also like to shoutout the Mobile Housing Authority, Alabama Power, and Spherion Staffing LLC representatives Sonya Curtis, Cheryl Williams, and Johnetta Jackson for instilling their wisdom and knowledge in from a business perspective. Lastly, I would like to shout out International Presenter and Founder of Pulse, Alana Sanders, for taking the time out to mentor me on the various ways to grow and develop as a fitness professional. I will always remember her message about the importance of "being yourself." These shout outs are only a few of the many that the Lord has blessed me with. I am truly grateful and thankful for every soul that I have had a chance to encounter and grow with. Come on Somebody!
I would also like to shout out the Come On Somebody Fitness Crew members, Izzy Pinto, Kellie Taylor, and Lakendrick Kelley. They constantly support and encourage me through many fitness initiatives, rehearsals, personal aspirations, and community projects. They truly have become my biggest support system, my dearest friends, and family!
Facebook: Cornelius Zumba Turner
Youtube: Cornelius Turner
Other: corneliusturner.zumba.com
Image Credits
1. K. Kelly Photos owned by Lakendrick Kelly
2. Time Stops Images- Owner: Thomas Billie
3. ddivinephotograhy- Derrick Divine