Meet Christian J. Bonner and Maurice Q. Saunders: Investors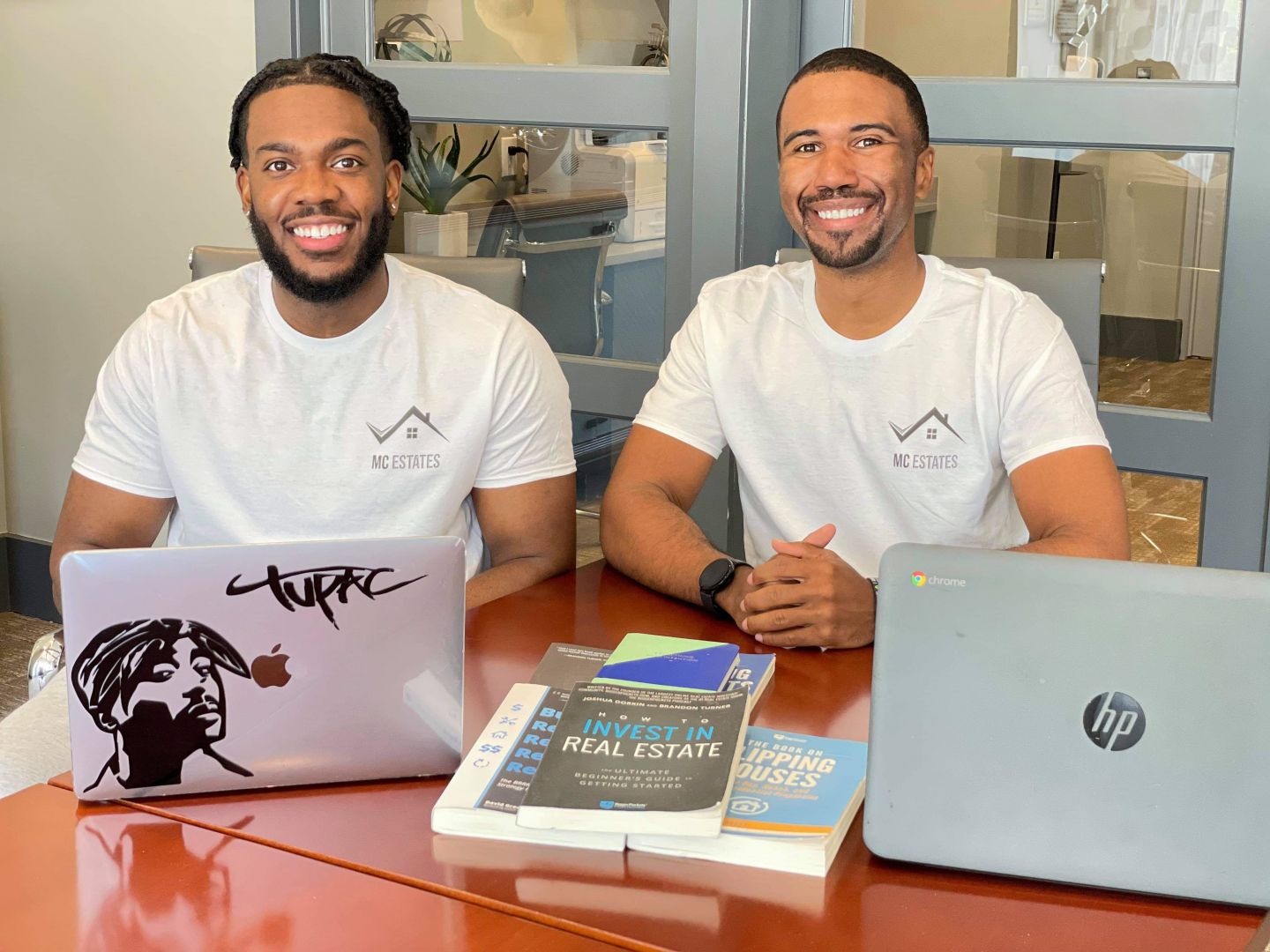 We had the good fortune of connecting with Christian and Maurice, and we've shared our conversation below.
Hi Christian and Maurice, where are your from? We'd love to hear about how your background has played a role in who you are today?
Christian: I grew up in inner city Cincinnati, OH, raised by a single mother, and her only child. I credit my mother, Tracey Bonner, for her disciplined and no nonsense approach to raising me on her own to ensure that I would break down all barriers as a black man and succeed. She always challenged me to do more than what I was doing at any given time, always emphasizing that an average work product does not lead to an exceptional performer in Corporate America for African-Americans. At a very young age, the qualities of discipline, focus, vigor, persistence, and most of all, ambition, which I wear on my sleeve to this very day, was embedded into my DNA by my mother and years later, it has propelled me to very desirable outcomes and tangible results, personally and professionally. It is so amazing how practicing daily good habits can lead to the greatest rewards; that is trusting the process – enjoying the journey and having faith in the outcome at the end of the tunnel, where the light continues to shine bright for me. God was always present in our home and she made sure I knew he was from the day I was born; no matter my circumstances, there is a God in heaven, who will always keep me covered. To this very day, I attend church every Sunday because of my devout faith in Christ; it is impossible to please God without faith and that's why he continues to show me favor.
Maurice: I am from the inner city Philadelphia, PA and my upbringing has shaped me into the resilient man that I am today. I come from a large family of 10 and they have been my backbone. My mother Lydia Gibson and stepfather Anthony Greenhill taught me the value of hard work and dedication. Philly is known to be a rigid city and I credit my mental toughness and resilience to growing up here. My step dad always told me "hungry dogs run faster" and I embody that to this very day as I continue to chase my dreams.
Alright, so for those in our community who might not be familiar with your business, can you tell us more?
MC Estates: What sets our real estate investing business apart from others is that we invest with the intention of building generational wealth, while simultaneously making a meaningful impact on the city of Atlanta while doing it. Our properties are in the inner-city metro Atlanta area, where there is a true impact to be made through providing access to affordable housing to these often underserved and transitioning neighborhoods. While we want to be a profitable business, we also want to be an impactful business. Most investors are often only seeking the greatest cash flowing opportunities; it's bigger than the net profit for us. For us, it's about building generational wealth, making a difference in the lives of others, and being impactful.
We are proud of how quickly we've been able to build our portfolio in such a short period of time by consistently putting forth the maximum level effort, on sometimes very restless and exhausting days – very typical for entrepreneurs. We are excited to see where this journey will lead us – we have plans to grow our business into a multi-million dollar portfolio within the next 2 years and it's going to take an abundance of vigor to get there; we know we will make it if we follow our blueprint, remain laser focused, and stay hungry, while at the same time, acknowledging that it is a marathon not sprint. For us, it does not even stop with acquiring real estate; we want to provide scholarships, do consultations with aspiring investors, provide financial education and mentorship to others, partake in volunteerism in the communities that we invest in and just always remain committed to being socially conscious by constantly paying it forward in all that we do; this is what makes the MC brand a unique one when it comes to benchmarking us against other real estate investment businesses.
We have catapulted to where we are at the present moment by rolling up our sleeves to take on the unexpected and being willing to be inconvenienced by things that are often out of our control, but typically require a sense of urgency. At first, it was a bit cumbersome, but we've become accustomed to it and tackle what we need to as it arises; that's part of the real estate investing business.
It is very hard and risky – no question of it. Countless late nights, disagreements, issues with tenants; the full gambit, you name it, we've experienced it and it has definitely improved our character, made us stronger men, and made the two of us closer business partners and friends. When we experience difficult times, we lean on each other and we lean on the long-term view of real estate investing, which is the appreciation of the asset. When I say long-term view, these properties will appreciate over time and in 3 years, the headaches we face today really will not matter. Along the way, we've learned to always have emergency funds set aside for property maintenance. We've run into so many unprecedented issues that were sometimes exorbitant; with two of us, it's always reassuring to know that you have someone to split those costs with. To that end, we folks to know that when you acquire a property, there will always be some out of pocket expenses after you close on the property – without a doubt.
While being a real estate investor comes with it's fair share of challenges, there are many more things that we love about the job. One, we truly enjoy being landlords to our tenants and serving as a role model to them in some instances. For Christmas, we delivered each of them gift cards and cookies; it touched our hearts to see their excitement when we surprised them at their doorsteps. Secondly, as expensive as they sometimes are, we love working with our general contractors because we are very hands on type of guys, that genuinely like to learn about all of the components of a property; from electrical and plumbing to painting, flooring, and landscaping. We plan to become a "do it yourself" team someday. Lastly, partnering with our real estate agent to identify new property acquisition opportunities and assessing the strength of these opportunities. by looking at neighborhood sales comparables for after repair value estimates and projected cash flow for our own net profit, just to name a few criteria, is always a fun learning experience, too.
What we want the world to know about our story and our formation is that we met at the local gym in our neighborhood and found out that we were neighbors at the same apartment complex shortly after that. We became business partners six months later and acquired our first property three months after that. While we are two very different individuals when it comes to personal interest, hobbies, and backgrounds, we have the common goal of building generational wealth through real estate investing. From time to time, we share differences in perspective and approach on how to do business, but it's the diversity of thought and experiences that we are fortunate to have at the table. In this business, you want to surround yourself with like minded people, who will hold you accountable.
What we appreciate most about each other is our difference in opinions, our willingness to learn from and listen to each other, our conscious effort to always be open minded to new ideas, our great level of candor amongst each other, and the fact that we always hold each other accountable. The greatest benefit of having a business partner is that two of you can motivate and inspire confidence in each other when things grow tough and believe us, things can be discouraging and tough sometimes, but in the end, it is always worth it.
We want to amplify our testimony, far and wide, to everyone that you never know who you will cross paths with in life – they just might become your business partner and help you become an overnight success; and remember, they may be different from you in many ways or every way, but what matters most is how well you can execute together – being great at execution is essentially everything – that takes a great level of personal and professional maturity to accept and embrace but applauding differences amongst people will take you a very long way in life.
We are grateful to be on the same dream team together and share it with each other regularly because teamwork makes the dream work. Some things in life happen for a greater reason that you simply may not understand at that present moment and we readily receive that with open arms and open minds. We celebrate our diversity every chance we get and more specifically, we credit our diversity of ideas for our early success in the real estate arena. That diversity has been our secret sauce all along, always will be and we are proud of it!
If you had a friend visiting you, what are some of the local spots you'd want to take them around to?
Christian: In 24 hours, we'd do a ton! Early morning jog at Centennial Park and breakfast at Buttermilk Kitchen (I recommend the massive chicken biscuit with gravy). A visit to the King Center Museum and the historic Ebenezer Baptist Church, where Martin Luther King Jr. served as co-pastor from 1960-1968. We would take a walk through the Atlanta Botanical Gardens, the Coca-Cola Museum and the Jimmy Carter Presidential Center (I recommend the rose garden). A photo op in front of the Atlanta Skyline from the Jackson St bridge is an absolute must for your Instagram page. Lunch at Mary Mac's Tea Room (I recommend the fried green tomatoes – succulent and divine, along with their bottomless cinnamon rolls if you go after 4pm), and dinner at Fox Bros BBQ (the best fried ribs in America – goes great with their white bbq sauce with a side of the baked beans and mac n cheese – if you're truly hungry, order the Texas fries with pulled smoked chicken on top with a side of the spicy bbq sauce for an appetizer).
Maurice: If my friends were visiting Atlanta, the first place we'd go would be Atlanta Breakfast Club for breakfast (Peach Cobbler french toast is one of one). After that, we'd walk across the street to the National Center for Civil and Human Rights (one of my favorite museums in Atlanta). We'd also go to Piedmont Park to enjoy scenic views, then walk the beltline and arrive at Ponce City Market. Ponce City Market has numerous food options to enjoy (Bar Vegan is my personal favorite) and the fun Skyline Park on the rooftop. I wouldn't let my friends leave without having a burger from Slutty Vegan. We would end the day at classy rooftop bar such as: Whiskey Blue, the Regent, OKU, or Reverb.
The Shoutout series is all about recognizing that our success and where we are in life is at least somewhat thanks to the efforts, support, mentorship, love and encouragement of others. So is there someone that you want to dedicate your shoutout to?
Christian: It starts with God for me; he is at the center of everything that I do. In addition to God, I would like to thank my mother, Tracey Bonner-Smith; she struggled with resilience and grit to raise me on her own with very few resources to do it with and still knocked the job out of the ballpark as a single parent – very impressive to say the least. My real estate mentor, Charles Gordon, who has been in my corner since my undergraduate days at the Ohio State University, checks in with me every 2 weeks to make sure that I am hitting my stride and staying focused; I am appreciative of his mentorship and our commodore amongst each other. I would also like to acknowledge my hometown church, Good News Baptist, which is Pastored by another hero of mine, Pastor Jerome Byrd. A former manager of mine, Gwen Belle, she always keeps it real with me. My HS guidance counselor, Darla Miller, my business school professors at Ohio State: David Harrison, Dr. Koritha Mitchell, Michelle Mallon, and Doug Evans. My fraternity, Phi Beta Sigma Fraternity Inc. has untapped endless potential in me that I never knew that I had, especially my very own line brothers who I joined the organization with, Keith, Cameron, and Kollin. Lastly, my 4 childhood bestfriends, Steven Green, Willie J. Marshall, Gerrod Chess, and Collins Jack Jackson; I grew up with these guys and years later, we are still there for each other through thick and thin; I love these guys. I am so thankful for all of my family and friends neverending support and every day I marvel the fact that they truly do believe in me. Each of the BiggerPocket Books have been amazing, especially the one on the flipping houses. I also must give an honorable mention to a movie called The Banker, with Samuel L. Jackson, Anthony Mackie, and Nia Long; a very inspirational film for any aspiring real estate investor.
Maurice: My mother, Lydia Gibson, has been the most important person along my journey. She's always challenged me to dream bigger, while supporting me in every endeavor. My best friends Damontay Fowler-Thomas, Girum Idris, and Joseph Smith, have been by my side through thick and thin, and deserve major recognition in my story. Others that I would like to credit for success are my Penn State Counselors Diane Farnsworth and Vernon Carraway for helping me navigate throughout my undergraduate tenure at Penn State and earned my degree; my Real Estate mentors, Tu Pham and Malyke Partlow, both always being reliable and inspirational, have contributed significantly and I am eternally grateful.
Instagram: @mc_estates
Youtube: MC Estates LLC – YouTube
Other: https://linktr.ee/mcestates
Nominate Someone:
 ShoutoutAtlanta is built on recommendations and shoutouts from the community; it's how we uncover hidden gems, so if you or someone you know deserves recognition please let us know 
here.