How did you decide to start a business?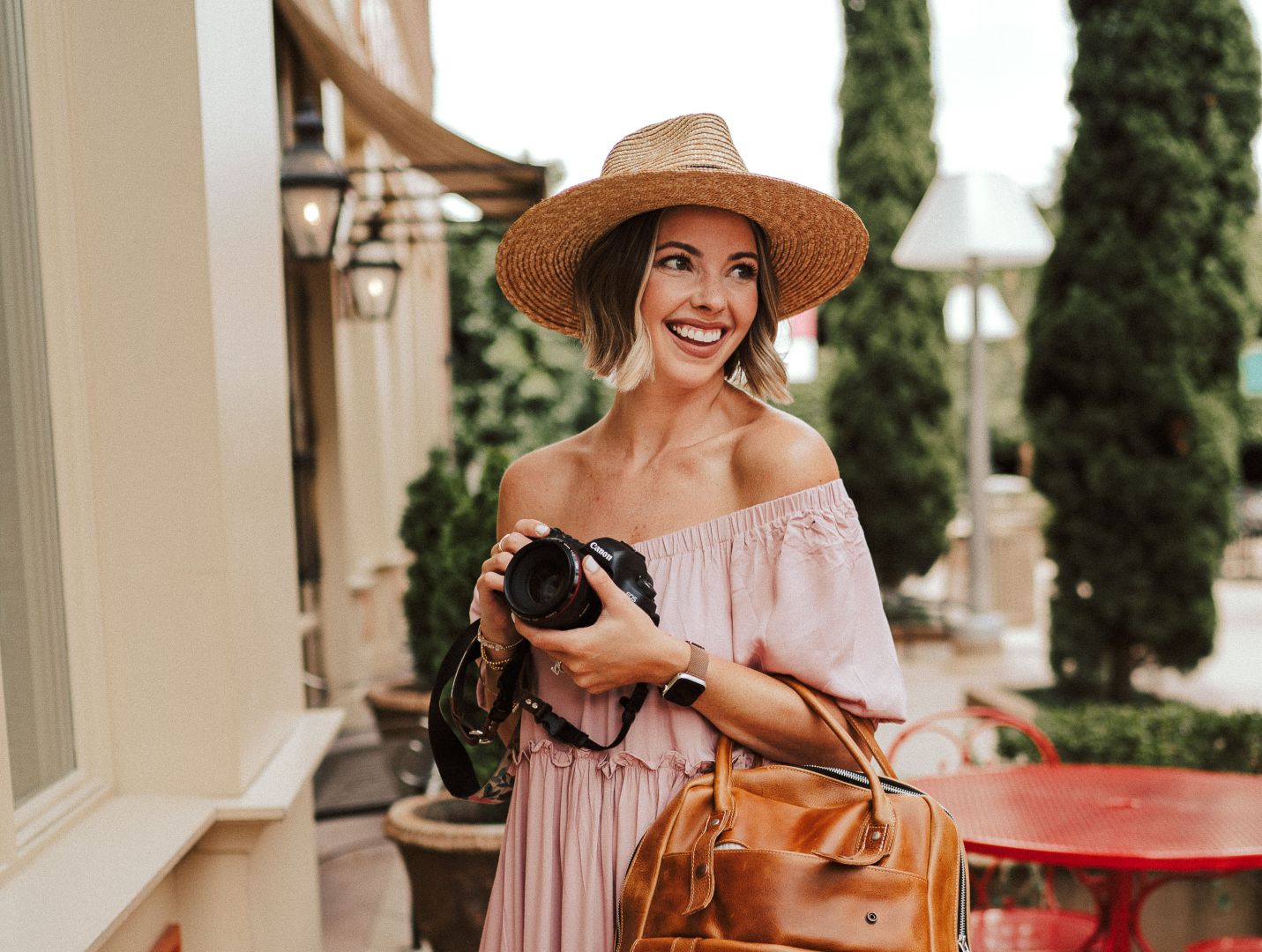 We reached out to some of our favorite entrepreneurs and asked them to think back and tell us about how they decided to start a business. Check out their responses below.
 Kayla Zimmerman | Professional Lifestyle & Wedding Photographer

As with many things the last few years, COVID was the final factor leading me to take the leap of faith to finally starting my own business. I was working for Coca-Cola at the time, and although I loved the Corporate America world , I was also juggling being a new mother. Read more>>
Natasia Harris | Content Creator & Cannabis Influencer

When I "became" Canna Bae Tae, the only thought in my mind was "I want people to see how cannabis saved my life". After years of consuming in secret, Read more>>
Noré Arnett | Brand & Web Designer

My name is Noré (pronounced nor-ray) Aaliyah, and I am a Bahamian Brand & Web Designer and the owner of Studio Eight Creative. I am always asked if I am a full-blown Bahamian or if I just have Bahamian roots, and the answer is YES, I am fully born Bahamian. Read more>>
Nell Andrea | Registered Nurse & Rebrand Specialist

I wanted to find a way to somehow escape the traditional box of healthcare. I wanted to explore a more creative side of the field to keep me inspired. My creativity with making healthcare apparel and accessories got me as well as others through the pandemic. Read more>>
Meaghan Cafferty | Brand Identity Designer & Owner, Soul&Story

When I was a kid we moved a lot. The most brutal move for me took place in the middle of fourth grade. Yes—all middle schoolers are awkward, and I was no exception to the rule. Read more>> 
Kierra Queen K" Griggs | Mother

I actually had a few thoughts because being a business owner was something that I knew I wanted to achieve when I was young. So, the thought process was finding a trade that would put the most emphasizes on my gifts so the room could be made for me to do what it is I do naturally, Read more>> 
Rajat Sehgal | Business Owner & Cell Phone Repair Technician

I was looking for a job right after high school in 2005 and My friend got me a job in a cell phone store in NorthLake Mall. Ever since than I have worked in every mall of Atlanta. since i have worked in the cell phone industry for so long I knew everything about it. Read more>>
Bianca Myrick | Nonprofit Executive Director, Consultant & Adjunct Instructor

I founded Pretty Purposed due to my experiences as a young girl growing up in an under-resourced community. I wish there was an organization like this as I was growing up. Read more>>
Eboni Eazzi" Ferrell | Tattoo Artist"

To be completely honest, I don't think there was much of a thought process at the beginning. Tattooing was just something I was always passionate about. It wasn't until I started to grow a clientele that I noticed "Wow I could actually make a career out of this". Read more>>
Stephanie Rado Taormina | Founder & CEO

Starting in my 20's I found that I wanted to do things my own way and that prompted me to start my own businesses in fashion and home furnishings. I had worked for other people since I was 15, doing various jobs for over 10 years before life experiences showed me a path to trying things my own way. Read more>>
Mike Jones | Founder of LifitngUpVibrations

I started the L.U.V. Podcast alongside my good friend Mike Drake. It is based off of my YouTube channel L.U.V. Jones TV. L.U.V. is an acronym for Lifting Up Vibrations. I wanted to have discussions about building up self-love and mental health, while pursuing our life's purpose. Read more>>
Jerlyn Jones | Owner of the Lifestyle Dietitian LLC and Registered Dietitian Nutritionist

I'm not your typical small business owner. I didn't have a business plan, a market analysis report, or 3-6 months of savings in the bank. I had a strong desire to start my own business in the health and wellness industry 3 years before I launched my nutrition private practice. Read more>>
Paul Maina | Creator & CEO

I was in Cali in 2017, I started another business to serve the nightlife. The logo I had created for it people kept asking me to make merch and sell. Unfortunately, as things progressed I needed to dismantle that business for various reasons, Read more>>
Sultana Sams | Author and Professional Tax Preparer

My thoughts were that if I started writing, I could please other avid readers like myself with my stories that are fiction yet informational. All my stories have a meaning. Read more>>
Christopher Lucas | Recording Artist, Producer, Owner of G.P.P. Lifestyle

The thought process behind creating G.P.P. Lifestyle (Grind, Pray, Progress) It all started with three words. Grind, Pray, and Progress! I would randomly say this phrase while recording songs in reflection to how I see life. I believe "If you grind while praying you will see progress in the process." Read more>>
Scotte Mac | CEO

I tried in the past to run a couple labels and it just didn't work out. I worked for 2 labels before (I will leave their names out) and I saw how the artists were not only getting messed over by these labels but they were also being lied to and not given any kind of knowledge to help the artist's maybe one day start their own label. Read more>>
Britney Jones | Independent Travel Agent

Honestly, I had several thoughts, several negative thoughts, all the what if's, how was I going to keep paying the monthly overhead, would I even get clients, would people trust me.? Read more>>
ZENA LEE | Singer|Songwriter|Dancer & Live Performer

I wanted to create a life where I was fully in control of my time and what I did with my time. Almost every "job" offered monetary a value way below my worth and I was exhausted at the thought of working 40HRS a week to still not be able to maintain even a humble lifestyle. Read more>>
Alexandria Wilkins | Business Owner & Yoga Teacher

Before starting any business I consider five factors; 1. Does it align with my greater purpose? 2. Am I passionate about it? 3. Does it bring me joy/inner peace? 4. Read more>>
kayla paige | Photographer/BTS

The thought process behind my business was to just have fun with it but make a profit off it as well. I didn't even take photography serious until about 4 years ago, but I've been doing it since about 9th grade I'm 23 now. Read more>>
Rampage Wood | Rapper/ Artist/ Creator

I started my own business out of necessity. Like many artists, I had high hopes that someone or some label would come save me from my situation and foot the bill on making my dreams come true. Read more>>
Li Locs | ATL Faux Loc Specialist

I didn't really have a thought process that's the crazy part, I kind of just went for it and didn't know where I would end up. I owe everything to God! This is a real learning process and I'm just grateful for the ups and downs. Read more>>
Shad Stewart | Photographer, Graphic Designer, Content Creator

I started "Shot By Shad" when I was a senior in college. Originally RJ Stewdio, I wanted to be a source for affordable and quality photos while also creating an experience at the photoshoot. Read more>>
Ashley R. Jones | Owner & Lead Planner, LoveJones Events, LLC

The thought process behind starting my own business was my friends. Throughout my adult life, I was the friend who planned everything. While studying in law school and working upon graduation, I continued to plan events in my "spare" time. Read more>>
Evelyn Massey | Founder & Curator of Noir Vintage Co.

My thought process when starting my business was to educate "some folk" on our contribution to black vintage and what our ancestors brought to the table in regard to fashion and dressing up, Read more>>
Jazmin Jervis | Event Planner & Decorator

Being an event planner was something that always wanted to do but I didn't think it would've happened at this point in my life. I've always enjoyed planning my own events, family events, and so much more. Read more>>
Rishabh Manocha | Designer of Bespoke Clothing

I felt there was great void in the fashion design industry of quality and a consumer-centric approach. As a lover of fine clothing, it was my responsibility to educate, empower and dress people who knew something was missing, But did not quite know the way forward. Read more>>
Candace Renae | Founder of 404 Couture Boutique

I worked as a Licensed Practical Nurse for over 20 years. Back in 2002 is when I started working in the nursing industry. The most rewarding thing I have found about being a nurse is the personal connection that I am able to make with patients. No matter how long it has been, a patient remembers their nurse. Read more>>
Rommel Asagwara | Board Certified Physician & Investor

The idea to open a healthcare business stems from the need to keep people healthy by empowering them to make healthy choices that will ultimately affect their finances and their overall quality of life. Read more>>
Shequira Hall | CEO & Director

My thought process behind starting my own business was to create my own avenue to generate additional income. As a mom who is single, I was tired of the check to check lifestyle. I studied business at St. Xavier University, where I attained my degree in Business Management. Read more>>
Brittany Johnson | Makeup Artist

Well ..I wanted to make other women who struggled with self esteem issues feel even more beautiful. Doing makeup has always been my passion and I knew I wanted to turn it into my business but also help a person that might struggle with their self esteem or even teach them how to apply makeup. So a thought process came very easy because I already had the foundation. Read more>>
Lakeya Allen | Financial literacy Mentor

I NEEDED A WAY OUT!!! Being on section 8 with 3 kids was not what I envisioned for myself. I wanted more. I was a city carrier walking mail walking pass big houses daily like what do I need to do to get where I needed to be or in a house this big. Read more>>
Guala Baby Jay | Artist/Musician

Independence ! Getting paid to be my creative self while sharing my gift with those who enjoy the content. Read more>>
Kwamboka Kariuki | CEO & Founder of Kwamboka

I visited Kenya and saw a friend's business almost going out of business. She's so talented and had always made all of my outfits. To help her, I started taking orders from friends and family. Read more>>
Britni Vadnais | Wooden Decor Artist

I have been painting and reselling furniture and home decor for over half of my life. Over the years, I have developed my individual style of home decor, and custom wooden-framed signs. It brings me incredible amounts of joy. Read more>>
Brandon Winfield | CEO, iAccess Life

After being injured in a motocross accident at 14 years old, I wanted to continue living life the way I always did. Being independent, adventuring, meeting new people in new places. Read more>>
Tallulakie K. Cosby | Science Educational Consultant/STEM/STEAM Facilitator AKA The Super Scientist

Starting my business was easy because I advocate for education- traditional and nontraditional. After 17 years of teaching, I felt it was time to take my talents outside a traditional classroom setting. I decided to walk in my divine purpose and passion as a full-time entrepreneur. Read more>>
Kemi Ajibare | Personal Stylist & Content Creator

The reason why I wanted to start my styling business was simply to help women who struggled with their identity when it comes to personal style. Naturally, people would come to me for my fashion sense and I never thought it could be something I could actually make a living from. Read more>>
Cheryl D. Kelly, Esquire | Owner of C. Kelly Law, LLC. and Personal Injury Attorney

I started working in the legal field back in 2004 as a legal assistant. I went on to college, then to law school. I continued to work for other lawyers and law firms the entire time. Read more>>
Tarea Williams | Chef / Salon Owner

My thought process behind starting Bosses Kitchen was making it happen during a pandemic. While most businesses closed, and we were all locked down. I told myself this is the perfect time to start my second business. Something that I have always dreamed about, but never had the time. Read more>>
Alva Amaker | Educational & Risk Management Consultant

The thought process behind starting my initial business was to address issues of service availability in my community for my athletes. Read more>>
Tambrea Hargrove | Founder/ Executive Director and Project Manager

The goal of starting MSI was to share my network with the young girls of my hometown of Dillon, SC. Read more>>
Jay Ashby | Pro Basketball Player

My thought process behind starting Fearless Athletics was to help kids in need and create a business I could advertise by being me. I've always been a person who wanted to make a difference, help others, and inspire. Read more>>
Ayanna Muhammad | CEO & Designer

As a female motorcycle rider (more of us than most people know) it was time someone created and designed a line of jackets just for us. It is a male dominated field but like most fields when we come into it we like to shine. Read more>>
Shaundrea Mason | Esthetician and owner of Spa 92

I was ready to take my career into my own hands. It's difficult to execute your ideas, and express your passion, and creativity while working for someone else. I wanted to move around outside of the box, and I knew that going into business for myself was the best way for me to do that. Read more>>
Nikkita Jervey | Labor & Postpartum Doula, Lactation Support, Peace Princess

I decided to take the leap to start Birthing Peace because of a few experiences and to meet one of my lifelong goals. Since my daughters were born, I've always wanted to be able to help them deliver their babies… I told my eldest years ago that I would deliver her baby. Read more>>
Carrie "Skyy" McGee | Branding Specialist & Consultant
We need more leaders to show the way. So when I came across many that were lost/confused, I wanted to naturally assist. Helping others was the thought behind starting Skyy Enterprises. Read more>>