Step one is deciding to start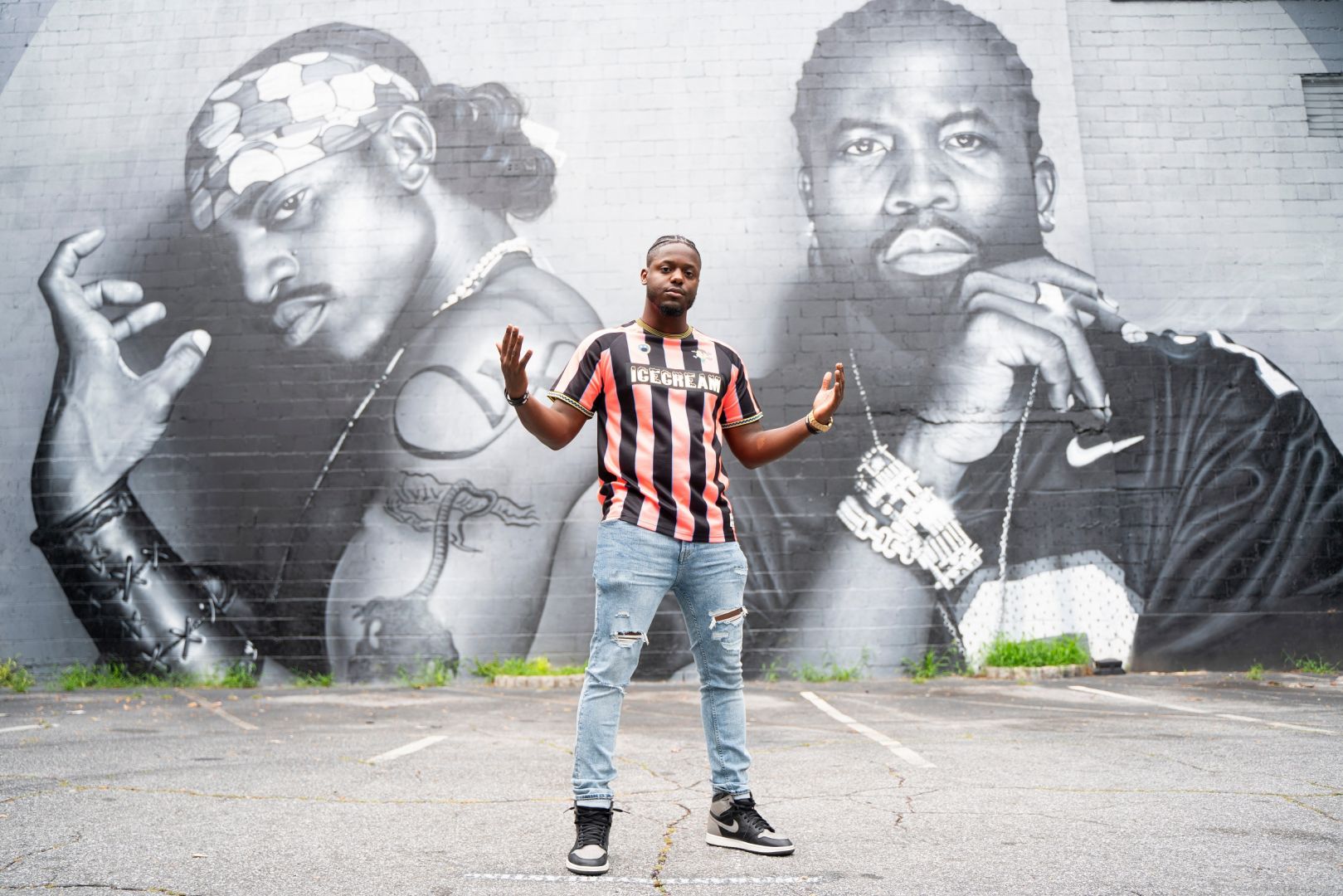 The first step to starting a business is deciding to start a business.  They say the first step is the hardest and in our experience this is especially true when it comes to starting a business. Getting over the mental roadblocks can be tough, often harder to overcome than the challenges you'll face once you actually start the business.  Fellow entrepreneurs share their thoughts below.
Talesha Austin | Balloon Decor/Events

My thought process starting my balloon/event business was knowing that I would be doing something that I absolutely love doing. This business allows me to show my creative side, in addition to it being therapeutic for me as well. I started my business after I decided to have myself a birthday party here in my home, and I did all the decor myself. I throughly enjoyed it so much. I also got so may compliments on the decor, which included my own balloon garland. I was told that I should do this, but I doubted myself still. I got a number of requests and decided to step out on faith and do one for a client. It went very well, and that was the start of my business. Read more>>
Emily Condle and Shelby Gruber | Owner's of Starry Nights Events

We have been friends for over five years now. Throughout our friendship, we have always bounced business ideas off of each other as we both shared the desire to become our own bosses one day and would consider ourselves to have a "hustler" mentality. There were several other business ideas we had that we researched and discussed that just didn't work out for one reason or another. Until one day Emily was inspired by the idea of creating magical and memorable moments for all of life's events, not just for weddings. We loved the idea of working with all age ranges and being able to provide a variety of different types of events. We were very excited as this business allowed us to get started quickly while allowing us to still work our full time jobs. Read more>>
Kaamilya Najeeullah | Artisan Soap Maker & Hydrology Technician

I have always been driven by a passion for servicing others. I combined that passion with my love for feeling luxurious and mental repose daily, et Totally Amazballz was born. With every second entrusted, our primary goal is to take into consideration the needs of the customers before, during and after each purchase. Consumers deserve more than just a good quality product. They deserve integrity and to be valued. I am wholly committed to quality in both products and services. With Totally Amazballz products you will feel brand-new with every use. You can get your day started, keep your day going, and wind your day down and feel totally amazing. From smooth whipped body butter that you can use throughout the day, slow burning candles, whipped body soap, bathbombs that'll make your skin softer than melted butter, amazing body scrubs, to personalized gifts and more…feel totally amazing with Totally Amazballz. Read more>>
Quonda Renee | Social Media Influencer & Digital Marketing Strategist

I honestly stumbled on my business when I was in one of the hardest seasons of my life. I had 3 degrees and couldnt find a good career. I was struggling working little side gigs like Postmates, Uber, Scoring SATs, whatever I could do to make money. But something on the inside of me didnt feel like I was living or walking in purpose. I felt like there was more to life than working all these gigs and still broke. So being a woman of faith, I went on a fast and prayed and got the idea to start my company but even then I didnt know it would be a company. It blew up and grew so fast but it showed me that with God all things are possible. Read more>>
Tawny Powell | Financial Strategist and Coach

I always thought as a kid that I would own my own business one day, but as I became an adult I never really saw it coming to fruition or I just didn't know how it would. It seemed very out of reach for me for a long time. Until ultimately I experienced some dissatisfaction in the last few roles I had prior to becoming self-employed, in watching my supervisors make decisions that I disagreed with or do things in such a way that I thought to myself, "I could do that better, or more effectively." Now whether or not I actually could, who knows! But I would say I started my own business out of a fair degree of dissatisfaction. And I think I'm a person who likes what I like, and I want what I want. And I don't really like inefficiencies. So I saw the opportunity to just do things my way and not have to negotiate with anyone or answer to anyone, and I really liked the possibility of what I saw. Read more>>
Rashar Knight | REALTOR®

Starting my own business was one the best decisions I have made. When I was laid off from my previous job, I knew that I did not want to go back into corporate America and give my "bosses" control of my life. I was a top producing sales representative and I received great feedback on how well I treated my customers. While I was laid off I solely depended on credit cards to pay bills while I studied immensely to get my real estate license. 9 months of no income was stressful and debt was mounting up. Once I passed my exam I knew that I had to do whatever it took to become a successful agent. I did not go through all of the stress and pressures to fail. One of my favorite quotes I live by is "Life is C between B and D" -Jean-Paul Sartre and it merely means life is choices between birth and death. I made the choice to become a business owner for myself, my family, my friends, and my clients. I wanted control back over my life. Read more>>
Georgia Dawkins | Host & Executive Producer

The Purpose Producer saved my life. After working in the news industry for nearly 10 years, I decided to be more intentional with my gifts. I now create content that helps people heal. Unfortunately, in the media, if it bleeds it leads. That approach can have a traumatic effect on one's psyche. I can't count how many times I have written "fatal crash," "double homicide," or "murder investigation." I decided that I didn't want to do that to the audience anymore. I no longer want to be a part of the problem. The content I create is a part of the solution. Through Georgia Dawkins Media, I produce "The Purpose Producer" podcast where I honor people who are using their gifts to help others reach their destiny. By bringing conversations of purpose to the forefront, I am doing my part. Read more>>
Ameena Abdul-Hakeem | Fashion Designer

I knew I wanted my own business since I was in high school. I exercised my entrepreneurial spirit in college by making dresses for friends and family. I looked forward to a career in the fashion industry and believed my portfolio and work experience would get me a good job. After graduation I applied to countless jobs all over the world, but received no offers. I then took it upon myself to create the opportunity I knew I deserved. Running your own fashion business is not as glamorous as it sounds, especially as a self-made solo-prenuer, but I was made for this. I love knowing that I can design what I want and work with clients who value my work and support my journey. I hope to inspire other designers, especially women of color who are overlooked. Where an opportunity you want doesn't exist, create it!. Read more>>
Deja' McNeal | Life Coach & Content Creator

At an early age, I knew that I always wanted to care for people and build a community built on trust and creativity. After completing my Master of Social Work and Specialization in Community Partnership Degree from Georgia State University in the Spring of 2019, I started contracting with a local nonprofit agency in the Metro Atlanta area that serves young people. I took a leap of faith and applied for my business license in February 2020, and Omni Minds, LLC, was created. Omni Minds started as a consulting business, but during the Covid-19 pandemic, I decided to lean more into my creativity, and I decided to offer life coaching services. My company offers holistic life coaching that helps Gen Zers and Millennials find and master their purpose. I offer a variety of life coaching services that will nurture your spirit, help you overcome personal challenges, and allow you to achieve your individual life goals. Along with my life coaching business, I also create lifestyle content as a natural brand ambassador. Being a lifestyle content creator allows me to lean more into my creativity. Read more>>
Gaurav & Grishma Batra | Owners of The West Venue

We wanted to have the control to make decisions that directly impact the business and to grow the business model to meet our vision. It felt like it will be the best use of our time and talent to pour our energy in building a brand that can grow, instead of being boxed in a job with limited influence. Read more>>
Patricia & Kelly Turgeon | Co-Founders

My sister and I spent the last 3 years living on a small island in the gulf of Thailand focused on our personal healing journeys. I was battling emotional burnout after years of working in a high stress corporate job and was feeling depleted with an inner knowing that there had to be something more. My sister had a heart attack (at 28 years old) and was seeking some peace and tranquility so she could focus on healing her heart. As we traveled down our own healing paths, we were simultaneously drawn to find a way to bring healing to our beautiful planet. While living on this island, the ocean was our backyard. We experienced firsthand the destructive impact single-use plastic is having on our waters and eco-systems. We found ourselves picking up bags of trash, mainly plastic, as it continually washed ashore day after day. With an inspired vision to transform our sadness and anger into creative passion and be part of the solution, the idea for Bhavana Bottle emerged during a collaborative discussion that came after a creative visualization session. Read more>>
CM Addams | Iluustrator and Graphic Novelist

The quote from Lemony Snicket, "If you wait until you're ready, you'll be waiting for the rest of your life." I always dreamed of owning my own business and making a living off my art, but just didn't know where to begin. I always fought with anxiety and my own doubts and decided one day to just jump in head first and learn along the way. I might've looked silly to some. I even had better off artists and business owners shake their heads at me like I was some amateur just wishing. But after much trial and error, I learned my audience, business tactics and even made friends who were helpful along the way. The journey was rough but I learned so much and found my very own aesthetic that makes my art truly unique to myself. Even now I know I still have a long way to go, but I don't regret jumping into the waters and learning to swim with the current. I don't think any of us are ever truly "ready" and just have to take that leap of faith. Read more>>
Lorian Vaughn | Visual Artist and Illustrator, Actress

I started painting in 2016 searching for a more expansive way of expressing myself than acting. It started out as a hobby and was something that I really enjoyed but was always "too tired" to focus on it like I wanted to. When the world shut down in 2020 because of the pandemic and I, as an "essential worker", had to keep moving–business as usual, it hit me hard… I knew that the "right time" would never come without me actually creating the space and time to nurture my baby. That there was no act of God that would allow me the time to pause everything else and just do it. So, I took matters into my own hands and started posting more of my artwork to social media. Soon, enough, people started asking how they could purchase and here we are. LoVaughn Visuals bloomed. Every day, I create something whether it's an oil painting, acrylic painting, or digital illustration and I'm growing because of it in all ways, always. My thought process was to create art highlighting my reality while creating some financial freedom for myself. Read more>>
Emily Johnson | Food Truck Owner

As crazy as it may sound, our business started with a silly Facebook "ask your partner these questions without prompting quiz". The question that really hit was "If you could see me being happy doing anything, what would it be?" Larry responded with "Honestly, you love to cook and make people happy with food". Sooo, the next day we started talking about it on a serious level. We both had "safe" corporate jobs, but weren't truly happy. I have a family history in the food service industry and Larry is a great with marketing a research, social media (and also really loves food), so we ran some numbers and decided to hold hands and jump off a cliff into the food truck world. It has been a wild ride, but we don't regret it at all. You just really need to be willing to learn as you go and be open minded as to what the market wants. You have to figure out your target audience. Read more>>
Allison Hogue | Owner, Maggie & Molly Earth-Friendly Pet Toys

A couple of years ago, I started moving towards a low/zero waste lifestyle. I try to reduce my impact on the planet by buying less, buying used, using up what I have, etc. I have four pets, though, and they have been the most difficult in terms of finding ways to reduce waste. I did start buying food in metal cans only (no plastic!), switched to an environmentally friendly kitty litter, and bought anything that *did* come with plastic in bulk (buying in bulk at least means there's *less* plastic involved). Toys, however, were hard. Luckily, I've slowly started seeing the pet toy industry offer some environmentally friendly options that are made out of natural materials, but there's still a ton of plastic and synthetic materials down those toy aisles at the pet store. After seeing someone else start a business making things like cotton rounds, unpaper towels, etc. from ethically sourced materials, I wanted to do the same for pets!. Read more>>
Donovan Whitaker | Graphic Designer & Creative Director

Starting my business was pretty much self-explanatory. I've always had a passion for the arts, possessed a creative spirit, and loved fashion/style/etc. I have been passionate about Graphic Design and Creative Direction for over ten years now. Learning new things in the design field became second nature simply because I found something that I enjoyed doing. When you mix something you absolutely love with your job it becomes second nature— making success much easier! Once you've found your passion, make it your hustle and network!. Read more>>
Shannendoah Gallagher | Digital Accessibility & Growth Marketing Consultant For Cannabis Businesses

In 2011, I was an intern at a Post-production company and after working on a number of projects ranging from feature films to video mastering my time came to an end. After a month of applying for any job related to sales and marketing and not getting any interviews I was still getting calls and emails from a few of the company's clients that I had been working with during my time there. At the time I didn't really know what to do because I didn't want to work at an ad agency and that seemed to be one of the few options available to me with my design and marketing education. I was fortunate that I had developed a pretty good network of business owners when I was a barista, so I started asking questions and fielding advice from them. One of them advised me to just make sure before I took on any work that I should form an LLC to protect myself and my assets. Read more>>
Mahogany Clayton | Owner of Opulence Uncovered

I wanted something I could call my own, and be passionate about it. I spent time brainstorming things that made me happy and ways to monetize them, but I knew there would be no passion behind it so I figured entrepreneurship wasn't for me. Then, months later I noticed how many girls were reaching out to me about my swimsuits and how much they loved them. It was shocking because I was normally simple suits I bought off Amazon. As a Black woman, I really wanted to provide something luxury for other Black women. Swimsuits may seem so superficial but a woman in a swimsuit is so commanding to me and I was instantly passionate about being someone who could provide that for other women. Read more>>
Antonio Driver | Dating / Relationship Coach & Executive Director

My thought process behind starting Speakout INC, was I never intended for things to go the way they have, I'm still amazed at how things have fell in place. It's like you wake up one day with and ideal to support others in the community through a facebook group and it has turn into an full movement. The goal was to create a space for other to Speak out about things that matter to them or they struggled talking about with others. I knew this was a need but didn't realize at the time how big of a need this was to the black LGBTQ community. It's like overnight we went from a facebook group to An full Operating Nonprofit with contracts in multiple states, Mentorship program. Read more>>
Ethan Campbell-Reid | YouTuber & Content Creator

I wanted to be able to enjoy the work I do. Ever since high school I had to learn that my work would not necessarily be fun to do but when I had fun in activities I loved it was able to get my passion. I thought to myself about what I could do as a profession while being able to be in love with the process at the same time. During that time I developed my love for social media content creation but living in Jamaica where at that time was not a very well supported idea of a hobby, much more a profession. After doing research and success stories from entrepreneurs who were able to do it in other counties, I figured why not do it as a Jamaican? I wanted to be one of the best content creators I could be representing my country and above all, being able to pay my bills, make a life and enjoy the process of my business. Of course being your own boss is a flex. Read more>>
Alex Gonzaga | Online Personal Trainer

As a professional ballet dancer I was always fascinated with the physical aspect of my career. I experienced first hand the benefits of cross training to stay healthy and strong all year. When life gave me the opportunity to become a Personal Trainer I took it and not long after that I knew I wanted to work with dancers to help them stay healthy and strong. Proteus Fitness was born. We are retired professional ballet dancers with a passion for fitness, health, and learning. Read more>>
Kevin Tyrl | @foodie_anonymous | Social Media & Business Consultant

My thought process behind redirecting my @foodie_anonymous marketing business was to save Atlanta's Local and Small Restaurants that have been most affected by the pandemic, and to make sure they still remain to make Atlanta's food scene colorful and unique. When I saw all my favorite restaurants' sales dissipate due to fear, racism, or gentrification I knew I had to do something. For example, Buford Hwy is filled with the greatest selection of authentic local Maw and Paw restaurants with foods from all around the world, and where the owners sometimes barely speak English which simply added even more charm to the restaurants themselves. Sadly, what made these restaurants so uniquely beautiful and different lead to their downfall caused by xenophobia due to the pandemic, and lack of open communication with their customer's (i.e. active engagement on social media). Once I was able to read the writing on the wall for what would soon come, I knew I had to step up and redirect my business and knowledge to better help save these restaurants. Read more>>
Jewel Hamrick IV | Filmmaker & CEO of IV Vision Corp

It actually wasn't a thought. It was created to hold archived content under my name. It came into play with my fourth film, 5.6.9, and the rebranding that came with that. Read more>>
Keisha Smith | Serial Entrepreneur, Author, Speaker & Mentor

When I started Flawed & BeYOUtiful, I had one thought in mind. I wanted to create a business to uplift, inspire and empower women. Women are the backbone of our families, businesses, and world. As women we wear multiple hats through the course of the day and sometimes, we take on the weight of others and the world. With all that we carry it's easy for us to suffer in silence but keep moving forward with tears in our eyes and a smile upon our faces. I believe everyone woman should feel beYOUtiful and be comfortable in her own skin. Read more>>
Stacie (Thompson) & Shamarra (Farmer) | Owners | Sincerely Brown

Sincerely Brown was birthed by two Georgia peaches that have been friends for over 20 years and have several things in common, but fashion is definitely something we see eye to eye on! Our brand was created to celebrate women who balance it all, whether they are moms, wives, friends, and/or excelling in their careers. Sincerely Brown was created to empower and celebrate all facets of a woman through messages that uplift and resonate with the girl who is holding things down! It is extremely personal to us because we are aware of the challenges and rewards of balancing and maximizing the everyday grind. It is truly a lifestyle and we love to empower women and make them look and feel good!. Read more>>
Vylet McCrory | Founder & Owner

My thought process was to put a spotlight on a space where basic rights have been overlooked. Read more>>
Jamarcia Speed | Massage Therapist

I was in college to be a physical therapist assistant and realized that career wasn't for me but i wished to still be in the field of physically helping people. Decided to go to school for massage therapist and met a friend there and we worked on a project about business and decided this was an idea we should pursue. Read more>>
Drea Boykins | The Crystal Fairy 🧚🏾‍♀️

Ever since I was young I knew I would grow up to help people. I wasn't exactly sure how but when the concept of my business was presented to me by spirit. I knew this was my niche. Overtime with patience determination and a lot of faith my vision came to life. Read more>>
Kristal and Tanisha | Podcasts Hosts

When we decided to start our podcast She Laughs, we felt there wasn't enough transparency in the faith community. Our thought was that more Believers and Non-Believers needed a more accurate depiction of what a faith-based journey looked like while we were in the process of discovering it ourselves. We wanted to dispel the myth that Believers only lean on the knowledge of Christ through out elders. It's important that each person gain a personal encounter and. Read more>>
Cheema | Music Producer, Recording Artist, & DJ

The biggest push towards starting my own business was that I saw how hard I worked at my 9-5. I realized that I would much rather put that effort into building something I loved. I had already had a passion I was lucky enough to have worked at through the years as a hobby, and decided to work towards turning that into my full-time career. I noticed how easy it was to choose a path with some type of security and predictability, even if that meant being unhappy, and I was strongly opposed to that route. Read more>>
Ashley Sha'Phon | Beauty Enhancer & Actress

I knew I didn't want to work for anyone anymore and that I wanted to build something that I knew I could guarantee will always be there, which is my gift of Makeup Artistry and bringing joy to others. The world didn't give it, so I knew they couldn't take it away. Unlike, a job which is only temporary, our gift is ours forever and its up to us to use them and allow them to make room for us. I believe in creating a legacy for me and mines. Read more>>
Tionna Plummer | Founder and CEO, Novaturient Inc.

When I was interning in Cape Town, I loved that I had the opportunity to help children in the hospital setting, however, many of their trauma or real problems wasn't something I could fix in the day or two that they were in the hospital. That was when I came up with the construct of Novaturient Inc. A place and organization that focuses solely on addressing childhood trauma and being a direct outlet for those suffering to be able to come and receive the therapy and help that they needed. Read more>>
Stephany Glassing | Artist & Graphic Design

My business has evolved over the years. I started out in Graphic Design work while studying animation and did jobs here and there via word of mouth. It wasn't until later in life when I started painting did I decide to truly turn my work into a business. I started painting for myself, a therapy I needed, and it's still my therapy today. When people started seeing my work they asked if it was for sale. I was hesitant at first, because each piece is a piece of me and I wasn't sure if I was ready to share a deeper part of me. But,I decided that part of my therapy was to allow others to enjoy my work because there had to be a connection for them to want it in their home. So, I still do layout work but I've added the local Marietta Artsian Market into my plan which allows me to share my paintings, along with functional art that I transpose my original artwork onto. The markets are my way of getting out in the community and enjoying people who create, and people who like to purchase work from those who create. It's another part of a 'therapy' for me. Read more>>
Zoe Vlamis | Graphic Artist

For me, I wanted to do something that fulfilled me, and that was art. It's embracing your passions and pushing yourself through the rough times. I knew I needed to promote, promote, promote, engage, and flesh out a brand that would be recognizable as well as relatable. Read more>>
Tonya Salter | The Cake Lady

My thought process behind it all was more of a DIY mindset than anything. My niece had a birthday coming up and I wanted to save my sister some money.. As time went on, I found that I wanted to be able to use my creative side on my own terms, my own way. Making cakes allows me to step outside the box if I choose to or walk the line if I want to. Read more>>
Veronica E. Williams | Master Certified Life Coach, Keynote Speaker, & Certified Facilitator

I wanted to bring my extensive experience as a master certified life coach, keynote speaker, and certified facilitator to provide clients with expertise in the areas of relationships, empowerment, and parenting. I have been involved in life coaching for many years and my experience has influenced women and strengthened couples throughout Washington D.C. Metropolitan Area. I am also a licensed minister and I have been a part of community leadership and relationship building the greater part of my life, so it was natural to find a way to utilize my gifts, talents, and knowledge to encourage individuals where ever they are in their journey. Additionally, I coach military wives as the spouse of a veteran, helping women maneuver through the challenges that come with a military lifestyle. I have also attended National Marriage Conferences such as "I Still Do" and participated in the Family Life Council seminar, "The Art of Marriage," so sharing this valuable information with others was my way of paying it forward. Read more>>
Mike Bravo | Recording Artist & Record Label Owner

I wanted to create my own space for myself and my creativity. OTR started out as an idea for a lifestyle brand of clothing, and developed into a music label once I started creating music. After doing research on the music industry and seeing how artists were finding themselves in one-sided record deals, I knew I didn't want to end up in a similar situation, so I decided to take the independent route and create my own entity. I wanted to keep and maintain any creative freedom that myself or anyone associated with OTR had. I wanted to be the master of my own fate and wanted my career and life to be guided by God, and myself. Read more>>
Bryan Hobbs | CEO of Pruuvn

What was my thought process behind starting my own business? Well, to be honest at the onset it was me wanting to decide when I wanted to work and how I wanted to work. Spending years in the corporate world working for others you get to see a lot of things, some you like and some you don't. When the opportunity to help others by developing a unique product presented itself, I didn't hesitate to take that leap of faith. While working those traditional jobs I always felt like I was destined to do more than to just work for others. I have always been more inclined to help others in any way that I can and this venture embodies that desire. Read more>>
Maria Ilochi | Designer & Visual Artist

I was searching for new job opportunities, but to no avail. None of the positions I saw encompassed my interests in both marketing and art. I soon realized that, after exhausting all search methods, the position I was looking for might not have existed yet. I wanted to find a way to combine all of my varying interests, and in the process realized that they all had one thing in common: design. I've always been very interested in the creative process behind bringing an idea to life and did not want to be limited by medium. Read more>>
Seanil Reed | Rapper (Nilly)

I think its imperative. Covid should've taught everyone the value in owning your own earning potential. You should be able to physical dictate how much money you bring in, rather than relying on big business. Read more>>
Amy Mckie | Photographer

When I thought about first starting my business, was wanting to do something with my life. Having a criminal background, made it hard to find steady work. Thinking I need a way to make a living, I picked up a camera, helping a friend out on a shoot, and I kinda liked the vibe. Thought maybe I can do this. I tried it, I fell in love with being behind the camera, and people started to love my work, and it was starting to do what I needed it to do, help pay my bills. I'm also now in a position to inspire others who have dealt with hardships in life. Never give up. Read more>>
Darian 'Dee' W. | Makeup Artist & Licensed Esthetician

When I first took the leap to start my own business my first thought was, 'Should I really do this?'. I was absolutely terrified! I have always had a love for skincare, makeup and creating things, and I always saw myself being successful but i'm also very introverted by nature. When you actually get to the point to where you are taking the steps to make things happen that's when it gets exciting but scary! By taking a leap of faith I have been able to do what I love and grow in ways I would've never imagined I would be at! Yes, I am still growing and have so much more to accomplish but looking back it's amazing to see what can be accomplished in such a small amount of time and it's warming to see people that believe in what me and my business have to offer!. Read more>>
BRADFORD CARMICHAEL | Author, Brand Ambassador and Visionary For Life

Since I was an adolescent I've always been taught to own your business, is to own your destiny! If you love what you do… you will truly be successful doing what you love. Work for yourself, is the only way. That's my thought process for business. Read more>>
Joanne Augustin | Copywriter & Owner of All Things Content LLC

I've always known that I wanted to own and operate my own business—I owe that to the women entrepreneurs in my life. Both my grandmother and mother owned several businesses throughout my childhood, so how they made their livelihood became a strong representation in my life. I had only been exposed to what a traditional "9-5" was when the recession hit around 2008 and my mother had no choice but to pick up a 9-5 job. Fast forward to graduating from college—the goal was always to learn under someone else's roof—I accepted my position at a corporation with the intention of getting all the experience I can, including customer service, sales, marketing, operations, and finances. After a few different roles at different companies in different industries, in 2016, I decided that I would start to save and prepare myself to go off on my own. Read more>>
Anita Yvette | Plus Size Model | Owner of MAYDAY Apparel | Nail Tech

I'm a Plus Size Model . I've been modeling for 3 years now. The thought behind starting my business came from wanting to create another form of income initially. I started to think about what I wanted to sell and its not to many plus size brands that just carries active wear that can be worn not only for working out but to run errands in. I wanted to create something that made either a man or woman feel sexy and comfortable. I went back and forth with names until one day my manager sent me over a folder and the name heading was MAY. I asked her why did she name the folder MAY and she stated because of the initials of my name. I instantly loved it but I wanted it to be more. I wanted to bring life to a name or word that was intended to be bad or people use in distress. The next day I had the name of my clothing line MAYDAY. Read more>>
Hope White | Chief Executive Officer

The thought process behind starting my own business was really a question to myself one day at my corporate job. " Why am I building someone else's dream when I could be creating and building my own"? I had worked in big box retail as management in logistics/transportation for almost 5 years and found the work , life, balance greatly disproportionate. I felt over utilized for less compensation & little acknowledgement unlike my male counterparts. My husband purchased a commercial truck and in helping him I realized that what his services were and my everyday role at work were not that far apart, I researched and found that my skills at work would translate to Freight Brokerage on the entrepreneurial side. And in a few short months I made the leap. Read more>>
Nelson l. Moody Sr | Author, Magazine Creator, Talkshow Host

Hello, being a fatherless child growing up I felt pain growing up. My thought process was bridging Fathers and children Internationally with their bonds. Fathers are extremely important in their children lives. When Fathers are involved in the lives of their children it impacts them mentally, emotionally, socially, spiritually and eventually economically. The presence alone of Fathers in the lives of their children is impactful to them in many ways as they grow older and beyond. Read more>>
Olivia Gunn | Entrepreneur

My thought process behind starting my own business was to create my own platform to share my gift. Read more>>
Lorneshia Cooper | Melanated Entrepreneur

My thought process when starting Rooted in Melanin, LLC and my thought process now is pretty much unchanged. From the beginning, I wanted to create something that was fun, authentic and most importantly, didn't feel like work. My hobby only became a business because I wanted to create something to pass to my children. To possibly give them a boost in life that is not as common for many Black babies. Remaining true to those values is what keeps not only my merchandise authentic, but also the whole social media presence of Rooted in Melanin. Whenever you engage with me on social media or purchase an item from my store, you can rest assured that the experience and process is genuine appreciated. Forming relationships is more valued than forming customers. Read more>>