Meet Tré'Jhaun Dueberry: Writer, Performance Artist, Creative Director, and Energy Transformer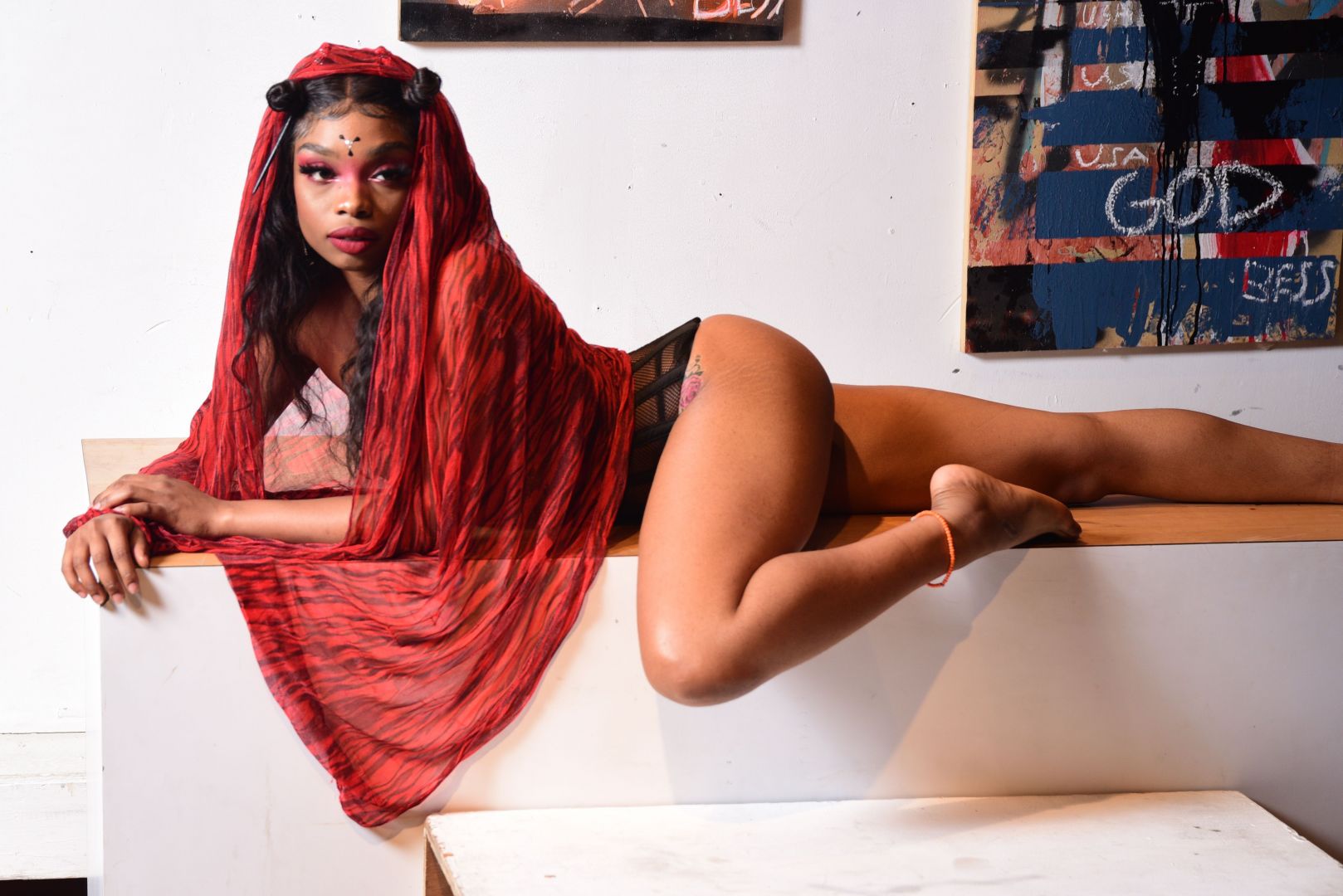 We had the good fortune of connecting with Tré'Jhaun Dueberry and we've shared our conversation below.
Hi Tré'Jhaun, have you ever found yourself in a spot where you had to decide whether to give up or keep going? How did you make the choice?
I think we simply have to listen to ourselves. Like really, really listen. Like everyone else in the world, I wake up some days and don't want to face the day. Our minds can get bogged down with fear, negativity (from our own creation or unique experiences), prejudices, past trauma, and expectations in general–at some point it's a ritual that I remind myself that the true priority is my being here. The deciding factor is the fact that I exist and feel connected to the collective on Earth. My soul makes the choice for me. It remembers (even when I forget) that we still have a miraculous purpose for going forward. I wake up everyday breathing, fresh from dreaming, still wanting to connect, experience and be experienced by others, so that's my signal to keep going no matter what anyone says. I can't stop. I just reflect, refresh and recharge. The mission is self-sustaining.
Let's talk shop? Tell us more about your career, what can you share with our community?
Well, I love to say that I think every human is a poet, artist and player. When I use the word "player," it's to recognize our inner child or the young, curious, adventure-seeking, imaginative innocence we all once identified with. In my opinion, that part of us that wants to experience wilderness and wonder never dies. It can be hidden, suppressed, discouraged, repressed or in hiding, but it never disappears because "energy cannot be created nor destroyed." I personally don't care for the word "career," but I do think empowerment is my calling. I feel like I will spend the rest of my life transmuting the negative energy and experiences I have encountered into something I can heal and learn from. I plan to spend my time in community lending help, encouragement and support by being a creator. I want to build safe spaces. I want to lead and hold discussion and discourse that allow for visibility and witnessing. My primary goal for anything I construct is to demonstrate the immense healing power of collective creativity and intentionary art.
I do a multitude of things I am passionate about in order to accomplish this and be "good at my job," but essentially my art is created with the intent to be intensely felt in whatever form is being digested and there will be many forms! I am not shying away from any path this lifetime because I deserve to show up for myself in every manifestation of expression. I am a playwright, songwriter, musician, filmmaker, director, actress, model, muse, performer, organizer, teacher, student, and more. I have never felt the need to show up in just one way. I couldn't if I tried.
Currently, the bulk of my energy is being invested in research, planning and development for my new ventures and projects. With screen, I am in pre-production with a couple short films that I am extremely excited to film, edit and release in the next few years. In the meantime, there will be a host of live readings soon for reworking material and bringing life and voice to these relationships and characters I've been nursing since before I knew what a calling was. I've also been working on texture and mixing media in my paintings. I'm honestly getting very interested in sculpting, so I've been researching and observing other artists and styles before I begin that journey. The past couple of months have been all about music for me as well. I've been writing, recording, and listening to beats for my first complete project that I hope to release this year called "HUNTIN SZN" and I recently changed my artist name for the third and hopefully final time from Trigga/TRGGA to TR3GGA. Musically, this name change really propelled a sense of direction for me because I initially started recording music for personal reasons. I wanted to hear myself and not cringe at the sound of my own voice while in college studying Theatre. I took some rap I wrote on the way to class to an alumni's home studio and never looked back. Since 2019, writing and recording has been therapy for me and the artist name TR3GGA pays homage to that journey of discovery I've been on. The "T" stands for "Therapeutic." The "R" stands for "Resonance." The "3" represents the 1) Mind, 2) Body and 3) Soul. The first "G" stands for "Grace." The second "G" stands for "Gumption." And last, but certainly not least, the "A" stands for "Ascension." I hope to take my listeners on a trip with every song and project I release. Though the significance might take some time to resonate, so it's more like embarking on a grand trek. Either way, I'm here for the long haul. I'll never not have time to share this process and all I've learned in undergoing it.
Any places to eat or things to do that you can share with our readers? If they have a friend visiting town, what are some spots they could take them to?
I'd truly begin in Little Five Points. That's my favorite part of Atlanta. The area just feels like a portal to a different world and there's something for everybody. Every time I go, there's a new adventure and interesting people to see and talk to. Artists, vibes and crystals everywhere. L5P is a gem and the energy is just so carefree and open in this part of town. I'd stop by my personal favorite Thai 5 for drinks, Thai wings and the spring rolls or take someone to Zesto's. I love the nostalgia they offer and the daily specials.
I really love getting away from crowds for something more intimate and in nature so Cascade Nature Reserve, Roswell Water Mill, Piedmont Park, and Stone Mountain would also be on my list of sights.
My favorite restaurant in Atlanta is a small restaurant called Tom, Dick and Hank's. They have all these delicious BBQ and soul food options and I can't get enough of their turkey ribs and collard greens. The food is just delicious and I've never been disappointed. I'd also put Lifting Noodles Ramen on my list for the bomb spicy seafood ramen and boba tea. If my friend liked vegan/vegetarian options, I'd take them to one of my favorite spots in the West End called Local Green Atlanta. I usually get the "Monsta" Shrimp Burger, spicy cajun fries and the "Kingston" lemonade. Metro Cafe Diner in Midtown would be great for some hilarious sing-a-longs, karaoke and this Chocolate Fudge Cake that I'm lowkey obsessed with. The oxtail and patties from Caribbean Delight in Atlanta's West End–chef's kiss!!! If we had time to wait, I'd definitely go to Slutty Vegan for a Super Slut or to JJ's Fish and Chicken for a frozen lemonade and shrimp and chicken combo as well. The lines are always long, but it's also always worth the wait!
The Shoutout series is all about recognizing that our success and where we are in life is at least somewhat thanks to the efforts, support, mentorship, love and encouragement of others. So is there someone that you want to dedicate your shoutout to?
I thank the world. I thank my mama and daddy for bringing me into it. I give credit, respect and appreciation to the universe, the elements and all who inhabit space with me. What is perspective, what is a story without the inspiration, the characters, the setting, and the audience to experience it come to life? I'm eternally grateful that I'm not alone. I'm grateful that the world inspires me to be myself and live my purpose everyday. I'm grateful to know other people have experienced life before me. Shoutout to my angels, ancestors and all guiding forces and spirits walking with me along my journey. Shoutout to God. I'm so grateful to be constantly blessed by the presence of your community, grace and support. I'm so thankful to be presently existing in this time and space after all I've overcome this year so far and last year especially. I want to shoutout people who have experienced sexual assault. I stand with you. I see you. You are valuable. You are needed. You are safe. Shoutout to Oluwatoyin Salau, Alexis Crawford and Braxton Blue Baker: three incredible black women that have provided me with so much strength since their ascent last year. Thank you for giving your all. Shoutout to my sisters Carmen and Kafira Woods. They were my very first inspirations. The black girls who influenced and challenged me to be who I am today. Thank you for growing and playing with me. Thank you for your unconditional love.
I want to acknowledge that the majority of my work is for all Black women. But it's also for the Black teen-age girls. It's also for the black little girls. It's also for the Black baby girls. It's for black ladies at all stages of our existence especially when it felt like the entire world was against us just for being born black and feminine. Shoutout to Black men and boys as well. Shoutout to my brother Reginald and my uncle Christian for allowing me the space and freedom to be myself without expectation of what a Black girl should look and behave like. Thank you for empowering my masculinity and making way for me to be an adventurer. I'd never know real love without recognizing the necessity and diversity of Black people. We are here! We are alive! We are well! Shoutout to Non-binary Black people who have courageously decided to transcend labels and forgo traditional identity because of the harm it has caused. I see you. I love you. I honor you. Shoutout to Indya Moore from POSE who started a fund in the pandemic and gifted this poor, Queer creator some funds. That's something I'll never forget and it keeps giving. Shoutout to the Trans community. We are one. The second I get a house…my house is your house. I honor you. I support you. I love you. Shoutout to every single person, living or passed who ever felt alone. You are never alone. We are one! Lastly, shoutout to Mobile, Alabama–my birthplace and hometown for making me appreciate all that I have and will gain as a black woman from living in my power. Thank you for showing me how to be authentic and creative. To that city, I'll forever be grateful.
Website: www.trejhaunandrece.com
Instagram: www.instagram.com/tr333ga
Linkedin: https://www.linkedin.com/in/trejhaundueberry/
Twitter: www.twitter.com/only1tr3gga
Facebook: www.facebook.com/trejhaun
Youtube: www.youtube.com/trejhaunful
Image Credits
Leonard Reid (@lenreid21) Jabari Jenkins (@directorbari) Brandon McClung (@_b.media) Cameron Nolan Anthony Felder (@ant.dethroned)
Nominate Someone:
 ShoutoutAtlanta is built on recommendations and shoutouts from the community; it's how we uncover hidden gems, so if you or someone you know deserves recognition please let us know 
here.