Meet Tiffany Lauren Jones | Agency Team Operations Consultant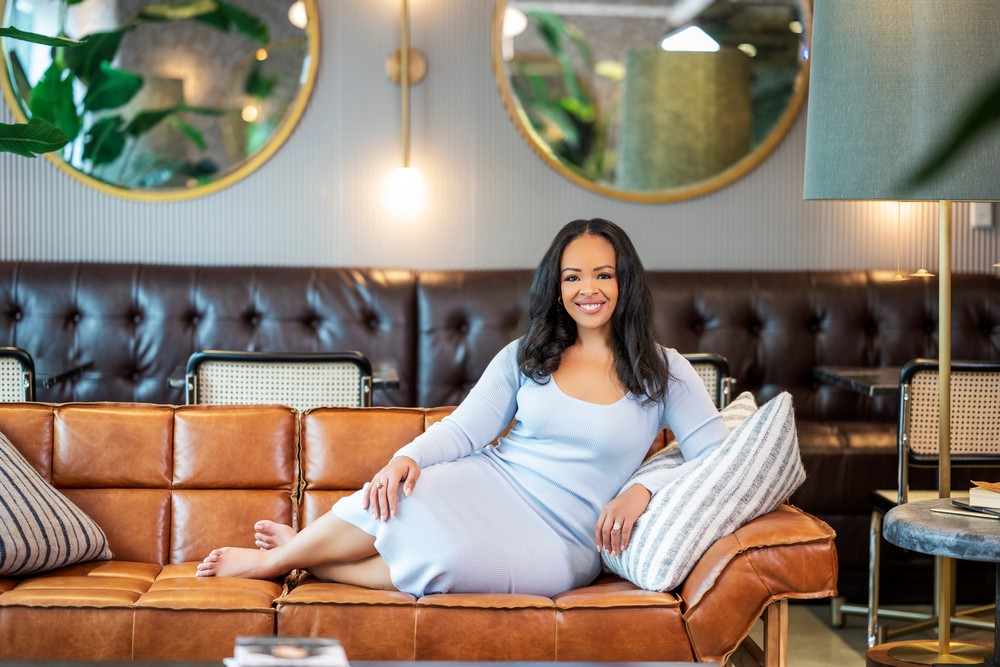 We had the good fortune of connecting with Tiffany Lauren Jones and we've shared our conversation below.
Hi Tiffany Lauren, putting aside the decision to work for yourself, what other decisions were critical to your success?
The single most important decision I made that contributed to my success was to have true faith in God's plan for my life. I learned to listen to God along the way and allowed them to order my steps along the way. Easier said than done, having true blind faith required me to tap into areas of myself I didn't know existed and trust that the answers, resources and tools I needed along the way would become available to me at the right time — and they did.
Often times we are taught that having faith means waiting for God to do it all for us, when it really means building a partnership with God and becoming a co-creator. Changing my relationship with God and understanding that there is already a designated path for my life that only works if I do too, by taking initiative in alignment with the direction I'm receiving from God.
So, by strengthening my relationship with God I was able to see the gaps in my path, what I needed to learn and who was on my path to help me get there.


Can you give our readers an introduction to your business? Maybe you can share a bit about what you do and what sets you apart from others?
I own and operate an Operations and Project Management consulting business that helps CEO's of $250k-$500k digital marketing agencies remove themselves from 80% of their daily team operations. I believe in dropping the hustle mentality and creating more ease in business by building organic team structures that are collaborative and inspire autonomy. As CEO's we are often tasked with more roles than one, creating overwhelm and stress within the businesses we love often leading to burnout and resentment. Instead, I promote the idea of "doing less" and building teams that allow everyone, especially the CEO, to operate with ease while still making an impact and reaching their revenue goals.
In 2017 I left my job of 6 years at SPANX working for Sara Blakely as a Senior Technical Design Manager in Atlanta, Georgia. On God's direction, I sold 80% of my belongings, including my home, to fund my business, take a year off and determine the next steps in my life. I had no plan and no clue what I would do next, but God had been telling me to make this decision for 3 years before I listened. Moving back to Virginia to my childhood home was an extremely tough decision but allowed me to make decisions on my next steps from a place of creativity and wonder, rather than from a need to pay bills. I was fortunate enough to have funds from the sale of my home and belongings as well as a Mom who allowed me to live with her and save what little money I made while I figured it all out. I traveled a bit and took time to get to know myself in a new way, without any distractions which catapulted me into a spiritual awakening and strengthened my relationship with God.
Before my business got to where it is today, I went through massive trial and error mentally, physically, emotionally and spiritually. I believe whichever areas you need to master in your personal life reflect in how you operate in your business, and there was a lot I had to learn especially as it related to mindset, wealth consciousness, value and self-worth. Most people don't talk about how much mental work it takes in order to successfully operate your business, they focus on the revenue and from the outside it seems easy. In reality, it takes constant perseverance, a willingness and the ability to master your emotions and put a mirror to yourself everyday. You have to be self-aware and face your darkest shadows that are holding you back consciously or subconsciously, then take action to correct them on a consistent basis until you see the results you desire. It's really all a mind game and once you can master your own mind, anything is possible for you.
Along the way I learned how to tap into my personal power. The Alchemist by Paulo Coelho is one of my favorite books and one that entered into my Universe at the beginning of my journey. It perfectly illustrates what this journey is like including the trials, tribulations and obstacles we all face along the way. The Four Agreements by Don Miguel Ruiz is another book that had a great impact for me, teaching me how to be more objective in dealing with life and not to take things like rejection in business so personally. I don't believe in "having tough skin" — emotions are important and are a valuable tool to let us know what's happening with us, but I do believe in learning how to process, understand and use them to our advantage in a way that moves us forwards towards desired life.
I'm most proud of the work I've done to rewire my mindset consciously and subconsciously. It really is the key to everything — if you can master your mind, you can master your life. Even when I had no money for rent and $20 in my bank account, I used manifestation techniques, prayer and fasting to stay in faith and know that my needs would be met in divine timing. I did not make a move or decision without guidance and direction from God first, and even if it didn't come when I wanted it, everything I needed came to me right on time. I believe that God wanted me to solidify my foundation with them first, before experiencing success to ensure I could maintain it when I received it. Everything that happens to us is teaching us something, whether it's forgiveness, patience or faith, I use the affirmation, "everything is always working out for me", and it is, even when it's not! Any rejection is a redirection and protection from what's not in alignment with God's will for my life so I've learned to celebrate the no's because I know this only means God is opening the door for me to something even better.
You can co-create your reality with God by submitting your requests and taking consistent and disciplined action towards them. When things start to fall apart, remember what you asked for and reframe your mindset to understand that it's happening as a necessary step to get you in alignment with what you asked for. Sometimes we think if things are falling apart that God is not granting us what we desire, when in reality everything is coming together in perfect timing. Instead of asking "when", ask yourself "what" — "what am I supposed to be learning right now?". Continue to have faith and move forward despite obstacles — take a break if you have to, but never give up!


If you had a friend visiting you, what are some of the local spots you'd want to take them around to?
Luckily my bestie lives in Atlanta so this is an easy one! I love to eat and my favorite restaurant in Atlanta is Two Urban Licks. I'd plan a Friday night dinner there at sunset and request a seat by the windows for a breathtaking sunset view on the belt line which makes for the perfect view to compliment the live band they have there on the weekends.
I'm an old school Atlanta girl and I love dancing so we'd be off to MJQ! If we're really in a dancing mood we'd also head to East Atlanta to Graveyard. Then, we'd end the night at Waffle House, obviously! My go-to is a grilled cheese, hash browns and a coffee.
On Saturday we'd get brunch from The Nook then visit the High Museum of Art and take a walk around Piedmont Park after for a bit of exercise and fresh air.
Then, off to dinner and margaritas at La Fonda, another one of my favorite places to eat! Salmon tacos, please!
The Regent Cocktail Club in Buckhead is a great after dinner drink spot with a nice rooftop view to end the night.
Sunday we'd spend the entire day at Jeju Spa — it's a 24 hour traditional Korean bath with heated pools, saunas & a fitness room, plus a nail salon & restaurant. It's segregated by gender but be prepared to be fully nude at some points! If you're not comfortable with nudity this isn't the spa for you. My bestie and I love it here and it's always a wonderful experience. We'd grab food somewhere on Buford Highway where all of the best food in Atlanta lives.
Throughout the week, we'd try different restaurants (there are so many good ones!) and explore places like The Atlanta Botanical Gardens, Ponce City Market and depending on the season, go to a Falcons or Hawks game. If it's summer we'd Shoot the Hooch and do something like have a picnic at Piedmont Park. The Mandarin Oriental Buckhead is my favorite lux spa experience if we're looking for more self-care.


The Shoutout series is all about recognizing that our success and where we are in life is at least somewhat thanks to the efforts, support, mentorship, love and encouragement of others. So is there someone that you want to dedicate your shoutout to?
I'd like to dedicate my shoutout to my parents! They've always supported me, my goals and my dreams. I was raised to believe that anything was possible and that I could do anything I put my mind to, even if in the physical it was unclear where the resources would come from. That mentality allowed me to believe that I could be successful at anything I put my mind to and gave me the mental freedom to create my business without fear. I tried many different businesses without judgement or criticism and if I ever needed help, they were there to assist. Having a support system does make a big difference and I know my success could not be possible without it.
Website: www.tiffanylaurenjones.com
Instagram: @tiffanylaurenjones
Linkedin: https://www.linkedin.com/in/726sqft/
Facebook: https://www.facebook.com/tiffanylaurenjones/
Image Credits
Vernon S. Davis of VS Davis Photography
Nominate Someone:
 ShoutoutAtlanta is built on recommendations and shoutouts from the community; it's how we uncover hidden gems, so if you or someone you know deserves recognition please let us know 
here.