Meet Super Julie Braun | Founder & CEO of Super Purposes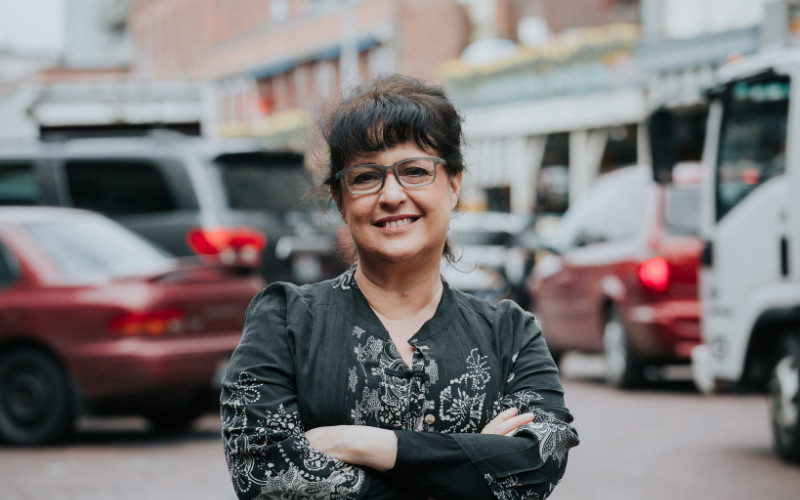 We had the good fortune of connecting with Super Julie Braun and we've shared our conversation below.
Hi Super Julie, what role has risk played in your life or career?
I think about risk as being the foundation for being an entrepreneur. I also think risk is really about having living an extraordinary life. People who want to play it safe don't take risks. They comply with their lives. They live in the same town they've lived their whole lives, never leaving their family, falling into a job or profession that is comfortable and easy, and they become very complacent. Complacency is a place where a lot of people live, and we need people to have a stable, relaxed life. But then there are other people who choose to really have some extraordinary things happen to them. And that's all about risk. When I think about the role that risk has taken in my life, it has taken me around the world. It has allowed me to live overseas. It has put me in jobs that I never knew I could have. It's helped me make money that I could never even imagine. It has taken me on a crazy rollercoaster ride of a life, and because of that, I am very risk-tolerant. I find that I'm not afraid of financial, emotional, mental, physical, or career pain at all. I'm not afraid of it. I also don't recommend it for the faint of heart because it can be something that will break you down. And for some people, they don't really recover. I've been fortunate to have had the experience where I have been challenged with my levels of courage and vulnerability. Getting sober was a huge piece of risk-taking for me because it kind of unveiled all the things I was hiding behind. So it's taken an enormous role in my life. When you build a business, it's the pinnacle of risk because you're putting your finances on the line, you're putting your time, your blood, your sweat, your tears, and you are developing relationships that will help you. All of those things need a very high level of putting yourself out there and just really risking it all.
Alright, so for those in our community who might not be familiar with your business, can you tell us more?
Super Purposes helps people get the career and salary they deserve in a very short amount of time. When people come to us, they often don't even know where to start, and because we have the recipe, the formula of how to have an outstanding career, we can give them this information. We can help guide them into baking the perfect cupcake of a career. What sets us apart from others is we take the fear and formality out of a career. We embrace diversity, equity, and inclusivity because our teammates are from ages 15 to 73. They are all colors of the rainbow. They are from all walks of life. Whether they be students, stay-at-home moms, veterans, people who were formerly incarcerated, people who are coming out of their second and third, and fourth careers. They're trying to find purpose in their lives, and that's why they've landed on our team. I am super excited about our docu-series, where we take five unemployed or underemployed individuals, and we follow them on their career journey. I'm also excited about at the end of the year, we have a producer from ABC 2020 who wants to do a story on Super Purposes. That's also very exciting. The docu-series will be part of that. It was never easy, although I wish it would have been, and I have to start manifesting more easiness, um, instead of doing things the hard way, but, uh, I did it through hard work, and here's the secret to my success. Here it is. I get an idea that comes into my head and that comes from my genius, my genius, up in the sky. Some people would call that God, but I call that my muse. My genius gives me the idea. And then I tell the idea to someone who was very supportive of me and my ideas. So I go to somebody who already loves me and cares about me and wants me to be successful and is already loving my ideas. So I'll tell them, and they'll say, oh, you're so smart. And you're so clever. And they will encourage me. So I go to that encouraging person. And then when I get the encouragement, I immediately go into action. How I got to where I am today is I take the seed of an idea and bring it into reality by talking about it. Then I go into action and I start making steps. That is how I got to where I am today. People have a problem with one or all three areas. Some people don't have any ideas. Lots of people have zero ideas. I don't know what life would be like to experience that. Then there are other people who will never talk about their ideas because they feel like their ideas are going to get shot down or they're stupid. That's why I said always go to someone who already loves you and your ideas. Don't go to your mom or dad because your mom or dad will say it's not the smartest idea. I know they'll talk you out of it if there's any danger involved. An idea that just stays out will end up getting created by somebody else who gets into action. That's how I got to where I am today because I thought about Super Purposes. I talked about it and then we started building it.
A lesson I've learned along the way is to always hire somebody who's smarter than you. So I surround myself with lots of people who are smarter than me. I also learned that I am always in the middle of my miracle because I can't see what hasn't happened yet. There will be moments when things get hard and I'm like maybe I should just give up, but the reality is I really never give up. I'm kind of like a bulldog with a bone. The only time I loosen my grip is to get a better bite, so I'm very tenacious. I've learned that tenacity will really save you. I have a mentor who is a billionaire and built eight super-successful companies. I asked him how he did it, and he said, "You know what? I'm just too stupid to quit". I love that. I feel that is one of the things I've really learned is that I just don't give up. Failure is not failure. Failure and frustrations are gifts. That is something else I've learned along the way.
At the age of 16, I tested for a learning disability, and lo and behold; I had a fabulous combo platter of auditory processing disorder and dyslexia. I had spent the previous ten years learning how to verbally communicate and solve problems while delegating my most challenging tasks. I did all of this unknowingly and was getting schooled on how to be a leader.
As a young adult, I quickly rose in corporate jobs leading creative teams for Victoria's Secret, MTV, Nike, Estee Lauder, and Carters Childrenswear. I never felt like I fit in; I was ashamed of my learning disability; it was a secret that I wouldn't share with others. I knew how to get a high-level position without having a Master's degree, how to charm my way by developing relationships, negotiate the offer and, regardless of my hurdles, lead with confidence. I created the recipe for getting the salary that I deserved.
Today, I'm an entrepreneur, and our company helps people get the career and salary they deserve regardless of their challenges. We work with Veterans, stay-at-home parents, immigrants, folks from the LGBTQIA community, and folks with addictions or alcoholism. We have helped formerly incarcerated individuals, people who have lost their passion for what they do, people with disabilities – learning, physical or psychiatric; we are the people who help take fear and formality out of the career. We've helped over 16,000 people get the job they deserve.
Any places to eat or things to do that you can share with our readers? If they have a friend visiting town, what are some spots they could take them to?
I would bring them to Seattle. I would take them to The Pink Door, which is a well-hidden burlesque nightclub. I would take them on an entire day in Fremont going to Theo's Chocolate Factory and the troll under the bridge. I would also take them to the water. We would take a water taxi from Seattle to Alki Beach for sure. That would be a big blast. Some of the most interesting and exciting places to check out are Pike Place Market and Gumball Alley. I just love it. I think the most exciting and interesting people are just the people who live in Seattle. We are one of the most diverse, eclectic groups of weirdos. I'm very, very proud of my city.
Shoutout is all about shouting out others who you feel deserve additional recognition and exposure. Who would you like to shoutout?
Simon Sinek has inspired me very early on with his Ted talk on how leaders inspire action. When I saw that Ted talk, it very much changed the way I lead. He has just been an enormous inspiration to me. I'm super charmed by everything he says. Another person would be Daniel Pink. Daniel pink and I met many, many, many, many decades ago. He had just become an attorney and he was starting to write. He became a speechwriter for Barack Obama. I remember having an exchange with him and being so taken by his persuasive abilities, which has now transpired into his very skillful abilities in persuasion and sales. I've bought and read every single book he's ever written. I have watched probably all of his YouTube and I've taken his masterclass on masterclass.com. He is another person who has been a remarkable influence to me and my life.
Website: https://superpurposes.com/
Instagram: https://www.instagram.com/superpurposes/
Linkedin: https://www.linkedin.com/company/super-purposes/
Twitter: https://twitter.com/SuperPurposes
Facebook: https://www.facebook.com/SuperPurposes/
Youtube: https://www.youtube.com/channel/UCgZ8unOBxaV6s5srqmgwxLg
Other: https://www.tiktok.com/@superpurposes? https://go.oncehub.com/superjuliebraun superjulie@superpurposes.com
Image Credits
Image Credit: Jenna Fernandez of Aesthetic Digital Design & Media
Nominate Someone:
 ShoutoutAtlanta is built on recommendations and shoutouts from the community; it's how we uncover hidden gems, so if you or someone you know deserves recognition please let us know 
here.