Meet Rob Session | Dj & Music Producer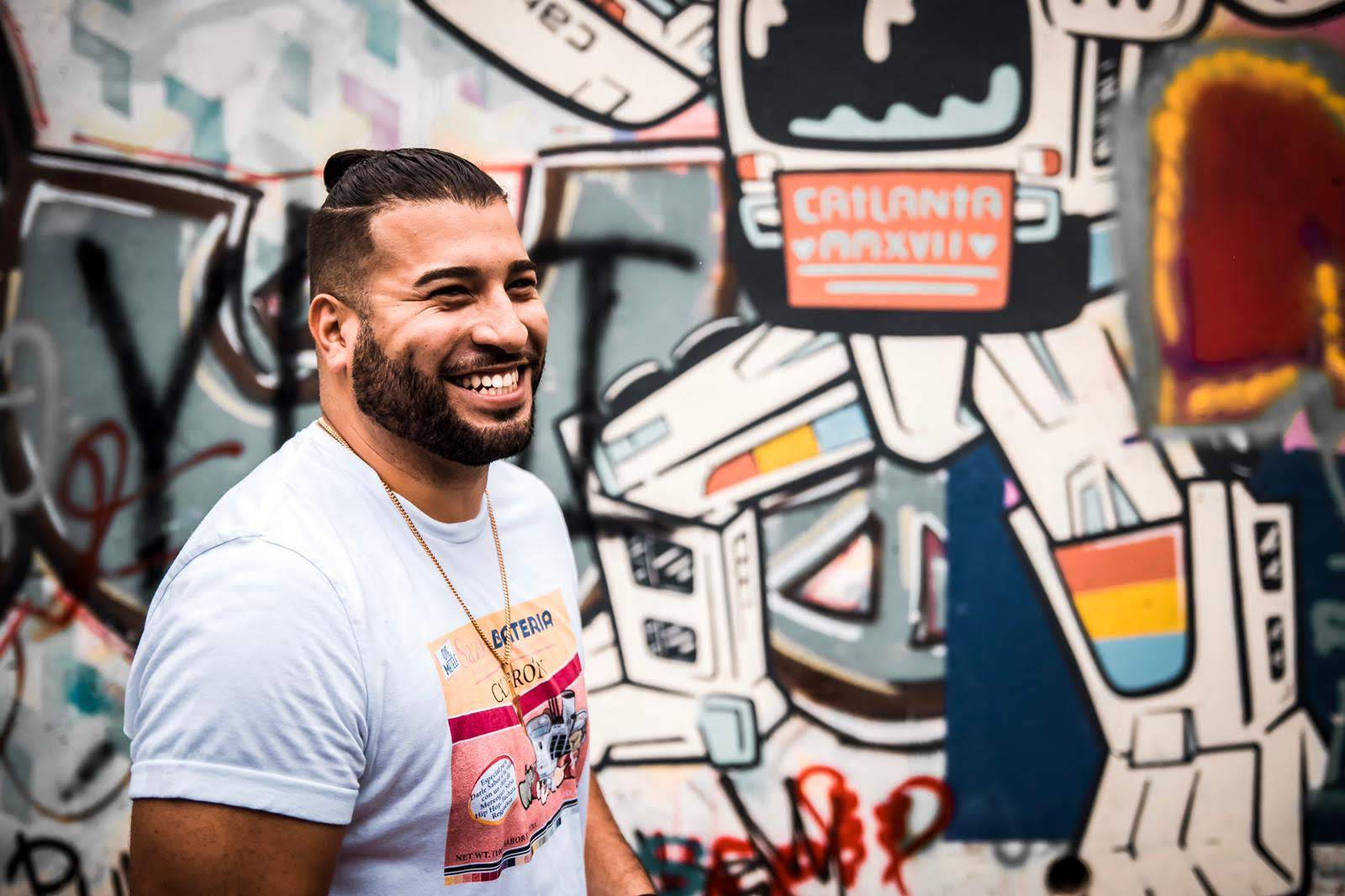 We had the good fortune of connecting with Rob Session and we've shared our conversation below.
Hi Rob, what role has risk played in your life or career?
I believe that risk is a necessary stressor in life. I feel like it lives right at the edge of our comfort zone and it can lead to growth as well as provide opportunities to learn. I'm typically willing to assume a certain amount of risk for something I'm passionate about or for something I believe will reward me accordingly. I am definitely a believer in the saying "you gotta risk it to get the biscuit" lol my life experiences have proven that statement true time and time again. Risk played a huge roll in my decision to choose a full time career in DJing/music production. I had a career in banking and was one of the youngest branch managers in my market. I was making a solid income, receiving a consistent paycheck, and I was climbing the corporate ladder pretty quickly. I was successful, but I wasn't passionate about what I was doing. I had financial responsibilities like my mortgage and car payment, and I think anyone would tell you that being self employed is a risk all on its own because you are losing the benefit of a stable and consistent income. What if I don't make as much money? What if I don't make any money? What if I don't get any gigs? What if no one likes the way I play? All these questions ran through my head and it didn't help that I knew DJs that already had ten years under their belt while I was sitting there thinking about just getting started. Doubt and fear is the killer of dreams. It would've been much easier for me to continue to climb the corporate ladder, but I didn't want to get to a point where I was older asking myself "what if?" What if it does work out? I tend to be a pretty positive person. I try to manifest as much positivity as I can because I truly believe it comes back to you one way or another. Like I mentioned before, my life experiences had proven to me that it was possible to choose to start my own business and succeed. I know a lot of entrepreneurs that are successful and at the time when I was trying to make my decision, I took a look at the DJ's I believed were the most successful and they all had one thing in common… they didn't have a day job. They dedicated their full attention to their business/craft. After I realized that, I came up with an analogy of a safety net under the trapeze artist. Who do you think would perform better? The trapeze artist with a net under them or the trapeze artist without the net? Now they may both perform equally of course, but I believe that the trapeze artist who performs without the net will not only be more driven to succeed, but they essentially removed the option to fail when they removed the net because if they fail and fall, they die lmao It might be a little morbid, but thats how seriously I took this decision. I didn't have the luxury of taking this risk and failing so I removed failure from the equation. I knew I had all these responsibilities and I didn't want to place the entire financial burden on my fiancé so I had be successful no matter what. Luckily, I managed to grow quickly in popularity and in the last 3 years and have played in almost every major club in Atlanta, while creating my own parties, and holding multiple residencies. I'm proud to say that I've gotten to the point where my income is higher than it was at the bank, I'm happier because I feel fulfilled, and I'm reaping the benefits of doing what I love. They say if you do what you love you never work a day in your life, well that's true. I honestly feel that if we all choose to do what we love and follow our passion, the monetary aspect of things will work itself out. Most people don't have a big trust fund waiting for them or have the luxury of not having bills to pay, but I feel like I'm proof among so many others that it is possible. You just gotta take that risk head on.
Alright, so let's move onto what keeps you busy professionally?
What sets me apart and what I'm most proud of are actually the same answer: My sound. I would say I'm one of the first in Atlanta to successfully fuse the latin scene with the electronic scene. When I started, you had your latin Dj's and your house DJ's and they would rarely ever mix. I wanted to change that. I make sure that whoever is listening to a set of mine gets a sense of what I love and what I'm passionate about. I love salsa, bachata, and reggaeton and I love tech, tribal, and latin house music. Whenever I'm playing, I try to mix those elements constantly and I believe that helps me stand out.. You'll more than likely hear a song that you love in an entirely different way and my hope is that you fall in love with it all over again. On one side, I Dj and I curate my own events around the city. My longest standing event is ElectroBrunch at Loca Luna. It's every Sunday and we cater to those who love house and latin music. Dj's start playing house at 2pm and as the day progresses we rotate Dj's and move toward the latin side of things. I also have an event called Ritmo that we do every first Saturday of the month at Crazy Atlanta. We feature a genre called latin tech house, which is essentially tech house music with influences from latin genres such as salsa, cumbia, and reggaeton. Ritmo has more production involved. We decorate the venue as if we were in a jungle/rainforest and decorate the booth with a ton of flowers and greenery so patrons are fully immersed in the vibe both sonically and visually. Tempo is a monthly collaboration with District Atlanta. We focus on the latin tech and euro tech side of house music, and we bring bigger artists from Spain, South America, and Europe to Atlanta. On the other side, I produce music focusing on the genre I mentioned earlier, latin tech house. I've been producing since I was 14 years old, but only recently got over the fear of criticism and started releasing my music. I have a couple of EP's I am working on at the moment. I actually have one of them completed, but artistically I feel as though my second project should be released first. Don't ask me why lol Releasing my music on a label will be the next pivotal step for me and I hope to take that step in 2021. It definitely hasn't been easy. there are a ton of challenges that you have to overcome especially trying to get into an industry thats full of competition and thats full of great talent. There are so many upcoming DJ's that struggle just to get an opportunity to play or open for someone. You could send 20 mixes to 20 different people and would MAYBE hear back from one or two. Same thing on the production side of things. You could send your demo to multiple labels and either get rejected or not hear back from them at all. The music industry as a whole is tough, but I've definitely learned some lessons a long the way. When it comes to doing business with a venue or anyone for that matter you want to get everything in writing. There are people that may not necessarily be looking out for your best interest so rely on your mentors and look our for yourself. I also feel like there is a certain etiquette that you would want to have as an upcoming DJ. I actually have a series that I want to release to help upcoming DJ's figure out how they should approach established DJ's about playing at their events. There is definitely a proper way to do it and if you follow that etiquette your success rate would be much higher. I would want the world to know and feel the passion behind my brand. I do everything with so much love and so much passion and I try to be as creative as possible. Rob Session as a brand represents positivity, creativity, love, and culture and if any of those things resonate with you, I think following me while I navigate my journey will help you with yours.
Any places to eat or things to do that you can share with our readers? If they have a friend visiting town, what are some spots they could take them to?
Man there are a ton of great spots in Atlanta! I'll give you the nightlife rundown since thats what I know best lol Monday: Industry nights at Botanico Tuesday: Spanglish Tuesdays Wednesdays: Azul Wednesdays at Blue Martini Thursday: Perreologia at Tongue and Groove Friday: Perreo404 Pop up Saturday: Toss up between Botanico, Crazy Atlanta, or District Sunday: ElectroBrunch at Loca Luna
The Shoutout series is all about recognizing that our success and where we are in life is at least somewhat thanks to the efforts, support, mentorship, love and encouragement of others. So is there someone that you want to dedicate your shoutout to?
Honestly, there is a long list of people, but I'll try and keep it short lol I've had the benefit of having a an amazing support system in my wife, Natalya, my family, and my friends. They literally make me feel like I'm the best at what I do and have been present throughout my entire career. Three years ago no one really knew who I was so I would play at a venue and I could count on them to be there to support. Yobi from Loca Luna will always be someone that comes to mind because he was the first person to give me a shot. My faith has also been a huge help in my journey. I pray before every gig and after to say thank you. I never really considered myself a religious person, but I do have a lot of faith. My experiences in life have taught me that there is something bigger than us and whether you want to call it the universe, God, etc. we have the ability to tap into that energy and manifest it. Also a special shoutout to: Jose, Aisha, Tania, Loca Luna team, Nino Augustine, Kofla, Kelly Romo, Zakaidia, Pedro, Vacano, Randall, Perreo404 team, Lalo, Pipe, Botanico team, Jalen, District team, Jorge, Crazy Atlanta team, Dj Eduardo Franco, Jesus, Valentina, Dj Danny M, Dj EU, Dj Weaponz and everyone else who I've crossed paths with throughout this journey. There are too many to list lol
Website: www.robsessionatl.com
Instagram: @robsessionatl
Facebook: https://www.facebook.com/RobSessionAtl/
Youtube: https://www.youtube.com/channel/UCjx1yJ6X97JIfjwL5KoFDRA
Other: Soundcloud: https://soundcloud.com/robsessionatl
Image Credits
Jose Zapata (@zapatajf) Daniel Martinez (@dmstudi0) Alejandro Cruz (@_alejandrocruzzz)
Nominate Someone:
 ShoutoutAtlana is built on recommendations and shoutouts from the community; it's how we uncover hidden gems, so if you or someone you know deserves recognition please let us know 
here.