Meet Nicole Drake: Pet Portrait Artist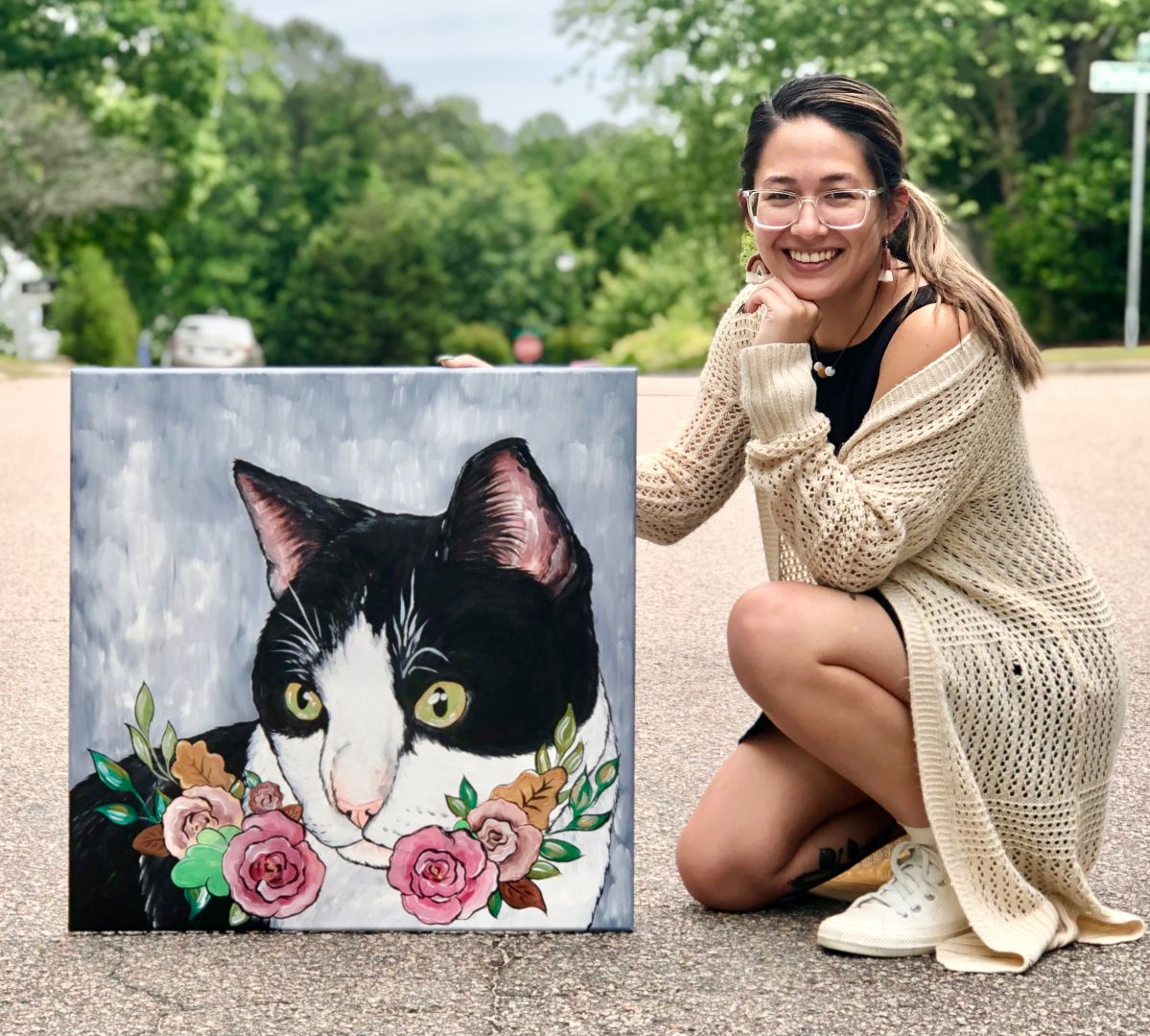 We had the good fortune of connecting with Nicole Drake and we've shared our conversation below.
Hi Nicole, how has your work-life balance changed over time?
From the literal worst relationship between work and life to the best work/life balance I've ever had in my entire life (and I'm still working towards a healthier relationship, too).
I was raised with a poor work/life balance example from my parents and the scarcity mentality was prevalent in my family growing up. (Sorry for spilling the tea, mom + dad, I love you both, haha).My mom immigrated from the Philippines and raised me to get straight A's and ensure my academic resume was so spectacular because that's the only way I'll be able to afford to go to college and college is the only way I can get a job to make a living. My dad worked upwards of 70 hours a week to just afford to pay our bills and help my mom's family that was still in the Philippines.
So from 16-18, I took on extra academic and work responsibilities to fill my academic and work resumes as much as I could. Breakdowns from burnout were pretty common in my teenage years and carried through my college years too. I continued to do "the most" from 18 – 21. I packed my college courses into the max amount of credits I could register for each semester, I took summer classes, worked for a small business in the town, and worked for the college…all. at. the. same. Time. I even pushed myself to graduate college early (receiving my Bachelor's in three years instead of the "standard" four years).
From 21 – 26, I worked 40 hour jobs AND worked upwards of 30 hours on my art as a "side hustle." So for four years, I was working between 40-70 hours a week because that's the example I had growing up. When I left corporate America (probably because I was too tired from all my burnout) in 2019, I also happened to pick up therapy for my anxiety. I found that anxiety and examples from my childhood were definitely driving a lot of my need to please and meet a standard I thought I was supposed to meet (the overachiever).
Through therapy, I've learned to reflect on myself and my needs. I've learned that it's ok if I don't want to work one day and that I'm allowed to take a break. I've actually learned that taking days off and taking breaks actually makes me better at my job. I've learned that by saying "no" to some projects (even if it does result in me getting a bad review on Google), I still benefit from it because I'm setting boundaries that are necessary for my appropriate work life balance. And I've learned that I can't please everyone and that the world moves on and my business doesn't end from one poor review.
I think the biggest lesson I've learned is that we don't always have to please others and that's given me permission to have a balance between work and life. I've deleted the gmail app on my phone so that I can set specific work times to answer emails on my desktop, instead of getting an email at 8p and feeling like I need to respond immediately. I've learned that I don't even have to answer emails every day. I have set days/times every week that I do admin work and correspond with email to balance admin work and creative work (because I learned that by prioritizing emails, I'm not even giving myself time and energy to create the paintings I'm responding to emails about). I'm not perfect. I still panic and stay up all night thinking about emails but I know that the more I practice these boundaries to evenly disperse my time, the easier it will get and the better of a small business owner I will be too! 😀
Alright, so let's move onto what keeps you busy professionally?
Pet Paintings by Nicole was officially created in late 2019. I saw a need for a modern style pet portrait that people my age would want to decorate their hip, cool, contemporary homes and work offices with. I'd say I'm most proud of my ability to fully capture a pet's personality. My heart swells every time I'm told I encompassed the joy, love, and playfulness of a pet's persona through a painting.
The journey to become a full-time artist wasn't easy! I knew I wanted to be an artist when I was 5 years old and told my kindergarten teacher I wanted to be an artist when I grew up. So I took all the art classes in grade school, pursued a Bachelor's degree in fine art, and left higher education with the intent to become an artist. But I had NO IDEA where to start. I didn't feel that my education equipped me with any of the appropriate skills to price my art, find a buying audience, market myself, handle the finances associated with an art business, scale my business so that it could support my life and contribute to my life with my partner. I didn't even know I NEEDED to know any of those things.
So I actually ended up pursuing "real people jobs" after graduating college. I climbed the corporate ladder and was on my way to headquarters with a retail business, giving them 40 hours of my week but also giving 25-35 hours to my art as a "side hustle." In late 2019, I was burned out from working upwards of 70 hours a week between two jobs and desperately seeking any opportunity to work in the arts (mind you, I was still looking for a job to work for someone else). This feeling of burn out led me to irresponsibly leave my full time job without savings and without a plan except to sell enough art to afford to pay the bills until I could find a job in the arts.
But honestly, that was the best decision I could have made for myself. I don't encourage other creatives to follow this exact path (definitely build up some savings if you can and want to pursue art or creation full time). But I do think removing the crutch of a "real job" gave me the opportunity to market my art full time on Instagram and giving my art the same amount of time as a full time business made me realize that my art COULD be my full time job. When I started giving my art the attention it deserved, I figured out all of the elements above that I needed to learn to run a business for myself and am now filling in those gaps.
The biggest key to my success was community. Connecting with other creators and artists on Instagram/social media and just asking "how did you handle this? oh! you posted about struggling with this issue in your art career! me too 🙁 , let's support each other and help each other get back up, here's a resource I'm looking into," etc. It's how I found my biggest resources for filling in the entrepreneur gaps that my art education didn't — shoutout to Triangle Artworks in the Triangle region of NC and The Product Boss Podcast and Courses.
The best lesson I learned along the way was to be genuine. I left my job with the intent to sell art full time on Instagram and selling on social media means being your genuine, true self. Just talking to people and meeting them as another human being without the intent to sell them something. Yes, there needs to be a selling cycle involved, but I definitely believe people will buy you as a person and as the person behind the brand before they'll buy your product (shoutout to my actual corporate job though, I started learned that from them, haha).
All in all, I'm just an artist that gets to live my best artist life and do what I love to pay the bills. I owe 90% of that success to the pet community and the artist/creator community. Their friendship, support, and encouragement as buyers, raving fans, peers, and actual friends is what keeps me going and I can't wait to continue to promote that community and camaraderie with others…all through pet paintings 😀
Let's say your best friend was visiting the area and you wanted to show them the best time ever. Where would you take them? Give us a little itinerary – say it was a week long trip, where would you eat, drink, visit, hang out, etc.
That is so funny that this is asked because I just did my first post-pandemic reunion with my best friend. I'm actually a Georgia native (born and raised in Saint Marys, GA) and I went to college in the North Georgia Mountains — so my partner and my best friend are both from the Atlanta area. So she actually to my current city Raleigh, NC from Atlanta and I DID take her out on the town for a long weekend trip!
Here are all the food places we actually hit up or raved about wanting to hit up next time:
My favorite breakfast places/coffee shops rotate between 42 & Lawrence, The Morning Times, and Sir Walter Coffee. They're all within a few blocks of each other so we can grab one for morning breakfast (preferably The Morning Times), one for a mid-morning pick me up (42 & Lawrence in my mind), and one for dessert (grab a boozy coffee through midnight at Sir Walter Coffee.
We visited my favorite local shops that host art and creative vendors — Triangle Pop Up Shop (for products from small businesses, artists, and creatives), The Zen Succulent (for plants grown locally), Munjo Munjo (for more small businesses + artists), and Black Friday Market (the newest collective shop to open up that brings all our favorite Black Owned Businesses together in one spot).
We hit up Budacai for Boba Tea and small bites for lunch. Because of the pandemic, they only offer outdoor seating, but the Moore Square Park just opened up and is a beautiful little one square block park, perfect for enjoy lunch in the sign. Budacai is my favorite Boba Tea place to take friends because they have the most extensive menu in Raleigh for Boba Teas.
For dinner, we went literally around the corner to Brewery Bhavana. They're my go-to for the coolest place to eat in Raleigh. They bring traditional style Dim Sum (small bites) AND amazingly, home brewed craft beers together in one place. Their food and beer choices are inspired by their travel, education, and personal experience. The food, atmosphere, and attention to detail is amazing.
If we had more time, we'd probably hit up any of the numerous Pop Up Markets that the Raleigh-Durham area is known for (shoutout Raleigh Night Market, Triangle Pop Up, Durham Craft Market, Locally Made Market, Patchwork Market and more). We'd probably chill at Dix Park or the lawns of Duke University in Durham. And we definitely would have enjoyed a stroll on the Greenway.
So yeah, if you have Georgia friends that transplanted to Raleigh or if you yourself end up in the Raleigh/Durham area, check out my favorite places to eat, drink, and shop.
The Shoutout series is all about recognizing that our success and where we are in life is at least somewhat thanks to the efforts, support, mentorship, love and encouragement of others. So is there someone that you want to dedicate your shoutout to?
Petstagram and Dogstagram! I know that any level of success that my art business has seen could never have happened without the support and encouragement of the humans behind pet Instagram accounts. The community is filled with CREATIVE people who fuel my creativity and aspirations to be an artist. They're the most kind and genuine people who encourage me to keep going and make me want to build community and foster relationships between pet parents and local pet organizations and foundations. And Petstagram is the most GENEROUS. If you can present them with any pet-related or human equality related fundraiser, event, or awareness, they will rally behind it like their life depends on it. I've never known a community like them and I am so proud to be associated with it and to be part of their world.
Website: petpaintingsbynicole.squarespace.com
Instagram: @petpaintingsbynicole
Other: Tiktok @petpaintingsbynicole
Image Credits
Personal Photo: Bridget Utley Additional Photos: Photo #1 – Cassidy Spence Photo #2 – Nicole Drake Photo #3 – Nicole Drake Photo #4 – Nicole Drake Photo #5 – Lindsay Cannon Photo #6 – Megan Williamson Photo #7 – Nicole Drake Photo #8 – Shelby Gruhn Photo #9 – Nicole Drake
Nominate Someone:
 ShoutoutAtlanta is built on recommendations and shoutouts from the community; it's how we uncover hidden gems, so if you or someone you know deserves recognition please let us know 
here.