Meet Megan Wargula | Author, Dog Nerd, & Animal Advocate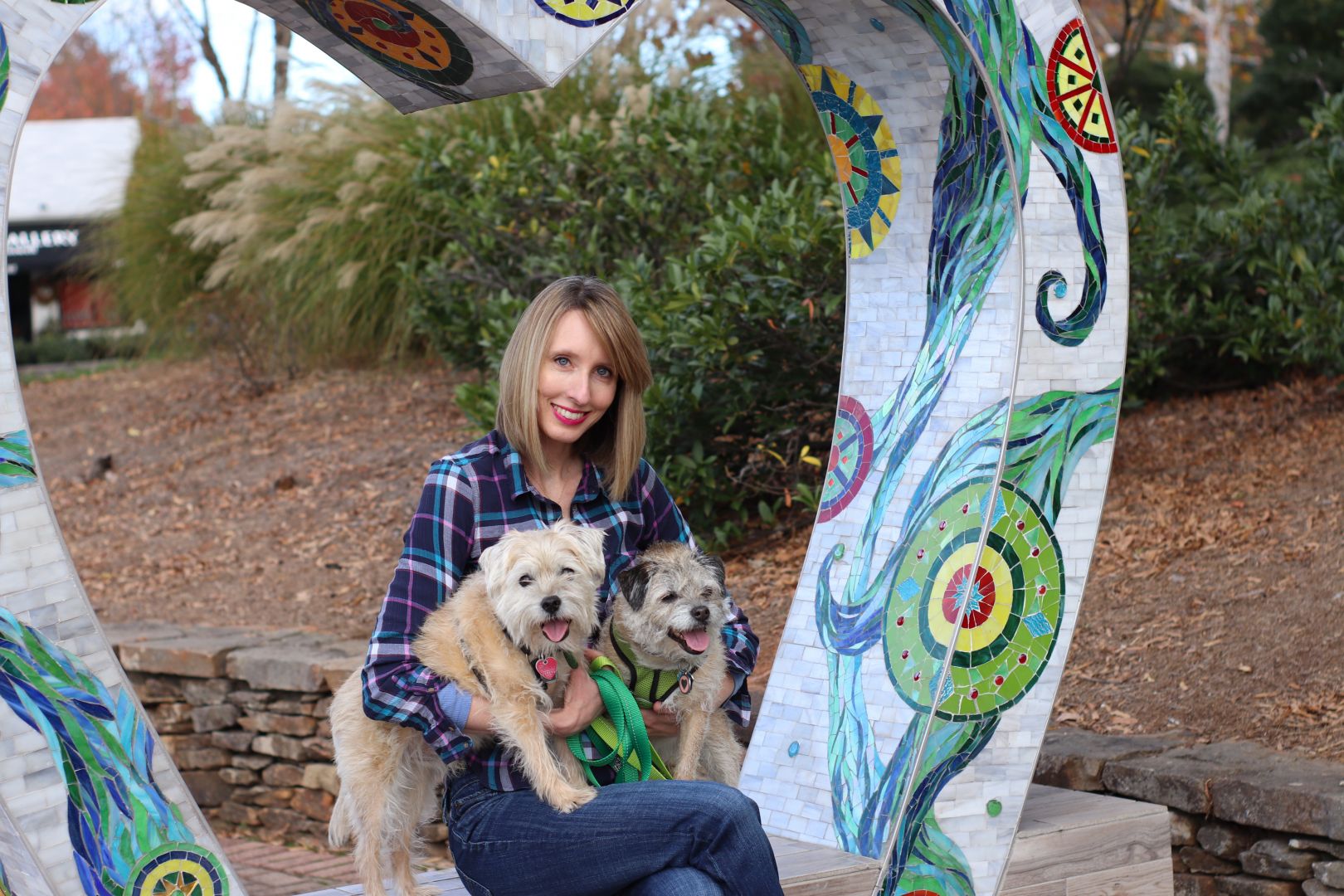 We had the good fortune of connecting with Megan Wargula and we've shared our conversation below.
Hi Megan, how does your business help the community or world?
I decided to write the Riley Carson Book Series so I could help make a difference for animals. After volunteering in the animal rescue world, and learning about shelters, pet overpopulation, animal welfare issues, and more, I knew something had to be done. We cannot continue to make uninformed decisions as humans and make a difference in how animals are treated. So, in considering what I could do as one person in Atlanta, Georgia, I prayed about it. Two nights later as I laid my head on my pillow, I realized that if I could write fun, engaging mystery/adventure stories with an animal welfare twist, maybe I really could make a difference. Children are our future, that's not just a song lyric. If we can teach kids to treat animals better and to make better decisions about pets, then they can help educate their parents and other adults in their lives. Plus, if we raise children who are more compassionate to animals, we will in turn be raising children who will be more compassionate to other human beings. I think that's a win-win!
Alright, so let's move onto what keeps you busy professionally?
I am the author of the Riley Carson Series, books for kids 9 and up. My books are a mystery/adventure series with an animal welfare twist – like Nancy Drew meets animal rescue. What sets my books apart is the mission behind them. My goal with my books is to change the world for animals, not only through the stories but also by donating a portion of the profits to animal welfare groups. When I decided that I would write a book series for kids, I researched whether or not to publish the books independently, or try to get a publishing deal through a major publisher. In the end, I decided to self-publish so that I could retain control of my message (my goal) and to be able to donate more money to animal welfare groups. Of course, I had no idea that middle-grade books are some of the hardest to market, but it's a challenge that I will conquer! Patience and hard work are probably the two most important qualities needed! I published my first book in 2016 and it hasn't been easy, but it's been fun! Now I truly know what it means to find your passion because the work doesn't feel like work. While I have my moments of doubt and wonder if I'll ever get the exposure I feel the books deserve, I shake it off and get right back at it because the message and mission are so important to me. I have learned a lot about book publishing and marketing. When you self-publish, you essentially have to learn a whole new industry. Luckily I have a graphic design and marketing background, so that helps a lot. I've learned that other authors are extremely generous with advice and that some of the people who have supported me most (aside from my family) are former classmates from elementary and high school, that has been cool! I wrote the first three books while still working my day job and that was a real challenge. I learned that it's better if I write all weekend long rather than forcing myself to write on weeknights after I've expended a lot of creative energy at my day job. About that day job…I'm super-excited that I made a leap of faith in July and quit my day job so I could have more time for my books! I realized that I wasn't going to be able to devote the time and energy to my books if I didn't make more time for them, so I am doing freelance social media management and graphic design until the books are making enough money for me to write full-time. It's an exciting time for me and I'm proud of myself for getting past my fear and starting this new chapter in my life! In an effort to help people make good decisions as dog-parents and get more exposure for the books, my husband and I created a podcast/YouTube show called Dog Nerd Show. We are having so much fun interviewing people about their dog breed, discussing tips for dog parents, interviewing other authors who support animals and animal welfare, and small business owners in the dog space. Dog Nerd Show is such a blast for us to do together and we get to meet some wonderful people! If there are any fellow dog nerds out there who want to talk dogs, let me know! Writing my books, meeting readers at author events, doing school visits, and meeting fellow animal lovers are pure joy for me. I still remember my very first school visit and I sat there and thought, "This is what I'm meant to do." I look forward to having more time to focus on my books and my mission and would love to work more closely with schools, educators, and homeschooling groups and parents, so please feel free to contact me to see how we can work together! Following your passion isn't always easy and the road may be longer than you anticipate, but you will have amazing experiences along the way, meet some incredible people, and learn a lot about yourself. This journey has been so wonderful and I'm excited to see where it goes from here!
Any places to eat or things to do that you can share with our readers? If they have a friend visiting town, what are some spots they could take them to?
Since my book series is set in Roswell, Georgia, I dream of having a "Riley Carson Tour of Roswell" someday! Yes, I've totally already thought this out and am even working on a video series! On our trip to Roswell, we would start with breakfast and coffee at Fellow's Cafe. The lemon ricotta hotcakes or sweet potato eggs benedict are a great choice! Next up, history because there is some amazing history in Roswell. We will start at the Roswell Visitors Center where we can see artifacts that have been found in the area, lots of stuff from the Civil War along with old farming tools. From there, we'll take the Southern Trilogy of Homes tour and visit: Bulloch Hall, Barrington Hall, and Smith Plantation. These are three antebellum homes that survived the Civil War and they are beautiful! Bulloch Hall even has U.S. presidential history, but you'll get to learn about that on the tour! Between touring Bulloch Hall and Barrington Hall, we're going to be hungry, so we'll head to Canton Street and go to Le Bistro for a nice lunch with a French touch. If the weather is pleasant, we'll sit on the 2nd story porch and watch all the activity on Canton Street! I recommend Quiche Lorraine or the spinach quiche with a side salad. After touring Smith Plantation and its grounds, we will head back to Canton Street to stroll and shop! Roswell Antiques is a must as is The Downtown Pooch, because we've got to stop and get something for the dogs! For dinner, we have to go to Table & Main for the fried chicken! The chicken is enough to share, but the pork chop is also delish as is the she-crab soup. You really can't go wrong with anything here! Since they are a farm-to-table-type place, their menu changes seasonally, but they always have their award-winning fried chicken which my husband says is second to only his mom's! After dinner, we'll go on the Roswell Ghost Tour which meets at the pavillion on the square. The tour is two and one-half hours long and is a walking tour that covers one mile. It's not a strenuous tour, but wear comfy shoes and bring a flashlight. What I love about the Roswell Ghost Tour is that it's not hokey. No one jumps out and scares you, there are no actors, it's simply a story-telling tour of paranormal activity that has been experienced at various locations around historic Roswell. If we're lucky, the tour owner Dave will be our guide! If we're even luckier, it will be "leashed pet night" and we can bring the dogs! On our second day in Roswell, we'll start with breakfast at Gracious Plenty for a biscuit sandwich and coffee. Make sure to dress comfortably because we'll be doing a little hiking! After breakast, we'll head over to Old Mill Park where we can tour the ruins from the old cotton mill, including the waterfall on Vickery Creek, then cross the covered bridge to the trail system. There are a few trails we can hike and they are fairly easy hikes through what is a National Park. After our hike, we'll get in the car and head to the Chattahoochee Nature Center where we can learn about nature in the area and see some birds that are either being rehabilitated or live at the sanctuary because they can't live in the wild. These include owls and bald eagles! They even have a resident beaver! After we leave the Nature Center, we're going to be pretty hungry, so we'll head back to Canton Street and grab a delicious lunch at Crazy Love Coffee. Their specialty is their Belgian Liege Waffles, but they also have great sandwiches and salads. I love the chicken salad sandwich and the Caprese! After lunch, we'll shower and change then head back to Canton Street to tour the many art galleries before dinner. For dinner, we'll go to one of my favorite spots for al fresco dining (and that's saying a LOT because there are some great outdoor dining spaces in Roswell!) Vin 25 on Plum Street. Located just off Canton Street, this is a small restaurant with awesome outdoor spaces for dining. Even better, they have great live music on the weekend. After we eat, we can enjoy beautiful live music under the trees! On your final day in Roswell, we will start with a smoothie from Sublime Tree, then we'll head to the beautiful Chattahoochee River! We can rent kayaks, canoes, standup paddleboards, or ebikes at the Nantahala Outdoors Center and spend the day on or around the river. After we're done on the river, we'll grab a beer at Gate City Brewing and hopefully get to meet some cute dogs at this dog-friendly brewery. Next, we'll head to Mac McGee for some fish and chips. After cleaning up for dinner, it's your choice: Monkey 68 for sushi, Rice Thai cuisine, Ipp's Pastaria…the dining options in Roswell are endless!
Shoutout is all about shouting out others who you feel deserve additional recognition and exposure. Who would you like to shoutout?
I would like to dedicate this Shoutout to all the people who advocate on behalf of and volunteer to help animals. There are some truly amazing and inspiring people and organizations that work so hard for animals and I deeply appreciate all their hard work. Locally, I would like to give shoutouts to: Angels Among Us, The W-Underdogs, and Mostly Mutts. Nationally, I would like to recognize: Bailing Out Benji, Fences for Fido, Pet Education Project, National Mill Dog Rescue, Harley's Dream, and Best Friends Animal Society. I'm certain I'm forgetting lots of people and organizations, but these groups have done some amazing work that has helped to educate and inspire me. There are a few dogs who need to be recognized too (aside from my own): Harley from Harley's Dream and Lennox. Lennox was a "pitbull-type" dog from Northern Ireland that was confiscated from his family and ultimately euthanized because of his breed, not because of anything he had done. I named a very important dog in my second book after Lennox to keep his story and memory alive.
Website: www.RileyCarsonSeries.com
Instagram: https://www.instagram.com/meganwargula/
Twitter: @MeganWargula
Facebook: https://www.facebook.com/MeganWargula/
Youtube: http://www.youtube.com/c/MWargula
Nominate Someone:
ShoutoutAtlana is built on recommendations and shoutouts from the community; it's how we uncover hidden gems, so if you or someone you know deserves recognition please let us know
here.