We had the good fortune of connecting with John A. Osgood Jr. and we've shared our conversation below.
Hi John, do you think college was worth it?
First of all,  I would like to say thank you for having me back. I'm always delighted to support one of the top magazines any way that I can. You all do an amazing job highlighting entrepreneurs and the work we do for our community. I would like to commend you and the VoyageAtl staff. Do you think college made a positive impact on your life and career? If so, was it worth the price tag? This is a great question. First off I'm a big fan of education and continuous learning. No matter where we are in life we can never stop learning and striving for greatness .  I  would like to let your readers know, I recently graduated last year from Clayton State University, class of 2019 at the age of 43. I have a Bachelor's degree in Business Management. Keep in mind I graduated from Benjamin E. Mays High school in Atlanta, GA in 1994. I attended Fort Valley State University straight after high school. I was one of those kids excited to have some freedom and of course finding myself somewhat. My buddies and I partied, smoked weed, and chased women the entire 2 years I was there. Oh, and yes I have some stories, but I'll save those for the next interview, LOL. So, my reasoning for going back to school may have been somewhat different than the norm. I did not go back to get a better paying job nor to take all the skills I learned while attending CSU to help someone else become rich. My mission was all about my parents. My mother and father had always wanted to see their son walk down the aisle wearing a cap and gown while smiling and holding my certificate which entitled me to a Bachelor's Degree. My journey was to fulfill my parent's dream before they leave this earth. My second reason was more of a life lesson for my daughters and a challenge for me. The lesson for my kids was for them to never give up. I wanted them to be able to say that both of their parents were college educated. I must admit going back to college at my age was not easy. My kids were there to witness the entire journey. They saw daddy running a real estate business working a 9-5, while doing homework and typing essays all at the same time. I pray that I provided an example that will be forever etched in their minds and will always be instilled in them throughout their days on this earth. If you start something you should never give up. People always tell you what you can't do because they can't see themselves doing it. God has placed something special in all of our hearts. It is our mission to pay attention to the signs as we walk this journey of life. College is not for everyone. But for me I have learned so much about business. I've learned the different business structures and how they operate. I also learned how to build a solid business relationship and how to connect with your customers. I was able to take what I have learned and start another business with my sister. We just opened FourGoods, LLC.   Our first project out of the gate is BatterUpp. BatterUpp is a seafood breader, using a recipe that has been in our family for years. So, to see the look on my parents faces and to think about what a difference I may have made for my kids, is priceless. When I look back to where I was 10 years ago to now. I would definitely say yes, college has made a positive impact on my life.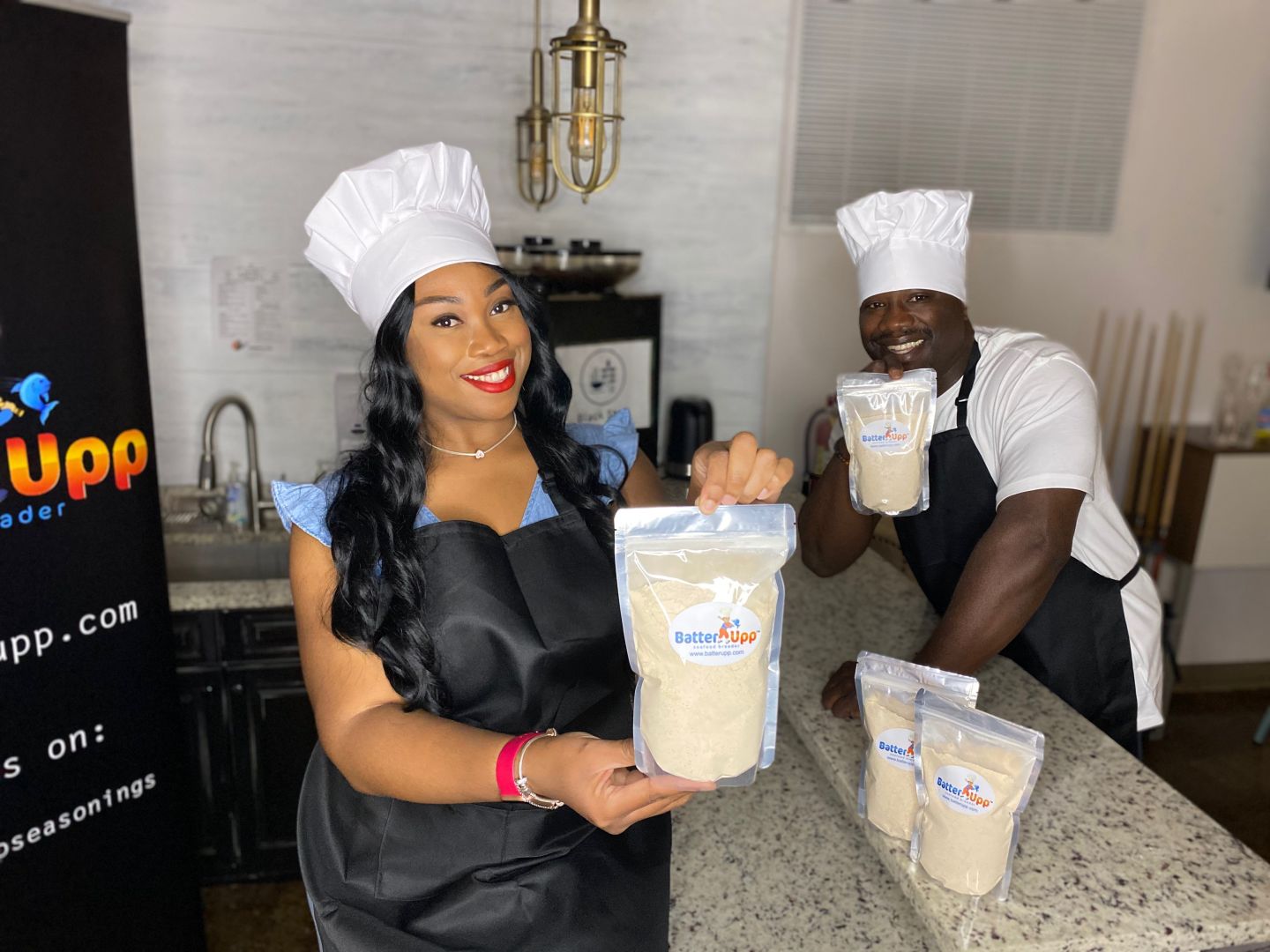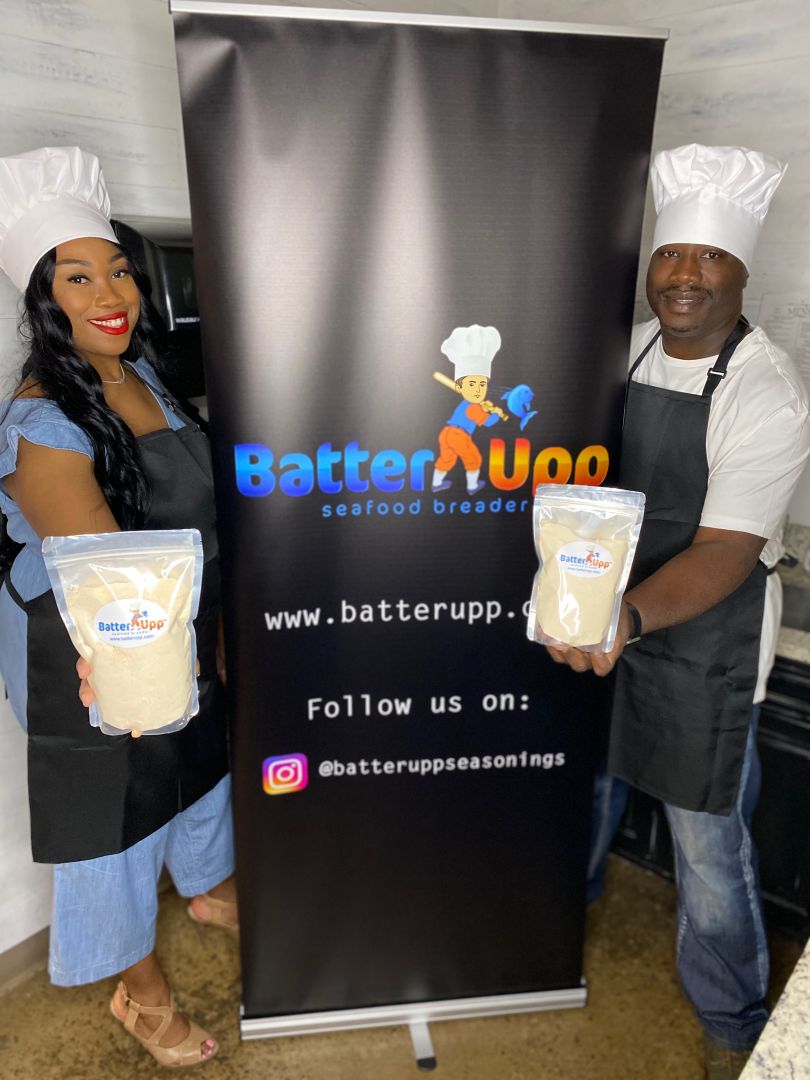 Alright, so for those in our community who might not be familiar with your business, can you tell us more?
We are different in numerous ways. We strive for excellence in every batch of seasoning we prepare. Our goal is to make cooking in the kitchen fun again. The older generation were brought up on home cooked meals, for one their parents did not have the money to eat out every day. So, preparing meals was second nature. Everything about BatterUpp is fun. We actually use a simple system to formulate an amazing seafood breader. We do all this by using ingredients that you can actually pronounce. Our logo is very unique and designed to be eye catching for people of all ages. I am most proud of having been able to create BatterUpp with my sister, who is the owner of FourGoods, LLC. One day we will sit back and say, "we did it" we made something that the world really enjoys. A lot of time people sit back and look for answers and solutions to their problems and all along the answers are right there in their faces.  I got where I am today by having a lot of patience. I had to make the right moves, even while I waited for my time to blossom. I took that time, while I was waiting, to invest in myself. I went back to school. I sharpened my skill sets. I even took on a completely new business venture. I recently became an Insurance broker, something else to add to my real estate business. We all can't shine or be successful at the same moments in life. There are stages in life we  must all go through. Some stages are easier than others. Where many people fail, is that they don't stay on the right path while waiting on their time. The lessons that I have learned during my journey is to always treat people with respect and always value the people who help you along the way.
Any great local spots you'd like to shoutout?
WOW! Now you're speaking my language. I'm a foodie type of person. I love to try different restaurants and I'm a big fan of mom and pop restaurants. First, I would definitely make a few stops in the Kirkwood area. You will find some amazing restaurants located in that area of town. One of my favorite restaurants is the Kirkyard Pub House located on Hosea Williams Dr. The staff is pretty dope and there craft beers are fantastic. Later on,  I would certainly do breakfast at one of my favorite spots, it's called Egg Harbor. Maybe spend a full day in downtown Atlanta and visit the National Center for Civil and Human Rights Museum. I wouldn't let my buddy leave the "A" without picking up some good ole southern knowledge. And If he's visiting for the first time,  I would give him a tour of where I was raised. Of course he would have to take a seat in my mom's kitchen for an amazing home cooked meal. We have a recipe that has been in our family since the early 80s' we call it "BatterUpp". Anything my mom would fry with it would turn out delicious. The recipe was made for fish but it's good on everything. I'm not really a clubbing type of person anymore, but I would definitely swing by a well-known lounge called BQE for some good drinks and great music. All these I just mentioned would have been in the plans for 2020, but we are practicing social distancing and everything I just mentioned was a dream, LOL!! Ask me this question again in 2021.
Who else deserves some credit and recognition?
Who else deserves some credit and recognition?
What a great question,  I would not be the man I am today without the love and support received from my wife, who has been by my side since day one, my family, and of course my friends. They all have played a vital role in my life. I want to give a special thank you to God the Almighty for my existence in this world and my life experiences along this journey we call life. It has been by far the best movie I have seen and the best book I have read. I hope Covid-19 has made everyone conscious and very grateful for all we have. The coronavirus pandemic, which the world is facing has been a reality check for everyone. I pray we all gain something positive from this crisis. We all should come out of this crisis with a different focus moving forwards. If there is something you want to do,  I challenge everyone to make their mark in life and get it done. Life is precious and we must treat it as such.
Website: www.batterupp.com
Instagram: batteruppseasonings
Twitter: Batteruppseason1
Image Credits
AllCoverage Insurance,LLC SettleFreeTv GoldBright Insurance,LLC