Meet Jarvis | Floral Minister & Design Curator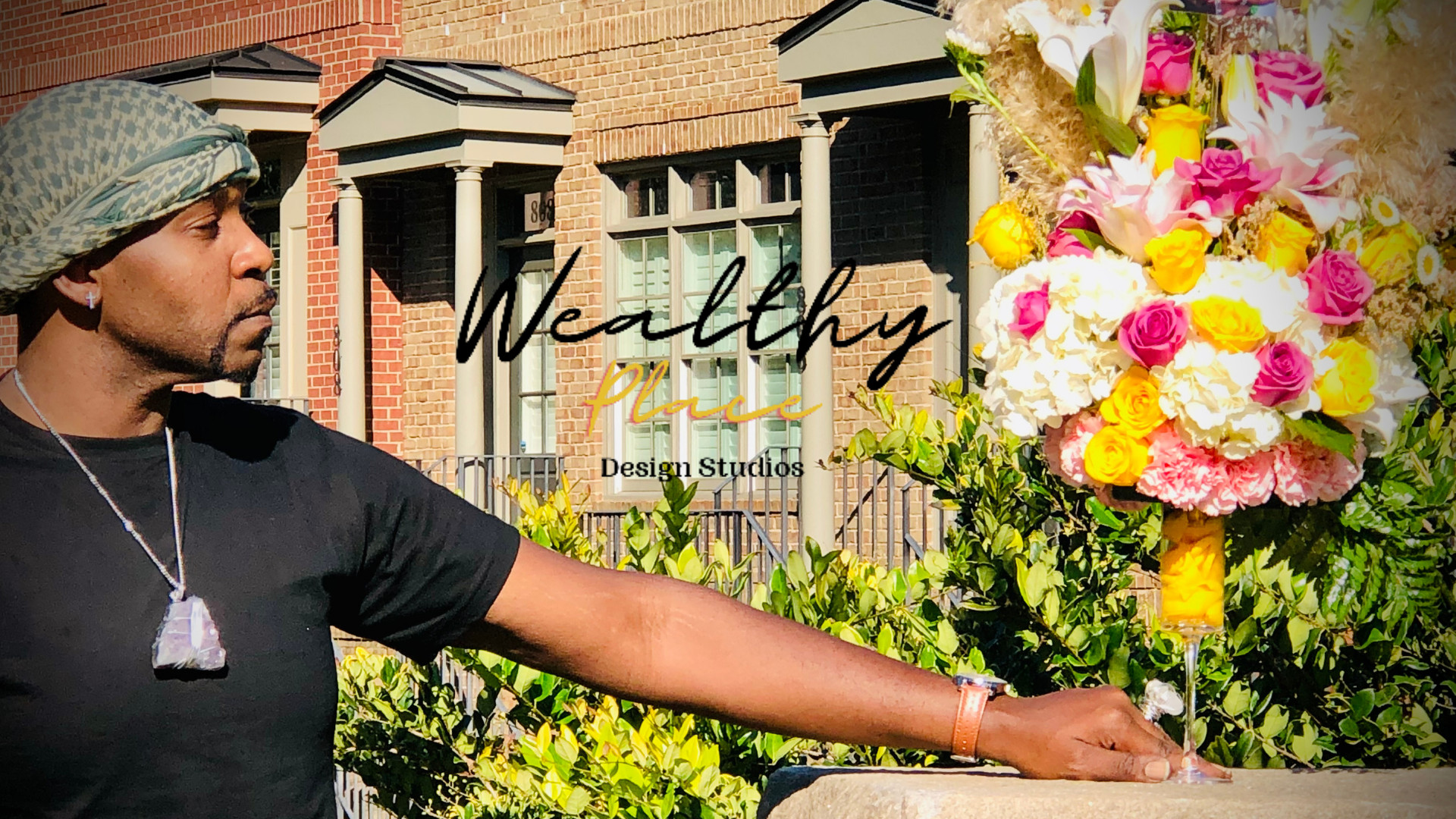 We had the good fortune of connecting with Jarvis and we've shared our conversation below.
Hi Jarvis, we'd love to hear more about how you thought about starting your own business?
Since I was 16 years old, I have been in the hospitality industry. Majority hotels and recently restaurants in the last decade. I have worked every position imaginable, with the exception of maintenance. I know my strengths, and THAT is not one of them. LOL.
When the Pandemic hit in March of 2020, I was just employed as a General Manager for IHOP for a month. I literally hated every part of that job. It was the highest paying salary I've ever had, but every single day I was miserable and being fake.
It made me realize, that I had spent my entire career, just "pleasing" people and kissing a**. I grew tired, quickly!
In August, I suffered a back injury, that had me on medical leave for a month. That was the BEST month of my life! It gave me the opportunity to pour everything I had learned managing other people's dreams, into mine. My wife, at the time, said "I don't want you going back to that miserable place. We can start our own business, and replace your income in no time. So, on Sept 1st, I resigned.
We tried our hand at opening our own restaurant, and Alkaline Water Line, but were unsuccessful because we both lacked the "true passion" for food, but we both loved serving people and making them happy. So I chose to focus on serving God's people, because that's were my true happiness is.
The same day that I resigned, I called my sister Dentista, of DeansList LLC, and told her I just resigned from my position and was about to start my journey of entrepreneurship. She told me of a Flower Shop that needed delivery drivers and it was only a few hours of my time for a great financial return. She gave me the number, I called, and started THAT day!
Y'all! The feeling I got from my first flower delivery (I'm literally crying as I type this part), let me know, that I was going to be serving God's love across the globe! I just KNEW that God created my entire life for this purpose. My entire 36 years of life, had lead up to THAT moment. I LITERALLY locked in with my calling that day. 9.1.20
I then begin the journey of "what can I do differently in this industry to allow my uniqueness shine?" God lead me directly to Psalms 66: 1-12, and Wealthy Place: Design Studios was born on 7/7/21 🙂
Alright, so for those in our community who might not be familiar with your business, can you tell us more?
We'd love to hear what sets you apart from others, what you are most proud of or excited about
At A Wealthy Place: Design Studios (WPDS), we don't make flower arrangements.
We cultivate and design boutique floral experiences and gifts.
We do no replicate designs for our clients.
We name the floral experience after you specifically, and if someone wants to order it, we'll make them something similar but more fitting for the personality of the recipient.
We are most excited about PRESENTATION! We like to do things differently at WPDS. From our cultivation process, to design, and even delivery or what we like to call at WPDS "The Experience".
We are focused on the gift giving process to impact the sender, just as much as the recipient.
As a delivery driver of flowers, and over 5,000 deliveries in this past year, I've learned that often the sender is logging on a website to order a stock photo of some random arrangement that has NOTHING to do with the personality of the person receiving it, while there are a lot of great moments of gratitude at the delivery, more often than not, expressions are lackluster, because it feels "impersonal" We plan to change that, and also provide the option to capture it all for the sender.
We produce in "Seasons" all year. We have 4 seasons, and our "Volumes" are our years. So you will notice all of our products are labeled: Season 1 Vol 1 for this first season, and so on.
Our upcoming: Season 2 Vol 1 premieres on October 7th at 7pm via our Instagram Page @wealthyplacedesigns
Stay Tuned for our "Loose the Familiar" concepts 🙂
How did you get to where you are today business-wise. Was it easy? If not, how did you overcome the challenges?
Business has literally been coming together effortlessly since I have decided to win in all areas of my life. Challenges are just opportunities to learn, stretch, and grow. Once you have decided in your mind that you will bring your dreams into fruition, it's literally just about waking up every day and putting in the actual foot work to make that happen. And the doors will begin to unlock.
I know that this is the beginning and there are several hills to climb. But I'm here to tell you, I'm more than ready for the journey and have been called for this very purpose.
Always remember, what is meant to be, will not be met with resistance unless that's there's an opportunity to grow.
What do you want the world to know about you or your brand and story?
In order for WPDS to come into fruition, I had to learn about TRUE WEALTH.
I had to first invest in MYSELF. 2020 ended bad for me marriage wise. I started my entire life over Jan 1st 2021. I was 100 pounds overweight, eating garbage all day, depressed, broke and lost on Dec 31st
On Jan 1, I started listening to the gospel music I listened to growing up, and "Wealth Affirmations" on YouTube.
Temporarily deleted social media apps
Started MINDING MY BUSINESS. The business that PAYS me and makes me happy. NOT other peoples drama! I realized that's all that social media and the internet had become.
Went back to my pescatarian diet, no food labels and drink 80% water all day (you'll be so busy peeing, that your busy is the ONLY business you will have time for. LOL)
Once I started consuming majority water (which is what God intended your natural body to do) my thoughts started to become a lot clearer and positive, my body started becoming more healthy, which boosted my confidence and allowed my RESILIENT spirit to TAKE OVER.
That's when I learned about TRUE WEALTH! That's your HEALTH people!
You can have a 100 million dollars in the bank, and it won't mean a thing if you are not taking care of your mind, body, and most importantly, sprit. These matter the MOST. Good mental, physical, and emotional health is TRUE WEALTH!
On Sundays, I plan to minister with floral design. Not sure of the exact platform I will be utilizing, however, WPDS will be more than just an extremely successful business, it will also serve as ministry that transforms lives through LOVE 🙂
If you are currently on a journey of pursuing passion, and your feel like your gifts and talents can build your brand within our brand, please contact us at wealthyplacedesign@gmail.com and let us know your story. We are currently connecting passionate people with opportunity in our Cultivation (Ideas), Design (Hands On), and Execution and Experience (Delivery) departments.
We do NOT hire employees. We connect business owners/1099 contractors/entrepreneurs with opportunities that match their passions.
If you had a friend visiting you, what are some of the local spots you'd want to take them around to?
Ponce City Market would be my first and last stop!
We would start by grabbing a frozen drink or King of Pops when you first enter.
Go upstairs to walk the belt line and catch up for a few hours while basking in Nature's vitamin D and fresh air.
We would then head back to PCM and head to the shops, the shops, the shops! Mostly everything boutique!
I don't like things that most people have or have seen. I love DIFFERENT. And PCM understands that assignment.
There's even a shop that has only black owned businesses with their ultra modern products and inventions.
I even found the World's First Satin Lined rain cap! They call it the Hairbrella. It's owned by a local Atlanta native, and black woman, and the quality of the hat is unmatched. This was a game changer for someone like me who has recently started investing money into my hair. I know it's for women, but listen….I NEED WHAT I NEED! LOL
Once we've shopped for a while, we will head to the rooftop and play some games and have another drink.
I'm sure it will be time for dinner right afterwards, which we will then head downstairs to the Creator of SluttyVegan's bar concept called "Bar Vegan".
We will literally spend the rest of the night there. After you have had a few drinks and dinner, the DJ will be playing by then and now we are at the club! Time to order another round and enjoy the rest of the night!
P.S. I recommend an extra shirt or 2 (if you're like me. lol). Because anything is liable to happen being at PCM that long with that many opportunities to drink! LOL
Shoutout is all about shouting out others who you feel deserve additional recognition and exposure. Who would you like to shoutout?
Cedric J. Thomas!!!!!!!!!!!!!!!!!!!!!!!!!!!!!!!!!!!!!!!!!!!!
When I tell you, God creates people specifically for you, HE DOES JUST THAT!
There is not one person on this earth that knows me better than him. He's been my best friend going on 2 decades now. He's the entire reason that I'm able to keep focused on this journey of building a successful brand. Both of my fathers passed away at 10, so I never had another male to receive direction from. Cedric has definitely filled that gap.
He's been nothing but progressively successful since we've met. His work ethic is unmatched. He's truly GOALS y'all! He is NEVER going to sugar coat anything. And ALWAYS says how he feels without being cruel.
He's NOT a yes man! And because of who I am and what I'm building, I don't need "yes men" around me. I need people that are going to be honest, which allows me to stretch, grow, and progress in life.
Cedric, I love you brother!
Website: www.wealthyplacedesigns.com
Instagram: @wealthyplacedesigns
Image Credits
Alexis Stevenson (Crossed Arms with Purple Arms) Brandon (Kiss 104.1) Pink Arrangement on Post
Nominate Someone:
 ShoutoutAtlanta is built on recommendations and shoutouts from the community; it's how we uncover hidden gems, so if you or someone you know deserves recognition please let us know 
here.