Meet Grace Allison Perkins: Grace Allison Perkins | Comic Artist and Illustrator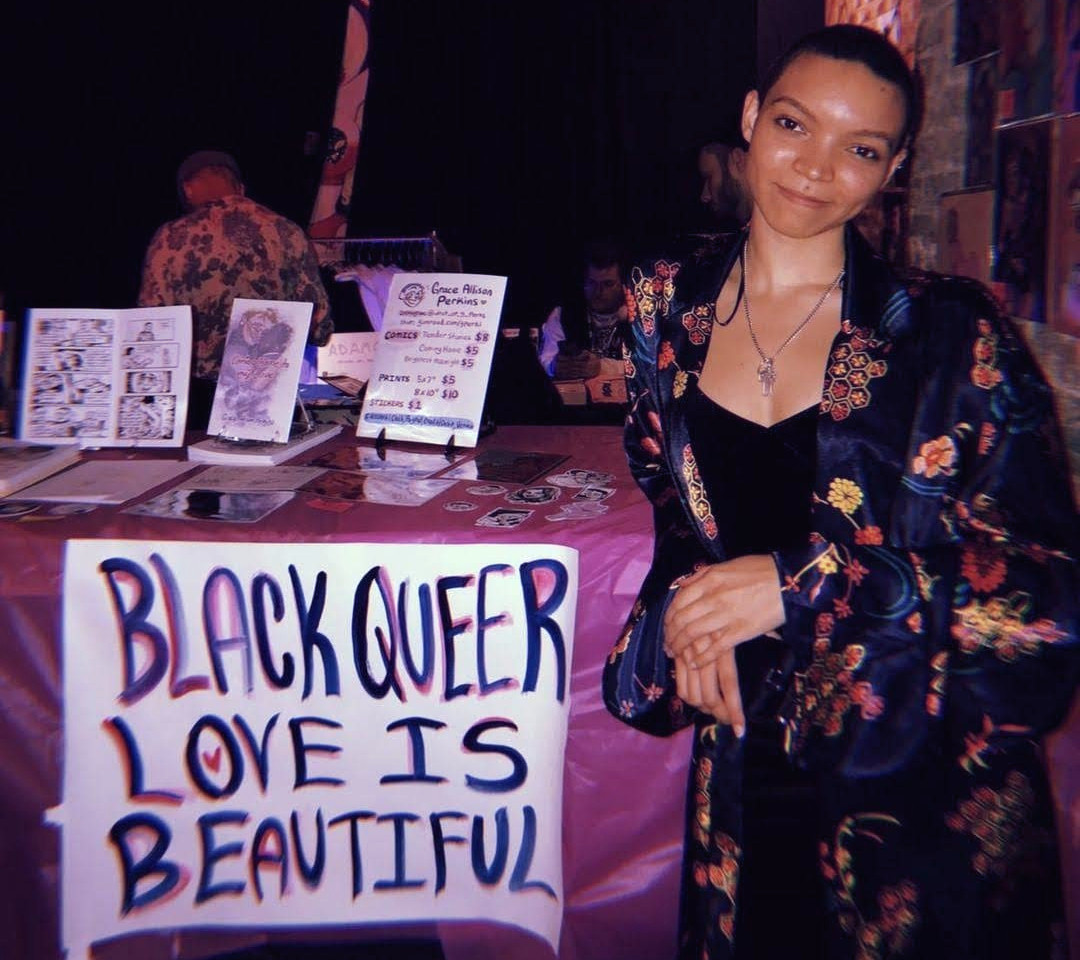 We had the good fortune of connecting with Grace Allison Perkins and we've shared our conversation below.
Hi Grace, why did you decide to pursue a creative path?
I feel like I have to be open about my very emotional and obsessive relationship with drawing and painting. A lot of how I describe my goals and aspirations with my art sound really cheesy and it translates into my comics and illustrations. I earned my BFA in Illustration, but my heart has always been with making comics and my habit with presenting narratives in my art are often present in my illustrations as well. Art has always been my natural way of communicating for as long as I could remember. Every part of my journey as an artist, has actually been an at least 15 year process of solidifying my identity as a creator. I don't consider myself to be a particularly social person, but I've always craved a sense of community with hopes that I would be able to openly exchange experiences with other artists who have a similar desire to learn from other creators and new perspectives.
Let's talk shop? Tell us more about your career, what can you share with our community?
I have never wanted my art to be exclusively for my own catharsis and validation, rather something for people to engage with who might find themselves connecting with what is the brainchild from my years of self-discovery. As emotional as my narratives in my comics are, I'm completely open to those positively making my stories into something for themselves. Making comics has been my response to how much I longed to find characters that I could truly find even a small part of myself and the people I knew within stories. I strive to make stories that are endearing and lighthearted, all while not being ashamed to present the most vulnerable and even flawed parts of people within various kinds of relationships, not just romantic ones. The main goal with my work has always been to advocate that we should never feel bound by what our common culture says we are or what we should be. There are so many kinds of people on this earth, and everyone who has been told that their truth or who they are isn't valid deserves to see themselves in the content they enjoy. Media reflects our reality, and we deserve to have representations that reflect a positive and genuine look at who we are. By writing about people falling in love, I aim to center tenderness, intimacy, sexuality, and queerness in a way that does not revolve around harmful stereotypes and tropes or cater to idealized representations that have tried to appease to a standard of appearing "tolerant" or "palatable" for those that attempt to minimize queerness or proud showings of racial/ethnic identity. I've specifically become really fixated on perfecting a way to draw moments that feel deeply personal and realistic, conversations and interactions someone could possibly see having themselves or with their partner. I also just really like soft and flowery themes and feel that presenting these with masculinity should be normalized as something that is comforting. One of the more difficult challenges I've faced is with receiving varied forms of criticism from aggression to confusion in regard to drawing masculine men exuding traits commonly associated with femininity. My response to this will always be that if you're going to be more concerned with how I present gender and intimacy outside of rigid social constructs (gender binary), then you simply aren't the audience of my work. Responding to criticisms like this have proven to be a challenge, but I've come to have an answer to pretty much any sort of question or concern, even if they aren't aggressive in nature. I think the most valuable lessons I've learned through the process of sharing my work have been becoming comfortable with that not everyone is going to be interested in what you make, and to not allow pre-conceived notions or harmful assumptions from others to hinder the impact of your work. Impactful work has the power to speak for itself when it is executed well in a way that shouldn't always require explanation. I also feel it's incredibly important towards any sort of growth with your craft to be open to constructive criticisms and honest observations from others. I'm not saying to take everything to heart, but to become aware of the fact that truly progressing with something that you care about involves learning from new perspectives. It would be absolutely unrealistic for me to not accept that what I make is going to go through changes. Some of the most satisfying things I've learned with drawing and towards growing my brand have been by doing things that wouldn't occur naturally. I actively encourage myself to be comfortable with experimentation. Becoming complacent is what I fear most instead of failure. Seeking to try new things is both challenging and exciting for me and taking certain risks within my means has always been more enlightening than discouraging. In 2019, I made the leap to have books professionally printed outside of my own studio. This was outside of my reach previously due to being unable to fund printing even 100 books with my own money. With my own printer, I only have the accessibility to make books of limited pages and colors that I charge for a small price. The third edition of my comic book "Another Collection of Tender Stories" or "Tender Stories" for short, became a means for me to better identify myself as a self-published comic artist. "Tender Stories" is the way I have been introducing my characters Andrew and Mason to people in a manner that readers can learn who they are and what their relationship dynamic is like without revealing too much about their full story. The book is a collection of shorter comics I've made as a result of my very long process of developing them and is only the start of what I am to make in the near future. Ideally, I am thinking of making a web comic due to the length of the narrative and am becoming closer to that goal daily with the constant work I put towards finalizing key details. I really wouldn't be the kind of artist that I am today without honesty and overwhelming amount of support from colleagues, friends, mentors, and every single person that's taken the time to engage with my work. I absolutely love meeting new people and seeing what they think about what I've made, even if it's something that I could improve on, as long as it's genuine and constructive feedback. I openly invite change and am always looking to see how I can make my work better than it was in previous years. Knowing that what I make can only get better is my daily inspiration for continuing with any project. Getting any opportunity to know what people are reading, and the aspects of other kinds of art people resonate with the most has contributed to my growing motivation to make art. There really is so much art out there that I don't know of or haven't gotten the opportunity to see, and I enjoy making work that explores concepts outside of what exists in my own headspace. Art for me hasn't been only about what I see and feel, but more about how others within my community have inspired me to make things that include what they also feel is worthy of having a presence. I am a queer woman from rural central Texas that loves art and would like to extend my gratitude to everyone who has given me the accessibility to share my story and process. In the beginnings of my journey as an artist, I was pessimistic to think that my art would only be questioned or misunderstood, so my thanks also go out to anyone who has been honest with me about how much they enjoy my art or has impacted them positively in some way.
Let's say your best friend was visiting the area and you wanted to show them the best time ever. Where would you take them? Give us a little itinerary – say it was a week long trip, where would you eat, drink, visit, hang out, etc.
I'll be honest with that my memories of Atlanta feel a little fuzzy sometimes outside of when I was focusing on college. I didn't spend a lot of time going out, but I think my first stop if I were to take my best friend on a tour of Atlanta would be to the Georgia Aquarium. I've always had a soft spot for looking at aquatic animals and I've loved every visit! It's an overwhelming experience at first, especially if you love sea life. My second stop would be to The High Museum of Art in midtown. I spent a lot of time here during my time at SCAD and miss living somewhere with an access to a large volume of art to experience in person so frequently. The Modern and Contemporary collections have made the most memories for me, my family and my friends. Caribou Coffee on the corner of 10th and Piedmont is a very sentimental and personal place for me, as it was one of the first coffee shops in the midtown area I was able to naturally become a regular at between my work and school schedule. The environment is very comforting, and I'll always remember it as a place I was easily able to get some work done or have much needed relaxation. My preferred evening stop would be to have a drink at Church (officially named Sister Louisa's Church of the Living Room & Ping Pong Emporium) in Edgewood, followed by a satisfying slice or two at Edgewood Pizza. Edgewood Pizza is a place I also think about pretty regularly since leaving Atlanta. Lastly, I don't think any trip to Atlanta would be complete without visiting Krispy Kreme on Ponce de Leon Ave. My connection to this place is inexplicable other than my love for glazed donuts. I also enjoy looking at the baked goods roll off the belt. I have very simple pleasures. (upon writing this I discovered that this Krispy Kreme location had been recently damaged in a fire and was very saddened to find out this news)
Who else deserves some credit and recognition?
I can't think of anyone else other than my Dad as the biggest and most consistent contributor to my success and growth as an artist. All of my supplies, tools, and schooling I've had because of the unwavering support from my father who always encouraged me to reach my goals. Huge thanks to Murmur Media in Atlanta for giving me the invaluable opportunity of allowing me to be experimental within their space back in 2017. My dear friends and colleagues Kyle Payne and Graciela Nunez Bedoya shared this experience with me and made it into an amazing residency. My gratitude also goes out to the number of photographers that I've had the pleasure of collaborating with during my time at SCAD Atlanta; Joshua Rashaad McFadden (Colorism series), Ervin A. Johnson (In Honor series), Faisal Mohammed, NikkRich, and Dezirae OzMarie (DO) Photography. All of these photographers are incredibly unique and unforgettable in the way they capture their subjects, and have also greatly contributed to my presence within the Atlanta creative community.
Website: www.gperki.com
Instagram: www.instagram.com/what_up_g_perks/
Other: my Gumroad shop: https://gumroad.com/gperki
Nominate Someone:
 ShoutoutAtlana is built on recommendations and shoutouts from the community; it's how we uncover hidden gems, so if you or someone you know deserves recognition please let us know 
here.