We had the good fortune of connecting with Felicia Gordon, nicknamed "The Wishes Swishes Lady" and we've shared our conversation below.
Hi Felicia, can you walk us through the thought-process of starting your business?
I never had an entrepreneurial mindset. Never envisioned being a business owner. But I always had this good idea in my mind. And to be honest; I didn't think I could financially afford to create, let alone start a business of my own and the business would be so unique and successful.
Several things motivated me to create Wishes Swishes. After my sister died in 2009, I was given legal guardianship of my sisters' twins, who have been blessed with Autism. Getting the twins, I knew this wouldn't be easy. They were developmentally delayed. So, when I got them, I immediately started a journey of changing their narrative and instead making them whole independent women. With this in my mind I always made decisions that impacted them. Always keeping in mind what if I passed away today. What would happen to the twins. But if I made them independent, they wouldn't need to rely on anyone other than themselves. As they got older, I was thinking what job or what skill they could learn to reach our goal of independence. We tried colleges and they were denied from all of them because of their low admittance testing scores. They eventually landed mediocre jobs that would never give them financial independence.
Another factor that influenced the birth of Wishes Swishes was my husband isn't and doesn't inspire to be a good gift giver. He gives what he wants you to have, which rarely is what I want or wish for.
Lastly, I always liked the idea of group gifting with my girlfriends. Whenever its someone's birthday, I was always the first person to call and organize everyone pitching in on the gift. It makes my day to see someone so excited to get a gift that they've wanted for so long. I Love that.
What is Wishes Swishes?
Just Imagine if you could Wish for something for your birthday, graduation, baby shower, wedding, or any special occasion and maybe you couldn't afford it, or was too shy to ask for? You can now go to www.WishesSwishes.com, post your wish, share it, and let Friends & Family Pay for it.
Our Bio:
"Wishes Swishes" is a love story written from the inaudible souls of autistic twins, terminal Cancer, and the life we didn't wish for:
13 years ago, I was settling into my new life in Atlanta, GA with my pre-teen daughter as we had recently moved from our native home of Detroit, Michigan. Little did I know my initial intentions would soon be interrupted when my older sister called to say she had been diagnosed with terminal Stage 4 Cancer, and furthermore, she had one Wish. My sisters' one wish was for me to raise her children when she would no longer be able to. It wasn't hard for me to agree to fulfill this one wish, but I knew agreeing to her wish would mean that she would no longer be here. After praying for guidance and listening to a lot of voices saying, "Step out on Faith", we arranged for my sister and my 3 nieces to move to Georgia with me and my daughter, where I became my sisters' caregiver.
Over the next year, my sister and I talked so much about life after her. She had so many dreams for her children, amidst worrying about her Special Needs twins. See, my twin nieces were born with autism and weren't auditory until they were 6 or 7 years old. I remember times asking the twins what they wanted for Christmas or for their birthday and they would say, "I swish for a bike" or "I swish for a doll". They couldn't say wish, but we absolutely knew what they meant. This is where "Wishes Swishes" was born, but it would take me a few more years to put the concept together.
Now finally, "Wishes Swishes" comes full circle. "Wishes Swishes" takes the wishes of the non-verbal person and lets their loved ones know what they are wishing for while also ensuring the best gift possible.
For me the motivation to always pay it forward isn't just stepping up for my family but it's also stepping out on faith with "Wishes Swishes".
As we mature as a company my hope and prayer will give those a platform and circle of giving while blessing others in an astronomical way. "Wishes Swishes" is the perfect concept to speak words and wishes of all.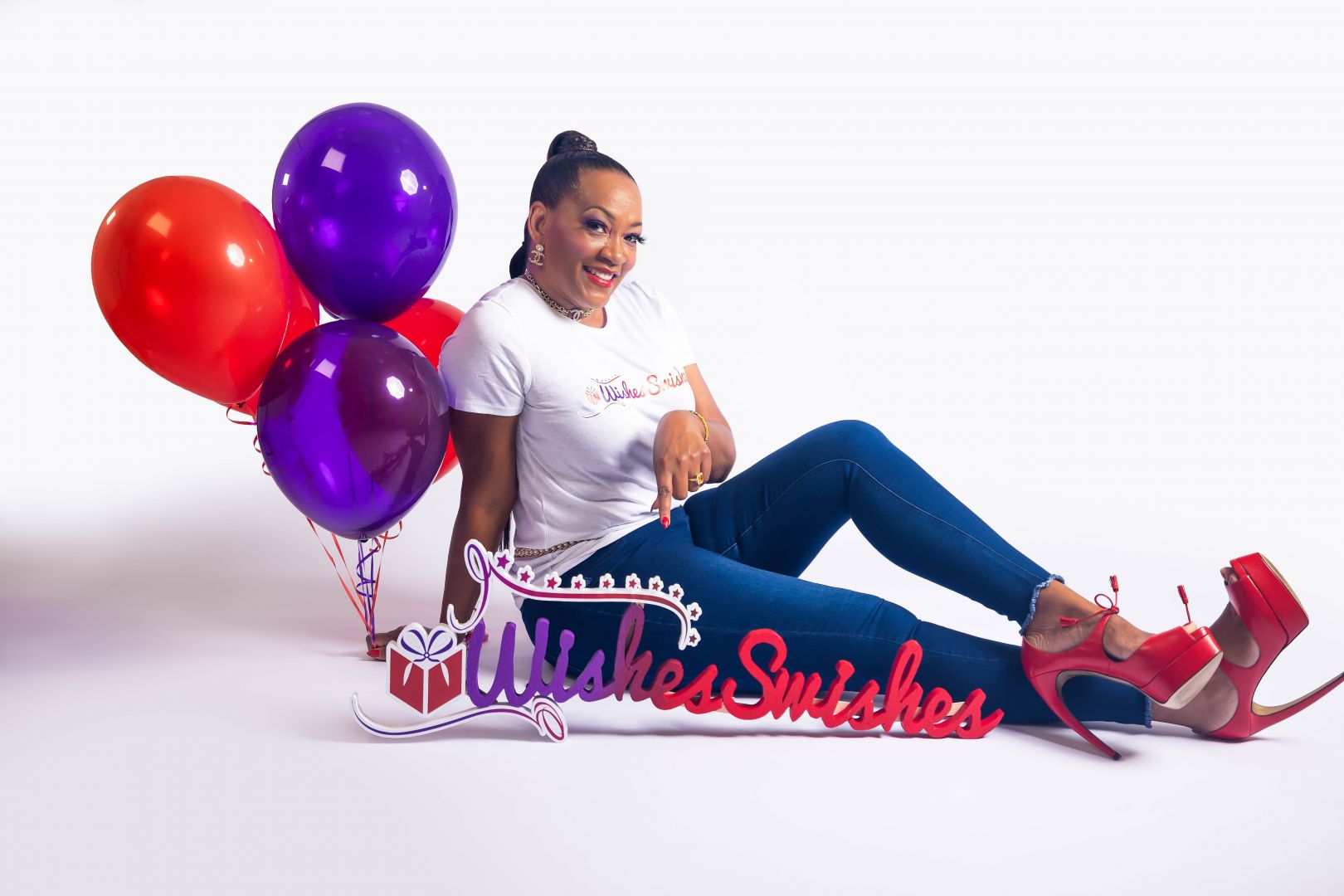 Let's talk shop? Tell us more about your career, what can you share with our community?
Professionally I hold a Master's Degree In Human Resources. And for the last 8 years I've been living with my husband in Saudi Arabia, working at the biggest Oil Company in the World. The opportunity to live and work in Saudi Arabia sets me apart from most entrepreneurs, because I have travelled all over the World, and been emersed into so many different cultures. This experience gives me a vast perspective of Gifting and how it is done all over the World.
Yet I am just a Wife, I am a mother of a mini version of myself, she's strong and determined. I am Auntie/Mom. I'm a stepmom. I am a Bestfriend. I'm a Sister, a Sister/Friend, a Favorite Cousin and Niece. I am a natural Giver. And now I am proud to be "The Wishes Swishes Lady" who just happens to be a Black Woman Business Owner.
If you had a friend visiting you, what are some of the local spots you'd want to take them around to?
I love everything about Atlanta. New York ain't got nothing on the ATL.
Some of my favorite places to hang out is Nuevo Laredo, on Chattahoochee St. It's a family vibe of strangers who come to wind down, get a good margarita and authentic Mexican Food.
For a more intimate dinner I like to visit Steak 101 in the Vining's.
But for my hood friends and family members, Docs on Cobb Parkway is the final hangout.
People don't know it, but I love horseback riding. And Atlanta just happens to have the best open trails for riding. Every time I have visitors you can expect to find us on the trails.
The Shoutout series is all about recognizing that our success and where we are in life is at least somewhat thanks to the efforts, support, mentorship, love and encouragement of others. So is there someone that you want to dedicate your shoutout to?
I must first Shoutout my sister Rhonda, may she RIP, who trusted me with her life and her kids.
Shoutout to my husband, "Big Oil", who encouraged me to go for it and make Wishes Swishes a reality. I'm forever grateful because I know it's hard for people to get their businesses going when they have all the stresses of maintaining their everyday bills. Because of my husband, I wasn't burdened down with worry and it allowed me to get my business up and running much quicker than most entrepreneurs. Thanks Babe!
Shout out to my sister/friend, Barbara Ogunyemi (IG: @barbieofsaudiarabia) for helping me draft out Wishes Swishes. While living in Saudi Arabia, we would take long walks in the evening and just plan how Wishes Swishes would work. She inspired most of the functionality. In return, I owe her a Bentley, LOL!
Shoutout to my Uncle Ricardo and my brother Jay who invested before I even had a website. Love Yall! My family and friends have ridden this bus all the way with me, and they continue to cheer me on. They do it all. They give their feedback, they post Wishes, they contribute to Wishes. They are Real Deal Supporters. And I couldn't or wouldn't be here without them.
Shoutout to Saj @MediaLinkers who created my website and remains a phone call/text away whenever I want to make a change or add more functions. His customer service really brought my vision to life.
A Special thanks to my nieces, Dayjza and Dynasty for being the Best Twin Nieces ever. Thanks to the ASD Community for making these beautiful souls WHOLE.
To all our Wishers, our Sponsors, all those who donate to our non-profit side, all of the social media followers, we Thank You. Keep us in your contacts, we'd love to show up at your Special Event and present your Gift as only Wishes Swishes can. We Love and appreciate all the Support.
Website: http://www.wishesswishes.com
Instagram: http://www.instagram.com/wishesswishes
Linkedin: http://www.linkedin.com/wishesswishes
Twitter: http://www.twitter.com/Wswishes
Facebook: http://www.facebook.com/WishesSwishes
Yelp: http://www.yelp.com/wishesswishes
Image Credits
qmarshall photography
Nominate Someone:
 ShoutoutAtlanta is built on recommendations and shoutouts from the community; it's how we uncover hidden gems, so if you or someone you know deserves recognition please let us know 
here.