Meet Faith Merritt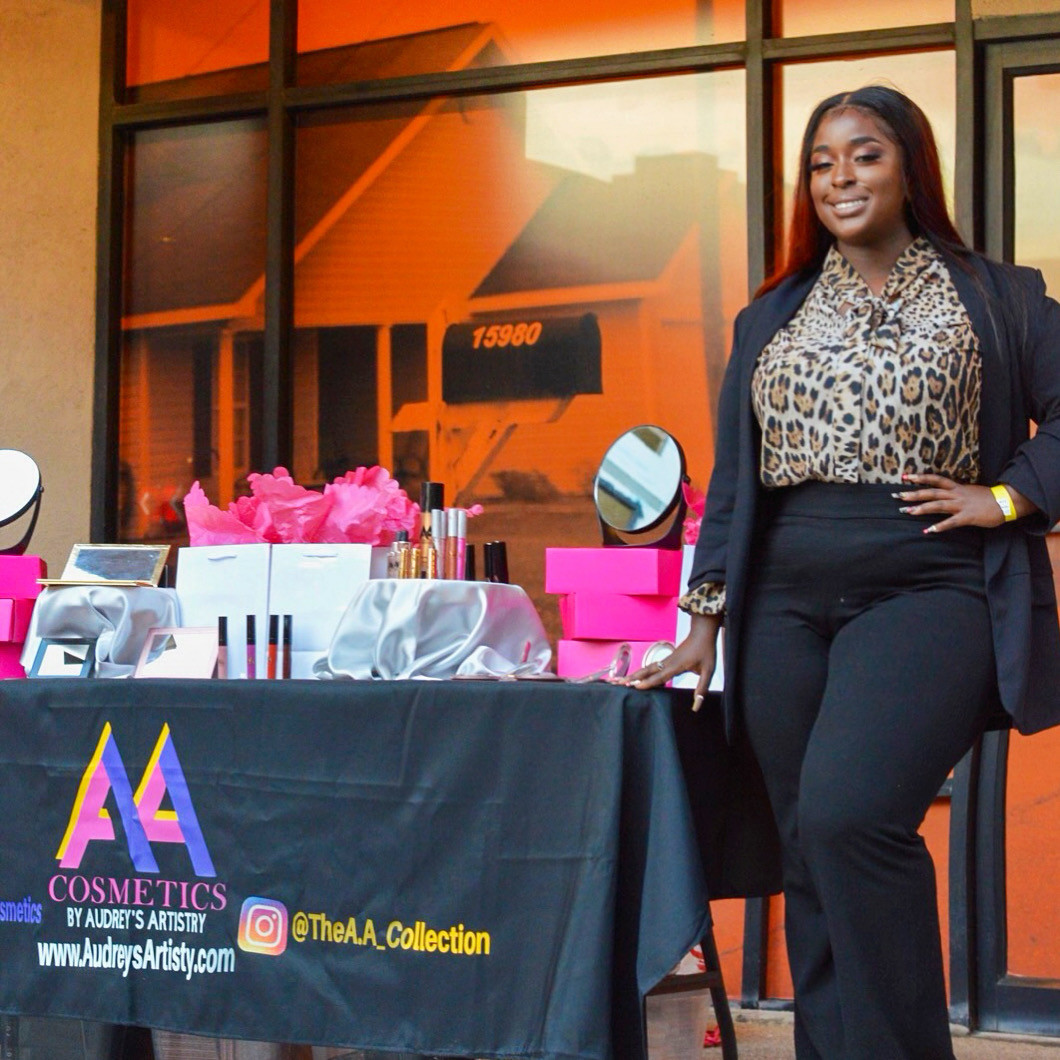 Today, we'd like to introduce you to Faith Merritt. Faith was introduced to us by the brilliant and talented Mike James.
Hi Faith, we're so thrilled to have you sharing your story with us today. Maybe we can kick things off by having you introduce yourself to our readers? We'd love to have you go into your story and how you got to where you are today.
My love for makeup began in my late high school years. Makeup was a catalyst in my development of becoming a young lady—a young lady searching to build more confidence around myself and my appearance. Considering I was a tomboy growing up, I wanted to revamp and transform into my inner beauty side. I became interested in YouTube videos showcasing how creative one could be with makeup. The videos instantly caught my attention as they revealed how makeup enhanced the beauty of women. Subsequently, I realized I wanted to be a part of that process. However, I didn't know the first thing about starting a business, let alone controlling the operations to sustain a business. But, I did know that I wanted to be the CEO of a cosmetics company. I began my research rapidly, searching to create a well-equipped 'how-to guide for creating and sustaining a business. I'll admit, I had to learn many things along the way as it was mostly trial and error. Despite the trial and error, I found that mistakes created the perfect recipe for cumulatively developing a business. I learned how to form a company, acquire appropriate documentation for licensing my business correctly, formulate cosmetic products, and establish health and wellness guidelines, to name a few.
Like most successful entrepreneurs, I found myself becoming overwhelmed with the process. Consequently, I learned there's a reward in taking a step back to handle obstacles one at a time. Fortunately, with my experiences coupled with plenty of research and talking to other entrepreneurs and lawyers, I acquired more knowledge toward forming a successful business. Daily, I continue to pursue research in sustaining my business.
I envision a global recognition of The A.A Collection Cosmetics as a bold and impactful brand that uplifts and encourages women to be their best, most confident selves!
The A.A Collection Cosmetics is an inclusive brand for women of all ethnicities, backgrounds, and walks of life. Our company's mission and vision statement is "Let your Inner Monroe Come Out and Play," which encourages each Beauty Monroe, also known as our customer, to bring out their inner alter ego we all possess once you begin to use the A.A Collection Cosmetics.
Please tell us more about your brand, The A.A Collection Cosmetics
The A.A Collection Cosmetics manufactures high-quality, vegan, and cruelty-free beauty products for women of all ages and personalities. All products are curated in a vendor lab with quality pigments and formulas to ensure the customer is provided high-quality products. It's a brand of versatility that features bright colors, cosmetics, and bold lashes for the girl who likes to be seen, as well as neutral tones for a woman who's looking for a classic look. The A.A Collection Cosmetics will leave a lasting imprint in the beauty industry based on its versatility. When applied, The A.A. Collection Cosmetics line ascents women from different walks of life, from the girl next door to the career woman, the classy & chic woman on the go, and the woman who doesn't shy away from bold colors and loves a dramatic entrance. At Audrey's Artistry, we're most proud of the community of support. Makeup has allowed our Beauty Monroes across the globe to create a universal language of love. Our team loves receiving product reviews with our Beauty Monroes' finished looks. Each look tells a story that allowed their "Inner Monroe" to "Come Out and Play." Feeling good after using our products is a win for us.
So, as we mentioned to our audience earlier, you were introduced to us by Mike James and P&Z Life Coaching and we really admire them and what they've built. For folks who might not be as familiar, can you tell them a bit about your experience with P&Z Life Coaching.
Working with Coach Mike has been a game-changer for me. I did not know the importance of having a Life Coach until I met Coach Mike. He has been the missing link to help me better maneuver balancing running my business with my personal life. It is important to coach/mentor that hold you accountable, encourages you during trying times, and advise you through life.
When I think of P&Z Life Coaching Brand, I automatically recite the 5Cs: Capable, Competent, Confident, Conscious, and Courageous. I have adapted these into my daily affirmations, and I see a notable difference in my energy and mindset throughout the day. Coach Mike is the P&Z Life brand, everything from his positive outlook on life and determination shows that he lives what he teaches others. This is what the P&Z Life Coaching Brand is all about.
I was so honored to be the first guest on Coach Mike's Black Business Booming Series. When I received the email, I was in complete shock. It was a such a blessing to do the interview with him. I was so grateful to for the opportunity to share my experiences as a Black businessowner with the audience. I'm amazed at the traffic and growth I've seen with the series. It's amazing to see a positive media outlet with Black people to come together and share their businesses and experiences. Everyone should become a part of Coach Mike's P&Z Life Coaching Brand, it will change your life.
Website: www.audreysartistry.com
Instagram: www.instagram.com/AudreysArtistry & www.instagram/TheA.A_Collection
Linkedin: https://www.linkedin.com/company/the-aa-collection-cosmetics/
Facebook: https://www.facebook.com/theAACollectionCosmetics/

Image Credits:
IG: Shadshotit IG:Nadiaanochiephoto