Meet Dr. Courtney A. Hammonds | Global Educator, Thought-Leader, Fashion Storyteller & Podcaster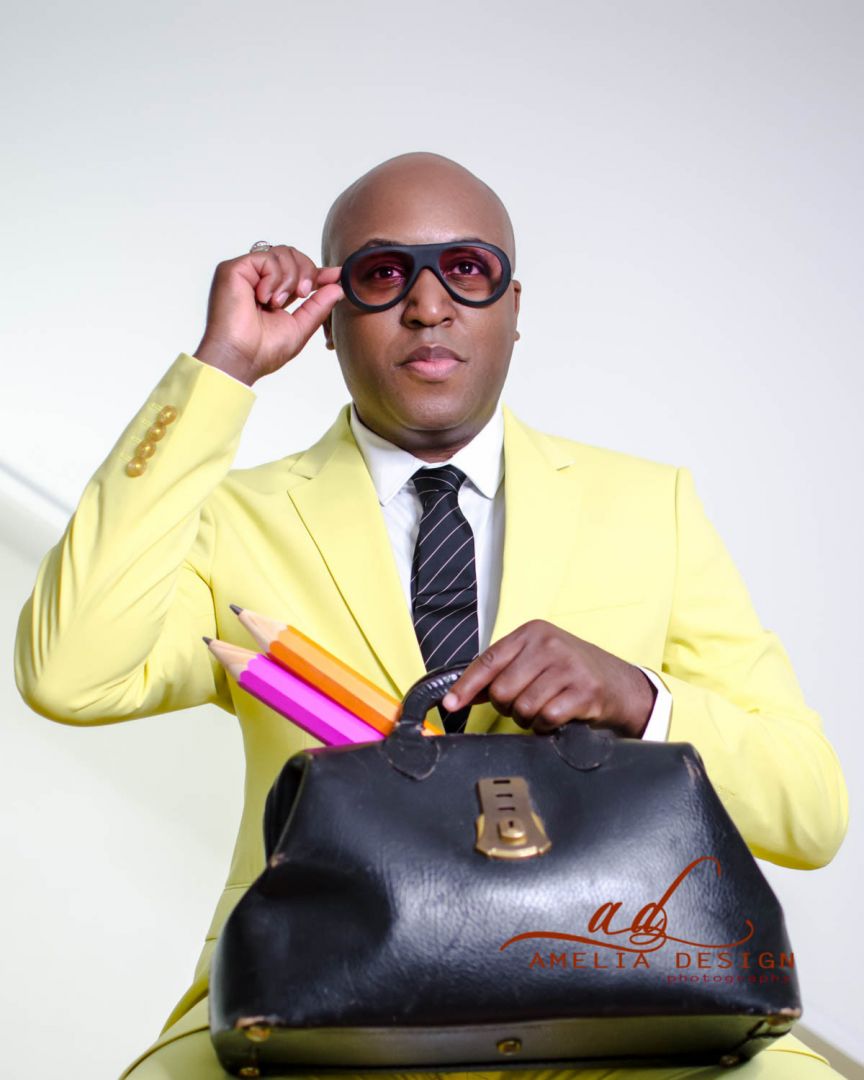 We had the good fortune of connecting with Dr. Courtney A. Hammonds and we've shared our conversation below.
Hi Dr. Hammonds, what principle do you value most?
Values are like a compass that points us to our "true north." One of my core values is known as "Wind in Your Face", which means the spirit of adventure or the feeling that I get when sitting on the beach, diving into myself with meditation, with the wind blowing in my face. It's vitally important to me to try new things, make mistakes, be creative and have a sense of personal and professional adventure every day. When I align with this value, my clients, team and students know to expect 'out of the box' thinking from me. Some of my ideas and methodologies may seem unconventional, yet it's important for me to try them and learn from them.
How do I align this with my decision-making?
When evaluating a potential client, I will assess how much my client and I will stretch and grow while working together. If I feel that this potential client will provide mutual opportunity for growth, I will likely take the project. If I feel that the potential client isn't open to new ideas, I will likely decline the project.
Can you open up a bit about your work and career? We're big fans and we'd love for our community to learn more about your work.
I have a successful record over the past 20 years of professional experience in multiple industries. I built a solid reputation as a multi-gifted and multi-purposed professional in his roles as a global educator, fashion department chair, assistant human resource manager and  proprietor of a fashion boutique. I've been a contributing editor for readers digest and instyle magazine in the past few years. I am twice editor (Editor in Chief and Managing Editor) for https://hers-magazine.com/ fashion edition. I am the author of over 100 articles and 4 books in fashion and philanthropy.
My big passion at the moment is anything and everything related to family, great food, well-aged wine and interviewing people for my new podcast https://podcasts.apple.com/us/podcast/prescriptions-with-dr-courtney-a-hammonds-podcast/id1523536461!
What do you know now that you wish you had known when you were younger?  I wish I had known how important patience and listening can be. These are two qualities that are often overlooked but can be helpful in both your career and personal life.
What's the most important thing to remember when it comes to your personal life? Spend more time with the people that matter to you. Assess how much quality time you spend with family and close friends. As life evolves more people may enter our sphere. These people may fall into various categories of importance—acquaintances, colleagues, friends, partners. It's necessary to sort out how we interact with these various people and to assess the meaning of each of these relationships. Time is precious—we need to use this time wisely and with those that matter most.
How did you overcome your biggest career hurdle?  I once got a new boss whom I perceived had a not-so-positive impression of me that was hindering my career. So, I asked him to be my mentor; he agreed, and we met on a regular basis for three months. Through our discussions he got to know me much better, and when a promotional opportunity came up, he was my biggest advocate, and I got the job. (As a result, I was promoted as the Assistant Human Resource manager for Luxury retailer, Neiman Marcus. I held this position for approx. 6 years.)
What are the lessons you've learned along the way? Early in my career I was given the opportunity to operate a high-end boutique in a high-end mall. We had outside investors and a great opportunity in front of us. I won't go into the full story. But what I can tell you is that my communication skills and lack of knowledge pertaining to business credit, at that time prevented me from ever moving that business and opportunity forward in a meaningful way. Ever since then I've strived to work with mentors and coaches to ensure my business and communication skills are always in development. Communication is the way we connect with others. I constantly want to be improving it.
Professional Background at a Glance: As an Educator, I've worked in the public school system as a special education teacher, and proudly served as the Fashion Marketing and Design Department Chair at a local college, where I mentored countless students in both fashion design and marketing for almost a decade. I established the Fashion Design Curriculum for The Art Institute of Atlanta and branch campuses which included researching, developing and final selection of the courses to be included in the undergraduate program. The program was approved by The Southern Association of Colleges and Schools Commission on Colleges (SACSCOC) under my leadership. Additionally, I pioneered the Gap for Community Colleges program, which was a part of "Skills for America's Future", a White House initiative that was launched under the Obama administration. Over 100 scholars completed the program under my leadership.
Currently, I sit on the board of the St. Lucia Fashion Council where I serve as a global marketing consultant to the island of St. Lucia. In this role, I'm responsible for the development of strategic marketing campaigns, and the promotion of St. Lucian fashion designs and related products to the United States and the world.
I am also a visiting professor and subject matter expert for several universities, fashion magazine editor and podcaster. In addition to global consulting, working as a contributing writer to multiple publications, authoring books, and working in Higher Education, I am a sought-after public speaker and thought leader who speaks on panels and at conferences and workshops worldwide.
What's the key to a successful career? Maintain a high Say/Do ratio! The best way to do this is to be cautious about what you commit to. Before you commit to a deadline (when work is due), always look at your timeline (when work actually gets done) to ensure you can keep your commitment. When I was finishing a https://www.instyle.com/ feature article featuring Louis Vuitton's artistic director, Nicolas Ghesquière, I was on an extremely tight deadline and often thought about napping rather than returning to my computer! But I focused on the mission and I kept working.
What advice would you give to men and women who want to follow in your footsteps?
I think it's important to be focused. Of course, there will be many bumps along the way, but don't get distracted by the zigzags in the road. Vision and passion are very clear; if you believe in something, other people will too.
What do you want the world to know about you or your brand and story?
As a global educator, fashion storyteller and philanthropist, I am constantly leading, nurturing and supporting my community. I make it a point to utilize my multidisciplinary skills to create content and gap bridges. My desire is to never stop being curious, always ask questions, explore the unknown and try new things. Life is about discoveries; it doesn't help anyone to be stuck.
If you had a friend visiting you, what are some of the local spots you'd want to take them around to?
Atlanta, Georgia is a beautiful city and is full of wonderful places to explore. From majestic waterfalls, to mysterious landmarks and natural wonders, here is a collection of some breathtaking places to visit in Atlanta and to fill your soul with something beautiful that will never be forgotten.
Reach new heights at the High Museum of Art. Going to an art museum doesn't have to be boring, especially when it's the High Museum of Art. Since its closing in response to COVID-19 earlier this spring, the High has officially reopened under new safety and health guidelines. If you aren't quite ready to visit high-traffic attractions, you can still see exhibits from a variety of art collections, including African, European, American, and contemporary all without getting up from your couch as a part of its Stay Connected initiative.
See a drive-in movie. Yes, drive-ins still exist, and we're glad Starlight is one of them. Most people think drive-ins only show classic throwback movies, but this Southeast Atlanta gem also offers showings of current movies. Adult tickets are $10 and kids ages 5-9 are $1. Starlight's website has several rules and recommendations, such as getting to the lot early to get a good viewing spot and if you have a larger car, you'll have to park in the back (sorry!). It's a glorious way for cinephiles to enjoy new movies while continuing to practice social distancing.
Have a luxurious staycation. Many of us have experienced a vacation-less summer, so we owe it to ourselves to plan a nice getaway. Mask mandates and new health regulations across the city have gotten much better, so a short stay at your favorite local hotel can be a safe respite. If you're unsure on which establishment to host your staycation, the Loews never disappoints, and it through its new "Welcoming You Like Family" campaign, the hotel is offering the Park, Play, Extend your Stay package — a major deal that includes complimentary valet parking, a daily $25 food and beverage credit, possible room upgrades, and a late checkout at 4pm.
Support Atlanta's Black community. The events of 2020 have proven that Atlanta's Black community, much like the broader Black community across the country, needs a lot of help — with heavy policy mandates and economic support. Research and support nonprofits that lift Black voices, order tasty food from Black-owned restaurants, and patronize amazing Black fashion brands based in the city. After all, this community makes Atlanta what it is.
Fill your belly with some of Atlanta's soul food. If there's one thing you have to do while you're in Atlanta, it's help yourself to some soul food. The list of restaurants is endless, of course, and you could probably spend an entire week alone eating at them all (I won't judge if you do). Start your soul food journey with takeout, delivery, or a socially distanced dining experience from local staples like Busy Bee Cafe and The Soul Food Train.
Do social distance yoga at Piedmont Park We could all use some meditation and steady breathing in our lives — especially right now — and Piedmont Park's scenery offers a much-needed source of peace. Piedmont Park Conservancy's free yoga sessions are currently canceled until further notice, but don't let that stop you. Find some empty space, set up your yoga mat, and do some yoga solo-dolo.
Who else deserves some credit and recognition?
I could write pages saluting the many amazing men and women in my life. My grandmothers acquired an inner strength of steel during a time of adversity. My mother and my golden girls taught me the importance of family, taught me to love unconditionally and always make me feel like a "KING"; Merci du fond du coeur! My father, bonus mom and brother taught me the importance of laughter and the sheer pleasure of being alive and together. But today, I feel compelled to "reflect upon" and honor the mentors and the role models who are in my life right now, as well as those who have been a part of my journey even though they may not be with me today. In the same way that family members, godchildren, mentees, and friend represent a different world of you, I feel mentors, role models and everyday people have the POWER to teach another person something. I've learned invaluable lessons from the many men and women around me, and for this is say merci beaucoup!
Website: www.imdrcah.com
Instagram: @imdrcah
Podcast: https://podcasts.apple.com/us/podcast/prescriptions-with-dr-courtney-a-hammonds-podcast/id1523536461
Linkedin: https://www.linkedin.com/in/dr-courtney-a-hammonds-65937638/
Image Credits
Amelia Jackson Photography
Nominate Someone:
ShoutoutAtlana is built on recommendations and shoutouts from the community; it's how we uncover hidden gems, so if you or someone you know deserves recognition please let us know
here.