Meet Brooksie Hussle | Creator of Edible Kandy Grillz & The CannaChef Union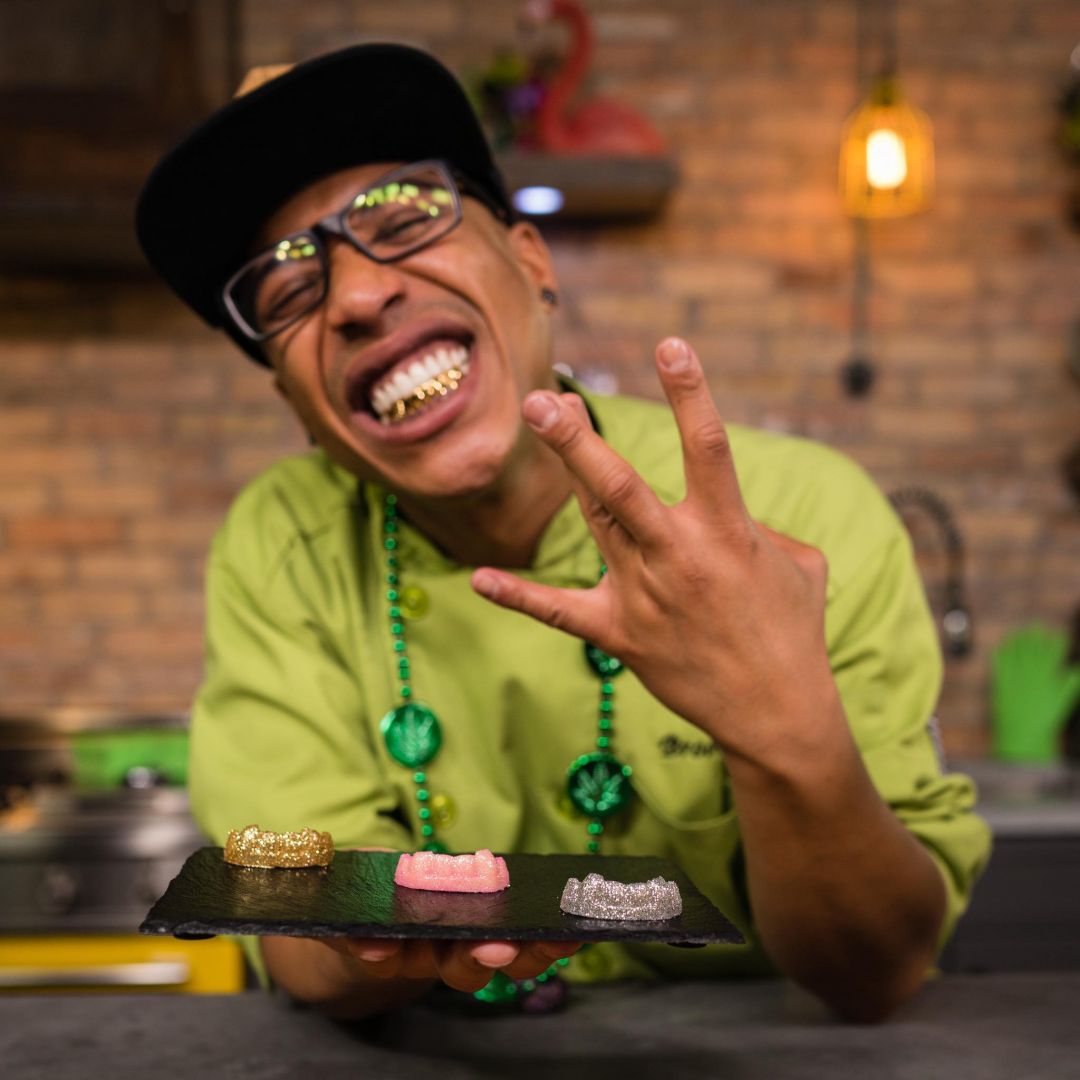 We had the good fortune of connecting with Brooksie Hussle and we've shared our conversation below.
Hi Brooksie, what is the most important factor behind your success?
Never give up on what makes you happy. EVEN IF IT DOESN'T MAKE YOU MONEY! It's not about the money. It's about overall happiness in your life and your business is supposed to bring you joy no matter how big or small it is. Have fun with it, enjoy it, and the rest will come.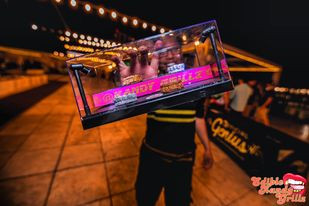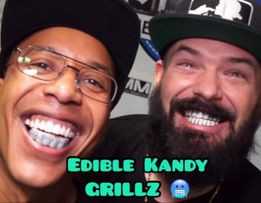 Let's talk shop? Tell us more about your career, what can you share with our community?
My name is Brooksie Hussle and I created Edible Kandy Grillz, the same grillz rappers wear, but EDIBLE! They come in hard candy, gummy, or chocolate and they're 100 mg each. I make infused (thc/cbd) and non-infused versions and they're one of several edibles I've created that have never been seen before. I strictly make edibles that are unique and have never been done. I was sick of seeing brownies and rice Krispy treats everywhere so I decided to change the game. Edible Kandy Grillz was my way of combining both class, culture, and taste into one fun edible where we can all shine. As a kid, I always wanted a diamond grill, but they were/still are way too expensive. An edible grill is a great way to cut the cost and live like a baller for 15 minutes while having fun and getting medicated. The non-infused ones are fun for the kids too! I make them in multiple flavors, colors, and can do custom orders as well. @edible_kandy_grillz_ and @kandy_grillz –
www.kandygrillz.com for the non-infused version. DM or contact me for the infused version.
What sets me apart from others is that I think outside the box and want more for the edibles side of the cannabis industry. That's why I also invented the CannaChef Union. The goal of the union is to help CannaChefs and Edible makers around the globe find work and opportunities near them. My hope is that dispensaries, edible processing factories, customers throwing private events, restaurants, and more will inquire to hire these CannaChefs and Edible Makers via my website www.theccunion.org or on IG @hire_a_cannachef – It's basically like Uber Eats where customers can order a CannaChef or Edible Maker directly to them! You can buy their products as well! All CannaChefs and Edible Makers are welcome to join as well. Check out the website for more information.
I'm most proud of my focus and ability to see that it's much bigger than me. I would always get frustrated at the cannabis industry for not getting a fair shot, but then I realized I can just create that shot for myself while bringing everyone else along. The CannaChef Union truly is what the industry is missing. I want to be the reason the edible market changes for the better. I hope everyone finds the website useful. I'm excited for change and more inclusion, especially within the Black and Brown cannabis community. We need more Black and Brown owners to respresent!
It wasn't easy to get to where I am today. I literally have spent so much money and time on this that I'll never get back, but it was definitely WORTH IT! The worst thing you can do is go to your grave wondering what if? So instead of doing that, I just got to work and now I know for a fact I won't be asking myself that when it's all said and done. A word of advice to people just starting out a business is be prepared for the long run and stay down for your crown. The second you give up is the second you wasted your time, money, and energy. Don't give up and see it through and it'll be all worth it in the end, I promise you that. What you put in is what you get out. Give it everything you've got! Literally!
Relationships, friendships, and money issues alone made this journey extremely difficult. You have to remember to not have any emotion and to not trust anyones word, but their actions. And stay true to you. When overcoming these hurdles, I would always say this quote that I live by which is "The only person stopping you, is you." And that's totally true because there's always a way around any issue you have, you just have to think about it. You again can't have any emotion and you have to be a master at letting stuff go because people are going to do messed up things to you, even your closest people. That's life. You have to let it all go and stay cool with them but keep them at a distance and definitely don't carry any malice whatsoever. Haha it's confusing but it is what it is. Bottom line, just realize their place on your bookshelf of life.
The lessons I've learned are, don't trust anyones word, trust their actions and beliefs. Also, NEVER give up. That's the worst thing you can do. Even if your idea isn't working, just take a step back and come at it a different way, but NEVER give up. It sometimes takes 5,000 No's to get to 1 Yes. You have to have the will power and stregnth to keep going. You have to really want it. It takes some people 30+ years before they see success with their ideas and creations. Don't focus or compare yourself to anyone else, just run your own race and do what makes you happy daily in what pertains to your business. As long as you do that, you'll eventually win. Remember, it's a marathon.
And STAY POSITIVE! A positive, good heart, mind, and soul always wins.
I want the world to know that my overall mission in life is just to help people, especially Black and Brown people succeed in all walks of life. The cannabis industry is just where my niche is for now but eventually I would like to give back in much larger ways. I'm excited to see what life has in store.
If you want to connect with me, please do. @brooksiehussle – I'm always open to new opportunities, wherever that may be. Thank you.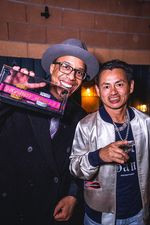 Let's say your best friend was visiting the area and you wanted to show them the best time ever. Where would you take them? Give us a little itinerary – say it was a week long trip, where would you eat, drink, visit, hang out, etc.
Well, currently I live in Viva Las Vegas so, of course, I would take them to the Vegas Strip! We would eat at the steakhouses, especially Texas De Brazil (my favorite!), and we would have to hit the clubs up! Vegas is one of those places where you can't lose so as long as we are drinking a Fat Tuesday and walking the strip, we'll be good. Shots of Henny too, lets GO! 🙂 Oh and definitely have to hit up the Cosmopolitan, that's my jam. Definitely would have to catch a Raiders game too! Go Raiders!
If I was in ATL we would have to go to Magic City! I feel like the edible grillz would do well there hahaha. Plus I've heard the chicken wings are high decent, so I'm there! I've always wanted to see Kountry Wayne and Gucci Mane so we would definitely have to catch their shows. And to be honest, if I'm in ATL we are going to be drinking at the most lit spots and EATING! The best food in my opinion comes from Atlanta so I would be obliged to eat the entire week there haha. I need to come to ATL and do just that actually while promoting the grillz! Maybe we can set it up and I come tear up ATL real quick West Coast style ya dig! I'm a single Black entrepreneur in the game and can go wherever, whenever! Let's work!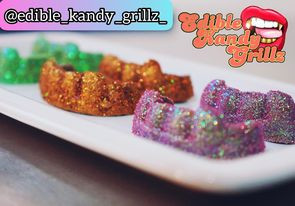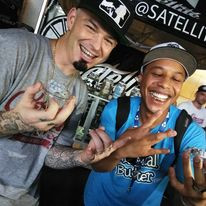 Who else deserves some credit and recognition?
I would like to give a shout-out to anyone who's ever helped me in the past, present, and future. Building a business is tough, especially as a young Black entrepreneur in America. Sometimes as you're building your brand, things get misconstrued and/or frustrating between colleagues and you lose people you care about along the journey. You can't be too emotional and you have to just say "it is what it is." Everyone is not meant to be on the journey with you BUT at the same time, there's no need for bad blood. Wish everyone well but keep going towards your goals… and that's exactly what I'm doing, so I hope that helps someone else who may be stuck right now in that situation. The less emotional you are, the further you'll go.
If you've ever helped me even in the smallest way, I thank you so much and I appreciate you. Also, to my parents for believing in whatever I set my mind to. Thank you.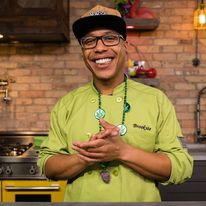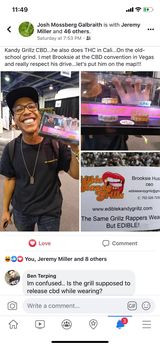 Website: www.BrooksieHussle.com / www.theccunion.org / www.kandygrillz.com
Instagram: @BrooksieHussle @thecannachefunion @theccunion @hire_a_cannachef @edible_kandy_grillz_ @kandy_grillz_
Linkedin: https://www.linkedin.com/in/theccunion
Twitter: @cannachefunion @theccunion @ediblegrillz @brooksiehussle
Facebook: @thecannachefunion @cannachefunion @hireacannachef @brooksiehussle @ediblekandygrillz @kandygrillz
Youtube: https://www.youtube.com/channel/UCHgObZA5h9ooDm3uDVaiRMA
Image Credits
@PaulWallBaby @JohnnyDangandco @brooksiehussle @edible_kandy_grillz_ @kandy_grillz_
Nominate Someone:
 ShoutoutAtlanta is built on recommendations and shoutouts from the community; it's how we uncover hidden gems, so if you or someone you know deserves recognition please let us know 
here.