Meet B. Zachary Bennett | Marketing Personality, Consultant, Speaker, Author, Marketing Executive & Podcast Host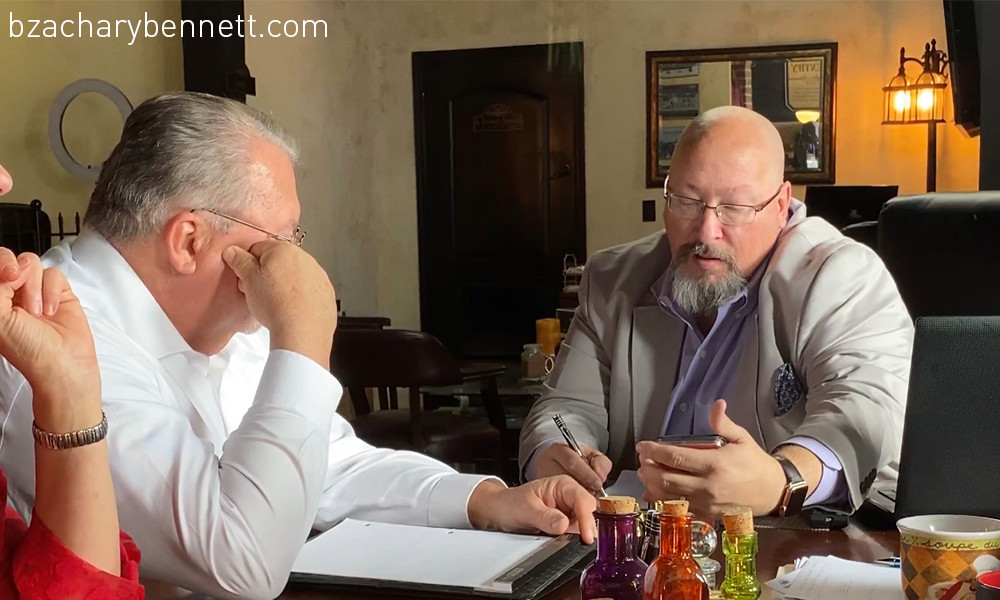 We had the good fortune of connecting with B. Zachary Bennett and we've shared our conversation below.
Hi B. Zachary, how did you come up with the idea for your business?
I've been in the marketing / business communications industry for a long time. I started in the industry at larger, corporate agencies that worked with Fortune 500 companies. Then when I began starting my own family (having children) I realized that traveling the country 3 and 4 days out of the week wasn't going to be conducive to raising my son and daughter. So, I started my own firm with a focus on providing smaller and regional-sized businesses with the same marketing expertise and services that larger agencies were providing to larger clients I had been working with – Fortune 500 companies like Bank of America, BP, Home Depot, Victoria's Secret, Lowe's, etc.
Shortly after opening up Reformation Productions ( https://reformationproductions.com ), I realized that the businesses that were serving within the SMB arena were different than the larger corporations that I was used to working with. With these smaller businesses, our point of contact was normally the owner as opposed to being a hired executive or board member in a corporation. Because of this, the education levels were varied on certain topics – like marketing. At a corporation, our point of contact was traditionally a VP of Marketing or CMO that was educated and trained in how business communications / marketing worked. Working directly with business owners, they were skilled and focused on whatever their business was – not how to communicate that business. So I saw that there was going to be a need to provide education to the business community in order for them to fully grasp the processes and methods we used with Fortune 500 companies, why we used the methods, and how they could still apply those proven best-practices at the small business level. That led me into being a one-on-one consultant, business coach, and keynote speaker for lots of organizations and associations around the southeast including the SBDC, SCORE, several Chambers of Commerce, different industry associations, and more.
At that point, I launched https://BZacharyBennett.com so that people that enjoyed my presentations and wanted one-on-one consultation could reach me outside of the agency. And that's where the book came into play. While at these events, I was often asked if I had written a book that they could get in order to consume more of my teaching and get a better understanding of what I was presenting. So Married To Marketing, a relationship guide to business ( https://amzn.to/3bmPWtr ) was written to fulfill that request. But the book that I wanted to write for them didn't have a name…. it wasn't called Married To Marketing from the beginning, when I decided I needed to go ahead and write a book…. I didn't even have a premise yet. It was my wife, Jennifer, that prompted the thought that birthed the book. Aside from being the final, trusted hand that nudged me towards writing the book, she hosts the Straight Shot marketing podcast ( http://straightshot.net ) with me and one of her ideas to name the show was "Married To Marketing" because the business is very intersected with our relationship. Working together, we end up discussing branding and business communications quite often in our off-time as well. While we decided on a different name for the podcast, I liked the phrase. Then while considering what the phrase "Married To Marketing" could mean early one morning, I saw the parallels between marriage and business and began to sketch them out on paper… and the book's concept was born. I showed her my outline that morning and she again began to encourage me to move forward with the book. For me, the premise/concept came somewhat naturally as well. You see, aside from being a businessman, I am a father. I often try to help my children navigate their ways through relationships and growing up in hopes that they can learn from my experience and bypass some of my mistakes. Once I found the parallel between personal relationship parenting and business relationship training, the book came easily. If interested, your readers can find out more about the book at https://bzacharybennett.com/m2m but that's how I ended up where I am today. I have several business ventures that are surrounded by my professional expertise in business communications, so they aren't crazy different from each other. I provide insightful content via my social media channels to my followers, as well as the podcast, speaking engagements, and other outreach that I provide, all to help grow and strengthen the business community that makes this country great.
Tell us more about your book, what can you share with our community?
Married To Marketing ( https://amzn.to/3c5jFI0 ) is my first venture into literary creativity. But it's not the first time I've ever written. As a young man, I started out writing songs as a musician. Eventually, I began writing brand copy for businesses and PR articles for clients. But a book is long-form writing and that is different. With brand copy, you try to say whatever it is you have to say as quickly as possible and with as much wit and creativity as the brand will allow. When writing a book, you are encouraged to expand upon thoughts and to be clear and thorough in your explanations without the confines of length. If I wrote the book like it was brand copy it would have been very concise but very small…. but I enjoyed having the ability to give examples, illustrations, and use common cultural references, like movies and video games, to explain my points. Married To Marketing is a business owner's relationship guide to their business. In the book, I draw on the parallels between tradition courtship and business in a way that is both revealing and easy to understand. By calling on common relationship practices that are easily recognizable, the book creates the opportunity for several a-ha moments in business professionals. Married To Marketing uses real-life examples and Hollywood presentations to walk through business communication practices, explain the commitment, and explore the "why" behind it all to help with understanding, while providing processes and best practices that are universal for businesses. It's written for business owners, entrepreneurs, and other professionals that are looking for an in-depth understanding of the marketing process and the relative business commitment to your customers as it is correlated to the relationships of people. Most everyone understands the fundamental basics of courtship and companionship through marriage in our society. I take this relationship and draw insightful parallels with building and growing a business. The book shares information and explanations in a very understandable manner. Some of the topics include: The Core of Marketing • Business Planning • Customer Targeting • Brand Development Messaging • The Relationship Between Sales & Marketing • Strategic Planning • The Business Launch • And Much More…
Any places to eat or things that you like to do in Atlanta that you can share with our readers? If they have a friend visiting town, what are some spots they could take them to?
Atlanta has a lot of interesting places in it… but it's all about who the person is and what they want to see. I am all about learning and doing things that will edify me and make me a better person. Others are not like that. I might go to a concert or show at the Fox Theater or visit the World of Coca-Cola museum or the Atlanta High Museum of Art.. because I am a creative after all. But for others, they may want to go to the Georgia Aquarium or Stone Mountain – which I would gladly accompany them to. But if I was to have my way, over a week as you suggest, I would likely take a day trip to Helen and the north GA mountains on my motorcycle and hunt for a good barbeque place to eat along the way. Then I'd maybe go to a show like I mentioned, maybe eat at the Hard Rock Cafe or the famous Varsity (because anyone from out of town simply HAS to go there) Truthfully, I'd likely stay in one place and invest in good ol' conversation for the majority of my friend's stay.
Shoutout is all about shouting out others who you feel deserve additional recognition and exposure. Who would you like to shoutout?
I credit my success those that have worked with me and supported me throughout my career. I am extremely grateful for the wisdom and expertise of those that I have worked with and under at different agencies. The thirst of knowledge and growth is paramount to success so I continue to learn from others like Gary Vee, Rob Bell, Steve Jobs, Ray Vander Laan, and many more. Knowledge is power.
Website: https://bzacharybennett.com
Instagram: https://www.instagram.com/bzacharybennett/
Linkedin: https://www.linkedin.com/in/zacharybennett/
Twitter: https://twitter.com/bzacharybennett
Facebook: https://www.facebook.com/b.zachary.bennett
Yelp: https://www.yelp.com/biz/reformation-productions-buford
Youtube: https://www.youtube.com/channel/UCeQt9Out9clxE-eJUkKx39g
Other: https://amazon.com/author/bzacharybennett
Image Credits
© Reformation Productions
Nominate Someone:
ShoutoutAtlana is built on recommendations and shoutouts from the community; it's how we uncover hidden gems, so if you or someone you know deserves recognition please let us know
here.