Meet Aimee L. McCoy | Independent Film and Theatre Artist & Arts Administrator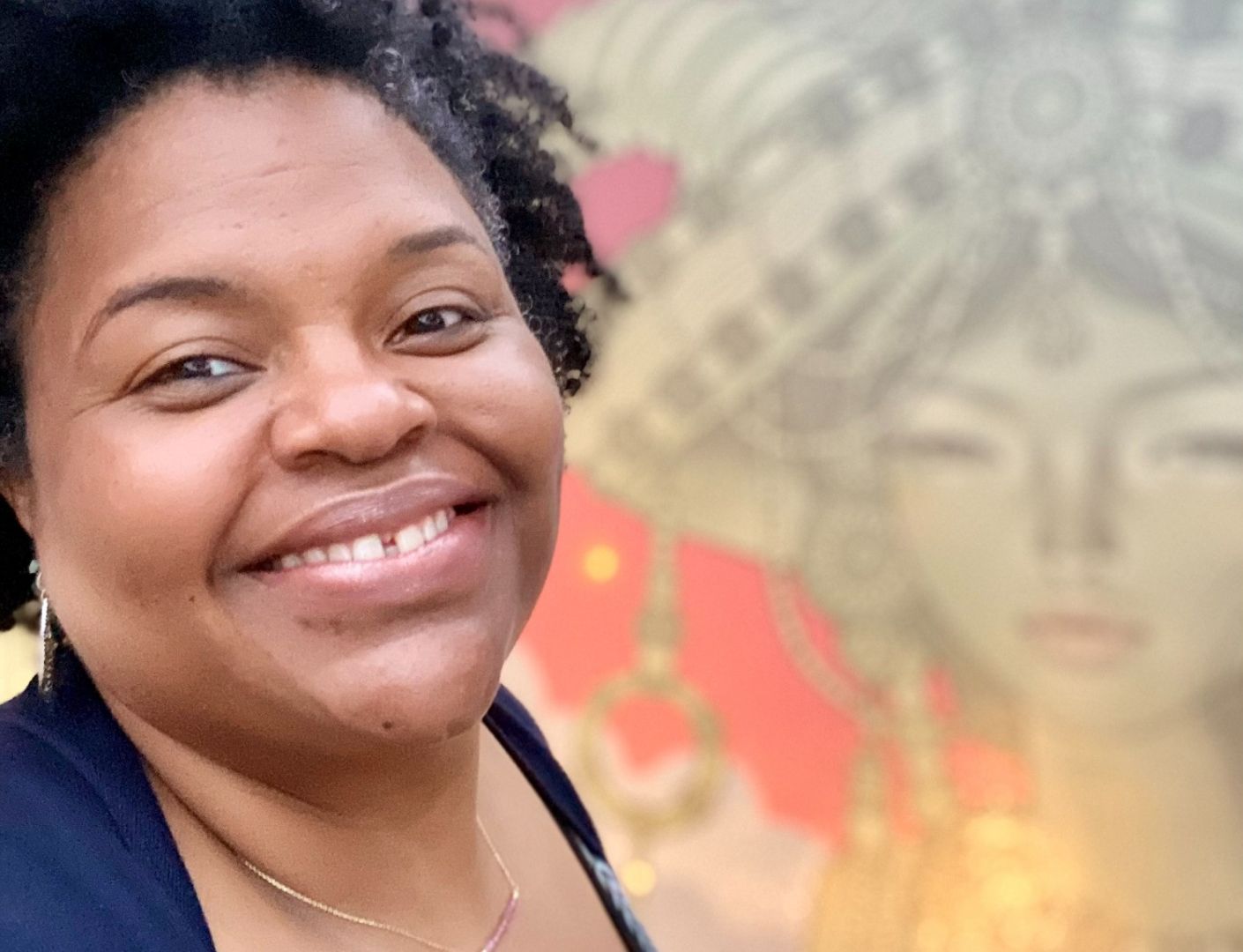 We had the good fortune of connecting with Aimee L. McCoy and we've shared our conversation below.
Hi Aimee, what principle do you value most?
Integrity is the value that matters the most to me personally and within my business and business dealings. The truth is relationship is the basis of all human interaction and connection. Early on, I discovered that not everyone I will encounter has the same values or standards. I experienced being let down or mislead because individuals I was involved with or worked with ultimately were not on the same page and did not have the same or congruent goals. These types of experiences can be disappointing and costly.
Sometimes things happen because of miscommunication, truly unintentional and unavoidable circumstances. In other cases, it's just plain deceit. Because of these experiences, I have developed a straightforward and to-the-point communication style. My word is my bond. I also ask this of whomever I work with. Some have to get used to it, and some find it ultimately comforting and reassuring, while others are completely turned off by it. I'm okay with this.
When I'm working, I'm all in; it's my nature. I don't do half measures, to my detriment sometimes. With this nature, I have to trust my teammates or partners. I have to believe they will deliver what they have committed to, and if there is an issue, they can communicate clearly. I see all of this as being considerate of others while living and working. The heart of it is the golden rule, "Do unto others as you would have them do unto you."
Integrity is a huge part of working well together, whether personally or professionally. I have also learned that the most significant conflict people have is unspoken or unclear expectations. This, I believe, is the friction creator between us on every perceivable level from the unconscious to the conscious. If people honestly investigate their intentions, desires, or needs; and honestly express them to co-workers, partners, loved ones, neighbors, and acquaintances, the world would be a better place. We would all learn real quick if our expectations can be met or not and move accordingly. Am I describing a utopia? LOL
This type of integrity may seem extreme, but this is what I seek and do my best to live. I'm not always successful; however, I can move without regrets. I'm working at my best; I'm not assuming as much; my words are trusted. I'm working on not taking things personally; I get caught up there a bit, LOL.
Please tell us more about your work. We'd love to hear what sets you apart from others, what you are most proud of or excited about. How did you get to where you are today professionally. Was it easy? If not, how did you overcome the challenges? What are the lessons you've learned along the way. What do you want the world to know about you or your brand and story?
My artistic journey was seeded in my childhood. I would rush home from fifth grade to turn on the television and watch Santa Barbara and General Hospital. I was sucked into the different worlds and people and intimate life stories. Then came the movies; I was so fascinated I want to be in them. As I got older, that dream faded into a foggy memory. I never thought of it as a possibility because not only was I black and female, I was "full-figured." "Ain't nobody gonna choose me to be on their screen." Life happened; I worked for a few years as a nail technician after high school, thanks Mom, but decided I needed to go to school to gain some direction. I went to college, I majored in Accounting because I liked math, and Accountants can make good money. While everyone was telling me, "you like to argue, you should study law." The way the world was going in the late 1990s, the money train was Computer Information Systems, and that was where I needed to go. So, this was my new major. In my liberal arts school, I was required to take some elective courses. I chose Introduction to Acting; I thought it would be fun! When my family came to see me in my first play, they read in the program, "Aimee McCoy: Theater Major, who intends to one day own her own theater company. That's how they knew things had changed.
I was bit, or should I say I was rebitten, a new word. It was as if someone had come along and opened the door to an old dusty closet that had been shut for a decade and let in needed fresh air and light. I started to remember all my fantasies about characters and stories. I was amazed when I remembered that I had actually been in a drama club in high school. This school had no theater program, but it has a successful football team and a famous marching band. In college, I blossomed, I rediscovered my love for stories, intimate access into people's lives who were different from me and sometimes very similar. I reasoned that all my favorite film and tv actors all started in the theater; maybe this was the way! I gained training and confidence during those college years. I loved every aspect of this new theater world. I loved getting new scripts, learning lines, going to rehearsal, even if I wasn't on stage. I loved the behind-the-scenes work, crewing, lighting, sound, set construction. I learned that this was, in fact, something I would do for the rest of my life, even without pay.
BUT, somewhere in that analytical, mathematically intuned brain of mine, I knew I was never going to be a starving artist. It sounded great, and I dreamed of all the weight I might lose eating only an apple a day because that's what I could afford. However, growing up seeing my mother's entrepreneurial spirit as a beautician, I understood that my goal was not to focus on getting someone else to hire this black, full-figured female as their ingenue or leading lady. I immediately knew that I would have to create my own work, chart my own path to keep doing this work for the rest of my life while eating!
I took the opportunity to study abroad twice while in school. I chose the theater capital of the world, in my mind at the time, England. I became a bit of an Anglophile, drinking tea and eating crumpets and consuming as much British content as I could. Unlike the U.S. at that time, England was about the craft; their industry was about the craft. The theater was a profession, just like any other profession. You go to school; you learn the skills of your craft, then you work. Whereas, in the States, it was more of needing to be in the right space or place at the right time, having "the look," or "getting discovered." These abroad experiences, which were the most basic, nothing otherworldly, changed my whole perspective on how I would work, the goals I would set, the places I would enter.
When I got back home, I understood that I needed to get professional, advance my skills, and get into space with serious professionals and creatives. I was ready to get my iron sharpened by other iron. I purposely entered into spaces, relationships, projects, and jobs that would give me something, teach me artistically, and how to run my business. I interned, worked the box office, worked in youth programs, ran youth programs, started artist collectives, collaborated, and just plain old created. It wasn't easy by any means; I still got a lot of no's, but it has also been some of the most rewarding experiences of my life.
I consider myself a lifelong learner. I can learn through theoretical means, but have found no better training ground than practical experience or a combination of the two. When I want to learn something that will help me grow my business, I will seek out opportunities to learn from those already operating in the space I want to occupy. This way of learning led me to my current position as Operations Manager with Alternate ROOTS, a small membership-based arts service organization serving 14 southern states. As an artist member, I saw that ROOTS' operating budget was over a million dollars. I wanted my company to have a budget that large. All the organizations I'd worked closely with had budgets nowhere near that size. I felt I needed to learn how to manage a million-dollar budget. I applied for a management fellowship, and that's all she wrote. That grew into the Operations Manager position I have today, and I can expect a promotion to director in the coming year. Administrator, you say, have I stopped being an artist? Absolutely not. I'm still creating, and the best thing about it is my artistic voice is getting clearer and more focused.
I have also learned through my Journey to broaden my world. I'm no longer focus on performance as an individual anymore. I have expanded into devising, directing, and producing. I co-founded my theater and film company, The Artizen Company, with longtime friend and collaborator Tae Eady Copeland. Within this collaboration, we have brought my love of the film and movie worlds and live performances together in unique experiences. We create immersive and interactive experiences for our audiences that allow them to be surrounded by a new or familiar world and participate in that world. We call our projects Immersive Reality. If I had a dream of being dropped into the world of a movie, maybe others had as well.
Let's say your best friend was visiting the area and you wanted to show them the best time ever. Where would you take them? Give us a little itinerary – say it was a week long trip, where would you eat, drink, visit, hang out, etc.
I'm a very chill personality when I'm home. Metro Atlanta has so many different little nook and cranny neighborhoods. So, I would go for an eclectic chill vibe all day. I would start off with Brunch/Lunch at La Petit Marche (under new ownership). I would then look for a chill art spot to enjoy one of the many small parks in the Decatur/Atlanta neighborhood, the WestEnd is a definite possibility. Swing by Tassili's Raw Reality for some dinner (Kale Wraps to go). See who's performing that night, because there is always something happening in the art community of Atlanta. Wash rinse and repeat in college Park/East Point/ Decatur/ Edgewood area…etc. I am inspired by being around artists doing their thing, it just spurs me on to do mine too.
Who else deserves some credit and recognition?
It would be difficult to choose only one entity or person. I would have to ShoutOut My mentors and teachers and organizations have had a profound effect on my development. I'll just name a few.
My Family (Father Lee McCoy, Mother – Mary McCoy, Sister- Angela McCoy)
Lolettia Natae Eady Copeland (The Artizen Company)
Ashley Walden Davis (Unlcok Creative LLC)
Philadelphia Christian Church ( Pastor Omar Thibeaux – Lafayette LA)
PushPush Arts ( Tim Habeger & Shelby Hofer – Atlanta GA)
Alternate ROOTS (Atlanta GA)
Agnes Scott College (Decatur GA)
Website: www.theartizencompany.com
Instagram: https://www.instagram.com/theartizencompany/
Twitter: https://twitter.com/TheArtizenCo
Facebook: https://www.facebook.com/theartizencompany
Youtube: https://www.youtube.com/channel/UC6wpx7zCgddHRtwj64cxLFA
Image Credits
Aimee McCoy – Artists The Artizen Company
Nominate Someone:
 ShoutoutAtlanta is built on recommendations and shoutouts from the community; it's how we uncover hidden gems, so if you or someone you know deserves recognition please let us know 
here.