Entrepreneurs tell us about starting their businesses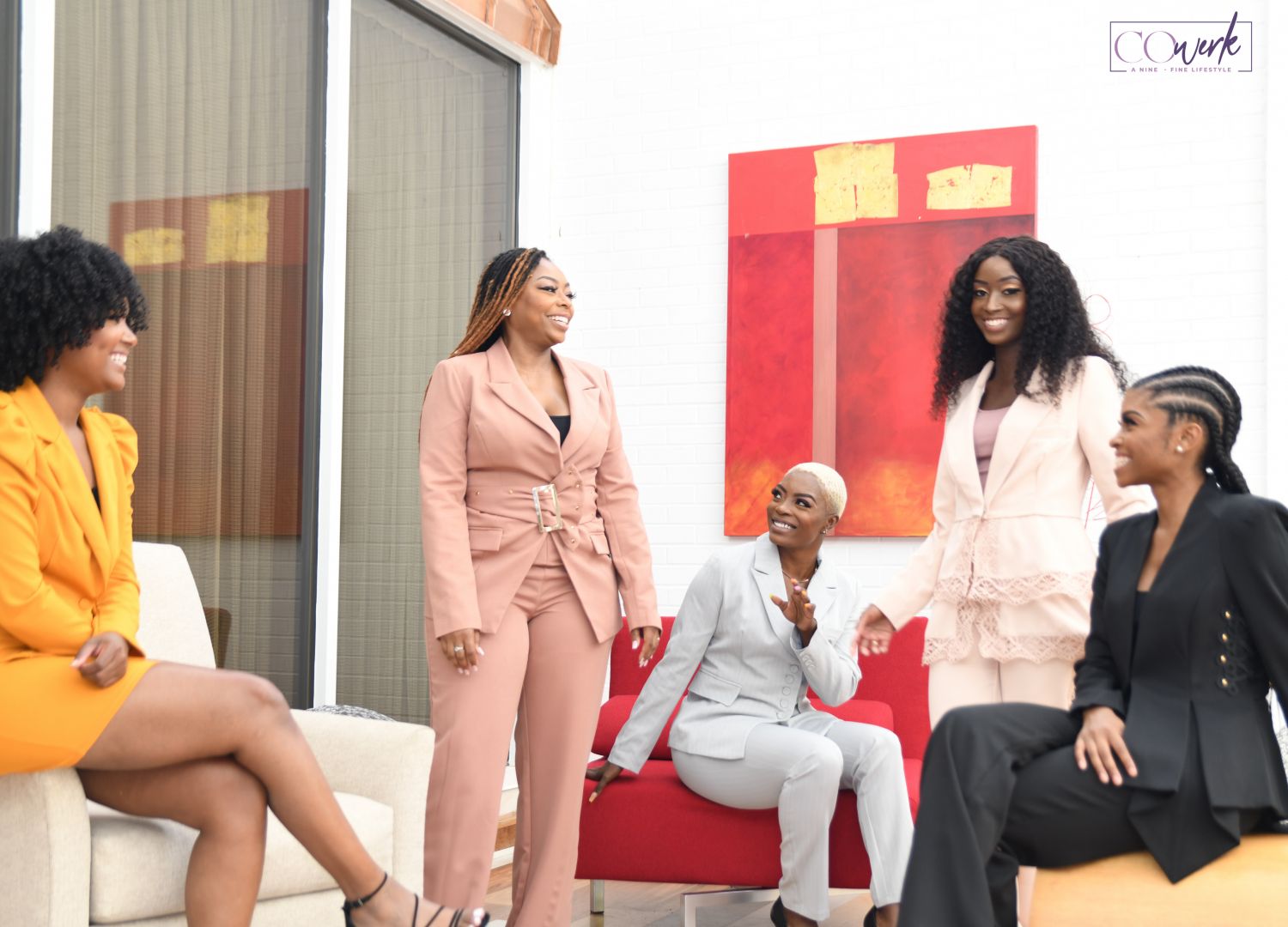 Thinking through whether to start a business – whether to take the risk, whether to go out on your own – isn't easy. So we asked some entrepreneurs we admire to tell us about how they thought through the process of starting a business.
Kayla Camper | Mobile Notary Public
Tell us about a book you've read and why you like it / what impact it had on you. I'd recommend Atomic Habits by James Clear to any and everyone! The simple and realistic approach Clear takes to improvement absolutely transformed by mindset towards achieving goals. Before reading, I struggled with making progress. Constantly starting and stopping new journeys, I often felt my efforts were a waste. Everything changed when I began applying what I learned from Atomic Habits. Read more>>
Tre Harris | Lifestyle Marketing & Podcast Producer/Host & Entrepreneur & Creator
The initial idea behind creating this platform came about really organically and we never really took it serious until we accidentally recorded a conversation, played it back and laughed for 10 minutes straight. I can remember it in such a phantasmagorical way, in high school my friend group would all gather at one house just to sit around an oval dinner table and talk tales. Jovially one of my friends parents said we should record our conversations and make a podcast then that lead to one of the guys saying "BROCHILLIANS" and it stuck solely because of its uniqueness yet specificity to the group. Read more>>
Tyler Allen | Elder
I wanted to create something that no one was doing. Though in my profession a lot of people have it as a careers no one does like TNA. Read more>>
Tiffany Kelly | Owner of CoWerk & Sr. Consultant, Project Mgmt.
To be honest, being an entrepreneur was never the goal for me. It all started after recognizing the need and opportunity for chic women's workwear. I was in the middle of a transition — about to start with a new company and I recently lost weight …so I was in desperate need of an upgraded work wardrobe. I found myself overly searching for work clothes and thought that was absolutely insane! As much time and energy that we put into our professional lives, why don't we have a go to spot for work-wear? And why does getting dressed for work or buying work clothes always seem like a chore? I felt like we needed a new outlook from a new perspective. Read more>>
Aja Walker-Rice | Natural Skincare Alchemist
My thought process was simple, I wanted to provide clean products and education to people who look like me so that they would not have to go through what I went through. Many moons ago, at the young age of 17, I was underwent surgery to remove multiple, abnormal cysts in both of my breasts; thankfully they were benign. I was fortunate enough to have a great surgeon, who happened to believe in healing-the Natural Way. She would later become the catalyst for what I call my "Natural State of Mind". Read more>>
Princess Heirsmac-Akinjogunla | Bridal Designer
Growing up, I loved attending weddings and looking at the beautiful wedding outfits. Wedding ceremonies always created an opportunity for my mother and I to tailor new outfits to attend these parties so it really sparked my interest in wedding outfits. I started to create, buy and sell bridal pieces on the side in 2012 which was known as Elarosefashions. Years later, my husband and family encouraged me to launch out into the business, seeing how passionate I was about dressing brides, and looking at my creative designs. My husband supported me financially and by God's grace, and the leap of faith we started the business – Elarosesweetweddings. Read more>>
Sean Banks | CEO – Entrepreneur
Well the process actually started for me early while attending Osborne high school in Marietta, Ga. I already had it set in my mind that I was intent on playing professional basketball but I knew eventually I would need something to fall back on that I truly enjoyed doing. It wasn't until I took a Mass Media class my freshman year did I figure out what it actually would be. Most students took the class just to get an easy A but once I got involved in the school's video year book I knew I found my second love. Producing, directing, filming and editing content for the video year book just came naturally for me and I was hooked. Read more>>
Sanjay Small | Artist, promoter, producer and graphic designer
For me it was about making a change in my life snd country as person from a lower class to show others that more time poverty is a option but you don't have choose it either you build yourself or choose to feel sorry for yourself snd don't try go for it. Read more>>
Kendel White | Graphic Designer and Business Owner
My thought process of starting my business was: first, " to not over think, simply Execute. In detail, I needed to secure my personal finances and credit, and create a business structure and system of meeting my customer demands. Read more>>
Neal White | Owner of a printing company
There wasn't any grand plan in screen printing for a living. I started by learning to print with friends right after high school. Once we had some practice, and a lot of bad looking shirts, we started printing merch for our bands and that eventually led to printing for other bands and it just took off from there. A few years a lot I started to work at a print shop and learned a lot more in detail about every aspect of printing. After a few years I decided to start my own company and that's what I've been doing ever since. Read more>>
Oghenetejiri Ogodo Inyanwachi | Medical Biochemistry, Model, Craft tutor and Fashion Designer
Honestly, as a Medical Biochemist I felt left behind graduating from the University and unable to secure a good Job despite the numerous promises from family members and friends. I felt like I didn't fit in the white collar job circle. Along the line In 2015, I had to monetize my hobby which is African Print craft(Afrocentric Fashion). I wanted everyone around me, to understand that despite the situation, you can be a stay home mom and be successful (since majority believe marriage is a dream killer(lol). And yes that was how I made up my mind to convert my hobby to a huge source of income and become more professional. I already knew it wasn't going to be easy but I was ready to take the risk. Slowly but surely I started investing in the right tools to grow my business. I had to compromise on the materialistic things I love just to Create and implement new strategies to build my brand. Read more>>
Kavonda Byrd | Wax Boss
This is a great question! For years I worked in the food serve industry as a server than I moved into management, however I know that as a mother of three children working in the food serve industry did not allow me the freedom and flexibility that I needed in my life at that time. So I thought about my options and decided that I would drive for Lyft. I know being an independent contractor for them would allow me to set my own schedule and allow the flexibility I was looking for in a job. I must say I loved driving for Lyft, I had everything I needed and the money was good as well. Read more>>
Joseph Allen | Owner of BE Cycles Mobile Repair
I guess I've always had a dream of doing some thing with bicycles. I had originally planned to set up a nonprofit but that seemed a little bit out of reach. I was in the middle of my 15th year at a company that had stopped being exciting. So during the pandemic while working from home, I had time to analyze life and allowed my priorities to shift. I started BE Cycles Repair in May of 2020 because of this. Read more>>
Michael Waller | Photographer
My thought process behind starting my business was after working 30 years in cooperate America. I wanted to start a business that was enjoyable, sustainable. and profitable. Read more>>
Marvacia Bright | Licensed Cosmetologist
My thought process behind starting my own business was all or nothing. For years I was working a 9-5 to support my family. I would wake up everyday knowing I just wanted to do more. I wanted to help change people's lives and bring out their inner beauty. I knew that starting a business required more than a thought process. I worked multiple jobs at once through the years, and with a great support system I was able to go to school full time and get my cosmetology license. From there, I then started my very own business in beauty. While I'm still on the journey to becoming one of the biggest beauty brands in the world, I continue to put God first, pray, and work hard everyday for my children and family. Even when I've reached my goals, I will still make sure I'm setting more goals to accomplish. Read more>>
Luanda Coleman | Licensed Manicurist & Nail Supply Store Owner
I wanted to do something that I thought was a need in my city. In everything that I do, I want to have a purpose behind it. It gives me the ultimate gratification knowing that I'm doing something that could benefit and help others around me. I knew while being a nail technician that I didn't have any place in MY city to shop, so I said okay, I'll just have to bring it here then. Read more>>
Angelica Hairston | Executive Director & Founder, Challenge the Stats

As a young Black harpist in Atlanta, I remember the excitement of waking up early on Saturday mornings, rushing to Atlanta Symphony Hall for youth orchestra rehearsals, coachings and lessons. I remember immersing myself in a world of music and art, but as I looked around, I rarely saw myself represented in the classical music communities that I loved so dearly. Fast forward to 2016 and our country erupted in social unrest after the murder of Trayvon Martin. I remember sitting in a practice room with a burden to fight for justice with the tools that I knew best; the power of the arts. It was in that moment that Challenge the Stats was born; an organization that not only empowers Black, Indigenous, and Artists of Color, but uses music as a tool to fight for social justice. Read more>>
Dion Dupree | CEO of Grind Mode Music Worldwide, Grind Mode Radio LIVE, Grind Mode Business Solutions
The thought of me starting my own business came from the reality check I had while working for Allegheny County and realizing the concept of the "American Dream", was a falsehood. Growing up, my mother prepared me to join the American Workforce and I was fortunate to get a job working for Juvenile Court at the age of 22. Based off my goals and lifestyle dreams, I realized that working one job wasn't going to afford me the ability to take care of my family the way I wanted, so I got another job working for the Pittsburgh Public School District. Fast forward 15 years later, I started realizing that I was making the most money they were willing to pay me and I wasn't interested in career ladder movements that would only land me in the same boat. Read more>>
John Dixon | Actor

I wanted to have control of my creativity. So I LLC'd myself. Allowing me to go all in to my acting business and start looking at the entertainment business as just that a "business". I like to view myself as an independent contractor versus an actor the craft as a hobby. Read more>>
Jarvis | Floral Minister & Design Curator
Since I was 16 years old, I have been in the hospitality industry. Majority hotels and recently restaurants in the last decade. I have worked every position imaginable, with the exception of maintenance. I know my strengths, and THAT is not one of them. LOL. When the Pandemic hit in March of 2020, I was just employed as a General Manager for IHOP for a month. I literally hated every part of that job. It was the highest paying salary I've ever had, but every single day I was miserable and being fake. It made me realize, that I had spent my entire career, just "pleasing" people and kissing a**. I grew tired, quickly! Read more>>
CeCe Jordan | Puritty at Heart Kreations CEO & Designer
For starters, I'm just a Southern girl from a small college town, at the southeastern tip of Georgia– Statesboro, which is Home to the Champs-Georgia Southern University Eagles! Basically raised on a farm, one of 11 children (8 sisters/2 brothers)—Whew! My father was a self-employed concrete finisher, while my mother worked as a distinguished cook at the local university. In my childhood, I enjoyed drawing and crafting unique pieces. As well, I always had a strong passion for helping kids at a tender young age—which led to studying to become a teacher. Read more>>
Posh President | Philanthropist and CEO
Around about his third year at the University Of Louisville, did I create a blog called; The Posh Standard. Posh meaning stylish, luxurious, and upper classed. While Standard meaning a level off quality that is accepted as normal or average. I wanted to create a site that created a new standard of the way we as African Americans operate with society as well as amongst each other. That later evolved. After college I moved to DC, to expand and help people that looked like me. I started hosting networking events and eventually turned my blog into a prominent media group. I LLC'd it as The Posh Standard Media Group. Read more>>
Reggie Kimble | Host and Founder of the StickMen Podcast

I wanted to do something that I truly loved. After over 25 years in corporate America, its past time for me to do something, not for the money but the love of it. Also, I wanted to serve as an educator for those less knowledgeable regarding my industry of choice. Read more>>
Ryan Alexander | Musician, Producer, & Performing Artist
Starting my own business has always been in my nature from youth. Seeing the industry transition while growing up has made me realize how you can still be independently successful with the right network and resources, and there's more ways than one to achieve your dreams. I've always been very ambitious, and worked well within teams. I've learned that you must follow before you can lead. By operating within different companies and group settings it has allowed me to learn tactics that I'd like to emulate, and I've taken note of certain behaviors I don't want to repeat. Read more>>
Jael Ponds | Hair Salon Owner /Natural Hair Stylist
My thoughts When Starting My Hair Salon Business Were … how the heck am I about to build clientele ? I've always had the confidence behind my work but not so much confidence within my own abilities besides the craft to know if I would succeed or not Read more>>
Asiah Thomas | CEO
Honestly my business was completely random! After graduating with my Bachelors Degree in Biology from Armstrong State University (Now known as Georgia Southern University Armstrong Campus) I joined my sorority (Alpha Kappa Alpha) graduate chapter in my hometown. Being that I was so creative and already had a business CraftyDesignsByAsiah (where I do all things custom, balloon displays, etc) I was asked to create sugar scrubs as a gift for everyone attending the event. After the event everyone began to tell me how much they loved my sugar scrubs so I began doing research. Growing up I have always had problematic skin making the products was fun so I started Scrub Into A Glow Up!! Read more>>
Melody Barnett | Human Resources Business Consultant, SHRM-CP

My thought process behind starting my own business was to solve a problem, fill a void, and bring value to small business owners. My passion behind starting my business intensified after my husband and I had our first child. My desire was not only to leave a legacy to our children but also help other small business owners to do the same thing for their families. It just made sense, especially being raised in a home with small business owner parents. I understood the pain points of just being a small business owner, especially when trying to manage a small workforce of people. I was working at Delta Airlines Global when I realized how this special division outsourced itself to other businesses. Now I was in an HR role supporting their clients, with all aspects of HR. Read more>>
Ona Utuama | Creative Director & Founder of Tribal ëyës
A lack of ethnic patterns in eyewear fashion and the need to focus on wider nasal bridges Read more>>
Oveigh The Chef | Chef/Food Influencer and Blogger
I don't think I had a thought process. I knew I wanted to eventually start my own brand and company but I couldn't really see that happening because of fear and doubt . I wanted to show chefs and home-cooks that it was possible to build a food community that was based on love and support. I initially didn't even think of it as a business until I had some needed conversations with my mentors. My business reflects me and everything I stand for. I wasn't trying to be the largest company in the world but the most consistent one throughout these tough times. Read more>>