Entrepreneurs tell us about starting their businesses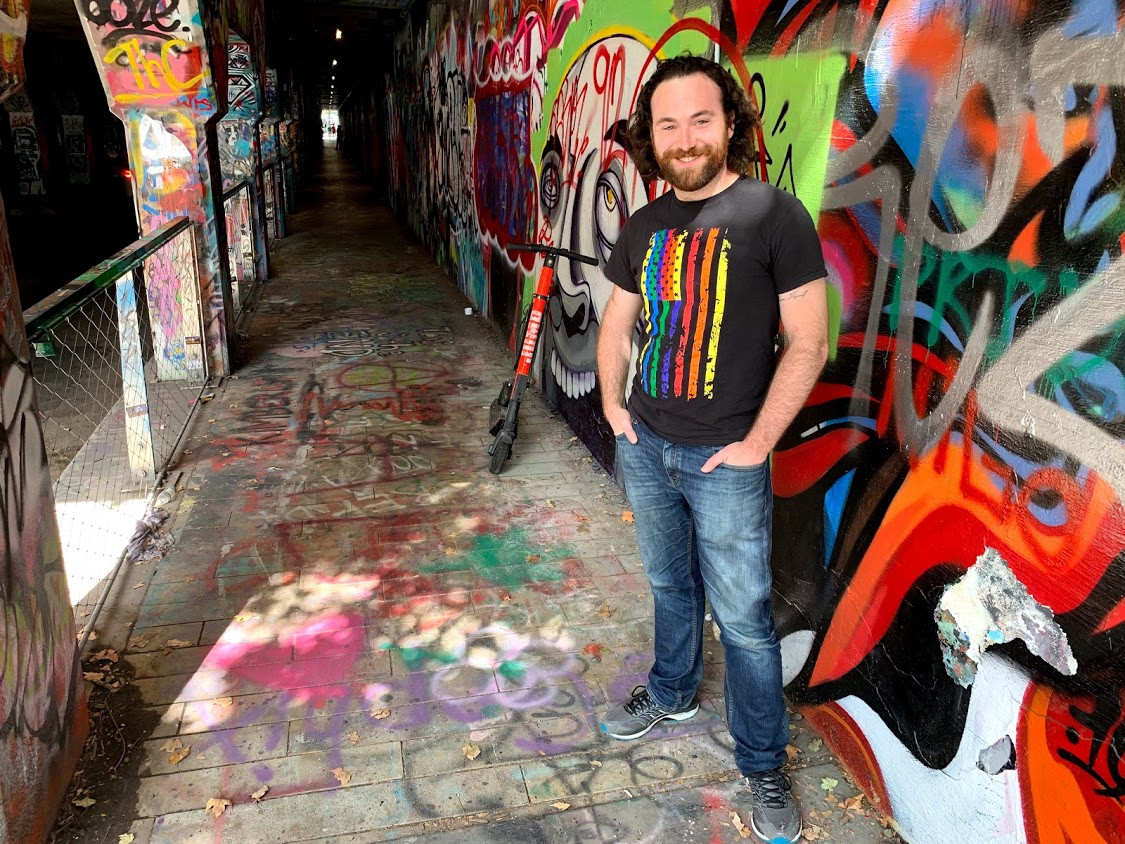 Thinking through whether to start a business – whether to take the risk, whether to go out on your own – isn't easy. So we asked some entrepreneurs we admire to tell us about how they thought through the process of starting a business.
Patrick Jackson | Celebrity Interviewer Uncle Pat

My thought process behind starting my Talk Show was to interview celebrities and influencers in hopes of helping someone hearing to their success story and in turn understand they can become successful as well. A lot of people believe celebrities didn't have the same obstacles that they are having when they was trying to become successful but after hearing the celebrity guests on my show they realize that they went through the same issues if not more. In the beginning when I first started the show I was doing in-studio interviews but when the Covid-19 started I switched to virtual interviews. This allowed me to interview a more broad range of celebrities from different parts of the country and not just my city. When most people think of celebrities they think of perfection and I want people to know that's it's quite the opposite. Yes they are financially secured and have fun careers but they also make mistakes on the road to success and those are the stories. Read more>>
Mikayla Kim | Entrepreneur & UX Designer

My creativity and motivation drive from problem-solving. The more I learn about each industry, the more I realized there could be many improvements from what is being done or used. That's when I decided to start my journey, designing a space where creatives can join to begin problem-solving in various industries. Read more>>
Fhateesha Count | Boutique Owner and Business Coach

When I first thought about starting my business it was to help empower woman. I love showing them ways to feel good about themselves through fashion. Dressing a woman in clothes that makes her feel good about herself gives her a confidence that is undeniable. Starting the second half of my business which was the business coaching was because I want to empower more black women or women in general to want to start their own business. I wanted to create a platform or forum where they can ask questions feel empowered and not judged. I want to bring sisterhood to a community of women that were unknown to each other but willing to help one another climb the ladder. I have such a giving heart but it always seemed fitting for me to start his coaching business based off of the knowledge that I learned through my own process. Read more>>
Dr. Tenisha Bibbs | CEO of Ask A Doula Newborn Services

When I started my own business Ask A Doula Newborn Services in 2018. I was like most people scared and did not know what the outcome would look like. I was afraid to hire anyone simply because I did not know if they would give the same quality of work that I did. My business in two year have grown, even during the pandemic. As I grow I also grew my services such as lactation, sleep coaching, doula courses for new moms and birthworkers and so much more. Our vision is to provide quality loving work to each of my families. We provide education, support and comfort to our families which enables us to effectively communicate within the family and with other support professionals, advocate for mother, child and family, and facilitate essential needs and home-transition support for newborn and mother care. Read more>>
Shaquin Thomas | Personal Chef, Author & Community Activist

My Daddy was diagnosed with stage 4 lung cancer March 6, 2017 and my life changed forever. I moved him in with me and began to take care of him. As his health declined, I took a leave of absence from my accounting job. During my leave of absence, my job politely fired me. On the morning of April 23, 2017, I awoke at 6am and like every morning, I checked on my father as soon as my eyes opened because I slept on the chair right next to his bed. This time I noticed his eyes were open but he wasn't responding. He was transitioning. I called the Hospice nurse and she told me it could take a few hours or days but the hearing was one of the last things to go. I told him I loved him and that I would spend my life making the catering business a success like we planned together. I got up and began to prepare a meal for a 200 person wedding event I was set to cater that afternoon. I called my immediate family to share the news about my Dad and they all came to my house. Read more>>
Chinua Joi Ivey | Founder & President

As a former foster child, I know what it means to feel voiceless. I spent years, before high school, trying to tell people about the abuse that was happening in my home. Fast forward to today, I have not forgotten that feeling associated with being unrecognized, ignored, or belittled. I feel that there are so many incredible stories in our communities, as well as our businesses, that need to be amplified. I personally believe that every cause or brand has a story, and every story can spark change. I want small business owners to understand that their brand story is what differentiates them in the marketplace and makes them unique. Their organizational narrative should be celebrated. We all have a "why." My public relations agency is rooted in advocacy. Read more>>
Robert Mitchel Owenby | Photographer, Actor, Singer, Arts Administrator

For over a decade, I've been what I call a 'dedicated hobbyist' in terms of my photography. But when the pandemic hit, everything changed. That's no secret. And while I obviously wish that Covid-19 was never a thing, suddenly being at home all the time gave me the opportunity to really focus on my photography as a viable business option. In fact, it became a necessity. All my performance work had dried up completely, my arts admin work was indefinitely on hold since all the theatres were closed, and my UI benefits were unpredictable at best. So for me, that meant that I needed to create an income stream that I was in control of. And naturally, I chose to double down on photography. It's weird to be thankful for anything involving the pandemic, but I am very thankful to have had the chance to focus on photography as a business in a way that I, frankly, hadn't had the time to do in the past. Read more>>
Kara Horton-Bettes | Designer & Fashionista

I wanted to start a business that would not only be fashionable and creative but also essential in today's society. I wanted to create a product that would help people stay safe, so I decided to start B² Designs and make face masks. (https://bsq2designs.wixsite.com/website). Read more>>
Sarah Magowan | Reiki Practitioner

Tiny Sparks Healing (TSH) was conceived in the midst of the pandemic in 2020. In March, the pandemic hit and I, along with the rest of the globe, had my world flipped upside down. I was invited to make some major lifestyle changes. I graduated from my undergrad program and in the same week I lost my job as a server. This left me with ample time and space to decompress and reimagine. I found myself doing a lot of reflecting and looking to answer serious questions about my passions, my next steps and the things that bring me joy. Working in the service industry, I had become accustomed to constantly going, going, going- but at the same time, I was waiting for "the perfect time" to explore entrepreneurship. I knew it was always something I wanted to do but 2020 showed me that "the perfect time" doesn't exist- and that the best time to start is now. Last year gave me the opportunity and courage to be still and truly listen to what my body and spirit were telling me. Read more>>
Shay Chenette | Visual Artist & Mompreneur

It is always said that your business should fulfill a need or solve a problem. 5 years ago, my daughter and I ran into a big problem, we could not find melanin inspired backpacks during the annual back to school shopping. I began the journey of figuring out HOW to solve this problem, using the gifts I had with in me. It did take work, mishaps, complications and growing in knowledge of how to customize different materials. We created custom tote bags and backpacks that Christmas season and sent them out in lieu of traditional gifts to our close family and friends. The business took off from there, I never anticipated for others to want our products, but when your gift makes room for itself… you have to be prepared to OWN that room, take up space, make your business loud! We created our brand Shop Girls and Curls to highlight black and brown images for little girls and boys worldwide. I would tell aspiring entrepreneurs to take a leap, someone is waiting for what is inside of you. Read more>>
Rogdric Singleton | Certified Ethical Hacker

I been practicing in the Informational Technology hemisphere for over 8 years at the time. Therefore, I began to acquire an enormous capacity of skill-sets over that period of time. Working in corporate America has giving me me the aptitude and fortitude to understand how and what business may need in terms of services. Once I was laid off a 4 year contract that I was working in Cyber Security for a major fortune 500 company, I later figured I was ready to make my move and start my own company. I named it after my daughter Allie-Parker, entitled AP Cyber Defense, LLC In doing so I decided after working for large commercial corporations, that I would focus on the Small to Mid-Size Business and service that space. Most Small to Mid-Size companies have limited resources to utilize Big Cyber Security Firms in the industry. Read more>>
DeMario Black | Certified Public Accountant (CPA)

There is a void in the black community of accountants and other financial service providers. I wanted to be a resource to the community by helping clients reach financial success. Read more>>
Justin Heartman | Designer, Event Planner, & Creator

My thought process behind starting my own business was I always had a great imagination, great story teller, and I didn't want my son to work for anybody once he was older. I knew it was gone be hard, but you only live once and I want to leave my mark on this world. Read more>>
Gia Supreme | Entrepreneur/Social Media Influencer/Actress/Advocate

The birth of LOA Essentials started with me finding new ways to practice and manifest positive things and outcomes into my life. The "Law Of Attraction" is a gift I have learned, shared and want to continue to share. I strive to inspire my followers with this new way of life. The Power of Manifestation has indeed been heavily promoted on my Youtube and Instagram platforms. I have shared many personal experiences of how Law Of Attraction has changed and impacted my life. I am eager to show people how to obtain this lifestyle of abundance. Furthermore, I have applied my experience and passion from managing my first business, Supreme Zone Wigs. SZW is a handmade, custom human hair wig line that I launched in 2018. SZW promotes unlocking your inner beauty as LOA Essentials promotes unlocking your inner abundance of happiness. Read more>>
Devonte Goodwine | Videographer & Editor

I felt like I was allowing too much time to pass by. Overthinking about what I didn't have in order to get started. So I changed my mind set and decided to step out on faith. Doors started to open and the rest is history. Read more>>
Jeff Payne | Filmmaker / Photographer

I wanted to do something that I love, to have things to look back on when I get older, and to help uplift others in the process as well. I'm a huge fan of supporting small businesses and will do whatever I can to help anyone break out of their 9-5 job for something they're passionate about. Read more>>
Nikki Payne | Licensed Esthetician & Bodysculptor

Honestly I started my business because I was broke. I pawned my car title, boiled water in the microwave because my heat was turned off and I had exhausted all of my resources. I had an esthetics license from 2013 but had never used it so I asked my friend to rent me tiny space in her suite for $35 and it went from there. God is good. Read more>>
Ebonee Tabb | Hair and Makeup Artist/ Owner of Aikomus

I have a multitude of reasons for staying my own business. Both of my businesses aid me in fulfilling my purpose in life which is to serve people. Aikomus helps people recenter themselves by providing selfcare products that nourishes them spirituality and physically. Through Eboneejmua I get the privilege to pour into whoever sits in my chair and make them look beautiful in the process. I get to show my children that in a world where there is still oppression and racism, we can still persevere and be a success. I'm first generation business owner. It was important for me to show them that they can be their own boss and how to build wealth. Read more>>
Jasmine Friend | Candle Maker, Home Interior Stylist and Dental Hygienist

For us, by us. Uplifting my community. The thought process behind creating Charlie Rose Company was simple, give something good to the people for the people. Who doesn't love candles, right? I surely do. Over the past year, I decided to start on a health journey from changing my eating habits to exercising daily to using as many natural products as possible. While one day shopping for candles with a very well known candle company, it dawned on me. What exactly is in these products? What am I breathing in when the candles are burning? That's when I discovered that most common store candle brands are composed of paraffin wax and harmful chemicals and additives. That's when the light went off. Why don't I create my own candle that is free from harmful chemicals, that is fully organic and eco-friendly. Something that was not only good for then environment but good for the body as well. And that was the start of Charlie Rose Company | Handcrafted soy candles. "Extraordinary candles by barely ordinary people". Read more>>
Deidra Stewart | MSW, LISW-CP, Psychotherapist & Life Coach

I am a mental health professional, more specifically a licensed clinical social worker, with over twenty years of experience. I have worked in a variety of settings, and one thing stood out to me in each and every one of them. My community was being underserved and improperly educated when it comes to all things mental health. Often the systems in place didn't take cultural diversity into consideration when determining treatment, diagnosis, or alternative solutions. I decided to go into private practice so that I could effectively serve my community by creating effective treatment and education plans that could be understood and accepted by those who look and believe like me. I've often been told that I am very practical with my approach, which makes seeking help easier. Read more>>
Amber Casciano | Hairstylist/ Salon Owner

This wasn't a path I ever saw for myself. I was always the one who said "it's just easier to come in to work and leave at the end of the day". Then we got hit with a global pandemic. As most people in the world, it forced me to think about my self and my career in a different light. What do I want with my life? What do I want for my career? After working at my previous job for 8 years, I realized it's my time. I learned so much over those 8 years that I hadn't realized I retained. I wanted to create a space that was just for me. A space that has no limits. A space where my clients can feel safe and themselves. Read more>>
Dr. Keita Joy | CEO, Success Uncensored Coaching, Success Maximizer, Motivational Teacher

As the CEO of Success Uncensored® Coaching, I envisioned a coaching and consulting business that would maximize the greatest potential in others, activate audacious hope, and cultivate a community of leaders committed to purpose, strategy, and growth. Business is deeper than profit. Profit is a byproduct of a mission minded individual obsessed with their WHY and leaving this world better than they found it. As an only child, growing up in a lower-middle class neighborhood in Miami, Fl, I experienced the trauma of losing my father suddenly to a brain aneurysm, a mother who suffered with the disease of a drug and alcohol addition, and felt the sting of loneliness with no other sibling to lean on for support. It was in those dark moments that I realized life is uncertain and that having a leader in the form of a mentor, therapist/life coach, or pastor is vital for a victorious life. Read more>>
Britnee Alphin | Serial Entrepreneur

When I decided to be a serial entrepreneur I was focused on creating brands that could be of service to people. Whether that service was to assist with a need, provide information to better oneself or just show support to a community, I am here for it all. I've always been the "see an issue and fix it" person even as a kid and it just took greater root as I got older. Starting a business or brand is never about the money for me it's almost always about either obedience to God or seeing lack of representation in an area of passion. Read more>>
Jasmine T. Boykins | Founder and CEO of Jazz Hair Creation LLC.

I have always had my own hustle on the side even as I was a full time in employee at someone's job. I was tired of the fake advertising of hair care that aren't really meant for African American women. I wanted to start a new brand with meaning and inspiration behind it. So I brain stormed and said "I am going to create naturally made hair products for all hair types". I started researching how to start a business and it went from there. Read more>>
Tara Jae | Entrepreneur/Psychologist

The thought process behind starting my own business was, me wanting to be in control of my finances as well as being an example for my son. I wanted to prove to myself as well as to him, that we can be our own boss and build wealth by taking these steps now. For his children and my future grandchildren. Read more>>
Lara Hodgson | Serial Entrepreneur & entrepreneur in Residence at Harvard Business School

The best companies are born not from a great idea but first from a great problem. Ten years ago I was growing my company, Nourish, which sold a patented spill-proof bottles water for children, and as I sold to larger and larger customers it took longer and longer to get paid. I realized that more businesses GROW out of business than GO out of business. Everyone told me that I should get a loan or a line of credit or try factoring but none of that made sense to me because essentially I was the "free bank" to my customers when I delivered my product or service, sent an invoice and waited to get paid. An invoice is a free loan. I didn't want debt on my balance sheet (or personal guarantees) and anyone who has factored knows that "factoring" is the "F word." Read more>>
Yashica Mutawakkil | Dildo Distributor & Clothing

I am a hair braider first and that business I am able to interact with individuals on a more personal in person manner but I wanted to form another business for the individuals that I don't see or don't know all in all that's out of my reach so I was like an online store will be the perfect way to connect to those individuals Read more>>
Tadala Wheeler | Compassionate Entrepreneuer

I started my business after experiencing my own hardship with hair restoration, seeing my progress through a treatment I created, and wanting to offer that same freedom and joy I received when my hair was restored. I also base many of my decisions on my ability to give back. I try to find ways to bring others with me when I take steps forward. That's why an integral part of my business model involves substantial charitable donations. Read more>>
Emily Ashton | Yoga + Meditation Teacher

I can either risk failing doing something I hate or risk failing doing something I love. (I know that's a quote but I'm not sure by who!) Essentially, I want to work toward my dreams, not someone else's. That's why they're mine, you know? I want every moment of my existence to be filled with passion so I now go wherever I feel that. For a long time, I lived in the shadow of who I have the potential to be. I pursued what would give me external validation and parental appreciation rather than what set my soul on fire. After a couple of years, I realized how desperately I wanted more than a life of struggling for nothing so instead, I decided to struggle for something — and it's amazing because it doesn't feel like struggling at all. Read more>>
Suhyoon Wood | Brew Witch & Owner of Beejou Kombucha

To be honest, when I started making kombucha, the end goal was never a business. It just so happened that there was a need in my community and I wanted to continue to be able to share my kombucha while doing legally. I've found that starting a business from passion, not from desire to make as much money as quickly as possible, was what has made Beejou so successful. To me, Beejou is an extension of my soul; it is how I give back to the world and pour back into those I love. I think it's imperative to have a passion for something you'd like to develop into a business, however that may look. Read more>>
William Bailey | Rapper/CEO of Pynk Gorilla Entertainment

The thought process behind starting Pynk Gorilla Entertainment was now or never.. i was with a team and they fell apart. instead of me sitiing around just waiting for whatever to happen . i filled the paperwork that night.. i've never been the type to sit and wait for some to do something …i knew that i needed a team and that many others would also .. so Pynk gorilla ent was created. the first lgbt record label owned by two black gay men and a black transwoman. Read more>>
Tina Lunalover | Healthy Pet Food Maker

It seems like just yesterday I was in my kitchen measuring out meats, hoping to not lose a hand in the grinder and figuring out how to make complete and balanced meals for our cats and dog. Once I got good-ish at making food and witnessed my animals thriving, I started sharing my homemade meals with friends and family. I knew there must be other conscientious pet parents out there who wanted real food for their cats and dogs. I believed if I could make it easy and convenient to feed fresh food, they would. I started thinking through the logistics of how to make it a reality. I knew I didn't know everything about what it would take to make it a business but I figured out the basics and what I'd need to do to get started. So I decided to go for it. Read more>>
Dre Johnson | Dope Black Content Producer & Writer

I came home from a deployment in 2017 and while catching up with my friends at Waffle House, one of them suggesting me and the other friend start a podcast. I had spare time and money so by that weekend, I had all the equipment. When we started our podcast, we immediately started talking about how there's no black shows on tv that isn't trauma. So I started my journey to fixing that. I now write skits, movies, shows, and short films in an attempt to create some fun black content. The people seem to enjoy it so I keep going. So long story short, my thought process was "I had money and my friend said I was funny." Read more>>
Shanice Parker | CEO & Videographer/Photographer

To make it simple I was tired of trying to find a job. If you know anything about the job market it's not about what you know it's who you know. I had two things working against me, I didn't have a degree in Video Production and I didn't intern at any major production companies while I was enrolled in college. I knew I wanted to film and be a part of production but based on how the job market selects its candidates the odds were not in my favor, so I had to create a company that would accept a creative with zero knowledge in the field and zero connections but had the passion and grit to make it happen. I gave myself an opportunity with hopes to provide that same opportunity to others. Read more>>
Sarah Miller | Realtor & Mom

When I thought about leaving my career in Property Management and moving into a career in Real Estate as an entrepreneur, I was excited at the thought of no longer having a 9 to 5 and being my own boss. The flexibility of schedule and the though of my success or failure being in my own hands or hustle, was the most exciting aspect of starting my own business. Read more>>
Celandria Sidney | Sweet Tooth Creations, LLC

When I first thought of owning my own business, I began to think how could I pull this off? I wasn't always popular in school. I had my crew that I talked too but I wasn't out there like that. I didn't have friends like that. I really wasn't a sociable person. I felt like I wouldn't have much support. What really made me gave it a try…was when I asked (3) people; which included two of my friends and my husband; Latravea Wyche, Shantrice Lindsey, and Gregory Wells. What if I started out selling my banana pudding or strawberry shortcake? They all told me to go forth. After starting my business, my husband told me to sell different flavors because people would get tired of banana pudding and strawberry shortcake. That's what I did. Every since then I have been successful. Read more>>
Laura Goddard | Hairstylist/Owner

The beauty industry in constantly changing, and my personal growth within the industry has always been very important. In 2010 I started my own studio after leaving a booth rental salon. It was important to me to create opportunity for myself and my family. For 10 years prior, I learned so much from different salon owners and stylists. When the time came to go out on my own, I was driven to fulfill my own personal goals and ideas of how I wanted to grow my career and hopefully inspire others along the way. It was important to me to see where the industry was changing and what role I could play in the change. Building a brand is not easy and it's forever evolving. Sourcing natural and sustainable hair products was important to me and for my clients. Educating myself and clients on why I chose this path is very important to me. Read more>>
Ashley Marie | Style + lifestyle Influencer & Personal Stylist.
I started my business to help the everyday woman find and elevate her own personal style. While I'm a project manager for my 9 to 5 career, style he always been a staple in my lifetime. I started the business right out of college, worked for a prominent stylist & men's executive clothier — and later branched out on my own. My style blog and my style Instagram- showcase the lifestyle side of my life, while still providing helpful style tips. Ultimately, I'd like to expand and style women, men, and families. Read more>>
Cicely Jones | Your Personal Accountant
The thought process for my business started becuase I saw there was a need for accounting assistance amongst entrepreneurs and small business owners that I came in contact with. In 2001, I left my job of 10 years to pursue another endeavor but the skills I obtained while working there were so valuable that I had to do something with them. I was a bookkeeper for an executive suite firm where I assisted with the accounting and financial needs of a vast variety of clients ranging from McDonald franchises, fitness studios, construction companies to even jewelry brokers. On that job I learned many financial aspects surronding Accounting. I loved it so much I went back to school to get my degree in in this field. After completing my degree, I knew I wanted to become a platform in the community as a wealth of financial knowledge to people who looked like me that were in need. Read more>>