Why they do what they do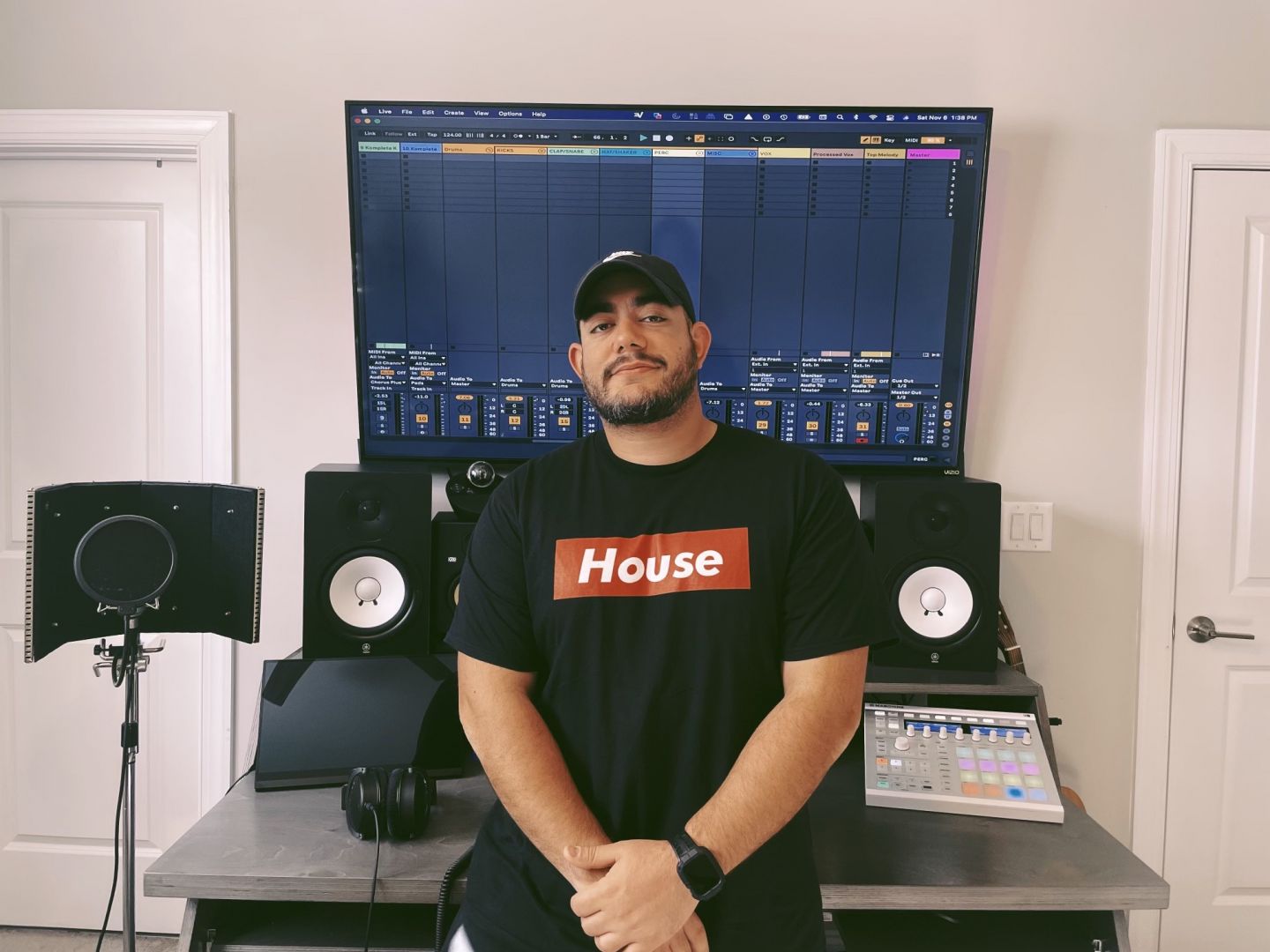 We asked some of the city's leading artists and creatives to tell us about how they decided to pursue an artistic or creative career. We've shared some highlights below.
Kris King | Ceo of The Royal Family Apparel & The Royal Family Records

I have always been creative or artistic as a kid. I would draw abstract pictures or Geometric shapes,(which nowadays are logos or brand images)just for fun, which led to me doing my Graphic Designs. With Clothing/Apparel the creativity can Be limitless when it comes to designs, Dtg printing, & embroidery. Read more>>
Chelsea Maria Hough | Multifaceted Artist

Pursuing a creative career was never in question. It was something I had always wanted to do & have been fully supported in my journey. I knew how influential those in the entertainment industry could be, & I felt, even at a young age, I had something of importance to say/share though my love for the arts. Initially, I started off booking gigs as a backup dancer for various artists, music videos, commercials, etc which have done for about 8+ years. Read more>>
Chantel Chance | NYC Jeweler & Gemologist

I've always been extremely artistic. I started painting and designing clothes at the age of 6. I always knew I'd be a successful creative one day. I went to fashion and art school majority of my life. I attended the Fashion Institute of Technology in NYC and went straight to jewelry school after getting my degree. In the span of 6 yrs, I've become a certified bench jeweler, a GIA certified gemologist and a CPAA certified pearl specialist. Read more>>
Theo Ivory | Professional Wrestler, Author, and Actor

It gives me a sense of peace that I've never felt with anything else. As crazy as life can be sometimes, we all need that. Read more>>
Oréan Collier | Artist & Children's book Author

I truly believe that art in this creative career that I have chose me, I really have it honest coming from back when my grandmother would make things by hand, quilting by hand to my mother knitting and sewing and teaching me to sew at an early age, making custom cakes and things like that, it was just a natural progression for me. I've always been a creative person. I graduated high school in Hawaii, and did my first collective painting with the class. I remember coming back to the mainland watching a show called Bob Ross every Saturday and buying everything that he had whether it was his paint brushes his magazines, paints I had it all. Things just continued to progress throughout the years. Read more>>
Tony Gonzalez | Artist/designer

Art has been in my life from the beginning, since a child I've always wanted to be an artist. I got introduced to painting at 16 and I've had my foot on the gas since then. The passion I've always had for bringing my ideas to life, eventually turned into an obsession. God gave me the gift so it's only right that I live off of my greatest gift. Read more>>
Byron Nelson (Chef Luck) | Caterer & Personal Chef

Cooking To me was a way to show how fun food and be and look. Putting different ingredients together to make one amazing dish fascinated me. Once I learned that you can mix the flavors and give someone's tongue a joyful experience I was in. Food truly is the Key to Everyone's Heart and I love warming them! Read more>>
Ortus Aster | Musical Artist

To be quite honest, I've always been around music to some capacity. Growing up, I used to sing in the church choir, and as I got older, I started getting more and more into Rap & Hip-Hop. But everything really changed for me when I went to college. It was at Georgia Southern that I discovered my real passion for music and creativity at large. I had a friend named Patrick (better known as Cowboy P), and we would constantly freestyle over YouTube beats day in and day out. After about a year of doing this, we decided that we should take our creativity more seriously, so we agreed that he would be "The Rapper", & I would just work more behind the scenes as his Music Manager/Ghost-Writer. Read more>>
Todd DiMatteo | Brewer and Owner of Good Word Brewing & Public House

I played in bands for a little over 10years. I wrote lots of songs and had the opportunity to play a few shows every month and record some music with some great folks. It was a great outlet for me for a long time. When I became a father I felt like the clock was winding down on how serious I could take the music, and also how much time i could devote to it. Before long my wife and I had baby number 2 on the way, and I knew it was time to dig into a different career path. I decided to go from bartending to joining the management at Brick Store Pub. As a manager I didn't have an obvious outlet to be creative; and soon turned to Homebrewing. This certainly scratch that creative itch. Read more>>
Tequila Williams | Makeup Artist & Makeup Instructor

When asked this question I always tell people it came natural to me. I've always been interested in everything beauty and creative. As a child, my mom would change her look weekly, sometimes daily. So, seeing that as a child I fell in love with the fact that someone could enhance their beauty by wearing a different hairstyle and adding makeup to the face. My older sister is a artist when I would watch her paint I seen how she added dimension to the face by adding shadows and highlights. That showed me how to add structure to the face but not over do it. At the age of 20 I dropped out of college to pursue my career in the beauty industry where I could begin to freely express myself and creativity through hair and makeup. Read more>>
Melarie Odelusi | Illustrator and Lettering Artist

I found interest in art when I was really young and it has been a form of healing and self expression for me since. I was always the girl carrying a sketch book around school and would skip lunch to paint in art class. I knew that my career would somehow consist of art or something creative. Ultimately, I wanted to be an artist and sell my work to people who connected with it, which is wild that I am doing that today. There is this narrative of the starting artist that kept me from fearlessly pursuing an art career so I went to college for Fashion Merchandising in hopes of stumbling into a role that would fit financially and creatively. Read more>>
Ashley Epps | Entrepreneur & Graphic designer

I pursued a creative career because I'm one of the many people of the world who naturally gets stimulated by creativity. However , growing up In todays social media impacted environment I struggled with executing my own thoughts and content goals based on my individual expression and not based solely upon what others liked . Social media can be a very dark place when your trying to compare and execute instead of truly being yourself and executing in that manor. So , I wanted to help individuals and brands develop and identity they can connect with and not something that was just trendy but proactive and beneficial long term . Read more>>
arielle king | Artist

I have always had a passion with the things I create all the way back to my childhood. I am very skillful at drawing and also enjoy painting pieces, so as I grew older my creative passions started to branch out in event planning and eventually lead me to making handcrafted pieces made of resin. Read more>>
Vendi Beauzile-Etienne | Rapper, Singer, Model, Actor .

I pursue an artist career because I enjoy rapping , singing , modeling and acting and being on stage . My wish is to perform in front of thousands of people . Read more>>
Tonka Garcon | Ballroom Consultant & Housing Coordinator

As a child, I was heavily involved with the arts in and out of school. To some, I can come off timid, reserved, shy, or mean but when I express myself artistically or creatively, I come to life. Being able to have a career where I can continue to have my point of view be displayed to the masses is an honor and privilege. If it wasn't for the ballroom culture within the community, I couldn't imagine how my art or creative style would be displayed or appreciated. I gained the drive and push to stay in a career where I can artistically break barriers of body positivity, bullying, and etc. by my work of art. I was able to do something with passion and not lose myself in life with a career that accepts all of me. Read more>>
Joy Alicia Raines | Artist & Writer

Art, and making art, has been the most important thing to me throughout my life. As soon as I realized it was feasible to have an artistic career — however challenging and rare it may be — I knew I needed to pursue it. I've always been very moved by stories, illustrations, graphic novels, and I wanted to be able to tell my own stories through drawings. While I am still early in my artistic career, every small win is another step in the right direction. It takes time to build a business of what you love, but I am fortunate to have a day job that provides stability while I establish myself. Read more>>
Dayo Godson | Singer/Songwriter

To keep me busy and get my mind off of life to be honest. Things were crazy growing up Read more>>
Rafael Castillo | Actor(Creative)

At the time that I decided to go head on into this career path, there was one thing I knew forsure. The arts(acting specially) was where my heart was. I had tried different things. I played football up until my sophomore year in college chasing a dream as a pro athlete. I started studying business, and working at footlocker in order to pursue my dream of opening a shoe store… it always felt like work, but when I took my first Acting class I felt FREE. I've never let money dictate my moves. Happiness is always at the forefront, and acting made me happy. Read more>>
Pedram Charepoo | Music Producer, Composer, Engineer, and Artist.

I was always musical and involved with music from a very young age. I grew up with music around me and always felt like the emotions and imagination it evoked in me was pivotal to my development as a human. I started producing music in high school and continued through my college career until I finished my undergraduate studies.. It wasn't until about 5 years later, after getting married and progressing through my professional development, that I realized I had put something so critical to my development as a person and a source of catharsis by the wayside for nearly half a decade. Read more>>