What's the secret to your success?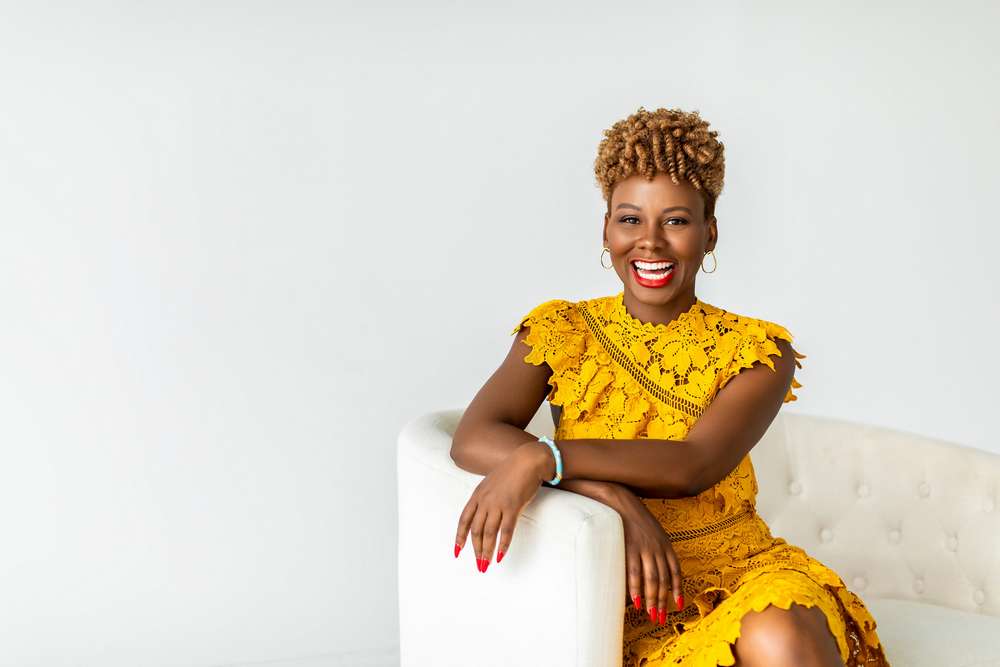 We asked some of the city's hidden gems to tell us about what they feel is the most important factor behind their success.
Marshaé Smith | Brand and Web Designer

I took my business to the next level by diving deeper and going from just being a "graphic designer" to being a "brand designer" and strategist and just in my studies of that and really getting to understand what branding does and how brands are built I've come to understand what my secret sauce is. It's the way I've managed my brand. Or the way I've "protected my reputation", if we want to explain it in more laymen terms. I didn't know that what I was doing was actually called "brand management" at the time but I've just always been very intentional about protecting my image, my reputation, the quality of work I produce, the kind of experience my clients have, all of that. So people have grown to really trust and respect me and that translates over into me being someone they desire to do business with. They know what I'll do and what I won't do. What they'll get from me and what they won't and it's helped me to naturally build a brand that people genuinely like and want to support. Read more>>
Angela McCoy | Manager & Publicist

Transparency and honesty. We believe in under promising and over delivering. We are upfront from our very first consultation and stay true to the things we say we will deliver. Read more>>
Jennifer Taylor | An Author, Writing for Your Entertainment

The most important factor behind my success as an author is to stay true to my style of writing. When I was writing my first novel, "Missing Picture", I was very excited and shared the manuscript with a few friends and family members before I published. I was egar to share with the world but wanted to first get the opinion of those closest to me. Needless to say, the feedback was all good and I felt was honest but the feedback also came with suggestions to use the writing styles to some novels they had read. I'm happy to say that I chose very early on in my career as a writer to stay true to my style of writing. My first novel, "Missing Picture" was so well received that I was lead to write two more novels leading to a trilogy. My style of writing is unlike any other author. My characters are rich, sparks emotions, unpredictable and keeps my readers engaged and wanting more. The second novel in the trilogy, "One Who is Loved" and the third novel in the trilogy. Read more>>
Jim Hamm | Special Pops Tennis Founder and Executive Director

I have a lifelong passion for sports, especially tennis. After I served as a volunteer for a Special Olympics competition I was inspired by the Athletes and their families. Once I decided how I was going to put my passion into action and make the inspiration a reality, I talked with a lot of people who worked with individuals with intellectual disabilities. The more I listened and learned, I mustered up the confidence to launch a non-profit focused on bringing the fun and physical activity of playing tennis to this special population. The volunteers, supporters and donors are the true reason for Special Pops Tennis success. Their dedication and selfless contributions to make playing tennis a reality for our Athletes is amazing. Every Athlete who joins one of our programs and gets to compete in an event the true success story in and of itself. My greatest reward is to get to know an Athlete as a whole person and then share my love for them through a common interest in tennis. Read more>>
Maryellen Bishop | Physician Assistant, Aesthetic Medicine

I think the growth of my brand and any success I have comes not just from skill level, but from my level of service and honesty. I don't try to up sell on products or procedures my patients don't need. I don't push, I just educate. I walk patients through the beauty I see in their faces, and how I can help bring those features better into light, by creating more balance and support. And I live to serve my patients. I spend time with them, I care about their lives, their days, their self confidence. I'm not working for a paycheck, I'm working my dream job helping amazing humans rediscover their beauty, combining my skills as an artist and a medical provider. When you sit in my chair, it's an experience. There's no rush, no pressure. I'm honest, but I'm not the only one in charge–we are partners. I offer the tools and the vision, and I work with my patients to map out the long term plan. And throughout that plan, we genuinely become close–we laugh, we share our lives, we even cry. It's really the best!. Read more>>
Caroline Marshall Hill AKA c.hill | Visual Artist

Success can be defined in so many different ways. To me, success is continuing to create on a daily basis while maintaining a healthy and strong relationship with my partner. I have no aspirations of becoming rich and famous. Within that definition of success, I have found that you should only take on projects that excite you. It shows in the work. Whether it be a commission or a personal project, it has to be something that means something to you and stirs you in some way. The more compromises you make, the harder it is to stay on track. It's important to create a large body of work that speaks clearly in your voice, satisfying the things you want to address with your art. Projects looking for similar solutions will follow. Read more>>
Sonya McGuire | My Skill Set Would Consist of Counselor, Writer, Music Producer, Mentor, Singer, Musician, Actor, Creative and Motivational Speaker

My ability to see my work transcend language barriers, cultural barriers, and touch others lives enhancing it for the better. Read more>>
Elayne Fluker | Author of the book, "Get Over 'I Got It'" (HarperCollins Leadership)

I've learned over time that an important part of my success — personally and professionally — is support. Asking for it, accepting it, and knowing that I deserve it. The right support can completely change your life, even if it comes in the form of small acts of kindness. This is why I am so passionate about reminding ambitious women that having it all doesn't mean doing it all alone and that they deserve support. Read more>>
Micah Baisden | Personal Trainer/ Business Owner

The most important factor not just in my success and in my brand but just in success general I believe is consistency. Whatever you are passionate about you can get people to gravitate to you to support you and your brand but they have to see how consistent you are before they commit to you. I read an statement by Chris Rock where he stated, "Being successful is like someone pushing a broke down car on their own down the street. Eventually, when people see you making the effort of your own they will join to help. It's just something about seeing someone try on their own that automatically pulls the right people your way to help your dream come true but you have to make the effort." The effort he is talking about is consistency. Read more>>
Ashley Johnson | Hairstylist

Keeping everything authentic. I am very upfront with my guests ab their hair and the services they desire. I don't glamorize my words to sound legitimate. I choose to be genuine and people always appreciate that. I'm a firm believer that the truth (when delivered properly) is always the best communicative approach as a service provider. Read more>>
De'Qustay Johnson | Professional Mixologist: Client Experience Specialist

For any successful business, developing and selling a good product or service is only half the battle. Providing your customers with great customer support is just as important. As you know, shopping is as much of a transaction as it is an experience. You want to make your customer feel appreciated for their business. It's all about giving phenomenal experiences. By providing the best customer service experiences, your customers will associate that good feeling with the transaction. They will then be more likely to come back and transact with your business again. Also, word of mouth is huge in building your brand. It is very important to build a great reputation. Read more>>
Barb Carbon | Singer/Songwriter

I grew up listening to the indigo girls, and you can hear their influence in my musical style and in my lyrics, but I think above all what I have taken from observing how they operate is that being real, being true to yourself and what you believe in, will reach people in a way that no amount of fancy guitar work or intricate lyricism can. Of course, some level of mastery is necessary, and weaving intricate harmonies doesn't hurt at all, but if you want to really connect with your audience, if you want to create a loyal following, sing your truth to people. They will recognize themselves in your words and they will come back again and again like they're headed to church. Read more>>
Elsa Stallings | Dancer, Choreographer, Model

Discipline. Discipline. Discipline. Working in a creative field or the entertainment industry, as rewarding and passionate as it can be, also involves a lot of rejection and knock-backs, which can often lead someone to constantly questioning their self worth or place in this career. It leaves room for perpetual second guessing and can leave you always asking, "am I wasting my time trying to make it in this industry?" or "does anyone even care what I have to say as an artist?". If you let this negative self talk get the best of you, it can make your career excruciating and not even worth the trouble. Being someone who has definitely been affected by these toxic thought patterns at the early stages of my career and training, I slowly came to realise how empty and detrimental these words of self criticism truly are, as I would identify them as constructive and beneficial to improving my craft… when they were really just doing the opposite. Read more>>
Jayla Wideman | President/Founder of FHL Closets & Tutoring Services, Inc.

I'd say the most important factor behind my success has been the support I've had. From the beginning, my family and friends have supported my idea and believed in the potential of FHL, and it's because of this support that I was able to keep going. I would thank my mother in particular, who has helped immensely from its founding. Read more>>
Casey Cooper | Trucking Federal Contractor/Business Consultant

Presentation is everything. You will never get a second change to make a first impression. Society is built on "appearances" and what things "look like". This is why large companies spend so much money on advertisements to entice people to spend. My rule for success has been very simple. I call it the 3 P's. Presentation, Performance, and Paperwork. Initially , a random viewer has no real information to base their first impression by. It's all driven from what the product "presented", and how that made the viewer "feel". The better the presentation or packaging, the better the chance to monetize. Honestly, a person could have a horrible product… as long as the presentation is good, the potential for a sale is evident. Nowadays, social media has made it so easy to monetize any product or service. However, people rarely take a good hard look at their brands and scrutinize it from the inside, out. Read more>>
Michelle Robinson | Owner, DEMIblue Vegan Nail Polish Company

The success of my brand has come from my desire to create a "successful company". One that not only produced a great product and generated lots of sales, but one that had long term success. I took the time to invest in my brand and created a company that understands the business side of things. The importance of protecting my brand, creating a marketing strategy, a financial strategy to scale, inventory and supply chain management. I sought out mentors and educational materials that would help me in those areas. I was not afraid to ask for help in the areas I was weak (although frustrating at times) I wanted to plant a seed of sustainable business in my community and for my family. If more brands did this, I believe we would see these companies around longer. Read more>>
Sarah Quinn | C0-Founder, La Maison Maslouhi | Artisan-Made Moroccan Home Decor

I think that the most important factor behind the success of Maslouhi is the power of storytelling. Maslouhi is a small business founded and run by me and my husband, Mustapha. In the simplest terms, we work with a group of artisans in Mustapha's home town in rural Morocco, Tameslouht, and sell handcrafted home decor items. On a deeper level, we seek to support the continuation of traditional artisana in Morocco to continue by creating viable career opportunities for master artisans. One of the most important pieces of this is educating the global public: about the exponential economic impact of purchasing artisan-made items, about the cultural significance of allowing these crafts to continue, and about the products themselves– how they are not just items with a compelling aesthetic, but that they also carry cultural significance and are themselves stories to be told. Read more>>
Hope Moquin | Life Coach and Speaker

One of the greatest gifts we have in this life is the power of choice. We can't change what has happened in our lives, and we can't change what was done to us. But we can choose to move forward and make something good out of the bad. For me, I believe we are only as useable as we are honest and people buy into honesty. Because it's real. Honesty is the one thing people crave yet the one thing so many people are scared to give. My brand is founded on being as honest as I can. Read more>>
Shantel Bryant | Owner/Founder/CEO

My relationship with God is the most important factor behind my success. He's the reason behind it all. I consult with him before I do everything. Just having that spiritual guidance and his favor is why I'm successful. The success of my brand comes from having a great team. We're family! We're highly trained and experienced, love what we do, love people, work well together, and go above and beyond for our patients. Read more>>
Dex Taylor & Nicholas Mayberry | Owners & Creators

We were immediately drawn to this question because of the word "factor" as it's a part of our IG handle which is @theNDfactor. Nevertheless, narrowing-down to the most important factor behind our success was more challenging simply because our "factor" is a formula that includes a number of ingredients. Additionally, we have a diversity of good opinions … like most couples, right. Where we absolutely align is that the sum total of our NDLE formula is our distinguishing factor. Talent – having diverse fundamental skillsets has equipped us to be able to go between Interior Design to Private Chef/Catering to Event Planning to Wardrobe Style as demand ebbs and flow. Good Customer Service – in our treatment of, level of responsiveness to and exceeding the expectations of our clients. Passion – we love what we do and it shows in our projects and product. Respect – not taking the other for granted and promoting as well as supporting one another's gifts and talents. Those are our success factors!. Read more>>
Carley Fant | Co-Owner of Tiger's Eye Barbershop

When we began brainstorming our vision for Tiger's Eye Barbershop, our top priority was creating a safe and welcoming space for the Atlanta community. Our client's trust, loyalty and support continue to make our vision a reality. The vibrancy felt in the shop is created by our clients who allow us to be the people they trust with their hair in a relaxing but creative environment. 2020 was a year that will never be forgotten. Through the devastation and despair caused globally by Covid-19, I constantly found myself looking for the silver linings. I can honestly say the love and support felt through our community kept us going. There were so many tough decisions to be made that no one previously had to think about. I was so afraid once we reopened that with all the precautions in place the shop would lose its soul a bit; however it was quite the opposite. Read more>>
Sydney Oshuna | Filmmaker, Youth Artistic Educator, and Innovator

Never wait on someone to give you an opportunity, if there's something that you want to do…just DO IT! Often times when it comes to being a creator there's the misconception that someone has to put you on. No, anyone can give you the opportunity to get your foot in the door but YOU have to be the one to take the first step in. I discovered early on that I never wanted to wait on anyone to give me my success, I was going to take it. Read more>>
Shondra Sumbry | Cheffete and Cake Designer

It's investing. I've learned that investing in myself and my brand is what makes my brand successful!. Read more>>
Shila Nieves Burney | Founding and Managing Partner

One of the most important aspects behind my success is pure perseverance, pushing past the no's, pushing past the individuals who thought I should be something else. I started this work with zero experience, however, my passion for helping entrepreneurs has allowed me to use dive into the tools I have used for every other role. The ability to listen to someone tell you about something they are building and then, finding out how I could support the effort, is my dream and now my legacy. I continue to not only push for change, but also be the change that others are looking for. Read more>>
Ronda Monroe | Healing Coach

The most important factor behind the success of my brand is resilience. Pushing through the inevitable losses and lessons of building a business without quitting. Read more>>
Sarah Mootz | Independent Artist/Singer/Songwriter

The most important factor behind success of my music/brand is definitely confidence. In order to make the best possible product I have to truly believe in what I am doing and putting out there and it's ability to be enjoyed by my an audience. Without confidence, I don't think I would ever invest in myself or my music the way that I need to in order to succeed. The best things I've done in my career have started with small leaps of faith based off of excitement that I've gotten from believing in the power of my work, my craft, and myself. Read more>>
Eboni Jones | Character Illustrator & Digital Artist

Personally, the biggest factor in my success was learning to put myself out there. I quickly had to learn how to go outside my comfort zone and do things that scared me, because in the end they'd only benefit me in some form or another. I had to learn how to take charge of my own initiative and drive myself and push myself harder than before. Read more>>
Dr. Ashley Little | CEO/Founder Ashley Little Enterprises, LLC

First, God gets all the credit I do not take any credit for any of my success. Next, I have and will continue to build my brand by serving others I am a firm believer that "What you make happen for others God will make happen for you". There is room for all of us at the table. We have to remove the scarcity mindset and understand what God has for me it is for me no one can stop it. Serve your way to the top!. Read more>>
Shelly Brown | Host/Entertainment Management/Talent Manager

The most important factor about the success of my brand is passion. Whatever you decide to accomplish in life there should be an unconditional passion behind it. If you don't love what you do then what you do will always feel like a job. That's why you have those entrepreneurs who start and stop companies, some give up before they begin to really enjoy the fruits of their labor because trusting the process is uncertain at times. When in reality it's not the process that you don't trust it's your own personal self that you truly don't trust. I live by the motto "What you want….actually wants you too". Your thoughts guide you daily. Train your thoughts and convert your mind to positive affirmations. Passion works hand in hand with your thoughts Its a positive automatic reinforcer of commitment, prosperity and abundance in your life. Passion won't let you quit. Read more>>
Tanya Jaynes | Owner

At BoJaynes we believe the most important factor behind becoming successful is being true to your story behind your business. We've had the fortunate opportunity to grow and see what it really means to have something so special that will make people from all over come back each and everyday. And for us we've always been an open home to family and friends. So when we decided to start BoJaynes the main factor was to make sure each and everyone feels our home like atmosphere…Whether it's the food, the laughs, the jokes, the music, and even that feeling of "oh it is going to be a great lunch because I can smell mommy is cooking!" With that being said this truth has kept us in business for over 10 years in McDonough,Ga. and allowed us to become one of the towns favorite community hubs!. Read more>>
Ptar Flamming | Composer & Producer

There is no substitute for dedication and hard work. The world is filled with distractions and side projects, but staying true to your craft and the goal of being the best you can be is the secret to truly becoming your ascendant artist. Consistence and perserverance through obstacles and life's difficulties with ultimately lead to you emerging victorious like a blooming rose!. Read more>>
Kingdley Chrispin | Director, Photographer, Cinematographer, Writer, Editor, Owner

The most important factor behind my success in life and brand is unison, This will be achieved by absorbing as much knowledge, building stronger and more loyal relationships and testing the norm through my journey in the digital world of media and life, and help share that knowledge with others to help shine and become a beacon of opportunity. Read more>>
Ethan Senger | Musician, Artist, Singer/Songwriter

As much as you hear it, work ethic and consistency are huge factors for success. Being a live musician and an artist, I spend a lot of time perfecting what I do. Whether that be practicing performance techniques, breaking down a song I'm working on writing, or just posting a video on social media to provide content to the people that support you. Your effort shows, and if what your doing is true to you and organic, people will gravitate towards it. Read more>>
Rene Esler | Mother, Wife, Challenge Aerial Owner, Public Health Professional

People are the most important factor in Challenge Aerial's success. Challenge Aerial's instructors are the best of the best. They are experts on their apparatus (silks, sling, trapeze, and lyra), they are dedicated to safely guiding students on their aerial journey, and they celebrate the accomplishments of every student, every time. Challenge Aerial's students (who range in age from 9 to 72-years-old) are some of the most supportive, creative, and dynamic people I have ever met. They love to challenge themselves, they are unbelievably supportive of one another, and they remind us every day how important art and self-expression are to our mental and physical well-being. Read more>>
Rasheem Pitman | Fashion Designer

God. The closer I get to God the more he blesses my business. That's the reason For my success. With out him I can Do nothing John15:5 KJV I'm just learning to be more obedient. Read more>>
Jasmine Ng | Owner of Pink Icing LLC

God, family, community. This has been the recipe to my success. I understand that success can mean different things to everyone but to me having these three in my life have been a strong foundation. Running a cake business has many ups and downs so my faith has been one of the things that has kept me from quitting on so many occasions.. Having the support of my family has made me realize that you can't do it alone. and this means the world to me. Lastly my community ,built of other cake sissies and event planners. I am a strong believer in "Community over competition". The fact that you can call another cake sis or event planner friend for advice when you need a helping hand without having to worry about competition is such a relief. I have met so many life long friends because of this. Read more>>
Kelli Jones | Hairstylist & Educator

The most important factor behind my success is great customer service & consistency. Read more>>
Latoya Smith Farmer | Author, Speaker & Emotional Health Specialist

I can honestly say that the most important factor behind my success is my love for children and my passion for helping others. My brand is built on my ability to turn social and emotional education into a fun and interactive experience that allows families to learn, grow and become whole together. All of that being said I believe that my brand wouldn't be as successful if it didn't mirror who I truly am at my core. I really am a big kid who loves to sing, dance and play games all while helping children learn about how amazing they are!. Read more>>
Marjane' (pronounced Mar-ja-nay) @marjanemusic | Singer/Songwriter
The most important factor behind my brand success is my Faith and the will to keep creating. Writing Music and having the ability to sings songs comes with a kind of mastery only God can create…it's important that I stay connected to the spirit of the Lord through prayer, praise and worship. In those moments God began to speak, then I began to write. Read more>>