Meet Hope Moquin | Life Coach and Speaker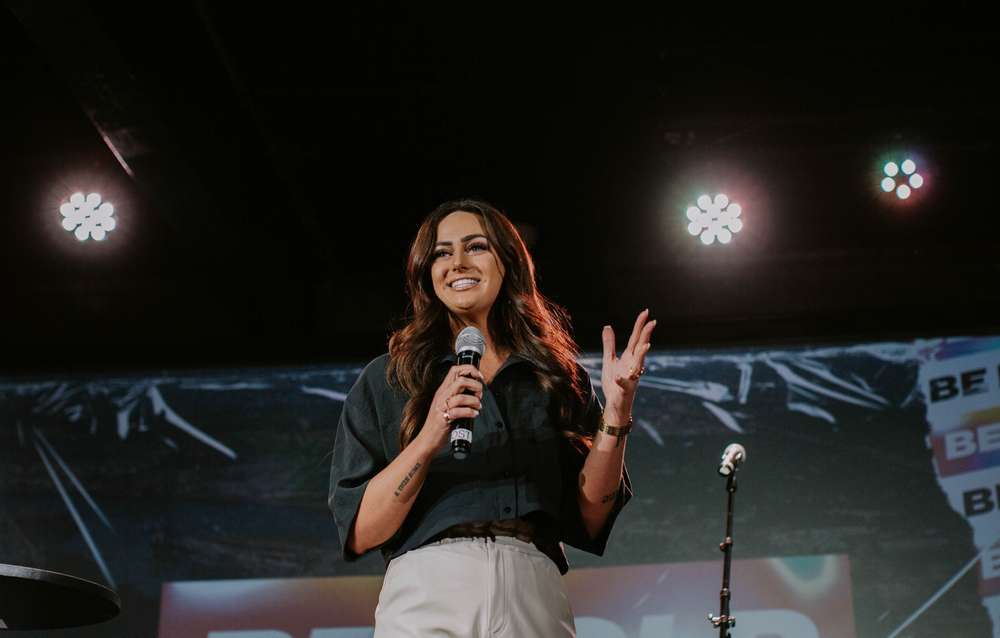 We had the good fortune of connecting with Hope Moquin and we've shared our conversation below.
Hi Hope, what is the most important factor behind your success?
Authenticity, no doubt. One of the greatest gifts we have in this life is the power of choice. We can't change what has happened in our lives, and we can't change what was done to us. But we can choose to move forward and make something good out of the bad. For me, I believe we are only as useable as we are honest and people buy into honesty. Because it's real. Honesty is the one thing people crave yet the one thing so many people are scared to give. My brand is founded on being as honest as I can.


Alright, so let's move onto what keeps you busy professionally?
I grew up in a household that went to a different church every week because there was always something "wrong" with the lead pastor. I also grew up in a household that only knew legalism and rules. So, this idea of Jesus… was not my kind of thing. I thought Christians were mean and I thought they were crazy. At thirteen, I moved to Gainesville, Georgia and started attending a well-known church in the area. I got into an intimate relationship with a boy older than me and it went downhill from there. I started doing drinking, doing drugs, and lost respect for myself in multiple areas. Church people seemed to only care about me and what was going on in my life so they had something to talk about and honestly, I hated the church. Not the church I was attending specifically, but church as a whole. The perfectionism and judgement and hypocrisy rubbed me the wrong way. I ended up getting kicked out of the youth group because of how dishonoring I was, and it got to the point where I despised the church so much my parents would pay me to go on Sunday mornings. And in return, I would use that money to buy things to entertain my bad habits. As if getting kicked out of youth group and being an addict wasn't enough, I was arrested for shoplifting at fifteen and my parents had enough. They moved me down to Sarasota, Florida and I started going to school there. My relationship ended, I started doing hard drugs and I got involved with the wrong people. Over Spring Break, I found myself in the hospital one morning after a traumatic night where I was sexually assaulted by three guys who went to my new school. A few weeks after, my GPA was under a 1.0. I was a sixteen-year-old, clinically depressed girl who was already was battling self-harm and who struggled deeply with suicidal thoughts. If this was how life was and this is how humans treated other humans, this was a life I didn't want to be a part of. I grew to hate humanity because of all the wrong things I saw and I threw in the towel and dropped out. Months passed… and I ended up at a church service that I wasn't paid to go to (lol). This girl came up to me and was the kindest person I had ever met. Long story short, she connected me with a leadership/ministry college that was starting the very next week. The staff at this school went against their guidelines, and took me in at sixteen. One month in, I had encounter with this Jesus guy I always heard about. This Jesus guy who I spent my whole life making fun of, ended up changing my whole life for the better. I graduated two years from that ministry college at eighteen, and at the end of those two years — the church that I was kicked out of at fifteen was starting up a ministry college for their first year. I felt the Lord pulling my heart to go and I thought I was going to lose my mind. "I am NOT moving back to the place where I got kicked out?!" I remember arguing with God on this big time. But, I knew that I knew this was my next step. So, I did it. No one supported me going, but I knew what God was asking of me. I left my family and my friends and moved my life back up to Gainesville, Georgia all by myself. And I remember walking back up to that church on the first day of classes in awe of what God was wanting to do. My life fell apart the first year and I was confused because no one told me that following the call of God on your life WASN'T always easy. In two years, I moved nine times, worked three jobs, got engaged and broke off an engagement, didn't have a dime to spare, had to Uber everywhere because my car broke down and was a full-time student. It was one of those things where I had to do what I had to do to keep me where I knew I was supposed to be. And it was HARD. AGE 20 — HIRED ON AT SAME CHURCH I GOT KICKED OUT OF But God is faithful. And what he starts, he always finishes. Halfway through my second year at my college in Georgia — I was hired full-time to be one of the Directors of the college. I started blogging and writing towards my first book. Little by little, I was being asked to be on podcasts, speak at different services, be on blogs and I was mind blown. That depressed, broken sixteen-year-old girl was now guest speaking on podcasts with the same people she use to listen to when she first committed her life to Christ. The girl who hated humanity was now starting a brand called, Celebrate People. Which focused on going out of our way to speak life into people. And that's just the kind of God we serve. I have been on staff here for three years now and it has been the greatest honor of my life to use what the enemy meant for harm, and to use it for the benefit of these students. That regardless of how far off you may have been, that God delights in chasing you down. In the most gracious kind of way. And using the really messy pieces, and blowing people's minds with it. HOW BECOMING BETTER STARTED AGE 21 — WROTE MY BOOK I knew I wanted to write a book when I was eighteen. I actually finished my book twice, and deleted the whole thing twice. I'm talking trashcan icon deleted. I had experienced a lot in my life and felt like I had the ability to relate with multitudes of people if I gained the courage to be honest about where I came from and the life I had. I started using my social media as a stepping stone in this area, and I would post really honest feelings. I noticed how my account began to grow. Not because of any other reason other than the vulnerability and honesty that I would share. Which then showed me how this generation is craving honesty. They are craving authenticity yet very few are willing to give it. So, I wrote a book all about it. I pushed the boundary of what's safe and that's why I self-published. In the book, I touch on honest pieces of my life, church culture and the major effect it has, and I tie it in with compromise and how deathly compromise is. I wrote this book so anybody and everybody can read the words inside of it and say, "Me too". I published it at twenty-two and it's available on Amazon. AGE 22 — GROWING UP WITHOUT A MOM Growing up, my mom wasn't present in my life. I had no one to teach me how to be a woman. Let alone how to be a godly woman. My dreams were belittled, my feelings were overruled, and what I saw modeled as a godly woman set me up for failure and life that would ultimately end up hurting other people. At this point in my life, I had watched countless of times "Christian" girls be the meanest people I had ever met. I watched girls expose each other on social media. Girls tear each other apart. Girls attack other girls. Girls find their worth in men because they have no sustainable friendships with other girls. All in all, I saw this gap in women. I always said I would NEVER do women's ministry because I couldn't deal with girls. I was bitter I didn't have a mom in my life. And I was hurt by other women in my life. I kept complaining about it and then one day I felt God say to me… "Instead of complaining about it, why don't you do something about it?". And in that moment, something clicked. I realized that the very thing I had despised, was the very thing God was calling me to make a difference in. I spent the next two weeks glued to my Bible and to my computer and I made a twenty-one-day mentorship booklet and started, Becoming Better. AGE 23 — BECAME A LIFE COACH Twenty-three is where everything has come full circle and I see the Lord's hand so clearly in every year of my life now. I write. I speak. I do podcasts. I have a mentorship program. When doing all of these things, the one thing I always ask myself is — "What did I need to hear when I was that age?". In 2020, a week had gone by where I was just so unsettled. I couldn't shake it and I found myself turning everything off one night and asking myself that same question. I noticed how I had developed this deep burden for the generation that is coming up behind me. I mean deep where I know that I can't stop until I'm doing something for them. So, what did I need when I was a teenager? I needed someone to guide me. My parents made me go to counseling every week when I was younger and I couldn't stand it. I didn't want to be "fixed", and I didn't want to talk to these older people who I knew couldn't understand what I was dealing with. I remember after years of counseling, they brought in a life coach. And she changed everything for me. When I was that age, I needed a friend. I needed a guide. I needed someone to listen and understand. So, ten years later, I became a certified life coach and my mission is to connect with parents who have a child that needs guidance. Teenagers don't want to be fixed. They want to be heard, understood and guided. And that's what I want to commit my life to do with teens.


If you had a friend visiting you, what are some of the local spots you'd want to take them around to?
We would start the day walking downtown Alpharetta, they have the best walking trail that links to the Avalon, an outdoor shopping center with the best restaurants. I'd take them to Chattahoochee Coffee Company off Akers Mill Rd, it's a coffee shop that sits on the river and it the greatest hidden gem in all of Atlanta if you ask me. We would have to go to Krog Street off the Atlanta Beltine and Ponce City Market of course.


The Shoutout series is all about recognizing that our success and where we are in life is at least somewhat thanks to the efforts, support, mentorship, love and encouragement of others. So is there someone that you want to dedicate your shoutout to?
Laura Hamon has modeled what it looks like to be a godly woman and chose to believe in me when no one else did. If it wasn't for Laura, I don't know if I would be who I am today.
Website: hopemoquin.com
Instagram: hopemoquin
Facebook: hopemoquin
Other: https://www.amazon.com/Second-Table-Compromise-Honesty-Non-Negotiable/dp/1692274155
Nominate Someone: ShoutoutAtlana is built on recommendations and shoutouts from the community; it's how we uncover hidden gems, so if you or someone you know deserves recognition please let us know here.