Meet Marshaé Smith | Brand and Web Designer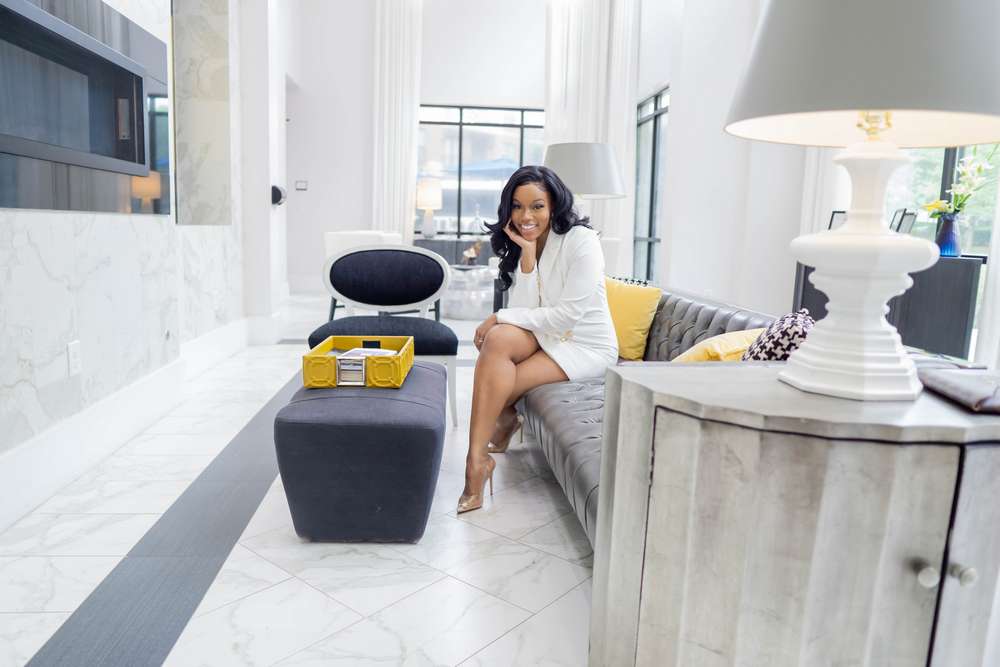 We had the good fortune of connecting with Marshaé Smith and we've shared our conversation below.
Hi Marshaé, what do you attribute your success to?
That's a great question and it's quite coincidental actually because I think I just recently really realized what it is that has contributed to my success both as an individual and a business owner. Last year, I took my business to the next level by diving deeper and going from just being a "graphic designer" to being a "brand designer" and strategist and just in my studies of that and really getting to understand what branding does and how brands are built I've come to understand what my secret sauce is. It's the way I've managed my brand. Or the way I've "protected my reputation", if we want to explain it in more laymen terms. I didn't know that what I was doing was actually called "brand management" at the time but I've just always been very intentional about protecting my image, my reputation, the quality of work I produce, the kind of experience my clients have, all of that. So people have grown to really trust and respect me and that translates over into me being someone they desire to do business with. They know what I'll do and what I won't do. What they'll get from me and what they won't and it's helped me to naturally build a brand that people genuinely like and want to support.


What should our readers know about your business?
Sure! So, I'm a lifetime entrepreneur. I went into entrepreneurship straight out of college so I've never had or held a "real job". I'm a little over 3 years in with my Brand and Web Design Firm, but I'm also beginning to do more with my personal brand and right now that looks like business coaching, public speaking and micro-influencing. Going back to my first question, the thing that sets me apart is really that natural and authentic brand that I've built over time. People like, trust and respect me which leads them to gravitate towards my brand(s), support me and also tell their friends or family to do the same. It's certainly been a long, hard journey to get to this point because that post-collegiate transition is already a super tough phase for most young adults. Those early to mid-twenty-somethings are filled with confusion, uncertainty, trying to find yourself, what you're here for, what you want to do with your life and then you throw entrepreneurship in the mix and that's…just…wow. Lol so, yeah! It's definitely been a tough journey, to say the least, but one I wouldn't trade for the world because it's made me tough, too. It's made be wise, independent, sharp, resilient. All that good stuff. So just to be here is something I'm super proud of because it hasn't been easy. 3 key lessons that I've learned along the way and would share with anyone who wants to be an entrepreneur or even someone who's transitioning from another career into entrepreneurship are: 1) There's no "finessing" this system. So whatever you put in, is exactly what you'll get out. The sooner you give it your all, the sooner you'll see the results and progress you truly desire. 2) Trust your intuition. If your spirit says "no" or "don't work with them" or "don't do XYZ". Then it's a no and don't do it. Period. 3) You're not special. You may be gifted, called, favored, all that good stuff. But you're not special. And you'll have to put in just as much work as everyone else, you'll have to fail just like everyone else. And you'll have to struggle just like everyone else. Don't allow God's "favoritism" of/for you cause you to act from a place of entitlement. Lastly, the one thing I'd like to world to know about me and my story is that "I'm just like you, and my story is a lot like yours". Often times I think we look up to people as if they're this special person who we could never be like and that's not true. The same things we see in others are the same things we have right inside ourselves. Oftentimes, the only difference is that the other person decided to go for it, they did the work, the invested the time and they took the risks. Which you can, too.


Shoutout is all about shouting out others who you feel deserve additional recognition and exposure. Who would you like to shoutout?
I honestly can't say that there's a single, tangible person who I would see it for me to acknowledge and dedicate my shoutout to because it's really just been God for me. My entire life, who I am and who I'm becoming is a total "God thing". Even being older now I can just look back and see how he's been planting seeds in me from a very young age and moving in the most strategic and inconspicuous ways to bring to life some of the harvest I'm starting to see now. He's really been my guiding light. My north star. My go-to. For everything.

Website: cosmopolitancreativegroup.com and oliviamarshae.com
Instagram: @oliviamarshae and @cosmopolitancreativegroup.com
Linkedin: linkedin.com/in/marshaesmith
Twitter: @oliviamarshae
Facebook: Facebook.com/themarshaesmith
Youtube: https://youtube.com/channel/UCEtRVkF6R22AfNe2eAXeJoQ
Nominate Someone: ShoutoutAtlana is built on recommendations and shoutouts from the community; it's how we uncover hidden gems, so if you or someone you know deserves recognition please let us know here.