Thinking through the whether to start something new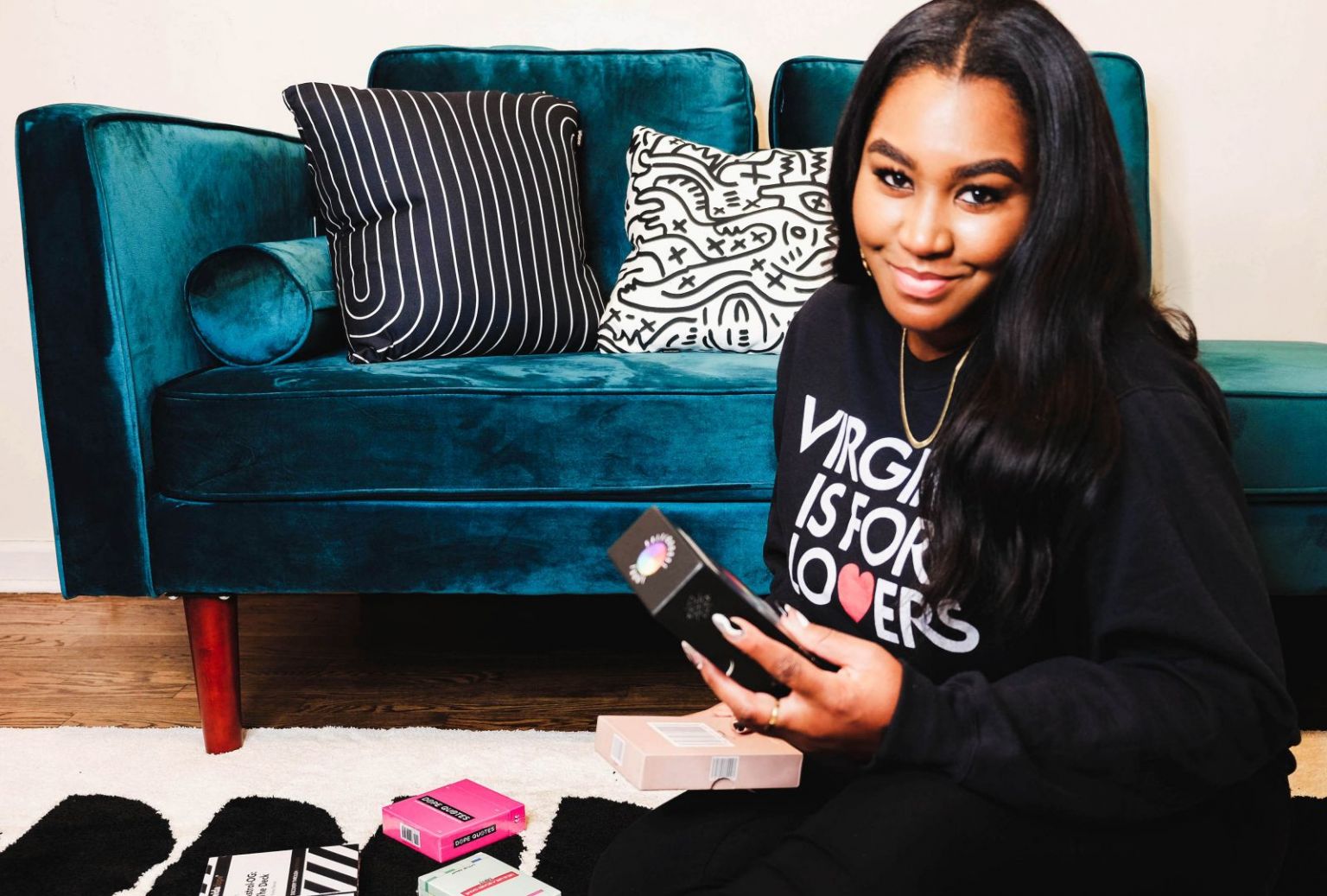 Starting a business can be terrifying. Weighing the pros and cons, the risks, and other considerations can be so overwhelming that often promising entrepreneurs stop before they even start. We asked some phenomenal entrepreneurs about their thought process behind starting their own businesses. Our hope is that by making the thought-process less intimidating we can help more folks think through whether they should take an entrepreneurial leap.
Karson Coker | Fry Cook – Meadows at Mossy Creek

Both Calah and I have had our own businesses since we were graduating high school. I started buying and flipping cars and she started doing hair. From there we have done so many things, from her opening her own salon and boutique, to me getting into wedding videography almost by accident, we have done it all. So for us it wasn't really about starting a business, we had done that several times each, but rather starting our dream business together. Read more>>
Bejanae Kareem | Education and Grant Acquisition Specialist

When educators use high-impact instructional practices, children thrive! Prior to our launch in 2012, I served as a classroom teacher for over 10 years in which I recognized the need for teacher training aimed to develop students' 21st-century skills. Teachers need high-impact, real-world immersive experiences coupled with supportive coaching to transform their practices. I launched BK International Education Consultancy (BKIEC) to advocate for and build educator capacity. BK International Education Consultancy is an accredited social good small business focused on strengthening K-12 educator practices to better serve youth. We are different from typical training providers because we offer educators the flexibility of completing continuing education units professional learning at their own pace and place. Read more>>
LaShaun Adesimilolu | Tax Accountant| Coach| Author| Speaker

Freedom! I was at a pivotal moment in my life where my back was against the wall. It was either keep making the same choices day after day and live a life I didn't like, OR Take a risk and *POSSIBLY* experience greatness.It was a no brainer. Anything was better than the mediocre life I was living. Read more>>
Alexandria Smith | The Creative Plug and Tech lover

It started off simple. I just wanted to solve a problem for myself and I figured if this is an issue for me, there must be more people out there looking for a solution. After doing customer discovery to prove that my problem was an actual issue for most, that gave me the motivation and evidence to further develop my venture. Read more>>
Don Mahmood | CEO of MedSmarter | CEO of z2 Squared | Serial Entrepreneur

I was bitten by the entrepreneurial bug when I was 14 when I cut grass for my neighbor. That led me to enlist a few friends to start my first venture – a yard cleaning and maintenance service. I do recall getting into trouble for selling candy to other students when I was in grade school.
My family history of generational entrepreneurship may have something to do with it as well. My father was a businessman and I worked with him from an early age so naturally, I think that is what led me to be in business for myself as well. n 1992 we took a family trip back to Lahore, Pakistan. It was my first time back since coming to the US in 1982. I had an experience there that would make an impact on my mindset forever. At that moment, I knew for a fact that I wanted to become an entrepreneur and put myself in a position where I could help others and have the flexibility to be with my family and work at the same time. Read more>>
Tina Berry | Farmers Market Owner

My family had a farmers market that my sister, brother, and I grew up in and bought into after college. We all worked in the business full time for over 20 yrs til my father and mother decided to retire and the business was too much for my sister and I to take on alone as well as with an extremely high overhead, it was becoming increasingly more difficult to make a living as a family market in these times. We sold and our family and community was all devastated. Our beloved market of over 45 yrs was gone. I always knew I wanted another similar market but maybe under a little different format. With some encouragement from a lot of friends and family, as well as losing my job to Covid, we decided to open as a Pop up market. Read more>>
Julius Damien Christopher Bryant | Musician, Photographer, artist Management, Artist Development, youtube Host, Film Maker, Screen Writer.

It was so long ago, to be honest I liked the freedom of not answering to anyone, that I was in control of the path I wanted to be on and that I didn't need anyone to disapprove or stifle my creative ideas. Read more>>
Nikita Garland | Broker

When I got my Broker license I thought now that I have accomplished that it was a good time to start Upscale Living Realty, so when I'm ready I can have Realtors work under myself and have my own brokerage. Read more>>
Jazzmyne Dennis | CharmPlug

I have always cultivated a passion for jewelry, but I never really had the intentions to actually start making and selling jewelry. Until one day, during quarantine, I thought about how being an entrepreneur would be effective, especially during this pandemic. I also liked the idea of building something from scratch and making it uniquely different from others. Since jewelry was something I truly loved, I decided that's what I wanted my brand to be! Since then, my passion for jewelry has grown stronger & my brand is who I am. Read more>>
Alicia Loney-Hawkins | Children's Stylist, Talent Agent, and Owner of Allure Kids Kouture

My thought process behind starting my own business was what could I do that I don't see a lot of people doing? At the time I knew I wanted to start a children's boutique when I was working as teacher in 2013. I saw a lot of my peers selling hair or women's clothing which inspired me to be an entrepreneur. While brainstorming one day, I realized I could create a business that I would have a passion for. I'm very passionate about working with kids and making a difference in their lives. I also love cute clothes and dressing nice on a budget. I combined both of those together and decided to do kids clothes that would be stylist and affordable. Read more>>
Malikah Shavonne | Private Chef and Culinary Instructor

I had originally moved to New York City for a change of pace. I was drawn to the energy of the city, and oddly enough, searching for a career change into a tech startup company. Within the first two weeks of moving to the city, a friend of mine asked me to do appetizers for a New Year's Eve party for about 100 people. Similar to what I'd do in college at house parties. During the party, people came over to introduce themselves and telling me how great everything was! After that, I found my niche and my side hustle, now my main hustle was born. Read more>>
Teja (Tay) Moore | Owner of Perfect Pout Cosmetics, LLC.

I come from a family of hustlers. My mom has owned several of her own businesses and till this day I've never met anyone that hustles the way she has my entire life and my dad has had his business for 20 years! So growing up under that entrepreneurial umbrella it lit a flame in me at a very early age and I knew that one day I would follow in their footsteps and own my own business. Since childhood I was always into lipgloss and lipstick and really all things beauty. I could never leave the house without something on my lips and as I entered into adulthood I started to sell them for other brands, but it wasn't until last year when I realized "Why sell other brands products when I can have my own" so I started Perfect Pout Cosmetics. Read more>>
Najeeb Muhaimin | Owner/Operator of Pride Road, LLC

We were inspired to create Pride Road as a continuation of our family history in Farming and our desire to produce our main ingredient naturally and locally. By growing our own Hibiscus we use our fresh herb to produce multiple value-added products. We manage our process from seed to table – We grow, We harvest, we produce, and We sell. We thought starting Pride Road in this manner would enable us to maintain control over our products and have a competitive edge. We also knew it wouldn't be easy, but we were willing to take all the necessary risks to start small and create a model for other potential food manufacturing entrepreneurs to start small and scale up. Read more>>
Christian Wardlow | Author, Entrepreneur, & Podcaster

The whole thought process behind starting my own business was due to the fact of providing an upstart of generational wealth for my future family. I feel like it helped shape my boss mentality beyond measures, by no means would I say it was easy but it was better for me to jump right into it rather than waiting for the right time because time waits on no one that exact time might've never come if I kept procrastinating. I started my business to build a solid foundation for myself for years to come. Read more>>
Sabir Angelica Gilbert | Entrepreneur, Artist

My thought process behind starting my own business is simple. I wanted to do more than just work for someone else. I learned their business ,I followed their rules and I can't lie, it was a success. But then I got to thinking I can also do this and pay myself, not particularly the craft at the current time I worked. But I can find a way to make what I love work for me. Read more>>
Kelvin McTyre | Multi-Talented Entrepreneur & Educator

My thoughts were, if I wanted to elevate in life and go after things I wanted. I definitely need to be my own boss. Having just a job, you can only go so far in life and only make so much money, it's a cap on that. Being an entrepreneur, the sky is the limit, you will go as far as your consistently, dedication, intelligence, networking and hard work takes you. The ultimate goal is financial freedom. I don't want to have to worry about someone cutting my hours or getting laid off due to pandemics as such COVID. Read more>>
Jillian Lynum | Psychologist, Podcaster, Entrepreneur

Scary! I had no previous experience on starting a podcast or any of the other upcoming businesses that are on the horizon that include a food blog, charcuterie board and herbal tea businesses. Read more>>
Jennifer Williams | Serial Entrepreneur

My thought process behind starting my own business was: I wanted to create generational wealth for my family. I want to leave a legacy behind that will out live me for many generations. I wanted to especially show my son that it doesn't matter what the odds are up against you. You have the ability to do anything in this world with hard work, sacrifice, and never giving up on yourself no matter what. In my culture we weren't taught certain things when it came to starting or even owning a business. I wanted to change the game. Read more>>
JOE WILLIAMS | VISIONARY & FOUNDER – MEN IN THE KINGDOM

Independence & Pressure… Owning a business is like being a on a team of good individuals looking for leadership and being selected as the captain. Thus, most are depending on the captain's decisions both good and not so good, which means being able to balance both ends of the pendulums. Read more>>
Shaheen Solomon | Founder and Creative Officer

When starting SOLOmedia, there was a void, I felt, for creativity. I was lacking the freedom of artistic expression. With that, I started an "expression brand." An all inclusive branding, marketing, communications, and public relations firm that I knew would offer creative expression in working with small businesses, community organizations and people seeking public office. SOLOmedia would offer clients the opportunity to be themselves – to hone in on what makes them special and amplify their exceptionality. SOLOmedia began as my outlet for lack of creative expression. Read more>>
Kelsey Brown| Cosmetologist

My thought process behind starting my own business was to start something that I can build on and ultimately have more freedom. Prior to starting my business , I felt restricted at my job and knew I was not living to my full potential . It definitely was a challenge to balance my work/personal life due to the hours I dedicated to my job. Read more>>
Kamil Jones | ARTIST & FATHER

A vision first. I had to see from the eyes of others what stands out, what platform does this company have that makes me want to support it. Is this a money hungry campaign or is it a genuine campaign that makes money. I had to envision who I wanted to represent my business. Are these people a representation of my mission. Who do I want to sell to? It was a lot of psychological planning. Trying to get in tune with the spirituality of my brand. And then that's when the business comes around to develop the plan. Read more>>
Krystal Banner | Artist/Author/Entrepreneur

My thought process was really based around offering something that I felt did not exist – at least in an accessible, regonizable way. Honestly, I was never someone who had the goal of entrepreneurship. It happened because I discovered my passion. Representation is very important to me, so having products that reflect relatable imagery and culture drove me to basically create a business around that while being able to express my creativity and passion for art. I started making greeting cards for friends since the ones in stores were either way too sentimental or didn't reflect the humor or imagery that I'm used to. I never thought I could create a business around that, but was encouraged by friends and family to sell them. I realized that other people were experiencing the same thing I was and it extended beyond greeting cards. Read more>>
Shar Cook | NA

SNUUZE was created about ten years ago and stands for "Sleep Nightly Using Ultimate Zen Essentials!" I suffer from chronic insomnia (if that's a thing) and I wanted something natural to help me combat this issue. During my internet research, I learned that not only millions of Americans suffer from insomnia, but natural remedies like lavender, passion flower and chamomile are instrumental in relaxation and calming the senses. There's nothing like a highly-scented lavender candle burning lowly in the background and a nice cup of hot, chamomile tea at bedtime. It helps to ease the days stress and anxiety and I believe that what you put in your body should be equally as important as what you put on your body. From there, I started making body butters, sugar scrubs and scented candles, all from natural, environmental friendly ingredients. PS: Remember to blow the candle out before dozing off!. Read more>>
Scott Dudley | Creative Director @ PUSH.audio

We've experienced different portions of this industry. Since we started doing music at age 14, we just wanted to be unique, be different and not follow trends, etc. Always in our own lane. Getting signed to a major would have been the worst thing that could have happened to us. Record labels, in general prefer safe over different. Who wants different? The Ad Agencies. The synergy was natural and led to the creation of PUSH.audio. Read more>>
lisa saul | Hairstylist, Colorist, Artist, Medical Technologist , Mom, Peacemaker

I was working as a hairdresser and a salon in 1989 and I was newly pregnant I'm concerned about how the chemicals in the salon were affecting my baby. I had been teaching haircolor for an Italian haircolor company and traveling around the United States showing stylists how to use the hair color. I was also very successful colorist in the salon I was working at. I started to get rashes on my hands and my wrists and I knew it was from the chemicals in the salon. I was concerned my baby may be affected by the chemical exposure. Read more>>
Ivy McAllister | LifeCoach

I absolutely love helping people. I love coaching developing and mentoring. I realized I was comfortable in this position and people were receptive. Read more>>
Zende | Rapper, Producer, and Songwriter
For starters I'm still trying to figure things out right now, Whether it's a label , clothing line, online businesses, etc. Honestly starting my own business was harder than I thought it'd be. Not that I thought it was necessarily going to be easy, There's just so much that goes into like marketing, budgeting, advertising. I knew what I wanted to do It was just a matter of putting all the pieces together. Read more>>