Risk & Reward: can you have one without the other?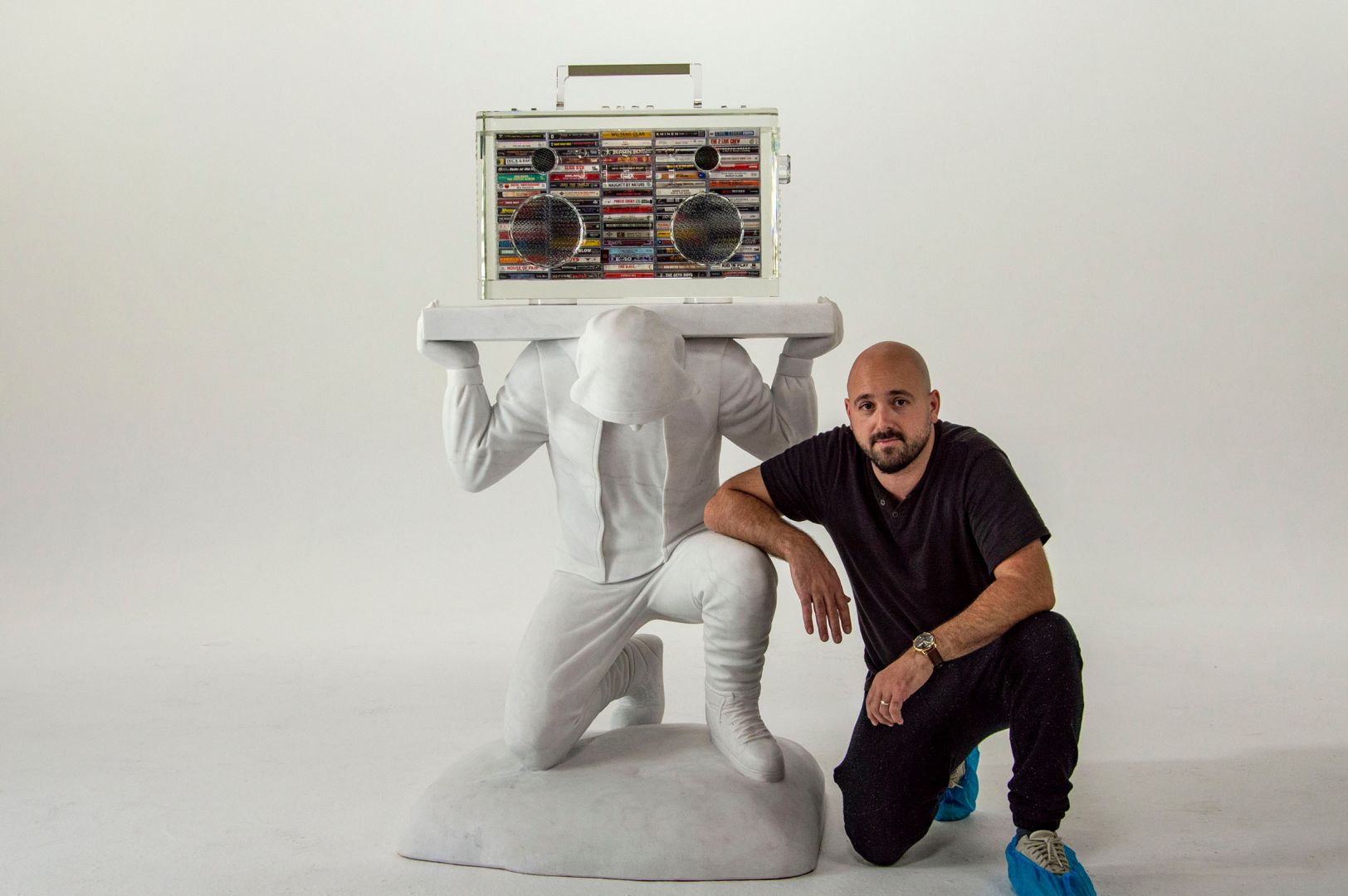 By far, the topic that comes up most in our conversations with entrepreneurs and creatives is risk. We've had conversations about risks that worked out and risks that did not. We've seen eyes light eye sharing about career-trajectory changing risks as well as folks sigh about the risks they wish they had taken. Below, we've selected and shared some of those thoughtful conversations.
Maggie Hudson | Bungee Fitness & Aerial Silks Instructor

Taking risks has been a big part of my life. I would rather take a risk and fail than wondering for the rest of my life "what if". I have been living my life chasing my dreams and that has involved taking lots of risks and overcoming fears. One of my dreams was to live in the USA, so at age 24 I found a job as an au-pair and moved here from Germany. My degree is in Business Administration, but an office job was not for me, so in 1992 I got certified and started my own business as a personal fitness trainer. I was one of the first trainers to travel to client's homes and ended up with 8 trainers working for me. Fit2Fly started when I could not find a bungee fitness class in Atlanta. I had taken a class in New York and loved it. I earned my teacher certification and invested in the equipment to start my own business. Another childhood dream of mine was performing in the Circus. At age 50, I started taking aerial silks lessons and for the last few years I have been performing at festivals and events. I genuinely believe that "Life is on the other side of fear". Read more>>
Leslie Topps | Entertainment Publicist

I think taking risks is a valuable part of establishing yourself on a new platform. I'm a believer of "how will you know if you don't try?"I also believe making wise risks choices are important. You want to think things through and have a plan. I took a risk by leaving a radio job and moving to another city where I had no connections. But I also had a plan to network, volunteer and align myself in an environment where I could get the things I needed to reach a goal. Read more>
Theresa Bostic | Theresa Bostic/Co-Founder Kayla's Italian Ice

Born and raised in Queens, New York taking risk was natural to me. I started several businesses over the years and some of the outcomes have been good and bad but playing it safe, has never elevated me at all. My children have watched me maintained our household bills but always had side money to try something new. So when my youngest daughter Kayla Annalicia Brooks inquired about starting a business, I was delighted to entertain her idea. I never put expectations on my children. I have allowed them to curate and develop their own talents, career and ideas over time. I indulge myself in each of their projects whether they succeed or fail. Read more>>
Sasha Hurtad | Singer-Songwriter

I really feel like the music industry and life is all about taking risks, about making decisions without necessarily knowing the outcome. We can only hope for the best, but never really know the outcome until it's all said and done. Taking risks has played a significant role in my life. Deciding to be homeschooled all of my high school years to focus on my career was a risk. You only get to be a high schooler once. Although I didn't get the typical teenage high school experience, it's a risk I decided to take, and now I wouldn't change it for the world. Because I took the risk to focus on my career, it lead to one of the best opportunities I've gotten to be apart of. I got to compete on season three of American Idol where I placed top sixty. Auditioning for American Idol was even a risk. I was fifteen when I auditioned, so the thought of standing in front of three celebrity judges and performing was absolutely terrifying. Read more>>
Tasha Carter | Real Estate Broker

Results are a direct reflection of every decision made. Before that decision is made, one has to determine what the risks involved will be. In both my personal life and career, I find myself taking risks all the time. Whether it be how to handle negotiations of a sales contract, or allowing my children to add another sport to their extra curricular activity schedules. We have all heard the saying, where there is no risk, there is no reward. Now, I am not advising anyone to just take uncalculated risks, but I AM telling everyone to let go of fear, figure it out, and then just simply do it. Even if you fail, you will know how to do things right the next time. Read more>>
Britney Douglass | Master Herbalist

Risk implies uncertainty and most times its attached to fear. I feel that when it comes to risk you have two sets of people: faith based and safe based. People like to attribute it to your upbringing, what your sign is, education, or sometimes its just complacency. But in short taking a risk at some point is a must and will always teach you a lesson. For years, I had a dream of starting my business and pouring fun healthy natural healing into the people BUT I would not take the risk in the beginning. I had every excuse for myself then: do more research, save more money, find a building, wait a little longer, find your followers. As you see I had all the reasons why I shouldn't but couldn't encourage myself to just do it. Last year, something in me said, "girl shutup and just try". I decided that day to take the risk and start. Now here I am building my business that started with barely no money, and I'm helping people recover from COVID, get pregnant after miscarriages, regulate their diabetes, regulate their hormones, and Get Their Health Up in general. Read more>>
Folabomi Oyewo | Freelance Model, Small Business Owner & Website Designer

I believe that taking risks is one of life's greatest pleasures, the fact that we can take a different route or forge our own is absolutely liberating. The downside is not all risks go as planned but there is never regret depending on how you look at it. Starting freelance modeling was the first step I took to creating my own path, growing up I had a lot of insecurities weighing me down, for me it was beyond modeling, it was my personal and mental process to growing above my restrictive mindset. This then led me to connecting with other creative individuals and opened up an unexpected path to endless creative possibilities. During the pandemic, I decided to open up a vintage store – Orange Flower Vintage Shop- focusing on creating up-cycled and repurposed jewellery as well as supplying preloved clothing, the demand for the items I had created was not as much as I intended, but creating the jewellery was a way for me to express myself so I keep on doing it. Read more>>
KELS | Music Artist

I truly believe that with great risk comes great reward. With that mindset in the music industry, you also have to be prepared for the worst and mentally train yourself to tough out the criticism, rejection and games people play. Not everyone is going to love everything that you do- but at the end of the day you have to commit to your art. What I try to do is minimize risk by finding the people I know will resonate with my music so that it isn't a guessing game when I put something out. Any time I have taken a risk in my life or career it has worked out well for me- if I want it to work. For example, I have taken risks before like applying to law school and in the midst of applying realized it wasn't right for me because something in me was stuck on my music career. If in your heart you're 100% committed to something people will feel that authenticity and gravitate towards it. Read more>>
Amatielle Sativa | Recording Artist & Novelist

I believe risk should be minimalized into two categories with the focus on cause and effect. When taking risks you should be guided by a moral and ethical compass. Keep it legal. Read more>>
Kayla Brazile | Entrepreneur

I have a business called The Zen Lifestyle Company, LLC where I specialize in handcrafted self-care products such as soaps, candles, body scrubs, body butter, skincare, and more! So when I think about risks, I take into account that I am still a small business, so financial risks will take place often. Gratefully, I am still corporately employed which assists me in funding The Zen Lifestyle Company. I never think of risks as a negative because these are the same risks that will help me to elevate my business in the future. We are headed toward our second year of business in July of 2021! Building a foundation when you have a business takes a lot of risks, courage, and resiliency. I applaud all of the entrepreneurs out there big and small because this walk of life certainly is not for the weak-minded. Read more>>
David Schwartz | Designer + Artist

You can't win if you don't play. Risk is scary, a calculated risk is also scary but a lot better than just gambling. If you bet on yourself you're going to win no matter what because even when you fail, the lesson can be applied to breaking that barrier next time. Read more>>
Devona Boone | Author, Speaker and Domestic Violence Advocate

Taking a risk is activating your faith. Everything I've ever done I had to take a risk…Starting a nonprofit, going to school, starting a business and/or new job. Without the risk I would've never known how successful I would've been and I probably would have had many regrets thinking about the should of, could of, would of! Everything new requires a leap of faith and faith without works is dead. So inorder to succeed I believe in my vision first and then take the necessary steps required to achieve my vision. Even though I may not understand every step or how it's all going to come together. I believe that if God gave me the vision as long as I'm obedient and take the risk he'll equip me with everything I need to accomplish that which I set out to do. Read more>>
Alonzo Anderson | Risk Consultant & Insurance Agent.

Risk comes with the chance of loss. However, it also comes with the chance of reward and that is what makes it so exciting. Very little in this world comes easy so, we have to take risks in order to push ourselves beyond our limits. I have always been a risk taker, measured in my approach but, unafraid of the probability. Thus, the role that it has played in my life is pretty significant. I see my goal, measure it, educate myself, evaluate the risk, go for it and let the chips fall where they may. Sometimes it works, sometimes it doesn't but nothing beats failure but a try. Read more>>
Kenon Prevo | Celebrity Chef

I feel like if you're not willing to take risks then you're not willing to go for what it is you really want to do with your life. Like if ALL about taking risks and we will never know what we're capable of if we don't test the waters every now and then. Take that leap of faith! Get out there! Do you! Take risks whenever you get the chance. Just don't do nothing crazy!. Read more>>
Riahna S. Edwards, MS | Entrepreneur | Business Manager | Entertainer Impresario | Inspirational Speaker

The Scottish philosopher, Thomas Carlyle, once said "Permanence, perseverance and persistence in spite of all obstacles… that in all things distinguishes the strong soul from the weak." This quote signifies my journey. My assiduousness guided my yearning for success in redefining excellence. Risks are inevitable in life. Life is not peaches and cream; if it was then everyone would be living their best lives. Risks are part of growth, change, elevation, and transformation along everyone's journey. Risks, challenges, obstacles, pressure, and experiences build character. We are here to make positive impacts on society and the younger generations, and most importantly, ourselves. Significance and influence is how we prevail. Often, we are our own biggest critics simply because we are afraid of the unknown, failure, deception, betrayal, and disappointment. Without risks, we can not reach our fullest potential. Read more>>
Kendrick King | Photographer

When you are scared to take risk, you are taking away what life is really about! I have been taking risk all of my life but, I would say my biggest risk was coming to college. I had no plan, no money but I knew I had to do something with my life so, I told my mom and aunt that I wanted to try my hand at college so, they did everything in their power to help me and it worked out. With my career, the risk I took was spending my entire refund check on a camera; I had no idea how beneficial it was going to be years later. Yes, I took plenty of losses with those risk as well. When I was in college I had to stay with my cousin John for a little, I had to walk to work, and I didn't get accepted to college right away. I had to go through an entry program to even get into Valdosta State. With my career their would be so many days I would be so depressed because nothing was working out. With me knowing the risk I was taking with every decision I've ever made I knew I couldn't just quit. I had to go through my journey and in the end the risk that I took changed my life for the better. Read more>>
DeSheria Holliday | Chandler – Soy Candle Maker

In everyday life, you have to take risk. I grew up in a two parent household where my parents made it their goal to ensure my siblings and I lived a life that they didn't have. I watched my parents both work tirelessly for corporate America to finally retire and provide the life they said they would for their family. I would say, my parents were more calculated risk takers. Always weighting the pros and cons of the risk before they took that leap. Sometimes those decisions worked out or made them miss out on opportunities. Growing up, watching my parents be more calculated in their risks, instilled those same qualities into me. It wasn't until two years ago that I thought I'd do something different, something that I haven't really seen much happen in my family, start my own business. If you asked me 5 years ago if I thought I would be the owner of a Luxury Candle Line, I would have told you "Absolutely Not!". It was my determination to succeed and do what made me happy that pushed me to take this risk. Eight months into business, I can say, this decision I made to bet on myself has led to a challenging, yet rewarding journey. Read more>>
Imani Byers | Full Spectrum Birthkeeper & Mental Health Professional

I think taking risks is essential in becoming a successful business owner and brand. You never know what you don't try! Had I not taking a chance on myself and what I envisioned Rebyrth Wellness to become, I would probably still be working a 9-5 that was no longer serving me and filled with resentment and regret. When I made the decision (after much prayer and conversations with mentors and other wise counsel) to quit my full time job to pursue what was at the time my dream full time, I was releasing control of my situation and put all my faith and trust in The Most High and the vision that was birthed inside of me-now the rest is history. Taking that risk helped me to live up to my name and show myself that I can really do anything I set my intentions on-and that has been the most humbling experience thus far on my journey. Read more>>
Christina Danielle Wilson | Actor, Director, Writer, Child Acting Coach & Business Owner

I feel like this is the main question people love to ask entrepreneurs and I love it lol Before I took a huge life risk for the betterment of my creativity and business I used to think to myself "I don't know what risk i'm supposed to take" It wasn't until I got sick and tired of working just to pay bills and not having any happiness in my life that I realized what risk I needed to take. For me, it was quitting my job and pursuing my acting career and other creative endeavors full time. Let me be clear: This isn't everybody's risk! For some people the risk is accepting a new job, for some it's investing into a new class, for some its writing your first business plan. A risk doesn't have to be drastic and life changing and I think that's where most people make the mistake of thinking they've never risked anything for their dreams. In my case.. My risk was definitely life changing lol Quitting my job was scary as hell but for me, working 40+ hours at 24 was even scarier. It's crazy though because once I took that risk, things slowly started falling into place. Read more>>
Dr. Naè Thompson | Founding Principle & Sr. Publicist

Successful entrepreneurship involves taking risks. If you don't embrace risk-taking, you may want to rethink being a business owner… Taking risks although necessary, does not mean going into business blindly and then expecting great results. Risks in entrepreneurship involves calculated, strategic planning, implementation and hard work. As a CEO I don't want to look back when I'm older and wonder if things could have went another way. I refuse to regret having tried this or that– I know that failure is a part of my growth process, and a really great learning tool. I also know the one thing I might regret is not ever having tried; that would absolutely haunt me every day. Read more>>
Morgan Rogers | Entrepreneur, Makeup Artist, and Influencer

Growing up I realized there are people in roles or positions where others may see them as unfit or unqualified. Although they may have been, in order to get where they were, they took a risk. I knew I wanted to be someone who uplifted and inspired others, but couldn't figure out my path. When I launched my business in 2019, I took a risk not only on myself but on every talent I'd withheld. I took a risk in becoming an entrepreneur, and every day that followed. Being a risk taker has forced me to increase my work ethic, expand my resources and relationships, and more importantly, to be courageous. Do not allow your fears or doubts to derail you from your dreams. If you can think it, you can obtain it. Take the risk! Bet it all on yourself. Read more>>
Imani Henderson – Thomas | Founder & Social Media Strategist

One thing that I learned about risk over the years is that you need to take calculated risks. Do what is best for you but do what is smart. Make a realistic plan and stick to it. Stay ready so you don't have to get ready. Read more>>
Brendan Abernathy | Songwriter and Performing Artist

For most of my life, I always took the next right step – middle school to high school, high school to college, and in college taking the right classes and being in the right organizations. But when I was about to graduate, I felt discontent with "the next right step." Yet what I wanted to do required risking my comfort, my reputation, and my lifestyle. So I decided to become an artist to impact individuals and write music that made people feel seen. For the first months, I found myself walking into houses having no idea what I was doing but telling people "I play house shows," and at times playing street music to make the $12 necessary to buy enough pizza to cover 4 meals. Instead of moving to Nasvhille or LA and taking a job with a paycheck, I couch-surfed and played shows. I had (and still have) no steady income, no guarantee of any more shows, and no promise of anything tomorrow. Because I knew, if I left myself no backup option, and made my risks as daunting as possible, I would be left with no choice but to create meaningful and experience-based art. Read more>>
Sabriyah Richardson | Self- Published Author

I think taking risks is a very big part of life! I think we miss out on a lot of potentially very big, fun, remarkable events and moments in life when we are afraid of taking healthy risks. Now while not all risks are reasonable or productive risks, as a whole most risks we take teach us something whether it is good or bad. Taking a risk is what even made my book possible. In my own personal work and career I came across a couple of decisions that could be considered a risk, even the actual topic of my book since it is so touchy was a risk. I wouldn't trade any of the risks I have taken in my life in general, because they lead to experiences, memories, triumphs and results I wouldn't trade for the world. What is life without risk? death. Read more>>
Kendrick Scar | Author & Radiology Student

I believe that risks are the foundation of character. You can live every day doing the same thing and sustain life. . . but to live as you, is to take risks in the things you never would have thought you could possibly do. Taking that extra step has gotten me past my expectations every time. It has never failed me, why? Because I pushed myself to a limit I never reached, only furthering my mental capacity. I realized that even in the smallest gestures of a conversation a major change can happen in the blink of an eye. Read more>>
Phylicia Franklin | Photographer & Multi-City Pop-up Coordinator

Taking risks can definitely be challenging and nerve-wrecking, however it has aided in my growth. From relocating to a new city, leaving friends and family behind, to turning my hobby of photography into a business and most recently hosting multi-city pop up events in which I collaborate with local businesses to showcase and sell their products/services—- those have all been risks. All of these steps went hand in hand with my lateral/vertical growth, one risk supported another venture. Thankfully, throughout my journey I have experienced many rewards, gained meaningful connections, yet also teachable moments that birthed valuable lessons. Without risks from time to time, we may neglect a to tap into a side of ourselves that we may have failed to recognize. Read more>>
Yahir & Gio Carbajal | CEO's of Box Boys

Risks are the one of the things we value most in life. Without taking them, we doubt we'd see the results we have now and because of that it has made us okay to take more and more risks by the day. One thing we live by is reminding ourselves and people around us that we will eventually die no matter what, so why not take huge risks? We literally have nothing to lose since life comes to an end. So take the risks and watch your life change in the most surreal way. Read more>>
Javonne Ladonna | Creative designer/stylist

I think that risk taking is important in life, I feel that it can be very impactful towards growth, especially if that means walking out on faith and trusting God to lead you the rest of the way. Last year I decided to quit my job after having a long talk with God, with his permission I decided to walk out on faith and pursue entrepreneurship full-time, all in all it was one of the best decisions I've made for myself. I lived minimally since I was living off savings, which was an experience in itself, it made me even more resourceful and appreciative. I directed the same 40 hours that would go into my 9-5 into my businesses, focusing on what I could do now that I had the time. I can't say in turn that the decision was financially favorable, but I took so much from the experience and I am so grateful that I did it. I came back with an even clearer vision for what I wanted to do with my businesses. God made sure that I was protected and that I had everything that I needed. Read more>>
RAZZAMOORE | Musical Artist

I think risk taking is a must. You have to take chances to revive a greater outcome!!! If you just sit and don't try you will never succeed, and be stuck with the what if thoughts.Risk taking played a major factor in my Role. Because I took the risk and invested into myself I'm on my way to becoming one of the greatest entertainers and influencer in the world!!!. Read more>>
Siobhan Park | Digital Marketing Manager

Since I started my career in digital marketing, I took a lot of risks on start-ups. I've always been drawn to the environment and culture of start-ups but they can come with incredible risks – even as an employee. You risk below-market pay, poor job security, minimal if any, benefits – all things that can be huge financial risks. Not to mention the strain it can place on your mental health. I bounced around from start-up to start-up trying to find that unicorn company that could actually execute on its mission and values. It cost me a lot. I worked in roles where I wasn't paid on time or had to be laid off, then spent weeks worrying if I was going to be able to pay my rent. But I luckily found the company where I'm at today and have gained so much. I'm not even 30 years old and I'm on the leadership team directly involved in growing a company and creating a culture where employees want to come to work. I'm on track for roles that wouldn't have been possible for me for many, many years. While the risks I took certainly impacted me negatively, I wouldn't change it for anything. Read more>>