Meet Zeus Luby: Parental Coach/Life Coach/Motivational Speaker/Mentor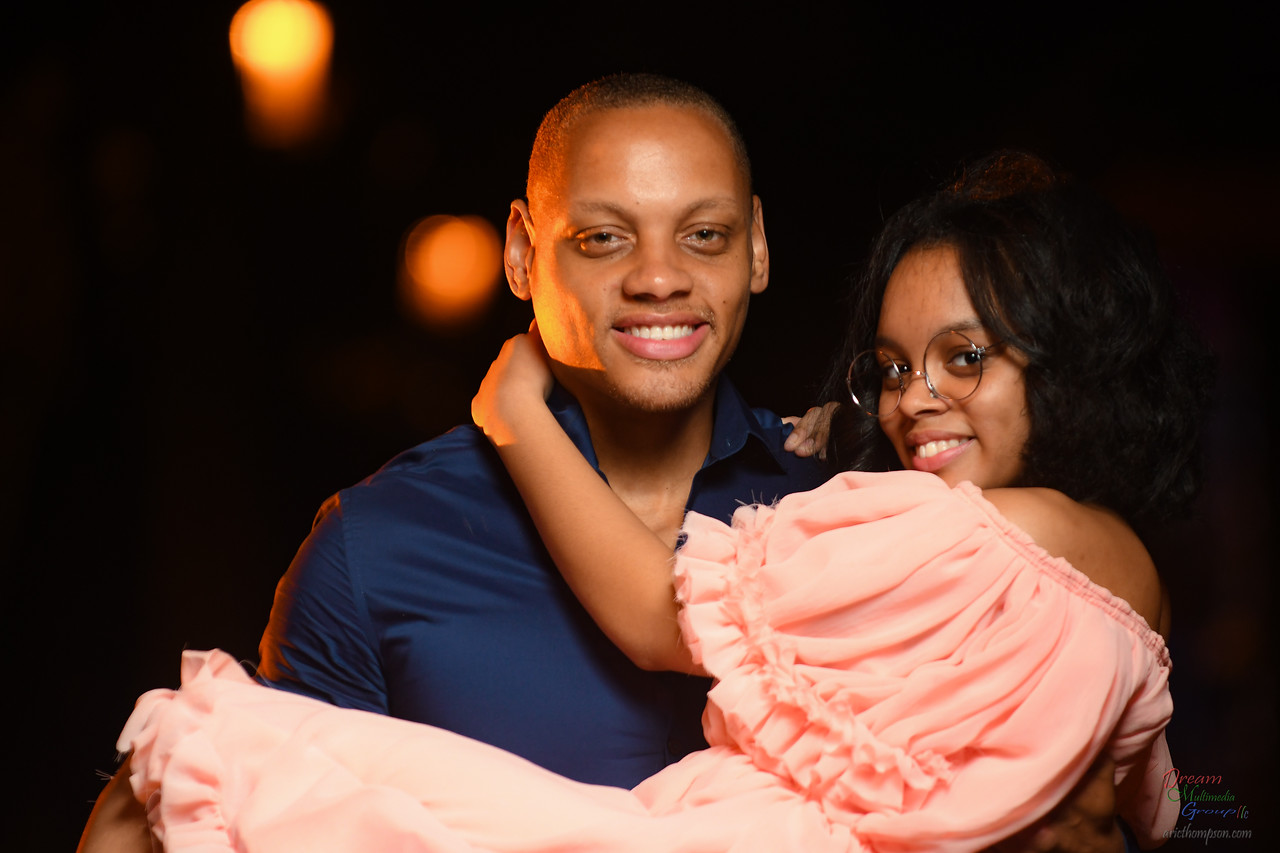 We had the good fortune of connecting with Zeus Luby and we've shared our conversation below.
Hi Zeus, as a parent, what do you feel is the most meaningful thing you've done for your children?
The most important thing I've done as a parent, as a father, is fight for my daughter. Just before my her 5th birthday she was withheld from me by her mother. At the time my daughter had been living with me for 3 years and only visiting her mother a few days out of each month. I'd never spent more than a week away from my babygirl. So when her mother refused to return her to me after a routine visit I took immediate action. Which introduced me to a devastating reality in learning how imbalanced the family court system is. I was forced to lawyer up and start a custody battle. It took 2 months for me to see my daughter again. Though I was overjoyed to have her back, her return marked the beginning of a grueling 16 month custody battle that crippled me financially and nearly broke me emotionally. Despite the hell my daughter, my family, and I all suffered through, I ultimately won full custody. That was in 2010. And due to poor decisions my daughter's mother made after the case concluded, she hasn't been legally allowed to see nor communicate with my daughter since. Having her mother removed from her life has been very difficult for her to process over the years, but the absence of that toxic parental component has been an incalculable blessing for her overall development. It's given us precious and uninterrupted time to cultivate an amazingly close bond. It's allowed me to pour into her and guide her down an exceptional path, free from the tug-of-war of the imbalanced co-parenting she endured in her earliest years. She's happy, healthy, and well adjusted. Therefore, my decision to fight for my princess with every penny and every ounce of strength I could muster, is by far the most important and most impactful thing I've ever done as a parent.
Can you open up a bit about your work and career? We're big fans and we'd love for our community to learn more about your work.
I operate as Parental Coach, a Life Coach, a Motivational Speaker, and a Mentor. What sets me apart in all those arenas is my unique journey and the collaboration of experiences that have shaped me and informed my perspective. That multidimensional perspective that I lead with is what I'm most proud of. It allows me to use my past hardships to help others avoid or effectively work through similar challenges. It's exciting to become someone's trusted ally and assist them on their journey through life. My rise in these varying professional arenas came from helping people in need over the years. I've had a passion for lending aid to my fellow man as far back as I can remember. It's been with me since I was a young child. I began studying people and psychology in my elementary years. I started with learning and understanding myself. From there I set out to understand others. What are the fundamental human psychological mechanics that rule us all? These studies coupled with personal interactions and experiences helped me gain a comprehensive understanding of "people". This understanding was reflected in the advice and perspective I'd give to family, friends, colleagues. I gradually developed a reputation for helping others sort through their problems and motivating them to make better choices. That led to invites to speak at various events, offers to help run nonprofit programs, and mentorship requests. It was all very organic. The most difficult aspect of my professional journey is the time it took to slowly build my credibility. It takes a great deal of patience to prove your effectiveness and the authenticity of your motivation. That's one of the most important lessons I've learned along the way. That also ties into what I want the world to know about me and the work that I do. My ultimate goal is to be a global force of positive influence. And with that pursuit will come detractors and skeptics. I've been walking the same selfless path my entire life, so I invite research into my character, my history. This is me at my core through every phase of my life. And I think that's the most powerful aspect of my brand and my path..
Any places to eat or things to do that you can share with our readers? If they have a friend visiting town, what are some spots they could take them to?
I'm a fitness buff but I'm also a big time foodie. So we'd start at the Atlanta Breakfast Club off Ivan Allen Blvd. They've got a phenomenal brunch menu and the staff is top tier. We'd head to Stone Mountain Park to get 5 mile run around the base. Then we'd hike to the top, enjoy the beautiful view, and jog on the way down. Definitely have to swing by Roc South Cuisine on Buford. Great ambiance, great food, and I love the culinary creativity of the menu. For a little excitement we can check out the Netherworld Escape Rooms. These are the most elaborate and interactive escape rooms I've experienced to date. Gotta make a trip to S & P Hot Pot Restaurant & Jerk Center in Lilburn. The food is amazing! And it feels like home when you're dining in. Lastly, we've gotta indulge just a little. So we'll make a couple trips to Double Scoop Ice Cream at Stonecrest. I'm a big ice cream and Italian ice fan so I've been to a lot of places, but Double Scoop is the best. They've got more flavors than I've ever seen and their products are premium quality. My daughter and I are regulars. Lol.
Shoutout is all about shouting out others who you feel deserve additional recognition and exposure. Who would you like to shoutout?
First on the list is definitely my mother. Lavetta Harley. Through her love for me and others she taught me the most potent and important form of love. She showed me how to love selflessly. And that caliber of love is difficult for many to truly cultivate and put into action because when it's all said and done, most of us prioritize our needs and desires above all else. That selfless love my mother helped instill in me is what fueled me in my fight for my daughter. I didn't care about my happiness, my comfort, my bank account, my stress, my heartache, or my pain. I was willing to lose and give up everything to get my daughter out of the dangerous environments and away from the corrosive influence of her mother. Upon our initial separation, my daughter's mother threatened to leave the state with her and move to Illinois or Michigan with her family. She expressed that she didn't want to see me give another woman everything I gave her, so she was taking "her" child and leaving. I pleaded with her to reconsider. With that possibility on the table I informed my family that if she left with my daughter I was leaving as well. I told them I'd follow her wherever she went. I'd sleep in my car and work at a McDonald's until I had enough money to get a place. I wouldn't allow my daughter to grow up without me. I'd do whatever I needed to be close to my babygirl. I also have to give immeasurable thanks to my attorney Randie Siegel. She fought for my daughter and I like we were her own flesh and blood. She's like a second mother to me. During the custody battle I ran out of money and my debt ballooned to over 11K. During our consultation she made it clear that she'd pull out of the case if I got more than 5K behind one my payments. But as the case progressed, we got closer, and she saw how much I loved my baby and how hard I was fighting for her, she continued fighting for us. After we won I thanked her profusely and promised I'd lay her back. She excused my debt and told me my payment to her would be taking good care of my daughter. I truly love that woman. Finally, I have to extend a very special thanks to my dear friend Jasmin Theard. Near the conclusion of the custody battle there was a pivotal point where the judge mandated that my daughter's mother and I take her in for 2 sessions with a court appointed child therapist. There'd been so many conflicting stories told, the judge couldn't filter through them to see which of us was telling the truth. The sessions were $370 per. At the time I was broke and over 5K in debt with my attorney, so when the judge made this demand I was incensed. I had no way to come up with the funds. A few days later my attorney let me know that someone paid the $700, but she refused for tell me who. I took my daughter in before her mother had the chance to. This eliminated the possibility of her manipulating my daughter and the therapist. The subsequent revelations that came from my daughter's sessions changed the tide of the case and ultimately aided me in winning custody. I later learned it was Jasmin who paid the $700.
Instagram: https://instagram.com/zeusluby?igshid=14kfcgycxd13o
Linkedin: http://linkedin.com/in/zeus-luby-483b6038
Facebook: https://www.facebook.com/zeus.luby
Youtube: https://www.youtube.com/channel/UCbKcEXmY07chDyeNK64GzoQ