Meet Shelley Helms Fleishman | Artist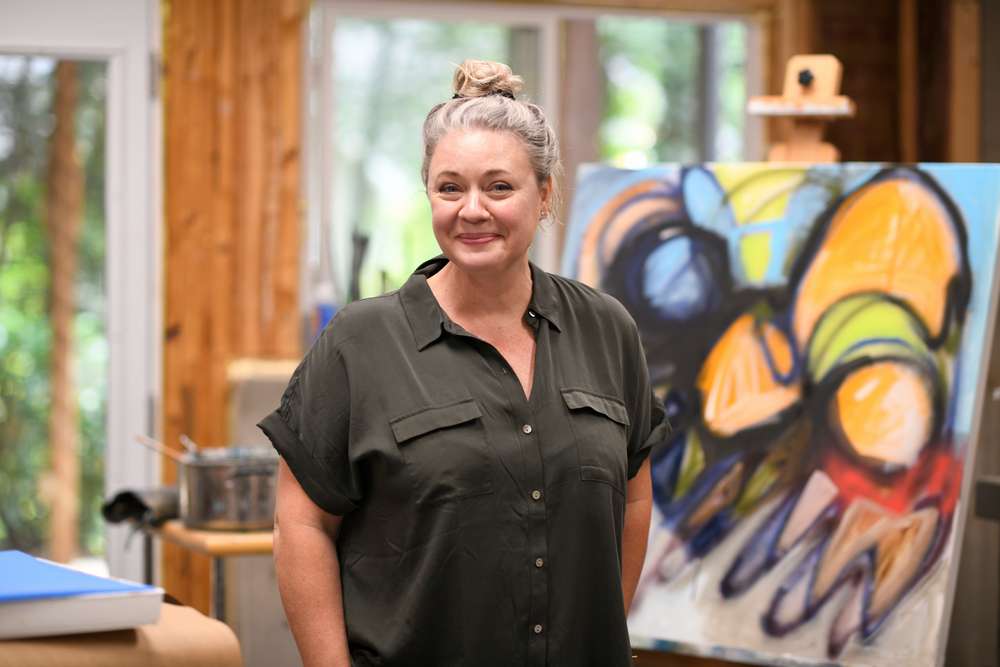 We had the good fortune of connecting with Shelley Helms Fleishman and we've shared our conversation below.
Hi Shelley, how do you think about risk?
I am not, by nature, a risk taker. On one level, I am a rule-follower, a pleaser, a good girl. However, on a deeper level, I've long had an allegiance to do exactly what I wanted to do. Some of my risks were small — wearing a vintage dress to prom, to graduation — and some were bigger. When I quit my "good" job in IT to pursue an MFA, that felt risky.
If anything, art making has taught me to be better at taking risks. A certain level of fearlessness is a requirement. I've had to cultivate a readiness to sacrifice favorite sections in the name of editing, sometimes muttering "Be brave!" out loud as a reminder to myself. I've gotten better at making the leap. I might even have become a little addicted to the thrill of jumping into a stalled painting and recklessly obliterating a focal point (or whole painting!) that isn't working.
I think I've also gotten a little better at taking risks as I've gotten older. I want to make sure I've made the most of my opportunities. Although it has taken me longer than most to recognize some of my talents, I don't want to short-sell myself. I'm capable. I'm more than capable. I want my kids to see me do things that are important to me. I want them to see me fail and still try.
Ultimately, I've found that my growth is directly correlated with the number and size of the risks I take. Every time I start a new series, take a challenging commission, or apply for a big show, something changes. Change is the goal, even when it is uncomfortable — maybe especially when it is uncomfortable. Except that prom dress; it was actually really comfortable.
Let's talk shop? Tell us more about your career, what can you share with our community?
I am mostly an encaustic and mixed media artist.
There aren't too many encaustic artists, so that alone makes my work somewhat unusual. I make my own medium from beeswax and damar resin and I always use some local beeswax to make it even more personal: I like the idea that it is somehow tied to this time and place. I mix my colors with earth pigments and fuse the layers of pigmented medium with a blow torch. The medium itself is very archival and it accepts all kind of other materials really well: papers, fabrics, oil paint, charcoal, pan pastels, etc. So it is an endless experiment. Each batch of medium has its own personality. Each pigment blends differently, Some elements float and some sink. It's really a continually interesting process. I don't necessarily control all the elements; experience just sort of guides me to know what it might do.
I'm very much inspired by materials. When I went "pro" it was as a mixed media artist. I use acrylic based products — inks, paints, gel medium — to color and incorporated other materials. I love to make "visual poetry" pieces where the found items contribute to the message of the piece. If it is a commission, often the collector brings me boxes of memorabilia to make into something they can enjoy. I've made huge trees and little portraits from things like childhood artwork, copies of birth certificates, travel brochures, and foreign currency. I've also included sly nods of humor or political commentary in my own pieces, which often just look like pretty flowers.
My challenge has always been presenting a cohesive body of work. Since I work in different mediums, it is sometimes difficult to reconcile the differences in my series. However, my strokes are the same, My palette is pretty similar. If you pay attention, the way the work moves is very me. I organize my website by material, but sometimes a series crosses lines. Right now, I have an oil abstract, several small encaustics, two little abstract landscapes, a figure, and a little textural piece on my "thinking wall" in the studio. They all are different, but they go together.
I think what holds those disparate pieces together is my background in poetry. I went to grad school to get a studio degree in poetry. It is what inspires the juxtaposition, the editing, the form, the obsession with texture and elements. Though I've become an artist, I've always called myself a poet. I just think that my poetry has changed form. It's still about layers, repetition, and finding the light.
Lately, I've been doing some big, graphic abstracts. And again, at first glance, they seem to be an aberration. However, they are also a construction of sorts. It is a challenge to see the madness of this past year or two and to make sense of it. This seems to be what this series is digesting. They start with a skeleton of graffiti and gain layers of acrylic paint and oil sticks, maybe some India ink or graphite. Gradually they become something colorful, almost primal. There seem to be horns and spines, but also ribs and curves. They are the bare bones of something I'm working out. These works share the structure of my previous abstracts, the dark lines of my mixed media flowers, the layering of colors from all my series. I'm excited to see where this next part of me goes and what this next collection will add to my body of work.
Let's say your best friend was visiting the area and you wanted to show them the best time ever. Where would you take them? Give us a little itinerary – say it was a week long trip, where would you eat, drink, visit, hang out, etc.
Oh wow. I'm mostly a home body. Especially now. But if I could show them all the things I wish I would get off my bum and do in Atlanta… I would start close to home. I live just outside the perimeter and we have some lovely little old suburban squares nearby that offer some delicious food, breezy outdoor venues, art galleries and great people watching. It makes for a wonderful low-key stroll, great for catching up. So lets do that first. If we are enjoying the Marietta Square, I'm a big fan of Two Birds Taphouse. I'm not a huge vegetable eater (though I try) and their vegetable board is the best I've ever tasted. Maybe we'll go to the cute little renovated gas station, The Third Door, for a cocktail and then wander. Of course we'd visit my art at Muse & Co. Fine Art.
Or maybe the Chattahoochee. I'm also really close to some gorgeous national parks. I am invigorated by the water and I'm kind of a dork about birds, so a nice long walk near the river would be wonderful. The Chattahoochee Nature Center and the nearby boardwalk or the Gold Branch Trail are always a crowd pleaser.
In town, I'd take them to see the Picasso and Calder exhibit at the HIgh Museum. If they are open to contemporary art, I'd take them to MINT and maybe the Hambidge Artlab. Of course, I really love the graffiti and other art available along the beltway. Tourists always love going to Ponce City Market, too. Unless they're from NYC, then they're all like "Chelsea Market, blah, blah…"
Regardless of where they are from, I'd take them to an Atlanta United game. I just think they are so fun. I've mostly learned soccer from watching my daughter play, so there are some holes in my knowledge, but you really don't need to know the ins and outs of the game to have a blast. And our Best Time Ever has an unlimited budget, right?!
One of my favorite places to take the kids is on a food field trip on Buford Highway. We love going to the International Farmers Market or H Mart. We try all kinds of exotic things and the produce is amazing. Then maybe we could go to the Kura Revolving Sushi Bar. That's always a blast. I haven't had dim sum in a while, but I don't have a go to place for that. I'd have to research. My son will try anything. My daughter… not so much. This mystery visitor would have to be an adventurous eater.
Feel like we should include a little history. I've always wanted to go on a walking tour of Inman Park. I don't know much about Auburn Avenue. There's a bakery there that I've been wanting to try. I also want to try Slutty Vegan, even though I'm not vegan. I guess I'm not slutty either, although there might be opinions on that. The Westside has exploded. Some great breweries and such. And we could visit more art of mine at Scott and Sons, aka Gallery 23 Ten. Aaaand my history turned into food and art…
What else? Braves game? Piedmont Park? I am honestly up for doing maybe two or three of those things in a week with a guest. I'll cook a full, semi-fancy dinner at home. We'll sit out on the screened porch with a drink and we'll laugh and catch up. And we'll do it again in the morning with coffee and sweet rolls. And I'm good with that.
Who else deserves some credit and recognition?
So many. I value my friends, my gym friends from years ago. They were a super supportive community and encouraged me to show my work at markets when I was a young mom. My brother, Allen, has his own business. I remember having a lunch with him a few years ago when I was really at a crossroads about what I could do, really wanted to do. I had so many ideas. He helped me flesh out some options. My husband, of course, talks me up, goes with me to art shows, helps me through the rollercoaster. My parents encouraged a love for art and sent me to many, many art classes and camps. And now I really love my artist community of local and instagram artists. As a whole it is an uplifting group, willing to share information and experience to help others. Thank you, all.
Website: HTTPS://www.SHFstudio.net
Instagram: @SHF_studio
Facebook: SHF Studio
Other: HTTPS://www.artworkarchive.com/profile/shf_studio
Image Credits
Becki Madsen Photography
Nominate Someone:
 ShoutoutAtlanta is built on recommendations and shoutouts from the community; it's how we uncover hidden gems, so if you or someone you know deserves recognition please let us know 
here.