Meet Sanaz Haghani: Visual Artist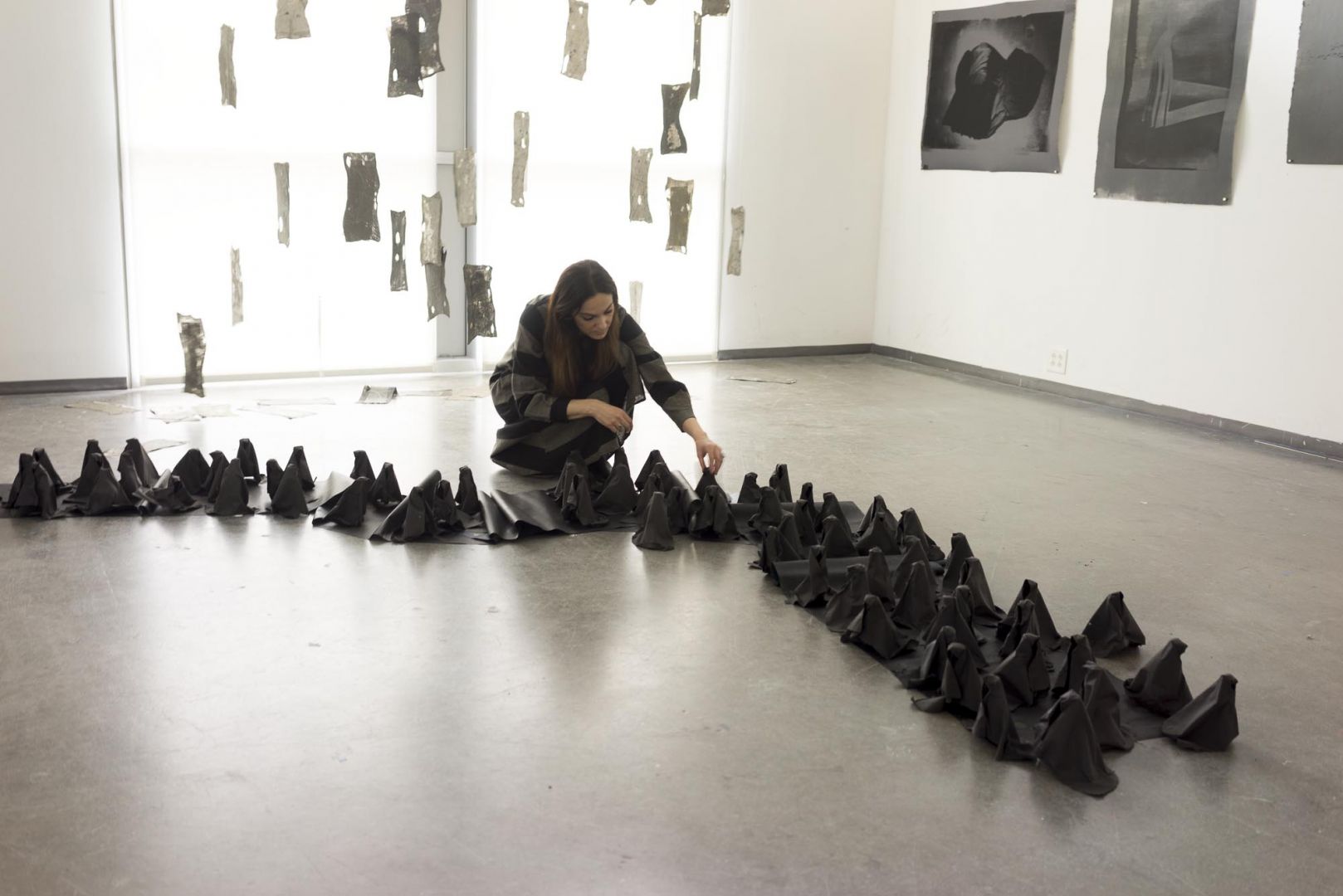 We had the good fortune of connecting with Sanaz Haghani and we've shared our conversation below.
Hi Sanaz, how has your background shaped the person you are today?
I am an Iranian artist living in Athens, Georgia. I grew up in Iran and became interested in painting and drawing when I was a little girl. I have also had a great interest in storytelling since I was a child. As a woman who lived in a patriarchal society and having witnessed the harsh treatment of women every day, I felt a heavy shadow over myself that played a key role in shaping my identity. I wanted to influence people through my art. I am looking to answer one question: how can I enjoy or notice all the wonderful moments in my life when I am surrounded by a patriarchal society? My society made me think about my gender as a weak, sexual object, devoid of human dignity. Perhaps my work is a documentary about women who willingly or unwillingly, have been influenced by certain beliefs, traditions, and strict rules. Now as an artist, I can see the presence of the characteristics of women I have heard about or seen in my society since I was a little girl. In my work, the presence of women is always associated. This presence can be expressed as a portrait, a form, or a figurative image. As an immigrant artist, talking about the culture and the land I came from brings me closer to where I belong to. As is so obvious in the content of my work, the society in which I grew up has played a big role in my life today, and surely the society that I live in now will have a huge impact on my future. This is inevitably how we adapt to the dominant values of our society.
Can you open up a bit about your work and career? We're big fans and we'd love for our community to learn more about your work.
My work takes a general look at the status of women in Iran, and at the same time, some of my works become a little more precise and express some of the beliefs, everyday conversations, and motifs embedded in Iranian culture. There are two different perspectives in my works: a critical view of the society that I grew up in, and a praiseworthy view of some of the daily lives of the women in the region. My works are a combination of abstract forms and figurative photography of women using a wide range of materials such as fabric, paper, wood, different printmaking, and papermaking techniques, and installation. Floating forms and mysterious and twisted backgrounds indicate a general picture of a woman who has grown up in this patriarchal society and is always struggling with the social and cultural dichotomies of her world. On one hand, this world is moving forward, and women have more rights. On the other hand, the prevailing culture in this country is hindering the progress of women and girls in some areas. This dichotomy, of course, has its advantages and disadvantages. Black is the main color in many of my works. This color is inspired by the black color of the "chador"- a fabric that has been used as a cover for women in different historical periods over past centuries. As an international artist who is trying to introduce her own culture, it has been a huge challenge for me to talk about a subject that is not very familiar to the audience. This challenge has pushed me to dig deeply into my own culture's roots. Reading and writing in two different languages, recording my thoughts, struggling with word choices, and describing my images and experiences has opened many new perspectives for me. Using two complex languages that do not always equate and researching in the two different literature to convey the concepts of my mind has created a contrast that fuels my creativity. My gender, my immigration, and my life as an artist in today's unpredictable world have been pinned to the corners of my work. My work is perhaps my question to contemporary society, many questions that have left me with unfinished answers. My work is the contrived questions of my mind, borrowing well-known motifs from the society in which I grew up, the forms derived from the culture of women's lives in Iranian society.
Any places to eat or things to do that you can share with our readers? If they have a friend visiting town, what are some spots they could take them to?
I want to go back to our lives before the pandemic when we could socialize without any fear of making people sick or getting sick. I live in Athens, so we would plan a two-day trip to Atlanta. We would go to the High Museum of Art to explore the permanent collections and special exhibitions. We would definitely pay a visit to The Museum of Contemporary Art of Georgia. We'd go to the Swan House art gallery. The building is surrounded by tall trees, which makes it a lovely place. They also have a nice, cozy restaurant, where I would like to spend some time with my friends. As a lover of Iranian food, I would go to Rumi's Kitchen to eat some kabab with my friends. We also would not miss the Whitespace Gallery and Atlanta Contemporary Art Center to have a look at more local artists' works. I also love nature! I love hiking and spending time in nature. We would go to Toccoa Falls to enjoy the weather and engage with nature. There are many more amazing places in and around Atlanta to visit, which I would recommend to my friends for their next trip.
Who else deserves some credit and recognition?
I personally have a large list of people, organizations, and communities that helped me throughout my professional and my personal life: the professors that I worked with through my undergraduate and graduate schools, my friends and family with their generosity and support, amazing artists that I worked or collaborated with, books and poems that I was inspired by. I could go on and talk about all the amazing and wonderful people in my life. As we know, artists achieve success through the assistance of others' practices and experiences, most importantly their support, and of course, awarded opportunities. As a woman who lived in a highly gender-biased society, with complicated and strictly observed rules, I want to say that there are two men who had the greatest impact on my life. One of them is my father, who was the person who encouraged me to be an artist, who was the one that realized my artistic talent when I was 13, and since then, he always asked me to find what I wanted in my life and to pursue my goals and dreams. As I grew up in a very traditional society, he has always been non-traditional, and he avoided putting cultural restrictions on me or my siblings, especially when it came to education and my career choice. Then, I got married, and my husband became my closest friend. His support, encouragement, and his love helped me to have more faith in myself. He is the one I always share my ideas and goals. He is the one who always pushes me to move forward when I have doubts. These two men helped me to understand more about my gender as a woman. They helped me to recognize my weaknesses and strengths. They helped me to view my life as a journey with right and wrong turns, hills, and valleys, a journey about my dreams. Who knows where this immigrant artist will end up? Am I going to be a "swallow," a swallow who will fly all around the world to hear more stories and see more women who are dancing and flying? Or will I become like a tree, settled down somewhere peacefully, and grow my roots to be strong and stalwart?
Website: http://sanazhaghani.com
Instagram: https://www.instagram.com/sanazhaghanin/
Linkedin: https://www.linkedin.com/in/sanaz-haghani-89647155/
Twitter: https://twitter.com/SanazHaghani
Facebook: https://www.facebook.com/sanaz.haghani.9
Image Credits
Personal Photo – Stephanie Sutton Image Photos – Shawn Campbell and Sanaz Haghani