Meet Naomi Harris: Comic Artist & Illustrator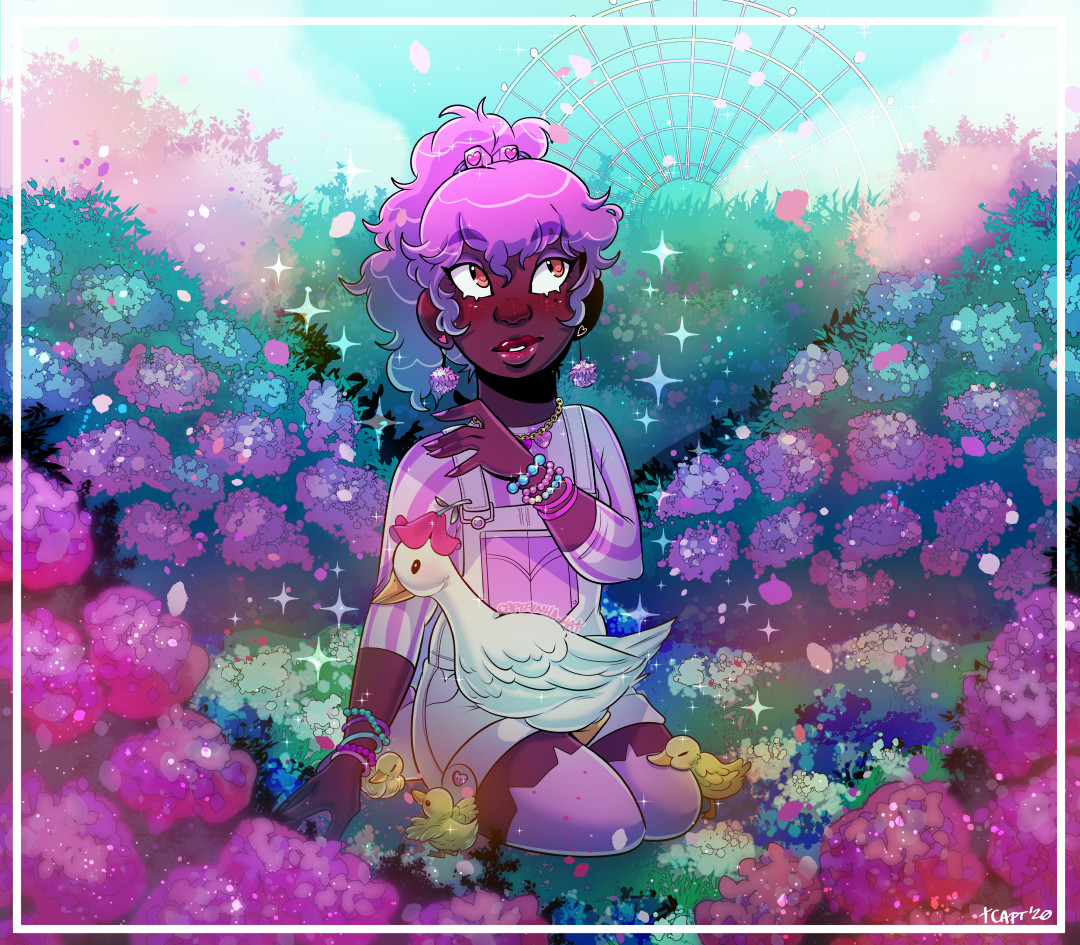 We had the good fortune of connecting with Naomi Harris and we've shared our conversation below.
Hi Naomi, can you share a quote or affirmation with us?
One of my favourite quotes is from Pixar's Ratatouille. "You must be imaginative, strong hearted. You must try things that may not work. And you must not let anyone define your limits because of where you come from. Your only limit is your soul." While in the movie they were referencing cooking, I'm a firm believer that this quote can be applied to any and all creative hobbies and careers. "You must be imaginative…" The older we get the less encouragement we receive to use our imagination, but creating anything in any form requires it. Artists make things up in their mind, and then manifest them onto a canvas, through sculpting, or pottery. Yes, using references when creating is important, but what makes something uniquely yours is using the elements of your imagination and experiences in life to create something only you could ever make. "…strong hearted." You've got to want to create, and keep creating. Visual art is not a necessity, and there will always be many people who don't understand it, but you have to have a strong heart to keep going if it's something you really want to do–especially if you want to make a career out of it. You have to believe in your craft. "You must try things that may not work." There's so many different ways to approach a piece of art, that you shouldn't always limit yourself to the same brushes, or the same colouring techniques. Even if a piece doesn't come out quite like you expect it to, learning something new with a drawing is still a success. Take the time to experiment and try new things. "You must not let anyone define your limits because of where you come from." Anyone can make art. Anyone can be a creative. You don't need the most expensive drawing tablet to get into digital art. You don't need the most expensive art supplies to start sketching. Don't let anyone stop you from creating if it's something you want to do. We all have a story to tell through our art, and whether you think you're not good enough, or the story's been told before, don't let that deter you. You have a unique perspective, style, and passion that no one else has. "Your only limit is your soul."

Let's talk shop? Tell us more about your career, what can you share with our community?
Two aspects of my art that I really cling to are story-telling and colour. Sometimes what motivates me to create a piece is just a colour palette I have in mind or a lighting effect I want to try. I feel like what draws people to works of art is a sense of familiarity, and because my style is more stylistic than realistic, I try to reach familiarity through my colour choices. Even if someone doesn't think they're the most creative or the most artistic, they know what their favourite colour is. They know what combination of colours draw their eye or remind them of someone; colours are easy to relate to. In addition to that, I try to tell a story with every piece as well. Character design, facial expressions, props, environment; all of these elements can be used to tell a story in your art. I don't add details just for details sake. Even if I'm creating a one-off character that will only exist in a single illustration, I make sure the details I add fit the story I have in mind for that character. As for story-telling in my comics, I always keep continuity in mind. And I try to create characters that one would like to interact with as well as worlds readers would want to live in. I'm currently working on a webcomic called "SuperChic: Rosemary," which is basically about a superhero duo that has to save their city from monster attacks on top of dealing with their own depression, anxiety, and the toxic relationships in their life. I started it because I wanted to create a main character who reacted realistically to the stuff most comic book or anime heroes face on the daily. I'm excited to show my readers the rest of the story since I just finished the first chapter. And I'm excited to see how I improve in comparison to my first few pages as I continue to update it. When I was younger, I would start a lot of comics and stories that I just didn't have the artistic stamina to keep up with. It took me a very long time to get to where I am today, and I still have a very long way to go. One of my biggest hurdles was, and is, my confidence. When you're starting out you have a smaller audience, a smaller demand for your art. You don't have the likes, comments, or artistic support group that you sometimes need to encourage you to keep moving forward confidently with a project. And while I did gain a bit of that overtime, I also gained self-confidence in my abilities by just practising. I know now that my stories are worth telling and seeing through to the end. I know now that I have a firm grasp on what colours and lighting look right together. It took a lot of trial and error, and so many drawings, but I'm confident that no one can do art like me. Only I can create the art I make. And as long as I confidently create things that are unique to my perspective, using the skills I know I've practised and am proud of, there will be an audience for my stories and a demand for my art. Also, my art sparkles, so I feel like that's a plus as well.
If you had a friend visiting you, what are some of the local spots you'd want to take them around to?
We have to go to Six Flags! I'd probably have them wake up super early just to get into the park right when the gates open. From 11am to 6pm we would ride every ride at least three times, and then spend the rest of the time riding the Goliath as many times as we could. After we'd probably drive back closer to Duluth and hang out in a café–probably SweetHut. We can spend some time decompressing from all that adrenaline, maybe draw a bit while we drink our milk tea. Next we would definitely have to hit up the Georgia Aquarium. I can't even describe how relaxing it is to just watch the fish and aquatic animals swim through that place. Also, I love petting the stingrays, so we'd frequent that area a few times throughout our visit. After that I'd probably take them to Umaido in Suwanee. They have great ramen, and there's a Mozart café right next door that we can hang out in once we finish eating. I'd also have to take them to the High Museum, of course. They have the Veiled Rebecca–one of my favourite sculptures–and so many other sources of inspiration there. Also, museums are just way more fun with friends, I think.
Shoutout is all about shouting out others who you feel deserve additional recognition and exposure. Who would you like to shoutout?
My family and friends have always supported me pursuing art as a career. My friends lift me up on my low days, and support me by purchasing and sharing my work. While my family never questions my passion, and have always encouraged me to keep creating. My partner, Nica, is my biggest cheerleader, and is one of the few people I can openly express my goals and ideas to. And they have created a space for me where I can freely make art in a comfortable environment. My best friend, Alisha, who not only helps me brainstorm and gives me feedback on my art, but is also so supportive and such a positive influence in my life that I don't know where I'd be without her. And lastly, I want to shout-out everyone who has ever followed me on any social media platform; anyone who has ever liked, commented, or shared a drawing I did, everyone who has bought merchandise from me, or has pledged to my Patreon. Every bit of support, no matter how small you think it might be, has encouraged me to keep going. Your feedback means the world to me, even if you just comment with emojis or GIFs. I'm grateful for your support as much as I'm grateful for the support of those closest to me.
Website: https://captaingelioha.wixsite.com/laughmore
Instagram: https://www.instagram.com/captainha_ha/
Twitter: https://twitter.com/captaingelio
Other: Patreon: https://www.patreon.com/captainahaha
Nominate Someone:
 ShoutoutAtlana is built on recommendations and shoutouts from the community; it's how we uncover hidden gems, so if you or someone you know deserves recognition please let us know 
here.