Meet Lou Lamar Booker: Owner/CEO, Editor-in-Chief, Chief Content Officer – Up Your Geek, LLC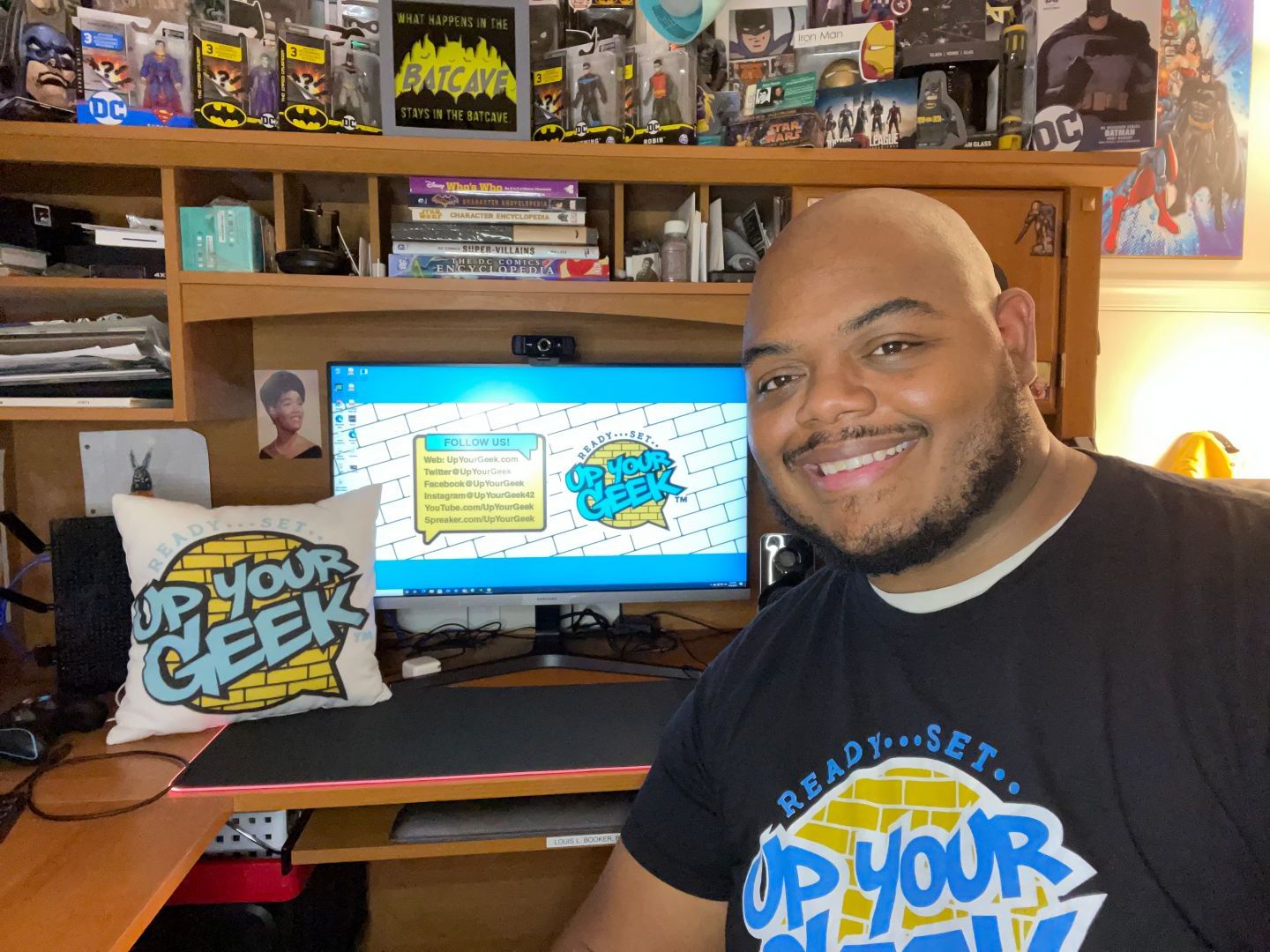 We had the good fortune of connecting with Lou Lamar Booker and we've shared our conversation below.
Hi Lou Lamar, any advice for those thinking about whether to keep going or to give up?
Is it cliché to say, "never give up on your dreams?" That's a model I've been following since starting my business nearly 6 years ago. Before Up Your Geek was a business, it was an idea that formed with a few internet friends, but it is something that I nourished. Instead of this just being a hobby I wanted this to mean something and I wanted the brand to grow, but to do that requires hard work and discipline. No business is easy and it may take you years to realize your potential. I say all this to tell you that it wasn't easy. And this journey is not over for me, for us, it is still ongoing. Up Your Geek is that dream that I dare not let die. That dream worth fighting for. How do I know whether to keep going or give up? Learning that the sacrifices are worth it. Knowing the time, energy, and money spent on a dream are not for nothing. The dream for me is an active one and after 6 years, I still love what I do and feel as strongly as ever about it. So I keep going. giving up is not an option. Never give up on your dreams.
Let's talk shop? Tell us more about your career, what can you share with our community?
I've always had this passion to do something better, to do more. I could never quite put my finger on exactly what that better was, until I discovered the thing I love to do the most. I love pop culture. Everything that goes along with that particular genre. We're talking movies, TV, comics, comic cons, toys, art. You name it and I'm a fan. It is something I've always been interested in learning more about and being a part of. It's this immersive world and there's a huge audience out there for it. So I thought, "What can I do to get more involved?" There is so much out there. There's so much media and news, and entertainment sites. Getting more involved meant learning what you had to do to get started. And not having the experience of a huge media company or entertainment website meant it was more of a leap of faith. I also didn't want Up Your Geek to be like any other company. Yes we delivered news, yes we delivered entertainment, yes people can get breaking news stories from us, but breaking news is not us. We wanted to offer something different that not a lot of people focus on. And so I thought let's focus on those things and people who don't get as much attention as the larger companies. Yes, larger companies draw attention and get you clicks and gets more people interested, but what about the little guy? What about the independent creators or writers or artists, film makers? Who's telling their stories? Yes, there are people out there who have websites dedicated to these independent creators and we want it to be the company that did both. Yes we'll report on the big guy, but we are also going to showcase the little guy because those guys deserve attention just as much. At Up Your Geek, we feel like were are filling that gap. I always say the journey is ongoing. Because we have not reached an end. Is it easy? Absolutely not! There is still a long way to go. But have I had some hurdles to jump over while on this journey? Absolutely! I've face financial barriers; familial barriers; Life Barriers. These are things that everyone encounters I'm sure when starting a business. So in that respect it is difficult. Some of the other barriers are access to content, for distribution, access to people. It's not always easy. In the beginning it was difficult and that it was hard to get interviews with people, which is still somewhat difficult, but it's gotten a lot easier over the years and I am eternally grateful for those who have been able to allow me the opportunities. You see people only want to interview with those who are going to give them access to millions and millions, which is a part of why I want it Up Your Geek to provide focus to the little guy. Because how do you get that push? How do you navigate the larger picture when those opportunities are taken away? I've heard, "your brand isn't big enough" so many times, but I never let that deter me. "I have a dream and I'm going to make it happen with or without your help." is what I say and I keep pushing through. So far, many of those things I was told no to finally said yes, after I worked to gain more experience and notoriety. My fourth grade teacher once said, "When someone tells you no, it means to find another way." I've learned that persistence and perseverance are key in continuing to live out your dreams. I am someone who works for what I want and I pride myself on my word. When I say I'm going to do something or lend my support, you can count on that from me. With Up Your Geek, it's no different. We are much like the little engine that could. While the journey has been an uphill battle, it is not one I will ever give up on. Up Your Geek is also a place of inclusivity, where all can fell safe and welcomed.
If you had a friend visiting you, what are some of the local spots you'd want to take them around to?
Wow. There's so many place we could go. This is something I do often, especially pre-Covid. I currently live in Delaware, however, I am Philly born and raised. First I would show them around town at some of my favorite places. I'm a movie lover, so of course the Riverfront IMAX to catch a movie. Then I would take them to one of our biggest mall complexes, which is the Christiana Mall, which has a treasure trove of shops, restaurants, and its own movie theaters. I think that we would look around and go to some of our favorite shops, which is alway a draw for new comers. The River Front in Wilmington is a nice spot to walk and find great places to eat like Iron Hill Brewery, who makes their own Beer, if that's what you like. The area around the city is known as Brandywine Valley. It sits along the Delaware-Pennsylvania border and offers much to do in both states. Summer time, were talking going to Rehoboth Beach, which is one of Delaware's most popular places, but very fun and enjoyable. I imagine this trip would take us across state lines, as I am from Philly and there is lots of good times to be had there. For dining, we would go to one of my favorite Brazilian steakhouses Chima's, located in center city. We will take a stroll through the city to walk dinner off and visit the Benjamin Franklin Parkway, where we can check out the Art Museum and the famous Steps Sly Stallone navigated as "Rocky'. Close by is the boat house row along the Schuylkill River. The city is full of life. You could navigate all night and never run out of things to do. Stroll throw city hall, then head  into the center city streets and navigate the night life. We could visit our favorite bars and  check out our favorite places for dessert. There also barcades, where we can play our favorite games. If we skip the barcade we can head to Penn's landing and check out Spruce Harbor Park for a night of lights, community, and live music. We could continue down the Boulevard and head to Dave and buster's or check out the River Casino for gaming fun. We could head back into the city and check out all of the newly constructed hangouts including Round1 for a night of bowling, gaming and karaoke. There's so much to do, it would take days to get through it all.
Who else deserves some credit and recognition?
This journey that I've taken in developing Up Your Geek is not one that I started alone. Up Your Geek started as an idea, a joke really, that a few of my Internet friends started together. It was actually meant to be a parody of these pop culture sites that dig on these big companies and their characters, their movies, their stories and we wanted to poke fun at them for comedic purposes, while also displaying entertainment news. This idea went on for a little while, then it soon sort of ended there as everyone started to separate. Every place has a beginning and that was my beginning. I'd like to thank my friend Luis Angel Hernandez, who is a co-founder, who was there from the beginning when it all started with Up Your Geek. I would like to thank my wife Erin, who has supported my dreams, no matter how crazy, since day one and who is always there when I need her. I would like to thank my children, who are inspiring and always interested in what Daddy is doing with Up Your Geek. I would like to thank those friends and my nerd family who give there undying support and encouragement in every one of my endeavors. To my friend Dizzy who traveled to a number of cons, including New York Comic Con with me and endured a grueling press schedule and put his photography and video skills to great use for the cause and experience. To Chrystal Williams. who joined Up Your Geek as it's only writer besides myself at the time and who was a rock star contributor, who also endured San Diego Comic Con's grueling schedule with me. To my Up Your Geek team/family, though most have only join with in the last year, you have been a most valued part of Up Your Geek. My team of writers —Michael Oden, John Georges, Chris Nugent, Frankie Acevedo, Chrystal Williams. you all have brought your own style of writing; your own creative prowess; your own set of skills, and most importantly, your own opinions. I thank you for your valuable time, your efforts and your dedication to the cause. No words can tell you how much I truly appreciate you. To Robert Gabel, Jr. a person who took a leap of faith and joined Up Your Geek as our Social Media Director. Over the last year, our friendship has grown immensely and I've appreciated you taking time to dedicate to the growth of Up Your Geek on social media. My appreciation for you is immeasurable. Thank you for trusting in the vision of Up Your Geek and bringing your skills and social media savvy. The future is ours. To all the people who casted doubt on us, and to those who still do, I say thank you. We continue to thrive.
Website: https://upyourgeek.com/
Instagram: @upyourgeek42; @lamarcain_uyg
Twitter: @UpYourGeek
Facebook: https://www.facebook.com/UpYourGeek
Youtube: https://www.youtube.com/upyourgeek
Other: https://spreaker.com/upyourgeek https://upyourgeek.tumblr.com/ https://vero.co/upyourgeek
Image Credits
Up Your Geek
Nominate Someone:
 ShoutoutAtlana is built on recommendations and shoutouts from the community; it's how we uncover hidden gems, so if you or someone you know deserves recognition please let us know 
here.