Meet Juanita Montgomery | Visual Artist, Poet, Muralist, Curator, Art Director, Model, Author, Designer Graphic/ Fashion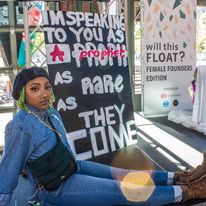 We had the good fortune of connecting with Juanita Montgomery and we've shared our conversation below.
Hi Juanita, what do you attribute your success to?
The most important factor behind my brand is PURPOSE. I think when we as people garner the the perspective of what our purpose is, then we become more effective in what we are called to do. Artist start creating on a different frequency, writers create with truth, we start using our art as roads of redemption and bridges. Why? Because with purpose comes VISION.
When we have vision, no distractions, no mountains, and no strongholds can lock us in rooms that are not meant for us. Though the obstacles have a way of knocking us off our pivot for a bit, it does not hold the power to trap us in those corners.
Purpose is the zoomed out, overhead view of our initial end goals. It's the part of the map they tells us that though we see all the traffic and obstacles that are in front of us that our purpose is ultimately greater than us, and our only job is to reach the end, whatever that may look like.
Vision is the rerouting systems, that helps us navigate around construction, roadblocks, the turnabouts, and dead ends. The purpose that your vision is supposed to teach you is how to maneuver life. Like what corners to turn, what people and habits, and paradigms to let go of.
Faith is our zoomed in, step by step turns. It's the things we do in the regular day to day basis that contributes to us making it to our purpose. Faith detects the things that are closer than they appear in our rivière mirrors, our overall need to know basis.
I don't know about anybody else but I tried to build a brand off my own strength, and the ideas I had for myself, but God scratched all that. And understand that a brand is going to be about something, that's the way it goes, wether it's for good or bad. However, as I started to mature and tap back into my roots, and letting go of paradigms I learned, then I was able to find my purpose. Then I was able to qualify my craft, because those roadblocks and mountains showed me who I was and and what needed to be done. I'm inspired by the things I've yet to learn, the things I feel I can change or muster relief, and the questions I am already the answer to.
#imgoingalltheway – it's not just a brand, it's a lifestyle.
Alright, so let's move onto what keeps you busy professionally?
#imgoingalltheway
It's not just a brand it's a lifestyle
This brand is about endurance, and learning to run onen(s) race. It is expressed in a variety of ways some being with words on a paper, paint on a canvas, an experession of thoughts out loud, a cluster of photos, or a helping hand or ear. The brand is an advance on a different perspective from that of the norms or what's deemed acceptable. We don't fit in, we step up, and step into, whatever that may look like.
I am most proud of my 2 projects I've been doing :
#Discombobulated (clothing)
Discombobulated is a brand that is about stepping into power with power. It screams NEXT in a monochromatic theme. It's well before it's time but it's right on time. There's a difference between the right time and the righteous time. This brand is righteous. This brand are for those of us who have had to walk a tightrope in life and that means not always fitting in, so this is working what you got, working what God gave you.
I dare anybody who purchases a piece to be bold and live in color, think outside the box. Discombobulated because it's not really about what you wear, but WHO is wearing it, and Who shows up in it.
Offers apparel for All ages
tshirts
Hoodies
Crop tops
Swimwear
Coats
Sweats
Lingerie
#TheGathering ( puff & bible study)
To gather in Hebrew means scattered seeds, and I believe that is exactly what we are. This project is bigger than me and was God given. This is God meeting those of us exactly where we are in life. To bring people to Christ I'm going to use the foolish things, and the weed is just an excuse to get people in the room. I hope that this gives young adults like me a vision, because without it you're rendered useless and will turn to anything. The Gathering is about saving souls, and mirroring to the generations pervious that to reach this era you have to try a fresh new thing. I believe that this is the generation that is going to finish what unbelief started in the seasons before. Scattered seeds eventually gets buried and produces a harvest. You can fight your battles physically but if you ever have to choose between physical battles or spiritual battles, choose the spiritual where you know there's backup.
About Juanita
Juanita is a young artist redefining the correlation between art and spirituality. She's no stranger for being a wild child, and misunderstood but that's exactly what move those that know her the most. Bringing in a new era riding a fresh tsunami, her projects out are changing the narrative with a tunnel vision focus that's she's GOING ALL THE WAY !
Growing up was no easy task, being auctioned from house to house in the states care, Juanita was adopted at the age of 6. She was introduced to the true meaning of God though he was always there. Raised by two hard working, humanitarian parents she was able to graduate high school from Tyner Academy, and through her hard work and to sports and education she was forwarded the opportunity to continue both on a sports scholarship at Chattanooga State Community College, in Graphic Design. Dropping out in just her sophomore season Juanita decided to do what was best for her and shifted her focus. ART.
She is known for her bluntness, and bold business archives as well as projects to come. She has a God given vision and a purpose that will unquestionably precede her time. With the ability to adapt she time travels through multiple crowds gaining wisdom and translating it through her art. There is truly no way to describe her soul because she is ceiling less, she's not just a person she's more of an experience. Bringing up the topic of what it is she exactly does the only resolve is that Juanita herself is simply ART. However to be logical about the topic her bountiful tree has many branches that produces fruit.
At my lowest I rediscovered my roots, the thing(s) that really grounds me. You see before birth I was promised something, that's why my focus has always been different, however I didn't necessarily take into account the fact that I had to dig those promises out. Church raised somehow I feel as though the many mountains and obstacles took my focus. And trust life has its' lessons, pop quizzes, and tests for me.
BUT GOD!
After a deep inner evolving I've concluded, that I'm not completely starting over, I'm just checking some things off my assignments list and syllabus.
A new season and a new cycle is here. I studied my work, I've done the assignments, I've completed the projects. And even though some of the assignments exposed to me my weaknesses, and some of the projects broke my heart, and the test didn't show up the way I thought they would, I can not deny the fact that God was pushing me into PURPOSE.
When I told God I was going to do the assignments by myself he said ok cool. Months later I'm back with a broke spirit on my way to my tomb.
BUT GOD!
Every lesson I learned I learned by sitting with God. Wether it was me, a joint,the ridge and Bible study, or me, weed, and the bay, and Bible study. He taught me the value of his timing, fighting in the spirit, and the hardest, how to get out of his way! God has illuminated, shielded me, took me back through my life and highlighted everywhere he's ever showed up, and ultimately working everything together for my good. Never in school was faith taught but that seems to be what I rely on the most.
I tried my way,
Now I put it back in God's hands.
An ODE to reflecting, realizing, witnessing, and accepting God's grace.
And to stepping into purpose.
Let's say your best friend was visiting the area and you wanted to show them the best time ever. Where would you take them? Give us a little itinerary – say it was a week long trip, where would you eat, drink, visit, hang out, etc.
I'm not really a show off I prefer quietness over a loud and busty crowd, so with that being said we would definitely ridge the ridge like 3 times everyday. I love to go down by the bay, (Harrison). I would take them walking downtown. There's a lot to do and then there's not.
The pickle shots down at Pickle Barrel is a must, and underground parties.
Who else deserves some credit and recognition?
To Wanda & Wade Montgomery
For adopting and loving me
Denisha Montgomery & Erica Montgomery
For always being a call away and my best friends
For the many souls I've encountered that have helped, shielded, and advised me in times of need
And to the people who support me, my brand, and accepting my creativity
Website: Www.imgoingalltheway.org
Instagram: @officiallyjuanita https://www.instagram.com/officiallyjuanita/
Linkedin: Officiallyjuanita@gmail.com
Twitter: Officialjuan https://twitter.com/officialijuan
Facebook: Juanita Montgomery
Youtube: Juanita Montgomery
Other: Pateron: Juanita Montgomery
Nominate Someone:
 ShoutoutAtlanta is built on recommendations and shoutouts from the community; it's how we uncover hidden gems, so if you or someone you know deserves recognition please let us know 
here.