Meet Guillermina "Guille" Teixeira | Artist & Retail Store Designer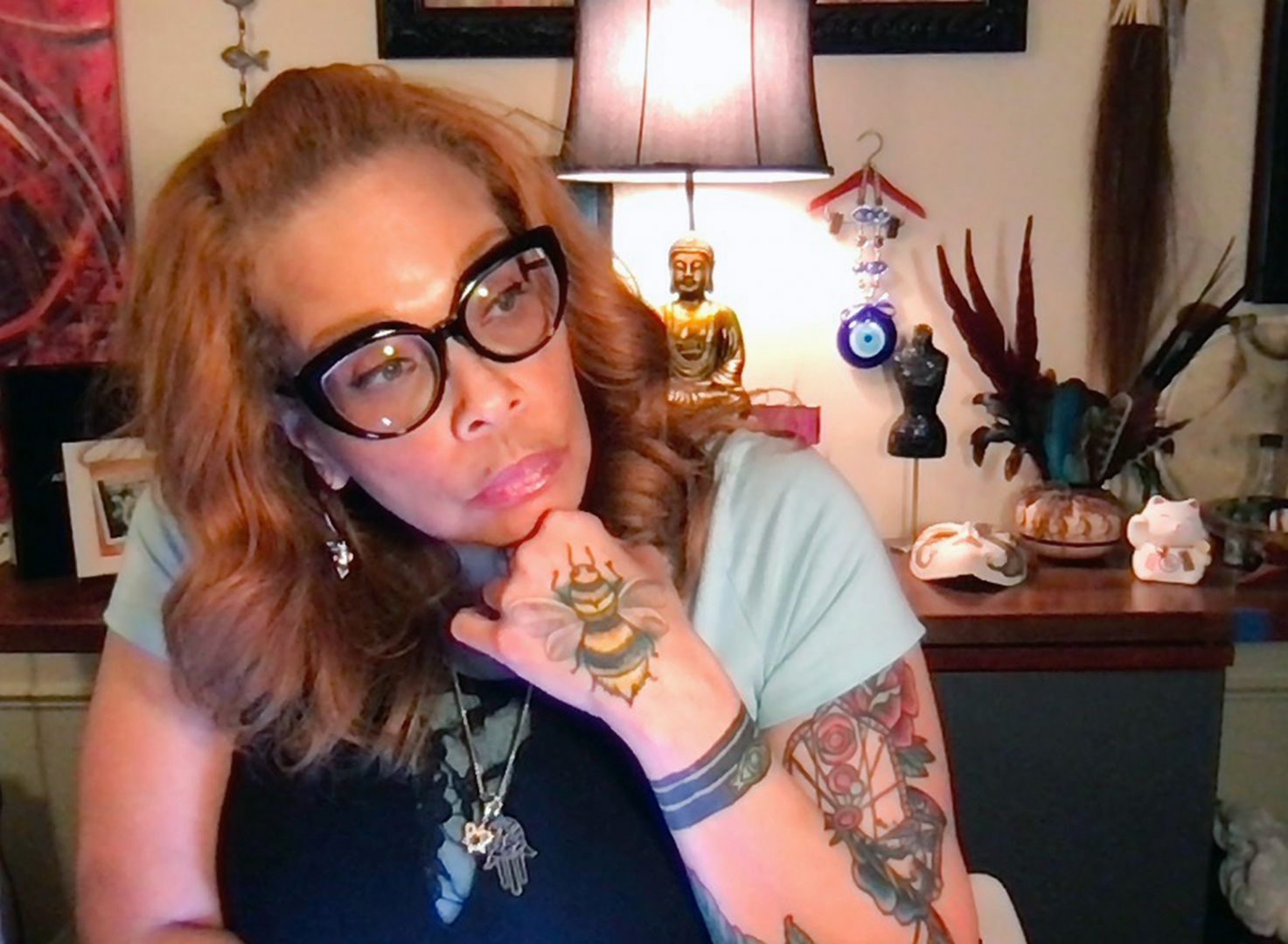 We had the good fortune of connecting with Guillermina "Guille" Teixeira and we've shared our conversation below.
Hi Guillermina "Guille", why did you decide to pursue a creative path?
Art was an escape mechanism for me as a child. It was something that could neither be controlled, taken away, or otherwise tainted by the realities that surrounded me. It became the hypnotic outlet that allowed me to erase or record what I was feeling and experiencing at any given moment. I created something from nothing, repair what was broken, and feel great relief, even if only on paper. Art gave me a secret sense of pride and satisfaction.
As an adult, I leaned into it because it became more than just a little girl's survival tool. I view my creative self as a character of sorts. My Artist lenses filter everything I see and experience, constantly gauging the potential, the beauty, and the spiritual mystery of it all. More importantly, it has allowed me to see beyond situations, people, and ideas.
I will always refer to my Art as my Lover and best friend because it directly connects to my inner self, my soul. My Art tells stories, relays messages for me and others. Its evolution from protection to prophetic is, without apology, the record of my life from bad to free.
Alright, so let's move onto what keeps you busy professionally?
The evolution of my Art coincides with the experiences and circumstances of my life. The nature of it was symbiotic; whether it was my situation or the Art leading the transformation was up for negotiation. The conditions under how and what I produced as a child and young Artist are entirely different than today. There is a nuance to the style that is always the same [heavy bold hand] because I am my soul, but the person I am now is not the same who began in this world.
There was a period when I was pretty young where I produced the most work when I was the most pained. As my voice, my escape and outlet in a household where alcohol and drug use distorted my reality, it makes sense I produced under those conditions. Through my growth academically, professionally, and spiritually I now produce work from the feel-good space to elevate my soul. The strength and resolve created from the abuse in my upbringing took on a whole new level of power when I came into a space of creating for the best outcome and not erasing the pain.
A few years ago, I discovered that one of my black books allowed me to perform the most unintentional yet profound service. I can ask someone to focus and select a page in that volume, and then I translate the work as a Reading the same way some people use tarot, tea, smoke, etc.
Two people could pick the same piece, and the outcome would be very different.
That is where my Art is unique. I have artwork I produce to relax, to shake off the Corporate stress. Then there is the artwork that is the result of my meditation, focus, and prayer.
Although I've been blessed to have a fantastic career, I've realized that there was friction in almost everything I did when I did not respect the spirit in me. When I allowed myself to be blindfolded by negative actions and or words, I remained stuck.
Did I experience racism in the workplace? Absolutely, even at home within my family. Was I underestimated or singled out for being a single parent, a woman, as my career evolved? Regularly, and even reminded, I should not set my sights so high, especially with my immediate family. I was diagnosed as having delusions of grandeur.
Major life lesson: When someone is laser-focused on explaining your limitations, dedicated to convincing you that you're not good enough, smart enough, strong enough, the issue is them because you are everything they wish to possess. Your talents, gifts, and potential strike the chords of ugliness within themselves that ring "That should be me." or "That should be mine."
In my personal & professional life, I was challenged by smoke screens created to interfere with my joy, happiness, and ability to maximize opportunities. Maturity allowed me to shed the reactive responses that were second nature. If I received situations with their harmful intentions, I remained focused on the wrong thing. If I stay in that space, I can't focus on the beautiful things surrounding me or the greatness of the moment I'm in. If I burden myself with someone else's baggage, I can't embrace my own growth and happiness. If everything I do is erase bad experiences, I'm not planning and creating the new harmonious vibrations.
I now focus my Art on predicting the things we desire in our hearts, harmony, purpose, and being the conductors of ourselves.
Words are not only powerful; they are POWER.
Ugly words produce lower vibration feelings, but words of POWER tune your vibration to where you naturally belong.
Imagine if we all produced work with love, in love for raising the vibration of everything around us? Imagine that we learn how to remove ourselves from situations that do not serve our higher good? Imagine having the strength to see the smokescreen and its creators. Imagine closing the door on the people who don't deserve you?
You'd be free like me. Who am I? Ani Zohar, La Poderosa their Bella Mariposa and LOVE is my Super Power.
Any places to eat or things to do that you can share with our readers? If they have a friend visiting town, what are some spots they could take them to?
My best friend? Well, If I could have my Aunt Visit me: 1. The Garden Room:
This would be our first dinner reservation. A fabulous sit-down diner with great cocktails in a beautiful atmosphere.
2. Ponce City Market:
There would be several trips to The Ponce City market because we would need to eat and drink our way through it, with intermittent shopping.
3. Museum Day:
The first stop would be The Sweet Hut Bakery, then make our way to The High Museum where we would take our time visiting every gallery.
4. Beltline:
I'd pick the nicest day to take her. Id pack art supplies for me and some wine for her, well, me too.
5 .South City Kitchen
6. The Flying Biscuit
7. The Botanical Garden to include the cocktails event.
8. A show at the Fox theater.
Ahhhh, there are just so many choices.
Who else deserves some credit and recognition?
My life path and its many crossroads are all marked by the portraits of extraordinary women. Whatever time, experience, and protection I received kept me moving along my way. As a small child in East Flatbush, Brooklyn, my German Neighbors the Hinterleitners'. Lena adored me. She played her piano and would talk to me about literature, Europe in springtime, and her family, most of whom she lost in World War 2. She'd smile with adoration as I phonetically read her their German paper. Although clueless about what I was saying, it made her happy; I enjoyed seeing her smile. Her desire to make me feel special was so powerful that I still feel it around me to this day.
At 9, I met an Architect, Sharon Egretta Sutton, whose thesis was tested at PS 152 in Brooklyn. She taught us how to draw to scale by using a regular ruler. I learned how to draw plans and draw things we could build. She gave discipline to my angst. There was a purpose behind the things I put on paper. She forever changed the trajectory of my life and set me on a path to discover the Art of building, creating, and expression in form. I can still feel how awestruck I was by this woman and thought, "Wow! I can be like that?".
Guille Torres Hall [My Aunt] who saved my life, her tiny frame holds the most auspicious character & heart.
At 16, in my Sr year of high school, I was under enormous pressure to directly go to work at the factory where my mother was employed instead of college. My Aunt said to me, "People can take away your things, your money, your reputation. But no one can ever take away your education. Once you achieve that, it's yours. Fight as if your life depends on it because it does."
She is the first college graduate in her generation, a lover of English literature, a scholar, an educator, a phenom. She is the first person to have ever hugged me and told me that she loved me. Her signature farewell requires she repeat she loves me 3 times. The thought alone makes my heart space glow. My love for her transcends space & time.
My Sister Pinky. The only one of my siblings was brave enough to speak up when I needed to find out my paternal medical history. It cost her the relationship she had with her brothers and mother. She was the first call I made when my biological father's family found me. She gave up a lot to transform what my brother referred to as "My mothers' sins." This is the mark of true sisterhood. Ashe My Madama Big Pink.
And as always, I owe it all to La Vieja, the OG [Original Guille]. Without her, there would never have been my tribe of three plus one or me.
Instagram: https://www.instagram.com/badartteixeira/
Other: https://www.behance.net/BaDarTTeixeira
Nominate Someone:
 ShoutoutAtlanta is built on recommendations and shoutouts from the community; it's how we uncover hidden gems, so if you or someone you know deserves recognition please let us know 
here.