How success happens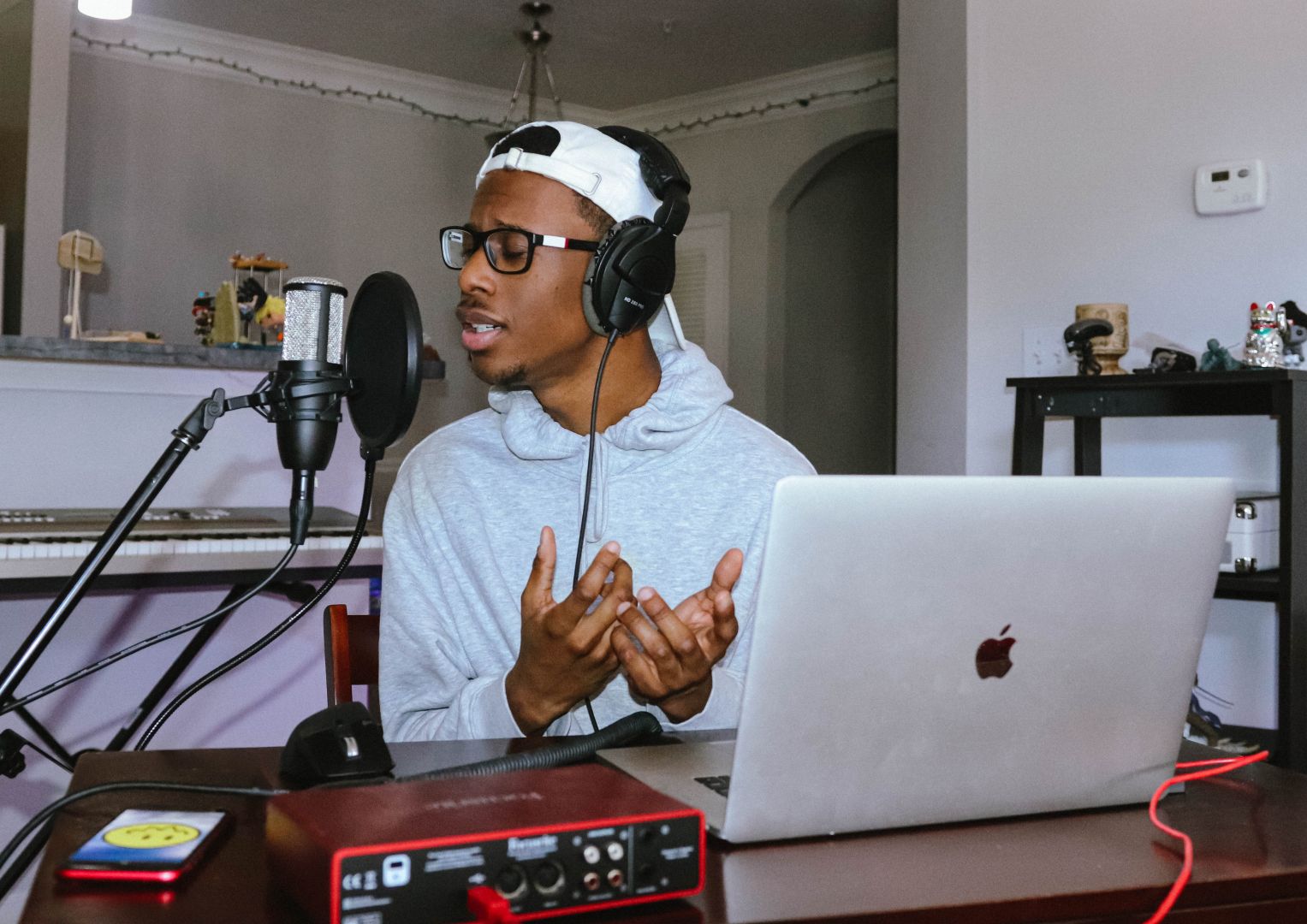 Every overnight success we've seen has been years in the making. And those overnight successes are rarely because of an amazing idea or a stroke of luck. We asked some of our favorite folks from the community about what characteristics are at the heart of their success story?
Key Glover | Beauty & Wellness Professional

The most important factor behind my success is my faith. Faith has taught me to trust that gut feeling. That what you dream about will come true with faith and consistent work ethic. It allowed me to see beyond my own perspective and glean from others that is beneficial for me personally and career wise. Faith gave me the courage to initiate opportunities that open up doors to my success that sitting back in comfort zone wouldn't have done. It gave me the confidence in myself that what my brand offers is helping the collective be better. Read more>>
Kenn | R&B Singer

The most important factor behind my success is staying true to myself. One of my inspirations, Bryson Tiller, says this numerous times in his work. As I started making music I was so caught up on sounding like the people who inspired me to sing, but people can always see through something when it's not authentic. It wasn't until I started just being myself, that's when I started finding an audience. It's a life motto for me now as I work on finding my sound and becoming a more versatile artist. Read more>>
Cory Br0wn | Musician & Marketing/Brand specialist

the most important factor behind my success isn't myself its God then after that its the people I choose to keep around me. My spiritual foundation has always gotten me through the storms in my life. God has open so many doors that only can be explained by him. As far as those closes to me, a wise man once told me "you should never be the smartest person in your circle and if so you need to leave." I upheave these heavy. This is why I have grown so much. Read more>>
Javani Austin | Creative & Spiritualist

The most important factor behind the success of my brand has been personal growth and confidence. As I have developed as a person, so has my brand. As I pour into myself spiritually, ancestrally, mentally, emotionally, physically, I have seen harvest come forth in my brand and business. Read more>>
Sarah Petals" Adams | Holistic Health Coach + Herbalist"

Passion. Definitely pure, unbridled passion. Folks always simplify business decisions by resorting to the dated motto "business is business" and as business owner… okay, I get it – income is important. It's true, you can't willy nilly your dream business into creation unless it supports itself with financial lifeblood. But too often entrepreneurs are focused only on the bottom line and not enough on the "why's". The passion I have for Holistic Health, Functional Medicine and Ayurveda beams out of my body every time I talk about it with my clients and customer. I genuinely care about each and every one of them and how my products and services can assist their healing journey. That is why Woodland Wellness is successful. Read more>>
Nigel Birch | Poet, Author, playwright, host & Managing Director of EDXVD

Authenticity, EVXVD (Everyday is Valentine's Day) is reflective of how I live my life. The heartbeat of my brand is based upon the core values that make me who I am and what I strive to be. Staying true to myself has fostered the creativity and truth that caters to the core market that I serve. My devotion to the "love experience" has led customers to buy into love literally and figuratively. Read more>>
Tyler Reid | Principal Planner of Eminent Events Wedding & Event Planning

I believe the most important factor behind the success of Eminent Events is the belief in my vision to display love in a special way with every client I am blessed to work with. Although entrepreneurship may not be for everyone, I was not one to think it was for me until I had an epiphany that the wedding and event planning industry is where I belong. Since then, I've began to utilize my craft in taking the right steps needed to be the best planner I can be for all of my Eminent Family (referred to as clients). I've learned that not many people in this world will see your vision until it has come to fruition and to put your vision, where your heart is. You've got to be all in and it will show through your actions. Read more>>
Emani Roberts | Private Chef

The most important factor behind my business is consistency, determination, and passion. Consistency brings value through establishing trust, which leads to better customer service, greater customer satisfaction, and more confidence in attaining stability. Determination pushes you to go above and beyond. It is what allows an entrepreneur like myself to dream of an impossible vision and make it a reality. Determination is also about respecting the fact that the ride will be rough, have many ups and downs and will likely have to change directions to meet your end goal. Read more>>
Barrington Marson | Filmmaker & Producer

Being a business owner of Barrington Marson Productions I strive for professionalism, integrity, and Quality work that I bring to my client. Most importantly it's about building relationships. One thing I had to learn which school doesn't teach you is networking and branding yourself. Over the years I strive on branding myself with promotional videos from Films, music video, commercial and so much more. In this generation social media is pivotal in branding yourself and your company with video content. Which is one of the great success for me and word of mouth over the years. My company this year will airing on TV Barrington Marson Productions commercial to advertise our services that we can offer to people. I just look forward to expanding and excited for what the future brings. Read more>>
Lex The Flex | Experience Prosperity in ALL areas of your life!

God plays the most important part in everything I do! Any connections, ideas or opportunities I have comes from believing in him and that he will provide for me! While Experience Prosperity isn't a faith based platform, I do give credit where it's due! Gratitude and manners play a major role in gaining opportunities. You never know who you are talking to, and you are always one or two people away from meeting someone who can really help you elevate! Having courage is a key to unlocking those opportunities! Sometimes we can be scared to do something alone or ask for something from those same people. But if we don't ask for the things we want/need that we know can help elevate us, it may take longer to receive it! Read more>>
LolBrielle | Comedienne, Actress & Host

Ummmm….Determination, honestly. I've done everything I've said I would do and I'm still not finished. I genuinely believe that nothing is out of my reach and that I can have whatever I want….all I gotta do is put the work in. Read more>>
Antonio Shalem | Brand Marketing Specialist/Consultant

The most important principles for me are vision and innovation. These two key ingredients have critical to my personal growth and that of my business They have allowed me to expand my mindset as well as my branding business. It has been a journey for me over the past 9 years, but having a specific mindset has guided me. I constantly go back to my main vision for my life and my business when evaluating the succeses. That to me is very critical! When it comes to the innovation side, I have reworked the scope of my business and rebranded it as well. I have seen the coming trends and made the adjustments I saw as necessary. That also has helped me develop a successful enterprise. Read more>>
Samiya Berry | Entrepreneur & Full-time College Student

The success of my brand is from perseverance and grief. My inspiration solely came from my granny, Ms. Mary Ella Berry. She passed away in December of 2020. I always made a promise to myself to make her proud. She was the initial reason for me starting my jewelry brand. I always wore a memorial pendant with her picture to keep a part of her with me. Many people inquired on the details of my necklace so eventually, I started to sell them to others. This gives them a piece of their loved ones that have passed away. I turned my grief into motivation for a bigger purpose. Overall, my granny is the inspiration for my brand and the reason it thrives daily. Read more>>
Kaniya Roberson | Manager at Marriott

The most important factor behind my success is no need to get discouraged. From the short term of me owning my business, I would say I have gotten discouraged at least twice. Moments when the family and friends I thought would support me; were nowhere to be found. At that moment, I was shocked since it is free to be supportive of someone that you care about business. It is a hard pill to swallow, but all the people you know may or may not support you on what you got going for yourself. It is usually strangers who you will get the most support. The second experience was with social media. My generation is all trends, technology, and flaunting (which is nothing wrong to be flash, but there is an extent). Read more>>
Jalynn M. Craig | Business Woman & Creative Director

The most important factor behind my success is perseverance, sacrifice, and a great attitude! The most important factor behind the success of my brand is quality transparency and most importantly being in love with the industry I chose. Showing up for your business in a way that is motivating to someone who needs that inspirational push behind their future business idea or brand now that's what I'm truly called to do, set others up for success! For me being able to share information with those who genuinely want to grow is what a real boss does and to share my professional opinion with clientele who truly value your time and want to buy into your dreams that's the definition of success for me as well. Read more>>
Sadie Diaz | Wedding Coordinator

The biggest factor to the success of EWS is providing a great service. It brings me joy when the bride/groom and their guests are thankful and compliment me on how good of a job I did. I didn't have a positive experience with the company that coordinated my wedding. Every bride and groom deserves for their special day to go as smoothly as possible. That is what I set out to do every time I coordinate a wedding. The bride & groom have one job on their wedding day, have fun and cherish this day. Read more>>
Karen Landis | Owner + Principal Planner

I can attribute the success of our company to a variety of factors, but the most important one is consistency. Consistency in our brand identity and consistency in the level of service we provide our clients has allowed us to build our brand exponentially throughout the last six years. Making calculated changes along the way like changing our logo and updating our service offerings has allowed us to grow as we go and ultimately, fine-tune our process to be as mutually beneficial as possible between us and our client. To me, consistency and adaptability go hand-in-hand in building and maintaining a brand that outlasts trends and can stand on its own. Read more>>
Tyra Hall | Skincare Studio Owner & Licensed Esthetician

I think that the most Important factor behind the success of my brand is to always give the same quality service and continuously improve the experience over time. People love good service and I'm here to provide that, I hear so many stories about people being rushed, not properly educated, the list goes on. I can always guarantee that my clients are having an experience to remember and will want to tell friends and family! I aspire to educate and uplift everyone that lays on my treatment table. Read more>>
TAMEKA NELSON | CEO & President Of Mee'Kaa Inc/It coulda.been worse

The most important factor success of my brand is. to educate, motivate and advocate for those. who are affected by Scleroderma and to spread awareness by being the change the world needs to see. Read more>>
Denell Morris | Chef small business owner

The most important factor behind my brand is my kids i want my kids to see that dreams come tru if you stand an work hard nothing in this world comes easy especially for people of color. Read more>>
Debonie Lewis Dre Cannon | D.Lewis – Project Manager & Yoga Instructor; D. Cannon – Fitness Enthusiast

Authenticity – We truly believe that everyone should live a life of health and wellness. We know this lifestyle looks different for everyone, including ourselves and as the faces of our brand, want our authentic selves at the core. Education – Our brand is one that encourages a life of health and wellness through proper education of supplementation and connection to the community through events, business collaborations and more. Read more>>
Da'sha Rozier | CEO, Mobile Bartender and Juicer

The most important factor behind the success of the Tastings with D' brand is passion. I am passionate about bringing a unique bar experience to any and every event. I enjoy utilizing my vibrant and pleasant personality to interact with each client over a freshly squeezed juice or tasty cocktail. Each signature juice or cocktail leaves the guest curious about the fresh taste which is what our brand is all about, providing fresh ingredients. Passion is what got me started and it will keep me going. Read more>>
Mariam Hisseine | Owner & Creator

The most important factor behind the business and my success is the ability to help those restore what's always been theirs. As we go through life there are parts of who we are that get picked off little by little. Some good, some bad. We find ourselves wishing we still had that sense of adventure, courage, confidence or strength but where did it go? How do we get it back? Or my favorite, how did I get here? All questions and no answers. Bounce Blacc wants people who feel this way to know that it's possible to bring that person back in many ways, one of them is through hair care. Read more>>
Jeffrey Vickers | Recovery Advocate/Sober Author/Empowerment Speaker

Ending the stigma. Being a Recovery Advocate–especially in Atlanta–is amazing! Being brave enough to say, "I Recover Out Loud because I Used Out Loud," shows others there's no shame in addiction recovery. That's my "tagline." That message tells people it's okay to talk about the struggles we've conquered. It's okay because we are human and others have been through the same thing. By humanizing our struggle, we close the gap and between people and foster conversations that empower us. The Sober Slogans brand is about ending the stigma. Read more>>
Annah Aman | Master Colorist

Without a doubt: implementing the client's vision. That's a concept in our industry that is both under-appreciated and a lot more nuanced than it sounds. With new clients, it means finding the intersection of what my client tells me they want and what I know is possible. Sometimes there's perfect harmony there, while other times I need to work with them to find a realistic solution I'm confident they'll love. With existing clients, I think there's a tendency over time to become so familiar with your techniques or their particular formula that you switch to cruise control and stop paying attention to the subtle signs your client may be giving you, whether it be a want for change or even dissatisfaction. In the end, my clients come to me because they know I've got talent and expertise, so I don't waver in the confidence I have in my skills. But, that can't overshadow my clients' personal style, and I think that balance has been a huge component of my success. Read more>>
Khalil Abdul-Aziz | Founder & CEO

A sense of community is a major factor in the success of our brand. Since the beginning, it's been my goal to create a very unique community and culture that can't be duplicated. At Cycle Gang, we've been able to develop a team culture around family, friendship, and support. Group fitness can't flourish without community, and we've been able to take a holistic approach that's really made an impact. I believe that personal development and empowerment is the basis of community development. Not only do we want you to get fit, but we want you to succeed in all aspects of your life, and for our members, it starts from the inside, out. Read more>>