Are you thinking about starting a business? If so, we think you'll enjoy reading about how these seasoned entrepreneurs thought about the question when they were in your shoes.
Colin Maher: Attorney & Founder of Whiskey Ghost Entertainment Law
I began my legal career at a larger law firm in New Hampshire, where I quickly realized the typical law firm model wasn't for me. I was always entrepreneurial at heart and had a desire to break from the mould of how a typical law firm operates. Read more>>
Jasmine Beck: Entrepreneur and Veganish Food Truck Chef and Owner
I have been working in Food & Bev all of life, what was supposed to be limited to income while I got through college became a passion and eventually a career and a vocation. After opening The Cocktail Club in Charleston SC in 2012 my passion for creating delicious and creative beverages transpired into wanting to sell cocktails from a food truck. Read more>>
Bronwyn Morgan: Founder| Drones and AI Solutions Start Up, FAA Drone Pilot
I always wanted to work in aviation and aerospace, as drones became a commercial civilian opportunity, I began the process of learning the industry, the craft and building a value proposition. Read more>>
Renee Clor: Wife. Mother. Owner and Director of FIXX BEAUTY
I am the type of person that always has to have a reason or an explanation for something and everything! In my industry I found myself constantly asking myself "why" all the time. It eventually got to the point to where I was constantly asking myself "why can't I be my own boss"/ "why am I working so hard to lay someone else's bills" and most of all "why shouldn't I just branch off on my own and see how this goes?!" To make a very long story short, that is pretty much how I decided to detach my personal craft and creativity and do my own thing! Read more>>
Daniel Jefferson: Film Producer, Director, and Actor
My thought process behind starting my own business is not being regular. I don't want a regular job that I'm forced to do something I hate doing. To me it is like what is the point of living if you can enjoy, so a business allows me to do that especially if I am having fun in it. Read more>>
Robyn & Jessie McLure: Co-Owners of Empowered Apparel
Our thought process behind starting Empowered Apparel was to create a clothing line that helped make people feel empowered! We are both really passionate about equality, feminism and women empowerment so linking our passion with clothing created our business Empowered Apparel. Read more>>
Chef Anthony Thomas: Head Chef of Chef Anthony Events
My passion for culinary arts began early as a child where I would shadow my mother and father in the kitchen. As soon as I began coming home from school, The passion grew even more into my late teens and early 20s where I began studying various cuisines from various countries, herbs spices, sauce pairing and the overall culinary art as a whole. Read more>>
Nik Sweeney: National Board Certified Health Coach
Initially, it was all about the money. I walked into a Zumba class for the first time in 2011, almost against my will, but was instantly amazed at the number of women taking the class. After doing quick math in my head, I decided that day to make Zumba my side hustle. Read more>>
Melody Laney: Brand Reputation Management Consultant
My thought for KaPar was taking my skills and passion to help small business owners in the area of customer service. So often you encounter bad experiences with smaller business not because they do not value you as a client/customer.
Customer service is such a broad subject that is easily overwhelming, so often the approach many small business owners take is just be kind. Read more>>
TRISTAN COX: Clothing line designer& founder
I was nervous and didn't have anyone in my family to own a business. This opportunity provided me a different way of thinking by realizing that I'm making history and creating a legacy for my future siblings and whomever I inspire. Read more>>
Dominque Bones-Lark: Fashion Designer
As a 7 year old boy I wanted to make fashionable cloths for full figured women. Read more>>
Bianca Pitman: Vaginal Steam Practioner/ Womb Wellness Coach
I come from a family of entrepreneurs. My grand father owned Taxi services, candy stores and laundromats before I was born. My older brother also has his own business which was always inspiring to me as a young adult. I was 14 years old working my first job at popeyes fried chicken and thats where I learned that I never wanted to work for anyone. In 2009 I decided to go to cosmetology school, that experience was when my life changed. Working "behind the chair" as my own boss as a cosmetologist inspired me to want to do many things. Read more>>
Deymon Fleming, Jr.: Student, C.E.O., Motivational Speaker
During the Covid-19 pandemic, many people were distraught, depressed, and felt as if they could not accomplish anything. I felt as if people needed motivation more than ever before, hence the company's name "Beat All The Odds". I felt a necessity to uplift people who felt let down by hard times, especially those I my own generation. I noticed that many apparel businesses in the industry, but few inspire their supporters to be a better version of themselves. It was imperative for me to create a brand that had a true and valuable meaning behind the name. Read more>>
La Shonda Tyree: Natural Soap and Skincare Manufacturer
I have always had an entrepreneurial spirit, as well as a thirst for creativity. My business transitioned from a hobby for creative therapy from my banking job. When an opportunity came to leave my job I decided to give my business a try full time. I wanted to be my own boss and control my own destiny. Read more>>
Renika Hull: License Cosmetologist/Salon Owner
I started my own business simply because I wanted to do what I love and never feel like I'm working another day in my life. When I'm making another woman beautiful it gives me Joy, I can take clients all day and not realize my feet hurt until I sit down at the end of the day! I also wanted to provide a nice environment with good energy for other ladies while we live in our passion as cosmetologist! Read more>>
Ramese Marcel Long: Owner of Leg Daze Fitness Studio
I decided to not focus solely on money as the reason to open my gym, I chose to focus on creating a workout where if people simply showed up consistently, they would get a positive result. Read more>>
LaShon & Michael Holliday: Construction Company
To become and grow a sustainable black owned company that will be a global player in the construction industry while delivering affordable pricing, quality work, great turnaround time to complete a project. To be the company that consistently exceed international standards and provide exceptional customer satisfaction. To continually deliver excellent value & innovative construction and locating solutions to meet our clients' requirements. We will also be providing opportunities and skills development training. Read more>>
Patrick Gloster: Magazine Owner
Well I was a music manager at one point, and at the time it was hard for me to get my artists shows in the city of Valdosta. At that time several artists had each club on every side of the city on lock. You basically had to go through them if you wanted to perform. I use to hear a lot of artists complain about not having the same opportunity as the artists that basically had the city on lock. Read more>>
Muriel Parker Evans: Business Development Manager, Author, Entrepreneur
My thought process for starting my own not-for profit business was simply to provide an opportunity for people to come together in fellowship and pay it forward. We are always looking for people to help us make our vision a reality. I simply have always found a way to help others and by doing so, it has provided me an opportunity to inspire and empower individuals families, and community. Read more>>
Dr. Amber Johnson: Owner of The Kidult Life, 1st Black Woman Computer Science PhD at Purdue University
In August 2019 I became the first black woman to graduate with a PhD in Computer Science from Purdue University. There I was, 1 of 1, in an environment that was not created with me in-mind. It was not easy, but I did what I knew best – how to be myself. Read more>>
Rachel L Travis: Founder of RL Interiors & Home Services
I've always known that I wanted to have my own business and be my own boss but I was never sure about what type of business I wanted. I was working with a property management company and doing the least sexy thing you can think of- cleaning toilets. Read more>>
Jessie Stokes | Founder of the Tiny Yellow Bungalow Eco Shop
I've always had an entrepreneurial mindset. However, the idea for my small business came about unintentionally. It was really a solution to the obstacles I was facing in my own sustainable journey. I became interested in sustainable living about six years ago and was struggling to find high quality, environmentally friendly products online. Read more>>
Matthew S. Santana, Jr. | Transitional Empowerment Coach / Domestic Violence / Sexual Assault Advocate
My thought process behind the Infinite Power Project was to raise awareness for women who have experienced domestic violence and sexual assault. By following a creative process and taking steps to shift their mindset, I hoped to be able to uplift others and help expand their minds. I assist you by creating a vision of the future that you desire and by accompanying you on your transformational journey. Read more>>
Yakira White | Business Owner/Healthcare Worker/Model
I started my own business in the middle of the pandemic with my boyfriend who's my business partner. It has been a very interesting journey including many ups and downs. Its all a learning process. My thought process behind starting my own business was to always be financially stable while providing a great service for other workers who needed a quick snack or drink to get them through the day. Read more>>
Teisha Shines | Co-Creator/Owner, Singer, Multimedia Artist
My thought process behind starting my own business started by growing up seeing so many of the people around me being so entrepreneurial and successful. I remember as a little child sitting on my Grandfather's counter of his corner store on the Westside of Chicago, next door to his church where he is the Reverend and helping him count and give customers back correct change. Read more>>
Alana and Samra Baumann and Michael | Co-Founders and Hosts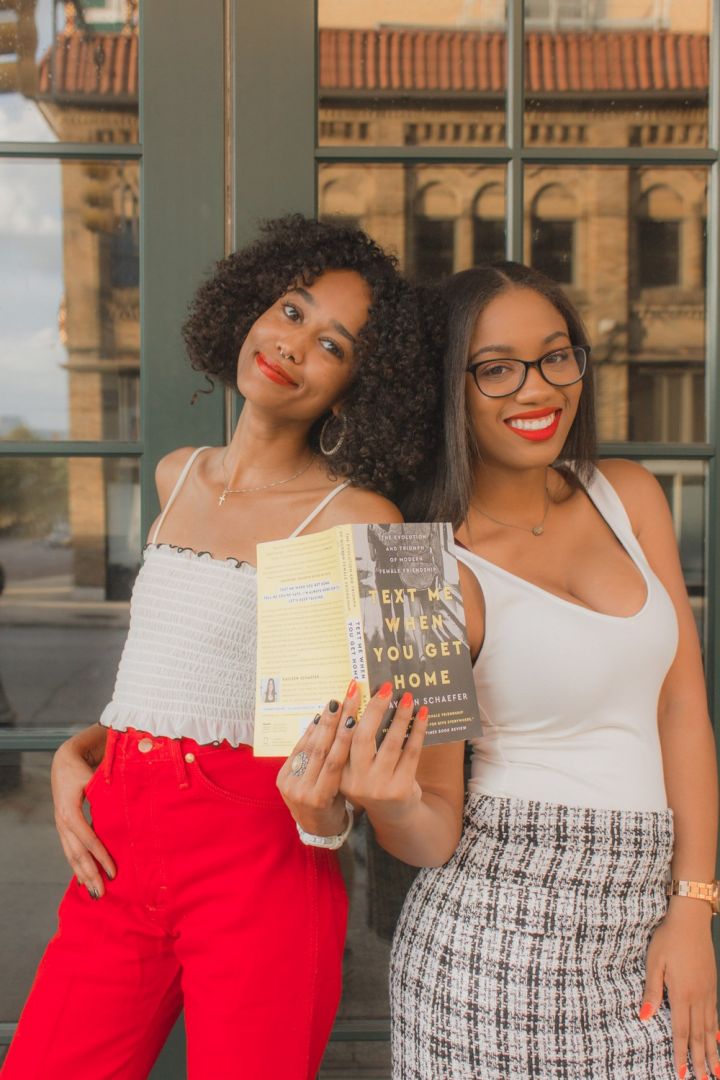 Originally, we started SHE WELL READ as a hobby that bloomed from the merging of two of our ideas that we talked about after one of our sleepovers. Post graduation, we both wanted to find a community of women that we could relate to on an intellectual level and a group we could relate to after college. Read more>>
Kierstin Taylor | Identity Brand Designer
My thought process in starting my business was not intentional. I graduated from Pittsburg State University in Pittsburg, KS with a Bachelors in Graphic Communications and a minor in Packaging. My plan was to move to Texas and work as a graphic designer in a marketing agency. Covid hit right after I graduated and changed everything! I moved back home due to hiring processes being on hold and after much prayer, the decision was made to start my own business. Read more>>
Vaughn Thompson | Barber
Generational wealth! My goal is to build a career cutting hair, venture off into other businesses and build wealth in my family name. I was working at Menards in 2017 as a cart pusher. One day i had a break down at work, overwhelmed from school, work & family problems. I could only think of one thing that would make things better for me, which was more income. I wrecked my brain trying to figure out what i could do to legally make money. I finally came up with cutting hair. I did it a couple times before, and i figured practice would make perfect. I jumped head first into the barber life and it's been one of the best decisions I've ever made. Read more>>
Jeff Dess and Lenny Williams | Co -Founders of Trill Or Not Trill, Educators
Our thought process was to reimagine what traditional education looked like. Trill Or Not Trill had a goal to assure that all students had their voices heard. We were two educators from two different spaces and backgrounds who decided that to change the landscape of education and to best prepare our future leaders we had to set aside our egos and come together to create change in leadership, education and career development. We wanted the voice of hip hop, the voice of the pop culture, the voice of the marginalized, the voice of the people to be infused in all aspects of learning. Read more>>
Logan James | Artist
The process behind me started my own business was, I was in school and I wanted to make money but I did not want to work for anyone. I came up with the concept to be a photographer from working at school. when I returned home I realize I had a gift that I could monetize. now I have become the brand on the other side of the camera. Read more>>
Nicholas & K'teonia Gunder | The CEO'S Of K.Gunder Tools LLC.
One day while crafting, an idea came to mind. We wanted to have our own tools and knew this could be something big. We also knew it could impact our community in such a great way and inspire other black crafters because it's not many of us. That's when K. Gunder Tools was born. K. Gunder Tools was established to create a legacy and safe haven for all craft creatives, whether you are new in business or seasoned. Read more>>
Diegoo | Million dollar Mogul in the making
I have had an entrepreneur spirit since age 10, selling candy out my book bag at school. On a larger scale, which of course comes with more risk I just started. That's the only way to become successful is to start. I never let an excuse detour me from becoming successful Read more>>
Bobby Donaby | Photographer
When I first started photography I actually never did it in hopes or even with the thought of going full time. I did it because it was simply something I loved. Throughout college I was making some type of money to help me further my self into photography by just giving me the ability to buy new equipment. Read more>>
Albert Addison | Executive Chef and Owner
My thought process for starting my own business were my family. I wanted to have a business so my kids can one day work there first job they can work with there Dad how awesome would that be!! And maybe one day my kids can own the family business. Read more>>
Charisse Palmer | Owner + Travel Consultant
I started my own travel business because I saw travel as an opportunity to practice self-care, connect with other women, and experience people, places, and cultures outside of everyday life. As a young mom who lived away from my family, I always found a way to travel back home on a budget while I was raising my children. Read more>>
Lauren Heath | Hand Lettering & Calligraphy
Taking big risks is not something I do on a regular basis, especially with big life decisions. I married my high school sweetheart. I chose accounting as a career at the age of 15 and have stubbornly stuck with that profession to this day. I have had the same position at my church for 10 years as the financial administrator. Read more>>
Diane Alexander | Plastic Surgeon
I opened Artisan Plastic Surgery in August 2000. At that time, there were very few female plastic surgeons and no all-female plastic surgery practices. Essentially, I wanted to open a surgical office with the motto: A surgeon's hands, A women's touch. At that time, I felt and I still feel, that women see things a little differently than men and have a way of understanding and communicating with their patients on a different level. Read more>>
Golar | Haus of Golar Owner, Chicago Raised, FAMU Taught
My thought process behind starting my own business was not very long. This came with both perks and repercussions. I wanted to build an organization built on my passions and things that I loved while having complete control over its foundation. I wanted to get out of this mundane and financially draining cycle of wake-work-sleep. And lastly, I wanted to make money, lots of it. So, those were the perks. And because I had not really thought as far as marketing, logistics, FUNDING, and most importantly, a business plan, many repercussions tailed those thoughts when starting my first business. Read more>>
Jonathan Prather | Musician & CEO (DarkStar Music LLC)
Initially, I wanted to start my own label solely to have full creative control over my music. Then I realized I could help other growing artists have access to things like photographers, videographers, high-quality engineers, etc. It became a movement for local creatives to have an opportunity to showcase their talents as well as find more ways to better their craft. Read more>>
Shekinah Monee | Senior Brand Strategist & Lifestyle Blogger
I first started public relations when I was working as the media trainer for the Miss Brooklyn Scholarship Organization (preliminary for Miss America). I learned the ends and out and how to obtain visibility for my clients. I then went and worked for the organization's publicist as a junior publicist, and people started asking me for my assistance. I knew I was not the best when I decided to step out, but I had a few connections, I was driven, and I never stopped learning. Read more>>