How did you choose a creative path?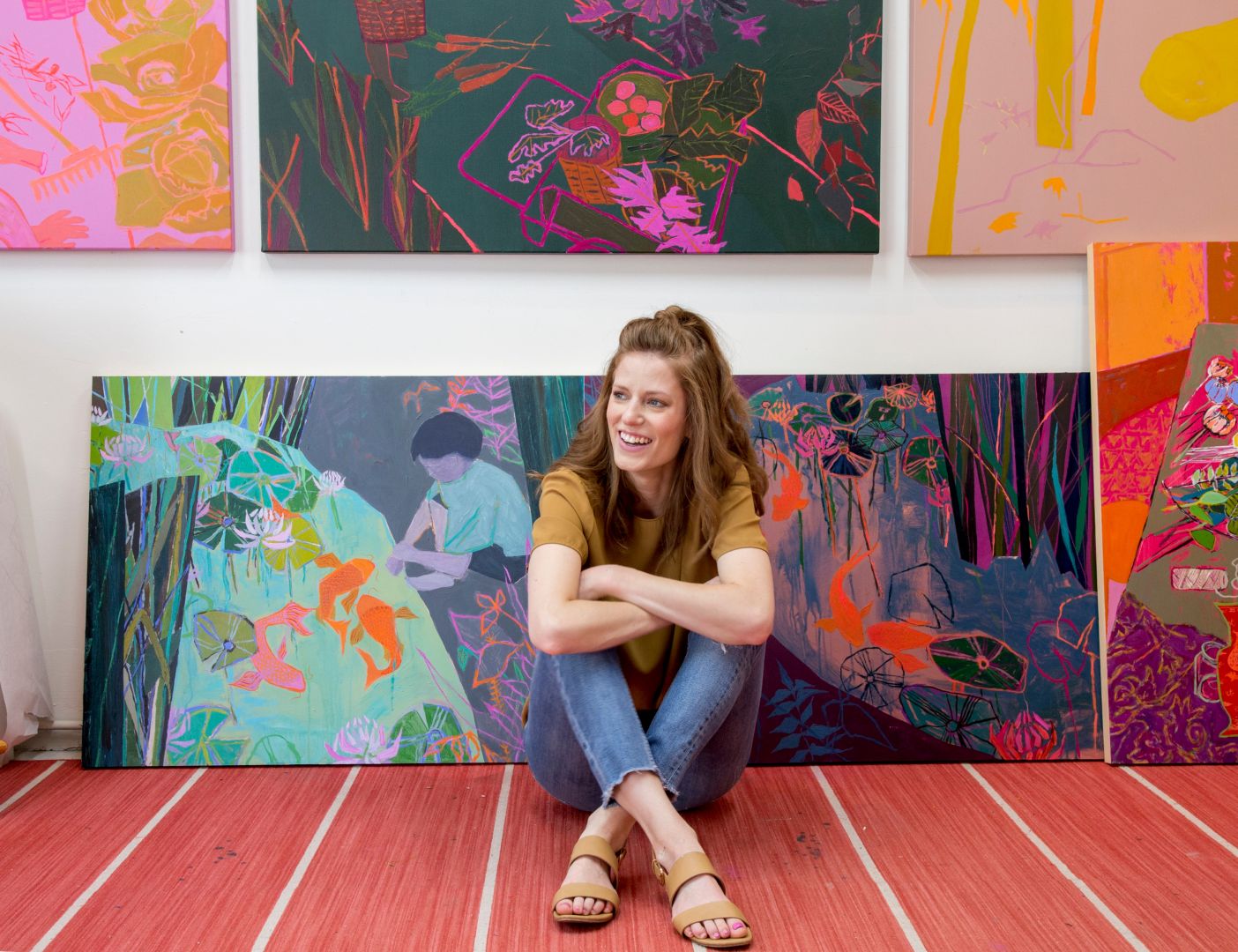 Deciding to pursue an artistic or creative career path isn't for the faint of heart. Challenges will abound, but so many of the artists we speak with couldn't be happier with their choice. So, we asked them about how they made the decision in the first place.
Manny | Musical Artist & Producer

Ever since I was young, I naturally gravitated towards the arts. I started drawing my first sketches when I was 4 years old and was thinking about composing music when I started elementary school. Not long after that, I joined band to further enhance my musical capabilities and I can honestly say that band was always the highlight of my grade school days. If I wasn't thinking about music or writing my own sheet music, I would be sketching my ideas on paper. I also would always used to listen to all different variations of music which further expanded my horizon of sounds. All in all, I knew that when it came to choosing careers that I wanted to do something that aligned with my passion, and the arts/music is definitely where I would want to be. Read more>>
Madison Montgomery | Actor, Singer, Director, Choreographer, & Podcast Host

The answer to this is honestly because it truly would have been impossible not to. I believe that our passions drive us through our lives; as performing artists especially, creating is like air or water – we need it to survive. I have actually taken a few detours away from the pursuit of a career in the arts, only to be guided right back to that path each time. When I'm creating, I feel closest to God; I resonate at a frequency that connects me with the Universe. For as long as I can remember, being immersed in music, drama, lyrics and dance, and helping others connect to the arts, is what has made me, me. Read more>>
Paul Barnes | Music Journalist

I pursued a career as a creative because writing is my favorite thing to do. As a child, I wanted to be an author of novels. However, as I got older, I realized this wasn't the most realistic path to BEGIN with for me. As I got older I gravitated towards article writing which was centered around another one of my favorite things – music. I realized that while I was reading articles from other writers on various websites that I could be one of those writers too. I knew I had the talent to write but truly only had a background in creative writing. I later realized that I could bring the same approach to writing the articles – putting my internal thoughts onto the page – or rather the screen. As time went on, I was able to get more and more bylines as well as expand to interviewing and write about things other than music. I was doing something I truly loved doing and still learning new things about simultaneously. It helped me make connections in the world of journalism that I truly cherish and have been able to use to help to other creatives as well. Read more>>
Charna Wilson | Graphic Designer & Brand Developer

When I started SB Wil Designs LLC I was in what I considered a crossroads position: continuing with a hobby or taking my hobby and turning into something profitable. I had been designing for fun and favors for almost 10 years before I took a chance on myself and recognized that my skills and expertise was something that more than my friends could profit from and that I could really make a living off of. But imposter syndrome is real and I often found myself questioning how good I really was. As I continue to get over that, I recognize that in so many other new entrepreneurs as they come to me for services, and the biggest thing I find they need is creative inspiration to keep pushing. I love providing that. At SB Wil Designs LLC my motto is Making Your Vision Reality, and I love to do just that! I love to have conversations with the entrepreneur who knows what they are passionate about but lacks the creative direction to convey it, or the entrepreneur who knows what they want and lacks the creative skills to produce it, and every other type in between. Read more>>
Zach Alvarez | Music Producer & Content Creator

I decided to pursue a creative career because I get bored way too easily. By tapping into a creative career, especially as an independent artist, I am allowed to access multiple sides to creativity. One day I could be working on creating an entirely different sound for my music and another day I could be working on creating a new marketing plan to push my next single. It is a process of constant evolution and self improvement while always trying to deliver the best music/content to my fans. In a way it is like life; a constant exploration into the unknown. Read more>>
Renee 'NaeNae The Director' Chandler | Writer, Director, Producer of Chasing My Dreamz Productions

I've always been a creative since I was young. Rather it was drawing, playing instruments or writing stories, I just always had a passion for creating something. So my passion choose my career path. Read more>>
Siraaj Yung | Musical Artist

I've always been around artistic individuals so I seen what it was like to put everything into art. My transition into pursuing art for my self was based of the fact that was never a super vocal person I would stay to myself but music/art was my outlet of expression. Ever since I made my first song it was like whatever stress or anxiety I had at the moment was gone as soon as I wrote or recorded a song. I believe this path choose me to be honest and I continue push through and stay down. Read more>>
Quinn Barbour | Author & Shadow Healer

I needed a way to express myself loudly but quietly behind the creation of my art. I use my words as expression and it's the most healing form of art for me. I love how you can get lost in a paragraph, somehow having an out of body experience and then just snap back to reality. I also just like to create my own world with words and writing allows me that needed space. Read more>>
William & Kristen | Colour You Next Tuesday Podcast

For us not only as Podcast Hosts but also Hairstylists, creativity runs in our blood. We don't really do anything "inside the box". When our professional career as Hairstylists was put on hold due to the Pandemic, we knew we had to do something with our down time. We had previously discussed starting a comedy podcast but never really followed through because of our daily lives being complex. When we were shelter in place we both felt many different things and we knew that others were as well. We decided to follow through with our ideas of having a podcast and mostly because we wanted to bring some comedy to those around the world who were feeling like we were. Read more>>
Audreyonna Sequale | Content Creator, Mindset Coach

I chose a creative career because it's the only thing I could see myself doing. Creating brings me an indescribable joy. There are few things in life that make me happier than coming up with different types of content to share with the world. There's something so fulfilling in taking an idea and bringing it to fruition. I've had a career that allowed me to be creative but only to a certain degree. I had to stay in the bounds of my company. But there are no limits to what I can do as a content creator and a mindset coach. I get to approach my work and my clients the way I desire and there's no one to tell me "no." There's so much freedom in what I do and it makes me happy. Read more>>
Olivier Duperval | Hip Hop Artist

I've chosen to pursue an artistic career because I understand the impact that art and creativity have on our hearts. People are moved by creative expression because it tends to be more authentic and relatable. As artists, we can be free to be ourselves and express what's in our hearts to connect with real people to make a real impact and influence real change. Read more>>
Adrian Pollard | Actor, Singer and Film Producer

I have a saying, "A singer is going to sing even if there's no one around to hear it and an actor is going to act even if there is no one around to see it." With that being said, I didn't choose to be a creator I was born to create. When I was a child I was surrounded by talent. When it was found that I to had a gift I was naturally put out In front of crowds. Whether there was music to sing to or not. I remember starting out boldly singing in the church. The applause felt so good. However, I was very shy about just singing in someone's living room. How odd right? I would have to turn my back to the few people in the living room and sing. In time I realized that I was only adding to the awkwardness and was able to face them. I simply embrace the stage fright as I would with a larger crowd. It was then that I was able to be in public, who I am in private. I say all that to say this, no matter how big or small the audience, the arena or social media platform; a performer must perform. It is in our nature. I only recently got into acting. While I had been acting even as far back as high school I had not actually sought a career in acting until the past two years. Read more>>
Genensia | Artist

I pursued a career as an artist because it is the vehicle through which I know my calling is fulfilled. Music and artistry has been in my heart since I was a little girl. And now that I have my own story and experiences, I can give be a light and bring hope to those who choose to listen to my music. It's fulfilling, it brings me joy, it fills me up. I wouldn't and I couldn't have it any other way. Read more>>
Nonso Emefo | Photographer

I would say I pursued a creative career because of the visions and ideas I constantly think of everyday. I would be cheating myself if I didn't take the time to bring those creative ideas to reality to have everyone else feel and/or see what I experience. Throughout most of my life, I never really felt people really saw that side of me since I was more a reserved personality. Pursuing this field would give people the chance to see the true person I see every time I wake up. Lastly, I'd say pursuing this career gives a chance to bring my story in a new direction that maybe not anyone would ever think of. The goal is always to create dialogue and conversation for years to come. Read more>>
Hope Olson | Fine Artist

Like most artists, I have had the desire to create since I was a young child. But it's luck that I live in a time when I could turn those creative interests into a business. I imagine that in the past, it took much more than simply having an affinity for painting for someone to actually make a career for herself in the arts. But in our modern age, the Internet allows creatives to successfully market themselves easily and inexpensively. I would have been a fool if I had not tried. Read more>>
Kia Guest-Holloway | Baker & Artist

I have always been a creative/artistic person, even as a child when I would create my own storybooks, illustrations, and all. My creative juices continued to flow as an adult, and I discovered that I was the happiest when I could be creative. Being creative/artistic is cathartic, and I love the way it positively affects the public. It was a couple of years ago where I decided that it would be ideal to combine two of my favorite hobbies: baking and art. I created this business to create edible works of art. Even a basic chocolate chip cookie can be artistic, it's all in the way you view it! My creative mind finds inspiration in the most random items, even baked goods. This is why Kiabell's Sweet Confections was one of the best creative/artistic endeavors I've embarked on. I look forward to growing as a baker and business. There's no telling what the future holds for me. Read more>>
Klayne Rolader | Photographer and Filmmaker

I believe in being present, and in finding beauty in details. I embrace the pause, the breath, the silence, the chaos, the connection, and everything that is imperfect. I'm a collector of the in-between moments. and I feel super lucky when people trust me enough to share a piece of their world with me. Read more>>
Coco Rose' | Burlesque Performer, Producer and Femcee

Burlesque has been my outlet and activism for women, women of color and queer-identifying women. Although some have dismissed burlesque as little more than glorified stripping, neo-burlesque is about reclaiming society's objectification of women. With every performance, my goal is to leave the audience knowing that I am not just a (POC), sex worker or marketing gimmick but a black woman that has a story to tell who has embraced her sexuality, curves and taken her power back. Read more>>
Juan Camillo Garza | Writer, Multi-Instrumentalist, and Amateur Photographer.

Pursuit is maybe the wrong word here. I fell into a creative career the same way someone might fall into welding, or cooking, or anything else — there's some chance encounter that introduces you to the trade and then you discover one of two things: you either have a knack for it or you have enough of a love to overcome not having a knack. And I believe I fall into that second category. It wasn't easy but in a way it was inevitable. Every day, after so many jobs that I hated, I would come home and work on creative projects to keep me happy. Eventually, it just made sense — instead of using creativity as a counterweight against despair, I need to create full-time. And so I do. Read more>>
Dezzi Kamali | Illustrator

I wanted to get rid of it so I created my own world where I could create everything I ever wanted. In this new experience, life as we know it…does not exist. I knew I wanted to inspire others through visual and verbal communications so not only did I change the way I viewed the world, but I also found the creative workaholic inside and brought it to the forefront. With this ambitious move, I think art pursued me so that I could be free to be myself and push others to do the same. Read more>>
Kel TheDJ | Disc Jockey/Open Format, Corporate & Mobile

I've always been very artistic. I started playing the piano by ear when I was 2 years old. I come from a musical family. I would creative my own mixes as a kid and record myself singing. It was a natural progression from singing and playing instruments into becoming a DJ. I like putting together music like a puzzle. Read more>>
Michelle Oppedisano | Actor, Singer, Model & Yoga Instructor

The short answer is FULFILLMENT. The long answer is a little deeper than that: My parents always encouraged me to pursue my dreams, and I never had a question about wanting to be an actor. I think I made that decision when I was 9. My mom was a theatre critic in California when I was little, and I was her theatre buddy. That's how I got interested in the first place. She put me in children's theatre, and the rest is history. I never looked back, never had second thoughts and never regretted it (that's not to say it isn't a tough path, but I'm sure we will get to that). The yoga came to me in a different way and much later in my life. I started "doing" yoga when I was a teenager, on and off at the gym because it was a "cool" class to take, or I felt like I needed to stretch, or I felt like I "should" be doing it, etc. Then, after I moved to Atlanta, I stumbled across a certain class/teacher, and I call that "Day 1" of truly PRACTICING yoga. I started to realize that the benefits came from the inside out: clearing your head, helping you stay grounded, basically making it possible to handle anything with grace. Read more>>
Anthony Robinson | Entrepreneur & Published Author

I ALWAYS knew that I was creative even from my first memory of childhood; from designing my niece's hair and her doll's hair to creating cheers and dance routines. I've never wanted to be caged or in a box, so choosing a career that allowed me to be FREE, to be ME was the only way to go. Read more>>
Tasha Cash | Actress, Writer

Since I was a little girl I felt in my heart some way some how I would be tied to the entertainment industry. It's a feeling I had that I can't explain. I like a challenge and always believed in following your heart in everything you do so I decided to go for it. Read more>>
Alahna Lark | Filmmaker, Preserver of History

I've always been a storyteller. From a very young age I took writing assignments very seriously. So much so that I'd ask the teacher if they'd allow me to act them out so that my classmates would receive my stories in the way that I'd envisioned. By the time I got to middle school I learned that it was essentially theater that I'd been performing in lit classes. And there began my love for performing arts, which later translated to my love for film. It just made sense to work within my passion. Read more>>
Ayana The Oracle | Diviner | Creator | Entrepreneur

Initially, I didn't choose a creative career. In my upbringing we were led to believe creative careers weren't profitable or viable for longterm success. I had my eyes set on becoming a holistic psychologist– which I wasn't even too sure if that career path truly existed, especially for faces like mine. After finding my local art scene/community — they really invited me to embody my very obvious, yet dormant, creative capacity. I couldn't imagine living any other way after that– creativity called me. All the expressions of my mind and heart, usually left unspoken, finally found a place to land in the world. Now I get to incorporate my love for psychology in all of my creative works and work with practitioners to help create space for the healing I once thought I would facilitate directly. Read more>>