To start or to not to start, this is the aspiring entrepreneur's question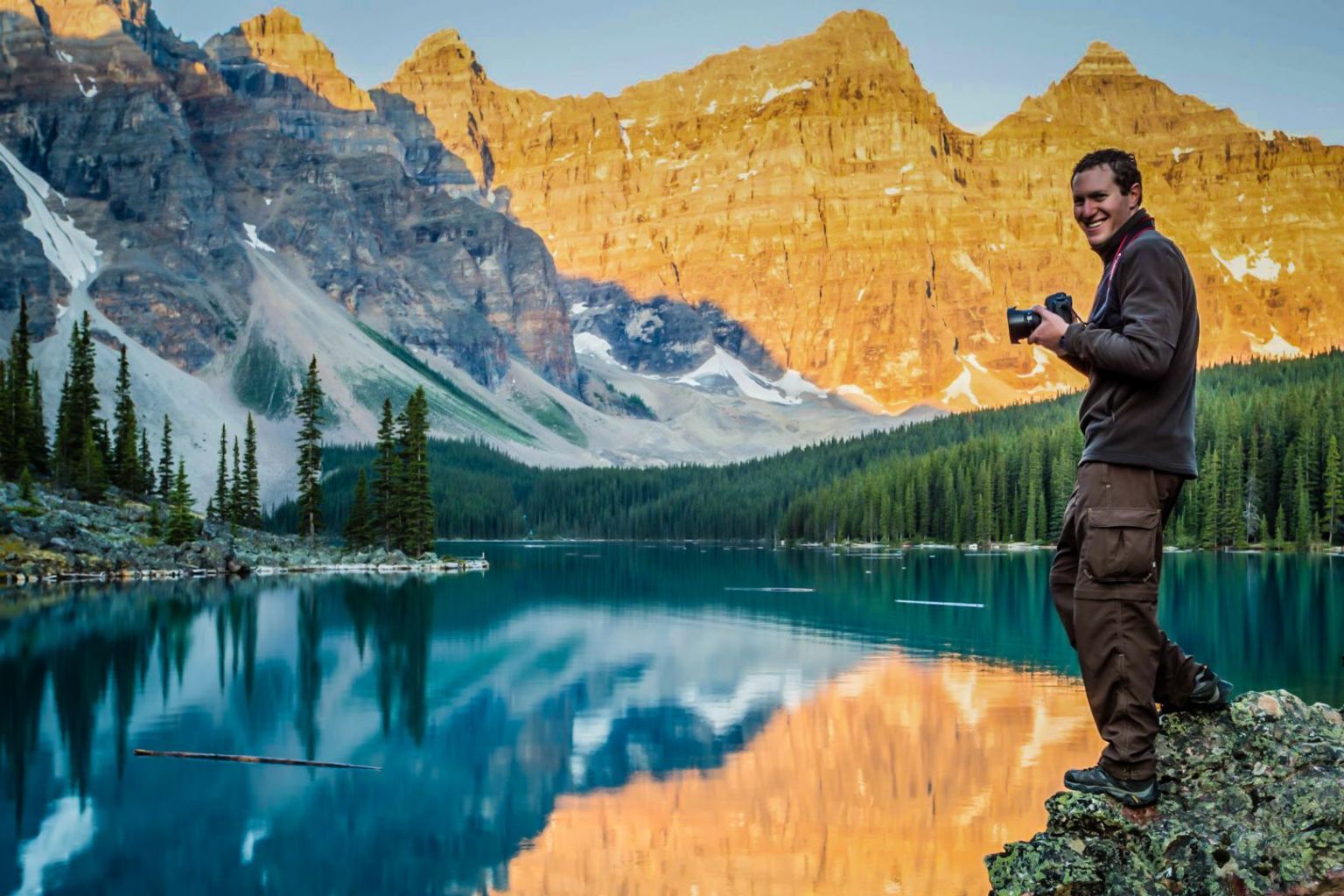 Many books on startups and business talk about how there are right and wrong reasons for starting a business. So, we asked a handful of successful founders about their reasons and the thought-process behind starting their business.
Adam Goldberg | Architectural and Interior Design Photographer

Photography had always been a passion and hobby of mine. I was fortunate to have jobs where I traveled a lot so I brought my camera with me all the time to capture all of the places I visited whether it be architectural wonders in a city, the hotel I was staying at, or a beautiful landscape. After changing corporate jobs a number of times in a short period of time, I decided that it was time to pursue my passion of photography full-time. I enjoyed architecture and design so this was going to be the focus of my photography career. I knew that it would be a challenge to leave a stable corporate job, but I also knew that all of the experiences I had up to that point would ensure that I would be successful in starting my own photography business. Read more>>
Shaun Boyce | Entrepreneur, Mentor, and Tennis Instructor

During the craziness that is 2020, Ankle Biters ExtraCurriculars was put out of business and my personal Tennis coaching business was shuttered as well. Since we work mainly with children in school systems and clubs, everything was canceled. We pivoted first to online calls with our kids to help them mentally and emotionally deal with the lockdown. Knowing our demographic as well as we do, we quickly realized that since summer camps were at risk of closing down we started offering Private Summer Camps. Utilizing a "We bring the camp to you" style, we offered to entertain children inside or outside of the house but staying inside of the neighborhood. Families could personally choose their trusted neighbors to join or simply appreciate the feeling that their children were having a great time but were not completely breaking quarantine so they could still visit their grandparents. Read more>>
Ashley France | Social Media Marketer

I saw that there was a disconnect between entrepreneurs and social media marketing.. When I first started doing this there wasn't any resources where people could go to get information & resources so I decided to create it I wanted to create resources that were affordable all while getting people the info they need to improve their social media platform. Read more>>
Jordan Rice | Actor/Filmmaker/Creator

From a very young age, I knew I was supposed to be an entertainer. I have always had a passion for healing people through art. When I booked my first film role in Ava DuVernay's film, Selma, I developed a strong passion for social justice. Ever since then, it has been my mission to create and be part of art that makes people not only think, but act. It's common to have trouble having conversations about politics, race, gender disparities, etc. but I believe that when issues such as those are discussed through art, real change can begin. Because of that, I have been part of organizations that create shows about social issues, created a film, STAINED, with Morgan Shaginaw that discusses sexual assault, and most recently, started a podcast, Get Into It, with Ambree Robinson that explores the struggles of young black women who live in white suburbia. Read more>>
Alexandria Alli | Founder and Designer

As a second generation designer I have always had a love for fashion. As I grew older and started modeling and I fell in love with the beauty and glamour of the industry. I especially fell in love with the well crafted luxurious Items specifically handbags that I got to wear as a model. But soon I realized that most women including myself could not afford the luxurious accessories that I modeled in magazines and on the runway. As I did more research I also found that their was a big void in the market for black luxury designers. So. I set out to change the narrative and start a brand of affordable, well crafted, colorful and unique luxury leather handbags for busy women on the go! Read more>>
Kelly Daniels | Artist

Starting my own business emerged slowly, really. My professional background is in architecture – I graduated college in 2009, in the bottom of an economic slump. Depending on myself was all I could rely on, so I stuck to what I knew. I began doing architectural hand renderings, literally knocking on doors to see if I could draw for other architects. I started painting pets & doing graphic design. I just hustled every day to make it work. It wasn't until I really streamlined my work & harnessed the power of social media that my business began to take off. Now, there's no looking back! Read more>>
Steve Hightower | Hairstylist and Salon/Spa Owner

I became a salon owner 33 years ago. My salon has been recognized as one of the top salons in Atlanta. My emphasis has been on staying current, continually educating myself and my team, using the best products, and specializing in a particular type of service in which others might be weak. Read more>>
Chloe Clark | Owner of Simply Sage Dog Treats

I was tired of trying to climb the corporate latter. I bounced around from company to company, working for whoever paid the most in my industry. Even after landing high paying jobs, I found myself frustrated because I had no time to enjoy life. It seemed like the more money I made, the less time I had for myself until all I had to look forward to was my two-week vacation time. I wanted to start a business, to work for myself. Because of the long hours and constantly feeling drained, I wasn't motivated to try. Finally, I realized that I couldn't spend the rest of my life living this way. Read more>>
Mistie Daniels | Owner

When I decided to open Salon M'lynn I sat down and really thought about what I wanted the client experience to be and what I wanted the staff experience to be. So, let's start from a client experience. Most of our clients are wives, mothers, working women. They come to the salon to relax, and enjoy the little time they have to themselves. So, when I opened my salon I wanted to create a welcoming environment of peace and relaxation. When clients walk into my salon I want them to feel like they're walking into my home.I have chandeliers throughout my salon, positive affirmations on the walls, shampoo bowls that recline, and we keep the salon very clean and organized. Everyone speaks, we offer our clients drinks and snacks, and every Saturday we have donuts and mimosas. Read more>>
Elena Taylor | Founder of The Innovative Mom™ and Outside10™

That's a good one. My thought process for starting The Innovative Mom was first off, I'm a single mom of 5, the second I realized by talking with moms around the world that although we have differences in our cultures, our similarities are so present. We want what's best for our families, we love intensely, and we give out a lot without thinking about ourselves most of the time. I wanted to create a space where moms are SEEN, Supported, Educated, Empowered, and Nurtured, kind of like being a mom to the moms. haha. Read more>>
Pam Marshall | Whole Body Cryotherapy and Wellness

Many of my family members were entrepreneurs with restaurants, hotels, construction and hair product manufacturing in Mississippi dating back to the 1930's and I wanted to follow in their footsteps. I understood that owning a business is hard and requires many hours of work before and after the sun rises and sets. Having two athletic children who endured many bumps, bruises and injuries led me to open a cryotherapy center to support the needs of athletes and others on their road to recovery or just to maintain their wellness. I am excited that we are approaching our 3rd year in business and planning on many more! Read more>>
Danyelle Donnavone Brewer | Make-up Artist & Beauty Mogul

My thought process behind starting my business was to create a secondary income for my household. In 2018 I had a vision board and on that board I wanted to create me 3 streams of income, purchase me a home, quit my full time job as a customer service representative and be comfortable financially. Read more>>
Jerrell Burke | CEO and Master Stylist

My thought process was having a plan and how do I execute it. I thought of how will Soul 4 U stand out from the others. Whats unique about me. What kind of services I wanted to provide. What type of clients did I want to attract. Who is my audience. How do I market and bring people in. How do I build relationships with the clients. What sets me apart from the rest. Read more>>
Adreon Patterson | Content Creator

For me, the thought of starting my own business has been a recurring thought for years. I've worked as an independent contractor for a decade. But I didn't start taking the thought seriously until two years ago. I knew working a traditional job just wasn't for me anymore after years of toxic environments and little pay. Being another ant in the anthill wasn't going to build the future that I wanted. I started decided to turn small gigs into a real business around 2018 after doing a few freelance projects. I got satisfaction and fulfillment from helping others succeed in a way I never did from my traditional jobs. Being my own boss and creating a viable future have always been goals of mine since obtaining my undergraduate degree. Read more>>
Sugandha Rosenhaft | Bringing Joy And Creativity To The Lives Of Children!

La Dee Da Studio was created out of my own passion for the arts and a curiosity for early childhood learning. I was born to two extremely creative parents who were pioneers in their own regard. Growing up as a little girl in a small town in India, we didn't have access to a lot of technology or big box stores, or even a lot of supplies. My dad who was an engineer would conjure up ideas and creations out of household supplies. There was always a DIY project of some sort around me. I was surrounded by freethinking and artistic expression. My mother was a successful female entrepreneur owning several businesses and I was raised with a strong sense of individuality, the value of hard work and hustle, and full creative freedom! Read more>> 
Calje Jordan | Eyelash Technician & Medical Assistant

My thought process behind starting my own business was at first extremely nervous and scared. Due to the fact I was already in my medical career and was torn in between making my boss rich or myself ( potentially) but I completely surrounded myself amongst genuine women that are heading or already established in their business, so I learned a lot and it eventually rubbed off on me. It wasn't a easy process but I stayed consistent, I didn't allow myself to make excuses and most importantly stayed positive and BOOM it happened. Read more>>
Alicia Murphy | Mobile and remote accounting, taxes and bookkeeping

I wanted to provide affordable accounting and bookkeeping services to small to medium business. The company I modeled my business after rate was bit steep and I notice clients with lower budgets didn't get as much attention. All of our clients are treated with integrity no matter the budget. Read more>>
Jay Sniw | Tattoo artist & clothing line owner

The thought process behind starting my own business was building an empire. Sad to say I am a convicted felon and I was tired of being turned around by employers because of my mistakes in my younger days. I decided being told when to clock in and how much they would pay me to be a slave just wasn't going to work for me anymore. They were making the big bucks and giving me pennies on the dollar. I questioned myself, like why can't I be my own boss, work when I want to work. Since that day I hit the ground running and created a lifestyle that would fit me as a person. Read more>>
Debbie Calabro | Kindergarten Teacher and the Family Fun Finder

My son had just turned one month old and I met a new mom friend. I said lets try out a Gymboree class and have lunch after? She said sure but what are we going to do with the boys at lunch? I told her just have them sit there with us. She was nervous but we had a great time. Growing up, my parents exposed my brother and I to everything they could. I wanted to do the same for my son. We began to take him even at a young age to explore places even if it was just to Lowes to look at ceiling fans and stare at all of them (he loved fans.) My friends would start to notice our adventures on my personal Facebook page and then text me what tips do I need to know to go there? What do I need to bring? I got so many texts I started to save my tips and copy and paste. It grew and grew and I decided to make a Facebook page to help other parents learn about fun places to take their kids and what to bring with them. Read more>>
Lou Heintz | Baby Gate Installer

My wife died in a car accident in 1998. At that time my children were 10 and 7 years of age. Suddenly I was a single parent responsible for my career in the staffing industry plus being the sole provider for my children. On top of that, after losing my wife my mental and emotional states were at an unimaginable low. I tried to maintain my career and take care of my kids for a period of time and was failing at both. Eventually I quit working all together for about a year to reflect and come up with a new plan. One day I was in a pharmacy waiting to have a prescription filled – likely an anti-depressant. I was looking through the magazines and one had a cover story called "25 Great Businesses for 2002". I bought it and discovered one could make a living child proofing someone's home. I believe part of the inspiration was being able to prevent an accident to a small child as that was how my wife's life ended. Read more>>
Pamela Kay | Author, Songwriter, Poet, Speaker, Intercessory Prayer Warrior

My thought process was to fulfill God's destiny, and purpose for my life. I am chosen by God to reel in the lost sheep for Jesus Christ. I desire to provide kingdom services to anyone of all nationalities, to inspire and to inform you of your divine destiny and purpose of why God placed us here! Read more>>
Eddie Owen | Owner of Eddie Owen Presents at The Red Clay Music Foundry
This was pretty easy for me. The new owner of the business I founded in 1992, fired me in 2012. The city of Duluth owned a building in their downtown. They had a great plan for revitalizing the downtown, and saw the many potential merits of a partnership with music and the arts to help anchor and drive the plan. Read more>>