To start or to not to start, that is the aspiring entrepreneur's question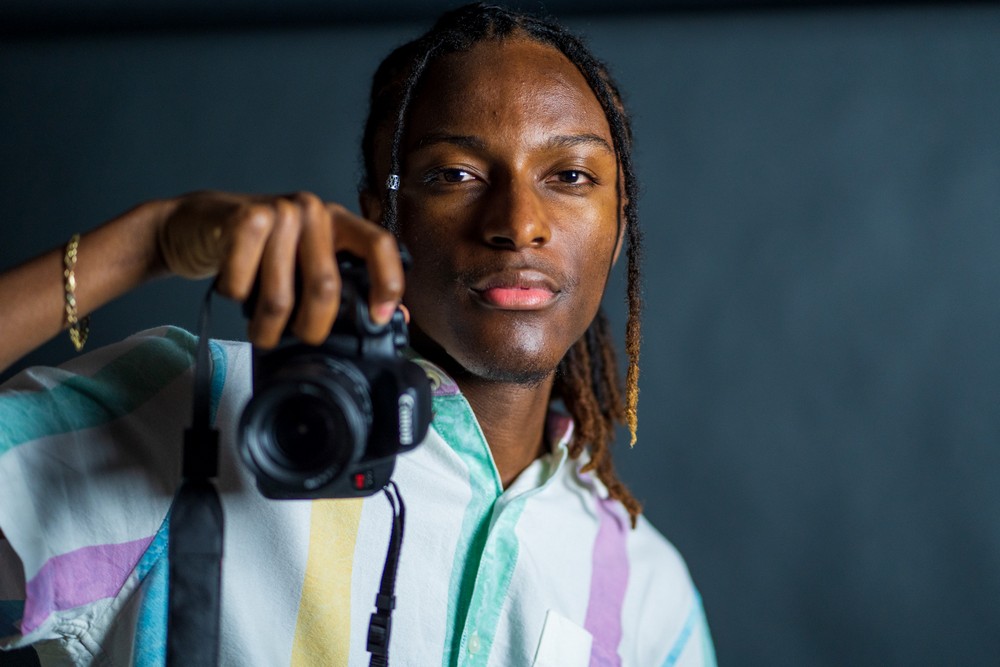 Many books on startups and business talk about how there are right and wrong reasons for starting a business. So, we asked a handful of successful founders about their reasons and the thought-process behind starting their business.
Ashli J. Washington | Designer + Writer

The initial thought process wasn't a process at all if I'm being honest. I made a chiffon kimono, wore it, posted it on social media and someone asked if I would make them one. I created an Etsy account and that's where it started in 2014. Since then, I've started the business, took a two (or three-year) hiatus, came back, then took a break again. In April 2020 when the pandemic hit, I was on another break, but I made about 10 masks and sent them to my family and loved ones out of necessity. My best friend encouraged me to offer some to folks on social media because there was a dire need for them. Read more>>
DaShaun Van Cleave | Photographer

I originally started taking pictures for fun and it wasn't until my friend told me I should charge for my photos that I started to take it seriously. When did launch the business officially, my thought was to give college students and young adults like me the ability to take professional pictures for an affordable price. Read more>>
Ceceily Maraya | Style Coach + Founder Style Evolved™

I have always known I was going to own my own fashion company. Fashion is one of the things I am most passionate about, as my journey with fashion allowed me to find myself. In 2016, I became a mother and I started preparing for my exit from the United States Navy, I knew I had to do something more. I came up with this concept where I would use my personal styling background to help women elevate their style however, I wanted to tap into how their style was a direct reflection of how they thought about themselves by merging life coaching and personal styling. Read more>>
Terri Spinney | Baker and Sole Proprietor

Before launching Terrific Treats FL in July of 2020, right in the middle of the pandemic, I knew I wanted to do something different for myself working wise. I had lost my job as a line cook that March after 4+ years working my way up in the food industry, so I knew I loved food (both preparing it for others and for myself), and knew I wanted to stay in that industry. But I wanted a change of pace from the path I was paving for myself, something that allowed me more freedom and creative liberty, as well as the opportunity to interact with the community I was serving–not just preparing food behind the scenes. Read more>>
Camri Copeland | Actor & Photographer

I'm an actress and I change up my hair A LOT. If you can relate, you can imagine how expensive this can be when it comes to presenting yourself at auditions and having accurate headshots. One day I went to get my headshots done and I thought, oh this is easy. I figured I'd buy my own camera and use a tripod to take a quick photo of myself if I ever needed a quick FREE headshot. After playing around with the camera, I started taking photos for my friends whether it be birthday parties or family photos. Eventually I saw the vision that I could create a business and offer people great prices for what they'd probably spend their life savings on elsewhere. Read more>>
Kellye Stellman | Personal trainer, life coach, gym owner

My thought process behind starting my own business was solely driven by the fact that I wanted to help people have a better life. Through health and fitness, people can have a better or the best quality of life which affects every area of their life. By opening a gym I have the platform and avenue to do this. My desire is to help people mind, body, and spirit. This is how I approach my interaction with my clients. I do my best to provide guidance in all 3 of these areas. Read more>>
Ashley Smith | Healthy Hair Specialist

At first I was Uber hesitant and unwilling. My mentor Natica Mosely presented the opportunity for me to not only be an independent stylist but also entrusted me to manage her second salon she had purchased. I honestly didn't think I had what it took but when you have people behind you that believe in you and see in you what you don't see in yourself, You're encouraged to step out on faith and that's what I did. I talked it over with my prayer partners, family & friends and the line I will never forget was "no risk no reward" those words specifically changed my thought process. Read more>>
Tomi Adeoba | Upcoming licensed master cosmetologist

Growing up, both of my parents had their successful businesses and from a young age, I have always known it was something I wanted to do myself. Although my parents were against me going the business route like them I did not let that affect me or the plan that I had for myself because I already knew it's what I wanted to do and what would make me happy. As I got older and life got a little harder, I focused more on working and making the quick, easy, 9-5 money since I didn't go to school and I didn't have much of a plan for myself. Read more>>
Shweta Mistry | Photographer

I grew up in a motel situated in a low-income area. It was a family business so I was essentially a maid as a child. A lot of people gave me the pity look when I tell them this story. This reaction forced me to be ashamed of my childhood, where I grew up, my culture, and more. But why? Why was I ashamed of something that I found so beautiful? The art of my immigrant parents running a motel business. The art of my mom carrying me in one arm while cleaning toilets with the other. The art of hearing police sirens after gunshots at nightfall. Were these things all positive and what a middle school girl should be used to? Read more>>
Jay Jamerson | Owner/Stylist

The amusing thing about it, there was no thought. Initially, my thoughts were solidified about not doing hair anymore due to the constant busyness of my life and being a single parent. However, with the push of my son and warm thoughts of my late mother, I found my passion again for doing hair. You see, my mother was my inspiration for doing hair from the start. She was the crown jewel who everyone in town would stop by to sit at the kitchen table and get serviced with the latest hairstyle. We all know how creative 90s hairstyles were. Read more>>
Cayla Nicely | Fitness Coach/ Personal Trainer

I believe that if you have an idea or passion that will bring positivity into the world, then you should start your own business. For me, I knew that I would be successful at starting NICELYFIT because I know my craft, and I love what I do as a personal trainer. This doesn't feel like a job. While some are able to comply with the traditional 9-5, others need a creative outlet. If you have a good work ethic, starting your own business may give you that opportunity to express yourself creatively and allow you to work outside of the traditional timeframe. Read more>>
Rene' Parks | CEO & Founder of Belle Vous Beauty

The thought process behind starting my business really stimmed from me not liking to be bossed around by others. But over time I realized that it wasn't necessarily the fact that I didn't like to take directive from others, it was more so the freedom that comes with being your own boss. However, it did not stop there! My ambition, my desire to want to start my own business became a real obsession when I realized my purpose! Read more>>
Jasmine Bryant | Licensed Clinical Mental Health Counselor Associate

Ever since I was young, I've always had an entrepreneurial spirit. This caused me to find creative ways to make money since the age of 12 such as selling snacks at school, creating body creams, jewelry and the list goes on. In May of 2020, I completed my graduate program in Clinical Mental Health Counseling which helped me hone in on my natural empathic, supportive, and resourceful way of being. Becoming a therapist has been one of the best career decisions I've ever made. Read more>>
Teiwan Williams | Yoni steam practitioner

When i was a dental assistant back in 2018, the hours were crazy and my boss at the time was mess. I decided to quit, really didnt have plan on what next. So up one night and discover about yoni steaming. It was very interesting to me. I started research about different herbs to do it for myself. About a couple month that what i did to help me with stress. One day my daughter ask what i cook and had the house smelling so good, so show her what it was. she asks me if she could try so i put her a blend together, she was amazed by it and said mom you need to sell this! my first thoughts were like nobody is going to buy this from me. she said no TRY anyway. Read more>>
Paper Talk 1k | Apparel Designer and Business Owner

My thought process behind starting my own business has been generational wealth. I want to leave a life of legacy. WIth me putting my foot in the ground now and setting the foundation then they are able to maintain the home I created. By me starting a business and being successful I intend to be able to take care of my family for generations to come. Read more>>
Cindy Yiadom | Owner, Signet Nannies

I have always enjoyed working with kids and I have also naturally have the drive to create something new and offer it to the public. So I combined the passion I have with working with kids and my drive to create something new to start Signet Nannies. I wanted to create a business where kids received the best of care. Read more>>
Stephanie McClain | Digital Marketer.

My thought process behind starting my own business was that I wanted to escape the 9 to 5 rat race. Ever since I was younger during my early teenage years, I've always wanted to work for myself. My first job was at 14 years old during the back in 1995 and I learned a lot of business skills at a Jamaican restaurant. During my mid twenties while going to technical college, I found a love for digital marketing and started a selling books on Amazon.com My medical conditions also played a factor with me starting my own business because there were so many jobs I could no longer do because of my health. I've been on a fixed income for over 5 years and I'm now 39 years old. Read more>>
Bahdori Oyanna | Reiki Master Healer and Teacher, Ordained Metaphysical Minister,

My thought process was first I wanted to share energy healing sessions and other holistic modalities and products that helped heal me at very pivotal points in my life. And I wanted to make it more accessible to the public. So my first thought was to open a practice and botanica online retail store. Read more>>
Robbie Howard | CEO, Sea Moss by RJ

My son, RJ was diagnosed with Asthma and Eczema and my husband and I decided give him Sea Moss gel to help alleviate the symptoms and clear the mucus- it worked perfectly. I was also was classified as morbidly obese and suffered from pre-eclampsia. I made lifestyle changes and added sea moss to my daily diet, which helped me on my weight loss journey of losing over 100 pounds. Read more>>
Keisha Paul | Entrepreneur

Starting my own business didn't begin with me writing an elaborate business plan or being excited about creating a website. It actually started with my life heading in a totally new direction. The only thing is, I didn't know what was happening to me at the time. Or that starting a business would change me in ways I never would have imagined. But there I was, relocating from my home and now living with my family. It was a very humbling experience because now I had to rethink everything! So for the next year, I was busy thinking what can I do to get my life back. Read more>>
Monique Shackleford | Entrepreneur

Since a teenager I've loved the idea of starting a business and being my own boss. It wasn't until my second baby girl was born with a rare disorder and needed me by her side throughout the day that I turned my ideas into actions. My job did not care if my daughter was sick or if she had physical therapy so I used my passion to create a job for myself. Read more>>
Elontae Bateman | Entrepreneur | Consultant | Creative | Career Advisor

My thought process behind starting my own business was really very natural or unintentional. I literally had an idea and started to execute on that idea because I was trying to spread message through my college campus, my native community (Memphis, TN), and creative community, which ended up becoming a business. However, the message was to get my peers, creatives, and motivated individuals with ideas and projects to release their work to the world, or at least start to execute on those ideas. It was just a thing that I wanted to do to motivate more of my peers and my people. Read more>>
Jeff Fedder | Real Estate Broker/Realtor

This was a multi-faceted process driven primarily by deciding to write my own career story versus having my story written for me. The short version is I was tired of being laid off 3 times and holding my breath every January waiting to hear if the company I was working for was going to be cutting staff or not. The retail business is highly volatile and after nearly 20 years in the retail industry, working my way up from a Sales Associate to a Regional Manager position over several companies, it was time for a change. Read more>>
Rany Burstein | CEO & Founder

The thought process for Diggz started after I had a few bad roommates over the years in college and later on in New York. However, the tipping point for me was after one really bad roommate search experience; Thinking I found the perfect roommate on craigslist, a would be female roommate slammed her door in my face after realizing I, "Rany", was a guy and not a girl. The problem that I noticed was that there was no effective way to find reliable roommates that fit your specific preferences. Something as trivial as gender, or a face photo were not included on Craigslist. It was hard meeting roommates online, and even harder to find ones that you like. The whole process was a crapshoot and you didn't really learn much about your future roommates upfront. Read more>>
Chelsea Ervin | CEO / Law student

My thought process behind starting my own business was to be a millionaire. And by the month , I am getting closer and closer . Expanding my mind and vision has been my biggest growth throughout my business journey . I've been servicing celebrities , networking and expanding my business to different states/ locations. I am currently preparing to make a big purchase of owning my own location . Read more>>
Damon Epps | Owner

The Marijuana industry is booming and has grown so much over the years, I had to create a lane for myself. Creating products for stoners, was a great way for me to wiggle my way onto the scene, without selling flowers. How can people smoke, without my products? They can't! I have not only created products, but I've created necessites; the toiletries for smoking, if you may. Read more>>
Ashley Brown | Owner of Pootie's Sweets and Treats

Cooking has always been a passion of mine. I wanted to provide amazing sweets and treats that look good, but taste even better. Read more>>
Cornelius Williams | HIP HOP ARTIST AND FUTURE OWNER OPERATOR TRUCK DRIVER

Being able to put the same energy if not even more that I would put on a 9 to 5 on my own creativity Read more>>
Tunisia Ananaba | Educator & Caterer

My thought process when starting Flavors Of Love Party Foods was indecisive because I struggled between my heart and my mind. My heart was telling me to follow my dreams of cooking and my mind was telling me that I could not handle another responsibility. Ultimately I took a chance on myself and followed my heart. Much of my reasoning came from my personal experiences and watching those around me. I watched my mother in the kitchen cooking with so much love and care from a young age. I was just always drawn to the kitchen and the process of cooking and I would literally stand in the kitchen watching and talking to my mother as she cooked. Read more>>
Katherine Ashley | Owner of "Shop Katherine Ashley" & Personal Stylist

My thought process behind starting my own business started with the fact that I love clothes. I was in retail for the most of my 20's and learned a lot of behind the scenes action that takes place in a retail store. I wanted to have a place that was for your conservative woman who is a little edgy when it comes to her style. Read more>>
Angela Paige | Boutique Owner

My thought process for starting my boutique business was actually terrifying lol. I had previously owned two nail salons and a hair salon in the past and always sold women's merchandise in each one. I stepped out on complete faith and followed my next dream to open a full women's clothing boutique offering apparel, bold accessories, fashion handbags and custom leather handbags.
There are many women who do not know how to properly style their body type so Read more>>
Tiffany Whitehurst | Certified Life Coach & Mindset Strategist

My thought process began shifting when I noticed what I was doing as a "hobby" or simply it being my passion, was truly an answer for those who had needs that no one else seemed to resolve for them. Seeing the results of individuals continuing to come to me for different situations and valuing what I had to offer, I began to move what I did in private, publicly and the response led me to build my business. Read more>>
Dawana Thomas | Digital Data Analyst & CEO of Blue Saignant Co.

Since a child, I have always enjoyed vibrant colors and weird fashion. Often times I was afraid to express my myself because I was afraid of what others would say and/or think about my clothes. Once I got to college, I noticed that fashion was a "THANG." I later discovered my passion for men's clothing. I love everything about a man! I just knew this was my calling because I was so good at styling my friends and family. After many attempts, it seemed like I could never get it off the ground! I was afraid of what I could do! One day, I was sitting at my desk and I literally said I am going to start my business today. Blue Saignant Co. is the name of my line; it means "blue blood." Read more>>
Dana Buchanan | Model, Entrepreneur, & Fashion Blogger

The thought process behind starting my own business "Dopeminkssss" was to create a side hustle based on something that I love which is makeup. I learned how to create my own look and I've always been very specific with the lashes I chose to wear to complete my look. At this time in my life I just moved back to Jackson, MS for graduate school in 2019. I did not have a job yet, just a refund check to survive off of. This was one of the hardest moments in my life. With that money I ordered 50 pairs of lashes and that was the beginning of a successful lash business. Read more>>
Courtney Harvey | Yard Cards/Bouncy House/Event Creator

The thought process wasn't mine to begin with. I love throwing parties and just having gatherings. It's always been a thing I liked to do. However, when I got married, we decided to do a destination wedding while cruising. Well, a good amount of my family and friends attended. I didn't know that it was their first experience cruising. Fast forward, I threw a paint and sip at my home, many family and friends attended. They stated that it was their first experience attending a paint and sip. A friend stated to me, The Harvey Experience is always a first experience for so many people. It kinda stuck with me and I decided to start the business to create experiences as I always do. Read more>>
Porsche Holland-Otunba | Maternal Health Thought Leader, Doula Trainer and Mentor, CLC

I started Reclaim Black Motherhood to respond to needs in the black maternal health and parenting community. Black maternal mortality and morbidity is at a steady all time high in the US and parenting supports often limited. Reclaim Black Motherhood provides services for black families, birth workers who support them, and organizations that provides programs and services that we consume. We have a unique approach to providing evidence based tools and resources for the pregnancy, birth, and postpartum journey whle equipping and holding accountable the Doulas, lactation professionals, medical instututions, and nonprofits that exist to service families. Read more>>
Sukkie | Owner

Honestly, I have always believed that my path was to work for myself and not for anyone else or any corporate organization. Naturally, you graduate from college and the next best thing is to look for a job. after many years in corporate America, I decided to start doing a few things here and there as a side business and when COVID hit, I got laid off and it was then, I made a run for it. Read more>>
Briana Taylor | Master Cosmetologist

I've never liked working for anyone. Having the same day to day schedule was a nightmare to me, and made me feel like I was locked down. I wanted to make my own schedule, and not FEEL like I was working. I knew that starting my own business and working for myself would change my life. Read more>>
Tiffany Washington | Paparazzi Independent Consultant

I have always had a passion for entrepreneurship. I believe the pandemic had to major part of making a decision to start my current business in direct sales. My current career is in healthcare as a wellness technician but during the pandemic I couldn't work for three months. I joined Paparazzi Accessories in May 2020 as a Independent Consultant. This business has allowed me to become more consistent in my entrepreneurial journey. It allows has allow me to use my creative and relationship building skills. Read more>>
Artisha Moore | Body Sculpting Practitioner

came across a few posts on social media that I have seen people doing body sculpting. Then I saw a company doing a free giveaway for body sculpting and I became one of them winners. I went to my session, and it was great! I saw an instant change in my figure, and I loved it. Read more>>
Chelsea "Chelz" Whitaker | Visual Artist

I've always known that I wanted to work for myself, but I had hard time figuring out what field I wanted to be in. Once I started making money from my artwork, I realized I could do what I love AND make a career out of it. I would still work other jobs while doing artwork, until my last job at The UPS Store. One day a regular customer came in to ship her artwork and I randomly asked about her work and how she started. That conversation really changed my whole perspective on art. I realized I wasn't thinking big enough for my dreams and that in order to get to where I wanted to be that I was going to have to make some major changes. Read more>>
Kelly Dasher | Dashing Images Photography, LLC

Well, I had a change of life experience a couple of years before starting my business. I got divorced, moved towns, and had to change careers from being an on-site dance instructor. Luckily, I met the love of my life and a super supportive partner, who also photographs too, Kevin during this time – who has been key in this business. I took on some different jobs at this point too, some not so great and one I actually got injured at. A few years before this I found myself taking some picture at local Cyclocross races and really enjoyed it and people started asking if they could purchase some of my shots, so they could print it. Unfortunately with the equipment I had, the files just weren't big enough. In between jobs, I found a really worn out Canon Rebel DSLR that had Pope High School from Goodwill and started taking pictures with that and that was the start! Read more>>
Johannes Mekuria | Certified Personal Trainer and Entrepreneur

There were a lot factors that led to me to creating my personal training business , but the driving forces was to help and improve people lives . One of the greatest thing about having my own business is that Creating an opportunity for myself and be come my own boss . Most importantly it allows me to make a difference in people lives . One of my goals is to empower my community through fitness Read more>>
Nickeisha Henry | Cosmetologist & Business Owner

Since I was a child I've been driven by passion and purpose. I knew I was here for a reason and that's to be of service to others. However, my journey has taken me down different paths until I found what I was called to do. Break generational blockages by working diligently towards purpose, while giving back to those less fortunate. This was my thought process that was the driving force to the birth of my business. Read more>>
Tamika Washington | Founder of ConverSpace, Strategist for Business & Digital Marketing

I started off blogging and podcasting and needed a community to connect with face to face, a place where I could retreat from the family to get some work done; a place where I didn't have to compete with dishes or laundry in order to be productive. That place became a workspace just for that but I also wanted a taste of freedom from my 9-5 so that I could be effective in my business, flexible with my schedule, and present for what matters most-family. In order for me live out my purpose, I need to be present-present in my faith journey with God and present for my family. Those two aspects pushed me to get started and its those two aspects that keep me going. Read more>>
Raven Hudson, MBA | Business Strategist in MedTech & Founder of The Shrewd Closet

We can all remember a time as a child when we had our first exposure to entrepreneurship – whether if it was a lemonade stand, a neighborhood bake sale, or selling candy bars for school fundraiser programs. I've always had an entrepreneurial spirit -widely driven by my father who has been an entrepreneur for decades. I never full pursued entreprenusrhip myself until 2020 when the pandemic hit. I saw people around me lose their jobs unexpectedly. People that spent decades at companies and was 100% dedicated. I realized I shouldn't put all my eggs in one basket. I wanted to build something that could be passed down to my family and create income outside of my corporate job. Shrewd Closet was born! I found a niche within style and everyday fashion. Read more>>
Andre Pounds | Experiential Marketing Solution Company

As an HBCU Graduate and from my 20+ years of experience in the music industry, I have learned a process for on-boarding companies and artists with the generational crowd from ground level. I've always felt the desire to enspire our future entrepreneurs coming out of HCUs. Read more>>
Gabriela Lopez | Wedding and Lifestyle Photographer

I was in my senior year of college in spring of 2020, and wanted to get into senior/graduation photography. I had done a few photoshoots and a wedding for friends and family, and would go around taking photos at parties just capturing people having fun, but wanted to expand to more people. Once COVID hit, I had a huge opportunity to take all that down time and learn how to use a camera better, work with lighting, develop my style, etc. Read more>>
Ken Wabibi | Co-Founder, Jack Of All Spades

The thought process behind starting our business was to provide opportunities for our community. We wanted to bring awareness to individuals, organizations, and businesses that normally wouldn't receive media coverage. Read more>>
Sage Shirley | Photographer & Actor

I had always been exposed to photography by my mother. She was a photographer so I learned most basics and techniques from her. When I was 18 I saw I could work conventions as a volunteer so I signed up to work Dreamhack Atlanta. Having just started to think I could do something with photography and it seeming better then some of the other volunteering departments I joined the coverage crew. I then worked the event capturing photos with people with much more experience and better gear. At the end though my photos held up against theirs and while I've gotten much better with time it was enough of a confidence boost to get me to start charging for shoots and seeing photography as a career path. Read more>>