Meet Tulsi Chaturvedi: Certified Professional Coach, Reiki Master, Hypnotherapist, Practitioner for NLP, EFT, Time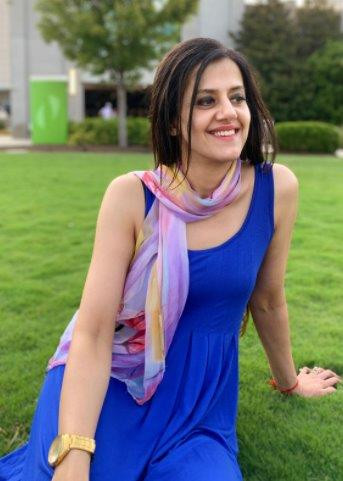 We had the good fortune of connecting with Tulsi Chaturvedi and we've shared our conversation below.
Hi Tulsi, what was your thought process behind starting your own business?
My thought process… This is a great question! From my early teens, I had a feeling that I am designed for helping others even if it was just a listening ear for friends who needed an opinion. Before I started my studio, I was having a successful corporate career. I was working for a multi-national company as a Product Manager. And to be honest, I didn't really set out with the intention of starting a Healing Center. Although, I always cared about healthy lifestyle and Alternative healing because that was something I started when I was just a kid i.e. age of 7 or 9, under my Mother's guidance and modalities like Meditation, or Praying to that Infinite Source was always there. During college, I discovered Reiki Healing and fell in love with the power of energy as we all vibrate and that it can also contribute in healing when it comes to us as human beings. I realized that the root cause of a disease in the physical body is not only addressed by western medicine, but requires to be complimented with Alternative healing like Reiki, Meditation, Sound Therapy etc. Because, people are struggling with their physical, emotional, spiritual health and want assistance whether they realize or  simply dis-regard. So as I was continuing with my career in Corporate, I told myself to start giving Reiki sessions on weekends as I had enhanced my knowledge and credentials during this time. Because, it's undeniable that healing & helping others feeds my soul and gives me a sense of fulfillment, content & joy that no other thing to me in this 3-D physical body can give. So, 5 years back, while driving back home I received this message from Universe to plunge into full time healing and grow further and that's how The Anubhuti came into existence. Within a year itself starting The Anubhuti, I realized people need assistance in attaining healthier relationships and achieving their career goals. So I craved to learn more and pursued my graduation as a Coach to become a Certified Professional Coach from iPEC. More I got involved helping my coaching clients, I got an urge to understand the human behavior and the power of Sub-conscious mind, this led me to learn Hypnosis, Neuro linguistic programing, Emotional freedom techniques, Time Techniques. Using these modalities, I helped clients quit addictions, lose weight, and get over with horrifying past. My mission is to work with community as a guide to help them live their best healthy lives at all levels. I started my business or rather my Studio because I want a brand that helps community lead healthier life style through these modalities.
Can you give our readers an introduction to your business? Maybe you can share a bit about what you do and what sets you apart from others?
Even before I respond to the question, I do want to mention about my business name or the translation behind The Anubhuti. If I have to dissect: Anu being the first 3 letters of Anubhuti was nick name of my mother and her full name was Anusuiya. Bhuti the last 5 letters mean Divine feeling/sensation or connection. So to summarize, her name has a connection with what I do i.e. through her I am connecting not only to her but to that Infinite source/Divine/Universe. The Anubhuti Center is dedicated for healing Body, Mind and Soul, and addressing the root cause of any disharmony. We offer following services: Reiki – Reiki helps in balancing energy centers "Chakras" and helps in chronic diseases like blood pressure, arthritis, cancer, skin disease, organ issues by balancing energy centers. Reiki has helped my clients dealing with depression, stress and anxiety as well. Sound Therapy and Meditation – Sound Therapy & Meditation together not only can be experienced for relaxation, but also have a way of moving through blockages in the body, and conditions like stress, anxiety, high blood pressure, depression, sleep disorders, pain. As a Coach, Transition & Relationship are my areas of specialization – Coaching helps client in achieving their goals, creating harmony in their relationships and also in their transition – whether career change, relationship change etc. I started to provide individuals and couples an alternative to counseling to learn practical skills to communicate better, fight smarter during struggle full times, and overcome any challenge as a team be at work or family dynamics. Hypnotherapist – Hypnosis helps in overcoming additions like smoking, alcohol, weight reduction, fears, and baggage from the past. There are quite a few things that are unique to The Anubhuti and has brought success. So one of them is that our sessions are tailored to our clients need, and each and every session has its own uniqueness, post session follow up, correspondence. Whether I am serving a kid who is 11 years old and has issues of bad temper, isolation etc. or an Adult who is going through with a Divorce and experiencing issues and stress at work. And yes, that's what I am proud of because I am not serving them at the same level because I believe that each and every individual is UNIQUE and has its own story which may contain struggles, challenges etc. On top of everything I have stated so far, I give 30-45 minutes of complimentary sessions so I can understand my clients better and also that they trust me as their partner in this Healing Journey irrespective of the modality they choose. For me time is the key, and I am not hesitant or even doubtful when it comes to investing for my Clients. Also during this Pandemic of 2020, that the whole world has experienced directly or in-directly, I feel proud that I was able to make a difference in the community during the month of May 2020 where I offered a free session of 44 minutes and then I continued the same in the month of October for a 30 minutes session. I feel that all of these acts are being guided by my Parents and Divine so I can continue on my true soul path. And yes, I feel joy, happiness and then to be modest… I am also proud as I believe that "One Person can make a difference, and everyone should Try" by John F. Kennedy. 
And also it's relevant here to mention about my challenges and Journey, as I have faced many challenges in my life, as well in The Anubhuti's journey. From a very young age, I know for sure that I have been overcoming challenges, I moved to different cities, I got degree in a brand new course program, moved from India to States, leaving a dis-functional relational ship that led to homelessness, shelter-ness and where I was struggling to have one full meal in a day and then later moving from a high paying job to my Studio i.e. The Anubhuti, with an uncertainty of receiving steady pay-check every month. So definitely, you can see that risk & overcoming challenges is something that is part of my growth & evolution. Something that I have learned and has helped me push myself: "Is to be comfortable with the uncomfortable." The most important lesson behind the success of my brand is discipline and consistency but being a creative being, I think at times that we can be our own worst critic and which can sometimes may prohibit us from displaying our work or moving forward into a new challenge within our career. For me, I have found that I am not fully 100% ready for each opportunity that comes my way, but I've learned that it is not a bad thing to be judged and that's how you grow in your business and craft! With this perspective in mind, I think being disciplined and consistent and passionate to heal others and helping my clients meet their goals and my blogs, my posts on social media has given me an advantage in my business and also to my success because it tells me and also to people that I am connected that I'm determined and continue to work hard no matter what challenge is thrown on my way. In addition, I have explored new opportunities I may not have had otherwise so in nut shell I was always a curious cat, learning new skills and still continuing in my present and will continue in my future also. I believe in this phrase of Vince Lombardi: "Perfection is not attainable, but if chase perfection we can catch Excellence". One thing I know is that I'm getting better and better and that's my Mantra for Myself. The most important lesson I have learned throughout my life is to be unequivocally and authentically me. I believe in "When you stop learning you stop growing". Having said that, another lesson I've learned throughout my career and life is: "Never say never for any opportunity and get as much out of any given opportunity." If you put nothing into it or your fear forces to say no, you will hardly ever get anything out of an opportunity. And, when you apply yourself and put everything you have into something you are passionate about, the results are mind-blowing. Because, if I look back at my corporate career or even business, I have always grabbed on to new opportunities or skills or even adding more modalities. In business, I didn't stick to only Reiki & Sound Therapy modality, I added Coaching, Hypnosis and yes on the same note, when corporate opportunity came along, I jumped on it. I believe in putting my mind a bold state when I sense or feel that something difficult or complicated is coming up or already there that this new challenge is a new opportunity and sometimes even a blessing to succeed and if not then at least to learn from.
Let's say your best friend was visiting the area and you wanted to show them the best time ever. Where would you take them? Give us a little itinerary – say it was a week long trip, where would you eat, drink, visit, hang out, etc.
Well, answering this question itself is fun. I am a Nature lover, so definitely this is going to be the first thing in my Itinerary and I am Blessed that I am living in a city, state which is full of attractions. Because I believe in this phrase "Slow down and enjoy the simple pleasures in Life" and going to the nature is going to Home. 
Another quote by —Albert Einstein "Look deep into nature, and then you will understand everything better" And yes, there is so much to do and see in the state of Georgia that I don't think I could keep it to just Atlanta. I would definitely take them for hiking, we have some of the most beautiful hikes, and if weather permits and if that's the case then you can't beat the trails in the Blue Ridge Mountains or in the Amicalola Falls, Chattahoochee river side. I have done some meditation sessions in Amicalola Fall State park area personally and even professionally with my clients and yes it's the most serene place to experience if someone is looking for calmness and quietness. Laser shows and hiking at Stone Mountain is fun and a change when it comes to the scenery. I've also really enjoyed taking the boat sailing on Lake Lanier. 
Downtown is full of fun when it comes to the Coke Studio, Aquarium, CNN studio, Mercedes-Benz stadium and when someone is really interested in knowing the history about our beautiful city then Museums, President Jimmy Carter Library, Martin Luther Park are the points to understand the History and evolution. There are fun places to eat there too, visit to Chinatown.
And yes, these are just some of the things, places, points one may want to include in their Itinerary including mine. Also, we always seem to have great events every weekend along with music festivals so it would depend on what is going on when they are here, since there is always something fun going on!  which is also my another Mantra ☺
Shoutout is all about shouting out others who you feel deserve additional recognition and exposure. Who would you like to shoutout?
Well, I am Thankful for a lot of things that I do want to Shoutout but to begin with in simple words I do want to Shoutout for Voyage Atlanta for giving me this opportunity and yes I am Thankful, Grateful & Blessed. Loving what I do, passion to help & heal the community, having mindset of seeing challenges as an opportunity, along with the above skills and habits have been instrumental in my success at The Anubhuti Center. When it comes to my business, I believe it has been the true key to growing success in my business by getting returning clients again and again. My first Shoutout is for my Mother & Dad (who passed away in 2010 & 2019), they gave me values and principles of honesty, courage, caring behavior, open-mindedness, intuitiveness and these assets have been instrumental in laying the foundation of The Anubhuti. And also, I am Thankful to the Universe for giving me intuitive & healing power and also to my clients for trusting me in their Journey including Katie and mentors/peers/soul connections like Justeen O./Deborah H. that I've collaborated during and after my graduation in coaching.  And, from family my husband who supported me unconditionally for all of my decisions and my brother-in-law Sachin C, who helped me choose the name of the company and also supported in my decisions in my early adulthood and true friends like Alexis G & Charles B, motivated me, kept my spirits high and made me feel that I have a family in my own hometown… which I call as a Soul Family. And last but not the least, I believe that without my God mother Bharti P for her unconditional love, guidance, support, shield for me where I felt like an abandoned Daughter and especially like an orphan when my Dad passed away in 2019.
I swear, I will consider myself as incomplete if these people or beautiful souls I have mentioned above are not part of this Interview and my Life journey. With due honesty and modesty, they have all been a part of my journey of growth as a human being & a healer. And for sure with no doubt, I'm highly inspired by the beauty that Mother Earth & nature provides from Angelic Birds – like Blue Jay, Red Cardinal etc. to animals like Deer, rabbits and different types of plants, trees from all over the world and beautiful nature spots like Falls, creeks, lakes – natural water body. I'm very passionate and dedicated about helping others and being an open and authentic person who isn't afraid to share her story, inspire others. If I can inspire one person to go after their goals, overcome their emotional, spiritual or physical challenges, or simply to feel like they're not alone in their journey, that's all matters to me. And yes, that's my biggest Inspiration or Shoutout…
Website: https://www.theanubhuti.com/
Facebook: https://www.facebook.com/TheAnubhuti/
Yelp: https://www.yelp.com/biz/the-anubhuti-suwanee-6?osq=the+anubhuti
Image Credits
Omisha Purohit
Nominate Someone:
 ShoutoutAtlana is built on recommendations and shoutouts from the community; it's how we uncover hidden gems, so if you or someone you know deserves recognition please let us know 
here.