Meet Theron Merritt | Bass Player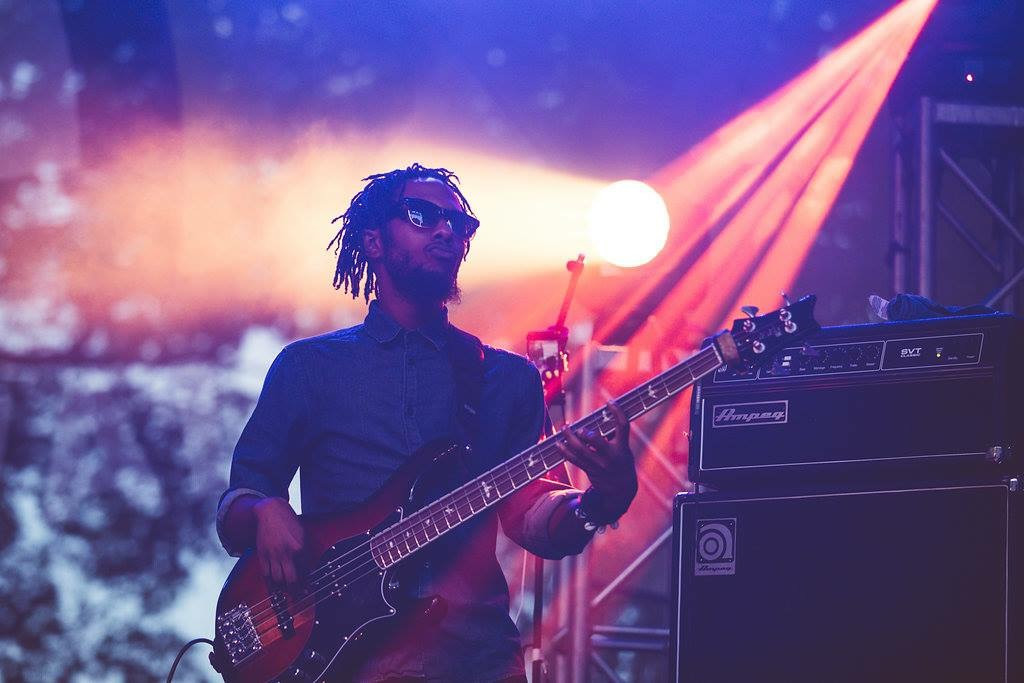 We had the good fortune of connecting with Theron Merritt and we've shared our conversation below.
Hi Theron, what do you attribute your success to?
The most important factor behind my success, believe it or not, is God. Take that how you want. I was raised in the church as a Christian, a P.k. (Preachers Kid) to some, throughout my younger years…all the way to college. Starting on drums with the youth choir and then slowly transitioning to bass while working my way up, I was able to grasp the concepts of time, rhythm, genres, playing by ear, the number system, what it meant to be cohesive, a team player, playing in front of hundreds sometimes thousands on a weekly basis and so much more, all fine tuned me into the player I am today.
Please tell us more about your work. We'd love to hear what sets you apart from others, what you are most proud of or excited about. How did you get to where you are today professionally. Was it easy? If not, how did you overcome the challenges? What are the lessons you've learned along the way. What do you want the world to know about you or your brand and story?
Now having coined the term of "Professional Musician" as a bass player I sought out to began my journey… but where to first? How about everywhere! For two years I spent my weekdays, Mon-Thurs, finding about local jams/open mics where I could bring my bass and sit in. I didn't miss a week. One Monday, at Northside Taverns Open Mic hosted by Lola Gulley, I came in support to play the blues jam and as any other Monday I walk in, speak, throw my bass down and go about my way. But this particular night there was an older fellow on a five-string Matte black jazz bass utterly murdering the set that I walked in on him playing to. I was blown away!! Shortly after it was my turn to play and I thought to myself, "There's no way I can play after that old guy just killed the stage like that" Sheesh.. but I mustered the strength, grabbed my bass, did my thing. Rarely do I get nervous but I'm sure glad it was over! After I finished packing up my bass I proceeded to head off stage but as my foot touched the dance floor my path was cut off. It was the older guy who just played prior to me.. accompanied by a woman who shadowed him. "Hey..hey, man. Man, I just gotta say that you got it. Junior! You got it." He says, as I nervously accept the compliment. I stuck out my hand as a formal gesture to greet myself and as we gradually engaged in conversation he still had yet to shake my hand.. let alone acknowledge it. That's odd, following that compliment he just gave. In this exchange of merely ten seconds it seemed like time was going in slow motion as my hand stood out there, cold, and unshaken. The lady shadowing him steps forwards and politely whispers to me, "Im so sorry..he cant see you're hand. He is blind. He cant see much of anything. Im here to help guide him." My jaw dropped. My heart stopped. A tear damn near formed in the corner of my eye! What did she just say? He's Blind? Im confused. The man who just played light years around us. "Haha, oh yea.. I'm blind! Sorry man. Did I miss something again?" With the most enthusiastic spirit he just chuckled. "My name is Isaiah Williams, everyone call me Za..nice to finally meet you." He shared with me, "I've heard you play before. It was about a year ago at the Elliott st. Musicians jam one night. I stood at the at the top of steps.. i couldn't make it down because i didn't have anyone to help me.. but I listened and said to myself 'Man who is that? I gotta meet him.' And as soon as you started playing tonight, man, I knew it was you!" 'Til this day I am still trying to comprehend how Za (pronounced Zāy) commanded his bass to do those things that night and as a blind man… && that was the start of one of my most impactful relationships. A month or so into us becoming friends, Za gives me a call one day and asks "Junior! If you dont mind, could drive me to my gig today? (Ya know, 'cuz he's blind.. he cant drive) "Sure Za, anything you need..im otw!" I replied. I pick him up and we make it to the show with plenty of time for me to get good seats. The lead singer grabs the mic and all I heard was, something something something "we are Arrested Development!" And the the band cued off! My jaw dropped. Damn near heart stopped! What did he just say? Arrested Development? Not the tv show? Two-time Grammy Winning Arrested? No freakin' way!!! High energy.. positive message, full band, killer bass lines, dope lyrics.. the show was amazing! After the show was over I B-lined to Za as quick as I could to commend him and let him know that I was in total shock. "You never told me this is who you played for!" He invited me backstage to meet the members of Arrested Development. As I guided Za to the green room we reached the doorway to the area where all the members where hanging out. They all spoke and greeted me warmly then went around the circle sharing their names with me. Speech, the lead singer. Fahreedah, vocals and dancer. Tasha, vocals. Jj Boogie, guitar. Smoke, drums. And OneLove, the M.C. Za then turns, looks at me, looks at them.. "Hey everyone. This is Tj. This is my replacement." I looked up at Za, who was arbitrarily staring over the room, my jaw dropped! My heart, stopped. I died! As my soul began to Astro project and escape life as we knew, I thought, "What did he just say?!? Im his what? His replacement? I understand English. But I dont understand this!" And that is how I became the second bass player for Two-time grammy winning hip-hop group, Arrested Development. Moral of that story is… just play. If you can do something, do it. Intimidation is nothing but a projection of fear. Dont stop now. You are a bad ass. Remember who you are. Someone is always listening and watching. Relationships matter. Be yourself, it pays off. Know when to be quiet. Know when to share your voice. You don't always need a substantial resumé or ten years of experience. And remember..Stay humble, open, kind, and assertive.
Let's say your best friend was visiting the area and you wanted to show them the best time ever. Where would you take them? Give us a little itinerary – say it was a week long trip, where would you eat, drink, visit, hang out, etc.
Since I am I musician the places that I visit are venues with live music. Any day or night of the week you can get your fix of live entertainment! Sunday Jazz at Gallery 992. Northside Tavern's Monday night Blues Jam. Tuesday night Musicians Jam at Elliott St. Pub. Wednesday night open mic at Niks Place (pre-covid/pre-closure). Thursday night open Mic at Kats Cafe. Friday Night open mic at Apache Cafe. By the weekend it's time to work, gig, or play in church on Sunday.. and then the cycle repeats!
Who else deserves some credit and recognition?
In the year 2013, I felt as though I began to reach a musical pinnacle in the city I lived in so I decided it was time for something knew. A fresh start. A clean slate. So I packed my things and headed down to Atlanta, Georgia from Baltimore, Md. As soon as I arrived, wide-eyed and giddy, I began to learn about all the hidden gems Atlanta had to offer from their crazy foodie restaurants, historic landmarks, && the overall love music in this city. And thats what sold me! The love of music. Gallery 992, Dariwin's, Niks Place, Apache, Mad Life, Northside Tavern, Kat's Cafe…the list goes on…from dive bars to concert stages, it's down here. Hidden within these places are some of the most kind-hearted, well-rounded, experienced and humbled players that you would want to meet whom over the years I have been able to build bonds, friendships, bands, networks, and gain simple knowledge from! Thank you Atlanta.. I owe you one!
Instagram: TjTheCool
Youtube: https://youtu.be/3jdl5ZXkqsc
Nominate Someone:
 ShoutoutAtlana is built on recommendations and shoutouts from the community; it's how we uncover hidden gems, so if you or someone you know deserves recognition please let us know 
here.