Meet Taijon Duverger | Professional Dog Trainer
We had the good fortune of connecting with Taijon Duverger and we've shared our conversation below.
Hi Taijon, we'd love to hear more about how you thought about starting your own business?
My thought process behind starting my own business dates back to being a young man. Ever since I was young, I understood I wanted to be an entrepreneur. I'd seen the lives that entrepreneurs live, and it wasn't necessarily the money that attracted me. It was more so the freedom I saw in their lifestyles. I grew up in a household where my grandma had to work two jobs to take care of the family. It led to her feeling like she didn't have freedom and just took away her ability to express and be herself. I did not want the same thing, and she didn't want the same thing for me, so I decided to go the entrepreneur route. My journey as an entrepreneur has shape shifted over time, from entertainment, music, fashion, and finance into my current dog training endeavors.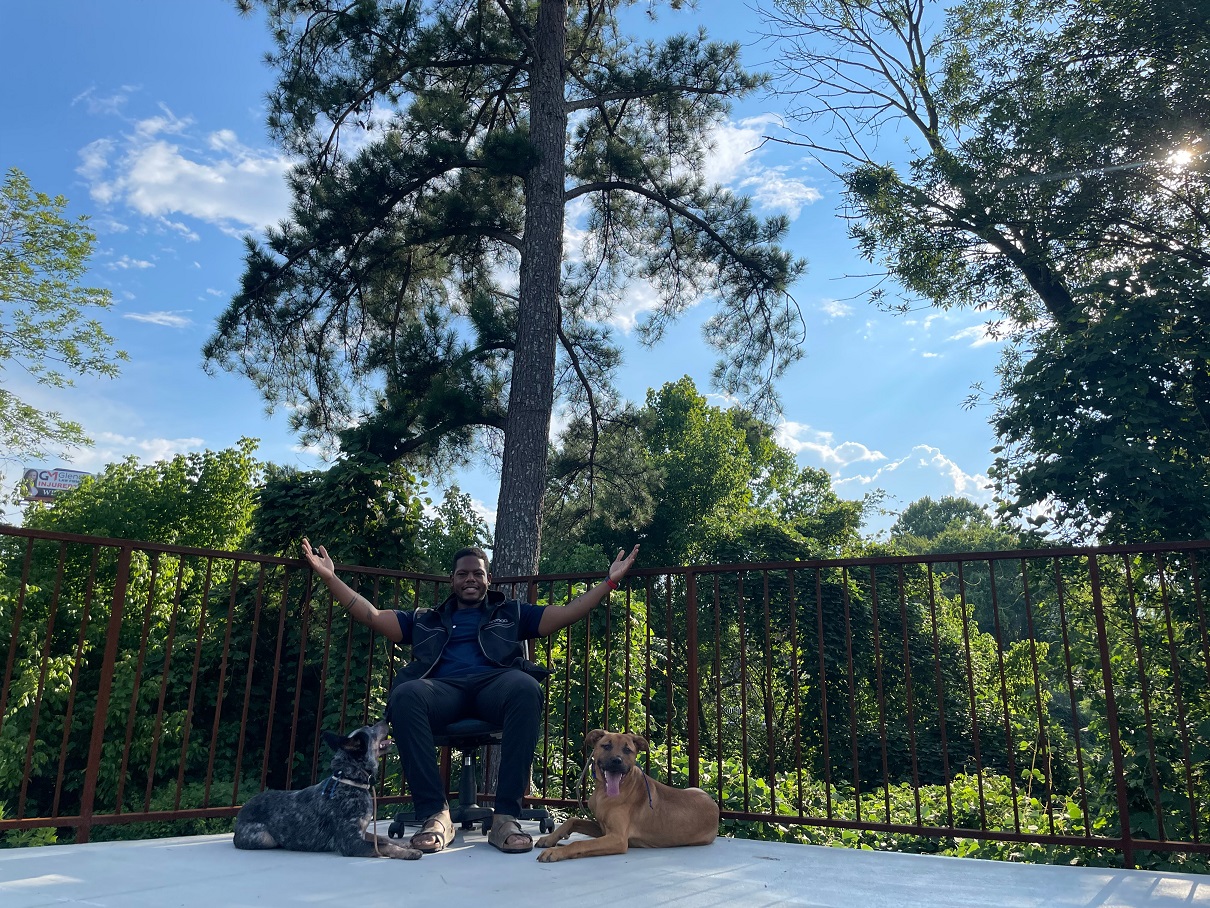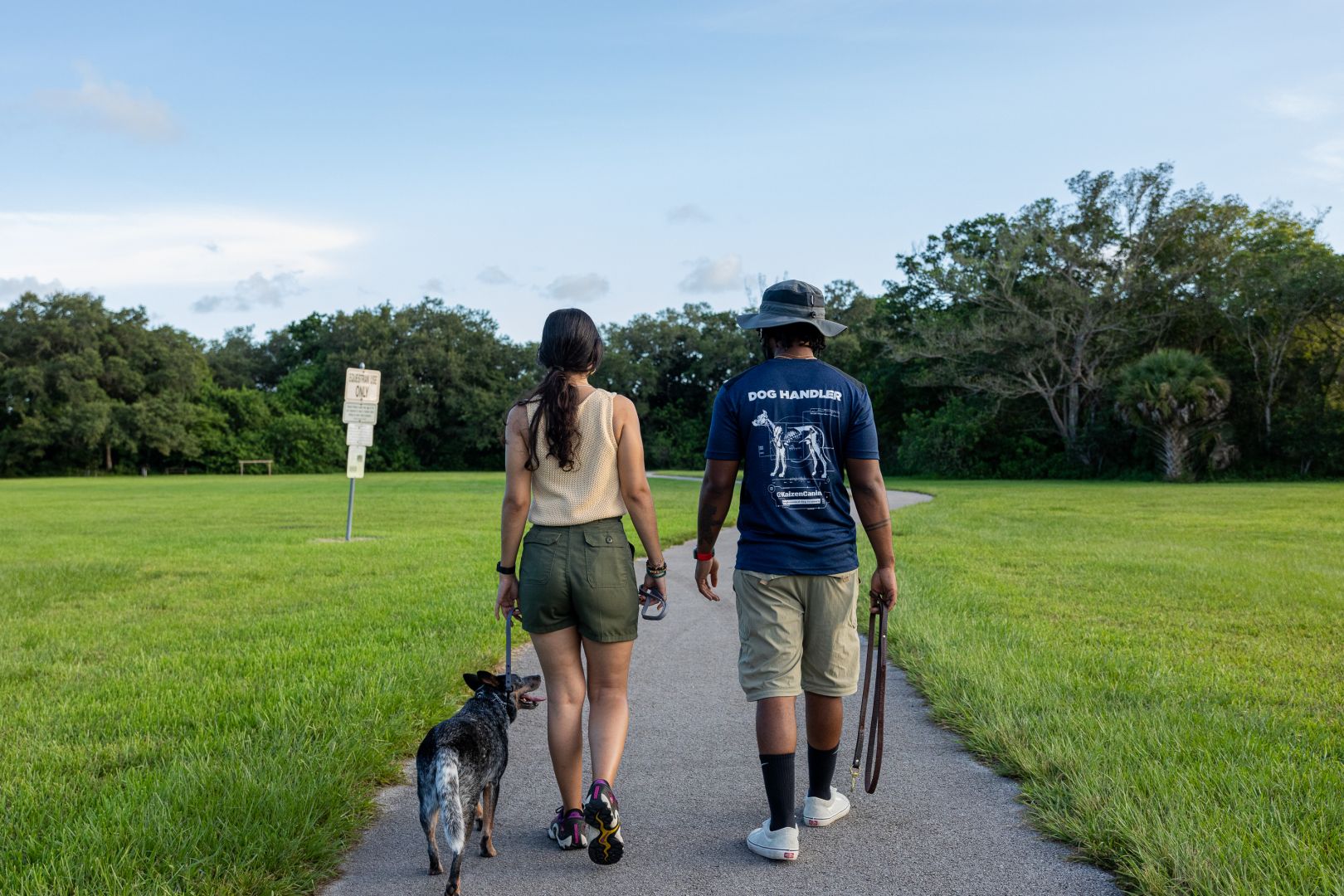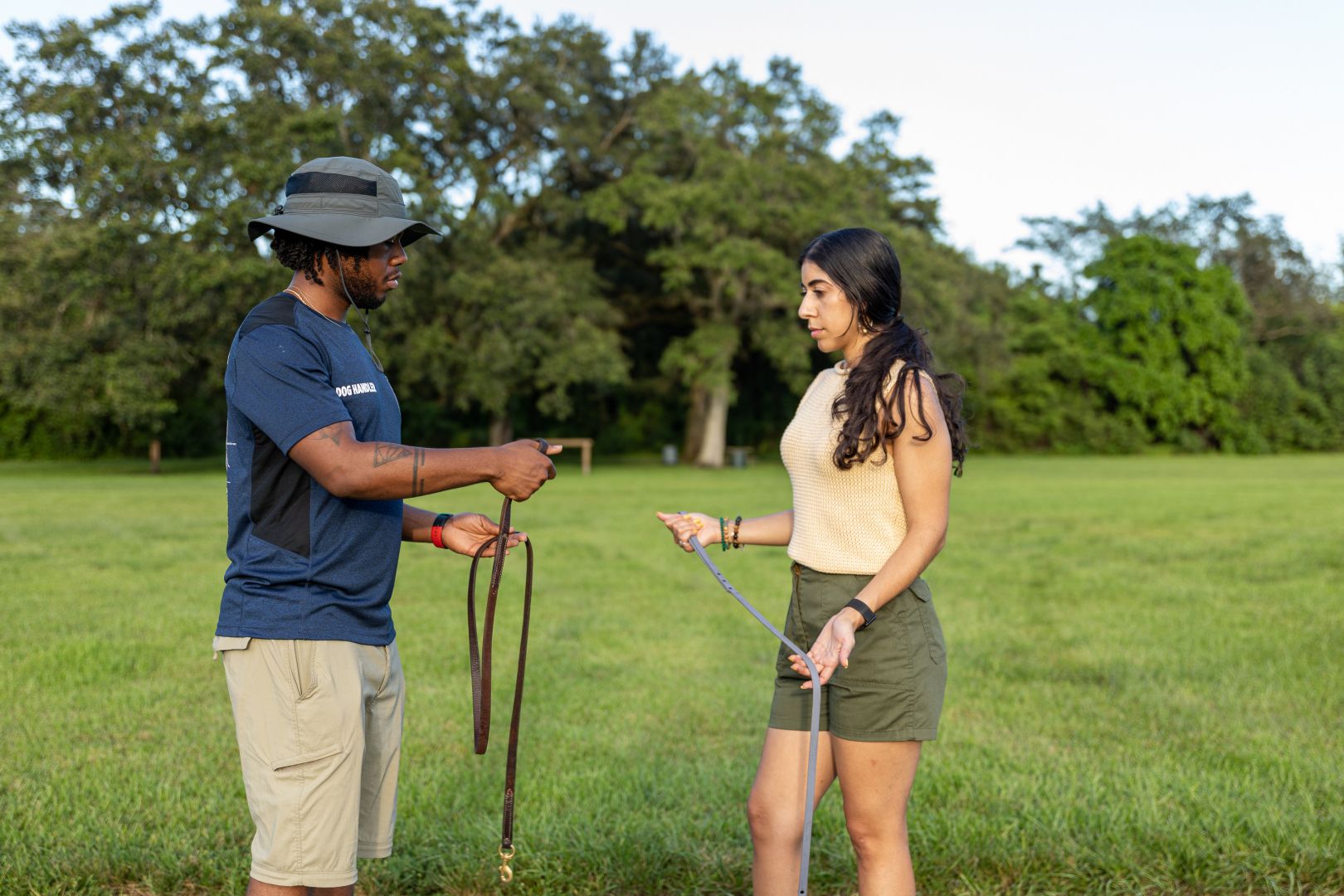 Can you give our readers an introduction to your business? Maybe you can share a bit about what you do and what sets you apart from others?
How did you come up with the idea for your business?
Dog training really stumbled upon me when my partner and I decided to adopt my rescue dog Static, an Australian Cattle Dog. We adopted him pre-pandemic and had no idea what we were getting ourselves into, life with him became very overwhelming and was detrimental to our home. We were at the point where we had to either re-home him or seek out dog training.
We decided to try out dog training first, and ended up working with a company that helped get us on the right path. I often asked them if i could learn more, seeking to better understand how to continue improving.
Eventually I asked to apprentice with them and started my professional dog training journey. Things fell off with that company because of the owner, it was not a good fit for me and my personality. This led me to the second dog training company I worked with, who was ran by younger owners that were a little bit more up to speed. However, there was another lapse in working with this company in regards to my value. No one can tell me my value, I know my value. I was giving a lot and getting little in return, that's when Kaizen Canine was born.
Kaizen represents an Eastern way of life based on the constant improvement of one's craft. It's a foundation, a way of life and being. Kaizen represents me well, and since I came from businesses that I felt were not a representation of that, I wanted to do the opposite, which is to always improve. Kaizen Canine is a dog training business that focuses on educating humans through simple, practical tips to improve communication and enjoy a better life with their dogs.
Risk taking: how do you think about risk, what role has taking risks played in your life/career?
I've taken a lot of risks in my life, most have paid off. When I think about taking risks, I think about decisions. Decisions need to be made for us to progress and continue growing in our business. There is no reward without risk, that's something that I believe in. A lot of times as an entrepreneur or someone who owns their own business, you might hesitate on making decisions because of fears that come up like "that's a lot of money". So for me, I take a big risk on education. I take a risk on investing into hiring the best educators, so that I can continue becoming the best dog trainer. I love to hire the best in their field so that I can continue to grow a successful enterprise.
Taking risks in my life has led to some of my greatest memories. I've taken the risks of traveling to places when maybe I shouldn't have, but I created memories that have inspired me. Inspired me to not only make my business better, but also fuel and motivate me to keep going because I understand the potential of what life has to offer.
Risks in my business only make me get better and make the business get better. You either win or you learn. If a risk goes wrong, it's just an opportunity to learn a lesson. If it goes well, it's a great reward. I never risk something that doesn't have the potential to really grow and 10x. I won't take risks for small or petty outcomes, I'm always risking for big results.
What's one piece of conventional advice that you disagree with?
"Work smart, not hard." My reasoning is that for you to be able to work smart, you would've had to work hard to figure out the smart way to go. So when you tell people "work smart, not hard", it sets them up to think that I really shouldn't be working hard and I should be finding the best way. Many people forget that the journey is how you become smart, right?
For example, LeBron James wouldn't know where to work smarter unless he worked hard and figured out where his weaknesses were. Through the hard work you're able to find your weaknesses, assess your strengths and then you can begin to work smarter. In my business, that's represented by going out and helping people, then I learn where people need the most help. I uncover the opportunity to create programs that address those needs, and keep evolving the programs so that I can scale the business. I wouldn't be able to do that if I didn't put in the hard work at the beginning.
What is the most important factor behind your success / the success of your brand?
The most important factor behind my success with this specific business is the people. The fact that people need help with their dogs, it is not something that is intuitive for people. We actually need some professional help to build a better relationship with dogs. People try on their own, get frustrated and then they seek out help.
When I speak to young or aspiring entrepreneurs, I tell them to seek space in somewhere that you're needed. I think, especially in my community, the only way we used to think of "making it" was if you're educated in professions like doctors and lawyers, or by being an athlete or entertainer. The reality is that there are many other ways to become successful, and even when you get there, there's still so much more work to do. I think the most important factor is being in a business where you're needed.
My clients' successes are my success. When my clients learn and accomplish their goals in their relationships with their dogs, they become satisfied Kaizen Canine Alumni and contribute to the business's success.
What habits do you feel helped you succeed?
The habit of being mindful is something that I practice and cultivate, it helps me become successful. If something goes wrong, I want to be mindful and take the time to assess the situation. I strive to practice being mindful every day because it helps me develop my awareness and perform at a higher level. The biggest ways I practice being mindful is through exercise, I like doing yoga and playing basketball. Playing basketball makes me feel like a kid, and gives me a creative space to express myself. I'm also very competitive and I like to destroy my opponents, so I'm constantly working to better my game. Bringing it back to my business, it gives me an energetic outlet and connects back to the Kaizen theme of always improving. It goes full circle, I wouldn't be able to constantly improve if I wasn't mindful.
Work life balance: how has your balance changed over time? How do you think about the balance?
I would say work life balance really like the weather. The seasons change, and work life balance changes depending on the seasons. When things are really busy, I understand the sacrifice that must be made as the owner and operator of the business. When things are slow, I take the time to enjoy the slow season, whereas I think people panic when things get slow. You have to learn to love the flow of business. Understand how you can improve when it's busy so that you can maximize your return; as well as what you can do when it's slow, there's work that can be done to set up for success. There are some boundaries that I continue to establish for balance. For example, people texting me at 11:30pm for help with their dogs or calling me past business hours, that's a boundary that I continually set. I care about your dog, I love you and your dog, but unless it's an absolute emergency, it can wait till tomorrow when I have some time to speak to you and I'm in the state of mind to be of service.
Why did you pursue an artistic or creative career?
For me, it's just another way to express myself and to bring visions from my mind out into this world. That is fulfilling because that allows you to build confidence in yourself. Whether the idea is successful or a failure is really dependent on you, but it really is getting comfortable with failing. Some people hear that word and don't feel good, but losing or failing is great because you just learn that this specific idea didn't work out in this way. It only takes one idea to work for you to establish yourself and continue to gain momentum. Since I was very young, I always had this vision of the way that I saw life for myself and the way that I wanted to live my life. This is just another way for me to express it, a vehicle to take me on the journey to my vision.
What are you inspired by?
I'm really inspired by seeing people benefit from my work. I'm also inspired by the world that we live in, experiencing different cultures and seeing different ways of living. It's very easy for me to get inspired. Something just takes over my mind and takes me into this place where I just start seeing visions, so for me, I'm inspired by everything. In fact, I have to do my best to bring awareness to my active inspirations because I am always coming up with ideas. At one point in my life, I was purposely coming up with 20 ideas a day, but I had to slow down enough to really come back to the present moment, so that I can enjoy the present and take action on the inspiration. I am inspired by the world that we live in, the people that we get to help, and the experiences we get to have as human beings here on this planet.
If you had a friend visiting you, what are some of the local spots you'd want to take them around to?
I'm relatively new to the city and a big plant based foodie. I've been enjoying spending time in nature and supporting local:
– Ammazza, BEST VEGAN PIZZA EVER
– Ameer's Mediterranean, best authentic food, family owned and operated, the owner is good people
– Grindhouse Killer Burgers, fire veggie patty
– Cochran Shoals park
– East Palisades trail bamboo forest hike and dog beach
– South River Trail Intrenchment Creek Park trailhead #defendatlantaforest
– Wagaya
– Jinya
– VeGreen (Duluth)
– Puttshack
– Stone Summit Rock Climbing
– Tassili's Raw Reality Cafe
– Grant Park Farmer's Market for some Astronut mylk
– Bien Vegano market for Calaveritas and Kris Catalyst Plant Based Cafe
– Gregory's Atlanta Vegan Breakfast (Roswell)
– SOB Atlanta
– Bar Vegan
– Dragon Bowl
– Chattahoochee Food Works for Hippie Hibachi
– Morningside Nature Preserve, great trail and dog beach
– Atlanta Botanical Garden, evening time for sunset and light show
– Vickery Creek trail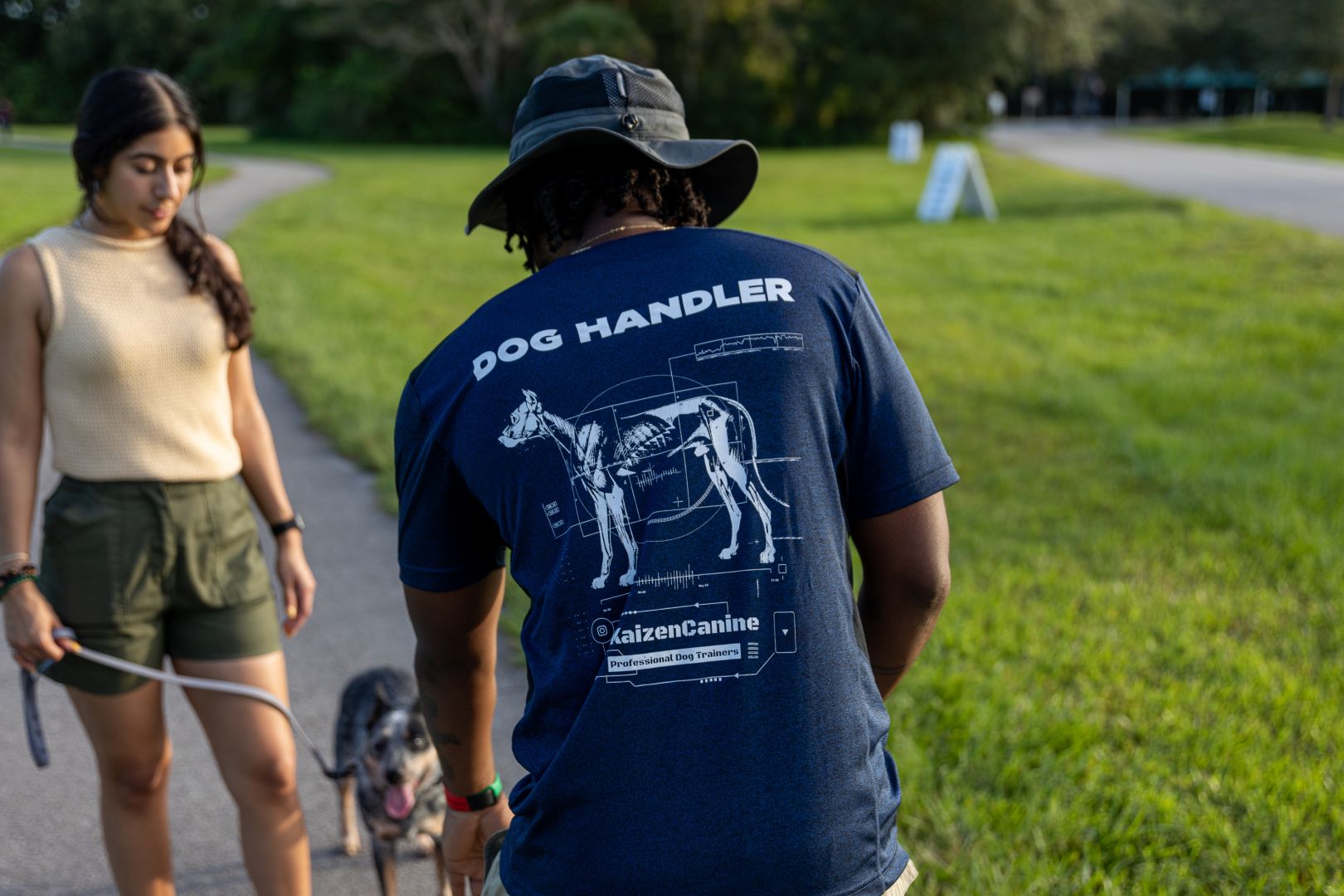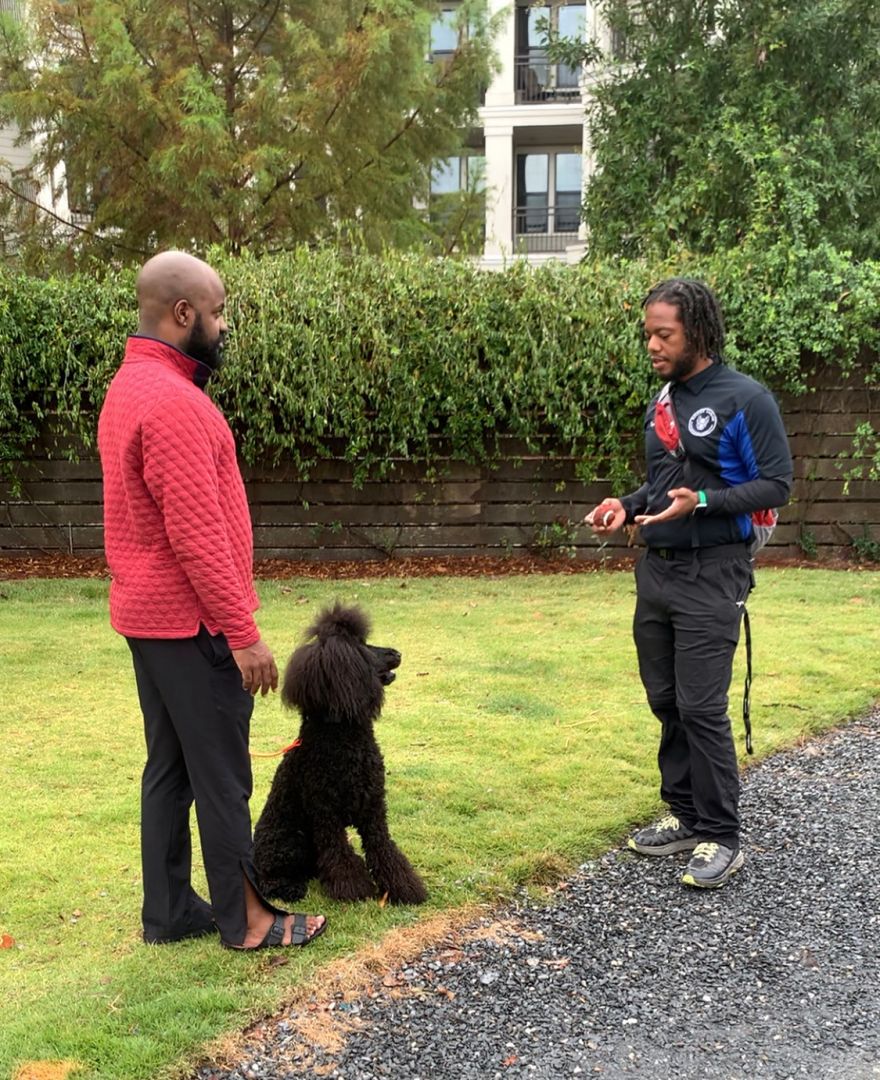 Shoutout is all about shouting out others who you feel deserve additional recognition and exposure. Who would you like to shoutout?
Static, the Australian Cattle Dog puppy I rescued from a hoarding incident, is the reason I'm here. Shout out to all the rescue dog parents that take chances on pups that have had a rough journey. Rescue parents give them best home they know how to, seek help and truly care to build a life changing relationship with their pets. Shoutout Vic Blends he also inspired me to do the free dog training series and directly impact the Atlanta dog community.
Website: https://www.kaizencanine.com
Instagram: https://www.instagram.com/kaizencanine/
Facebook: https://www.facebook.com/kaizencanine
Youtube: https://www.youtube.com/channel/UCzrGRO2tkF64c-EiTV2yW8A
Other: TikTok: https://www.tiktok.com/@kaizen.canine?_d=secCgYIASAHKAESPgo84kXKDYk0600kjXW1O505Z0WkgqxOUDCqszWhOkx36zLKU5Gr4ZXU0J%2FJ895QAq%2BZGLGENIn%2Bre9QZQ55GgA%3D&checksum=762c5d281150b844eb9dcf12f501e6abfade1a2184a4bbf122a5ed0f6eb3d746&language=en&sec_uid=MS4wLjABAAAAVPEdR7baHJmaVqRJECw8ghj8jMj54dmef3yWiquHIQFka6sRGdBZESyln69TRUzK&sec_user_id=MS4wLjABAAAAVPEdR7baHJmaVqRJECw8ghj8jMj54dmef3yWiquHIQFka6sRGdBZESyln69TRUzK&share_app_id=1233&share_author_id=6925062278714885126&share_link_id=2ECA62FB-C98C-4BDB-A026-0FB9716E05B0&tt_from=copy&u_code=dh00mh0ab005i5&user_id=6925062278714885126&_r=1
Image Credits
Brandon "Keysus" Morris Valeria Pulgar
Nominate Someone:
 ShoutoutAtlanta is built on recommendations and shoutouts from the community; it's how we uncover hidden gems, so if you or someone you know deserves recognition please let us know 
here.