Meet Laurel Buchanan | Event Musician – Harpist and Vocalist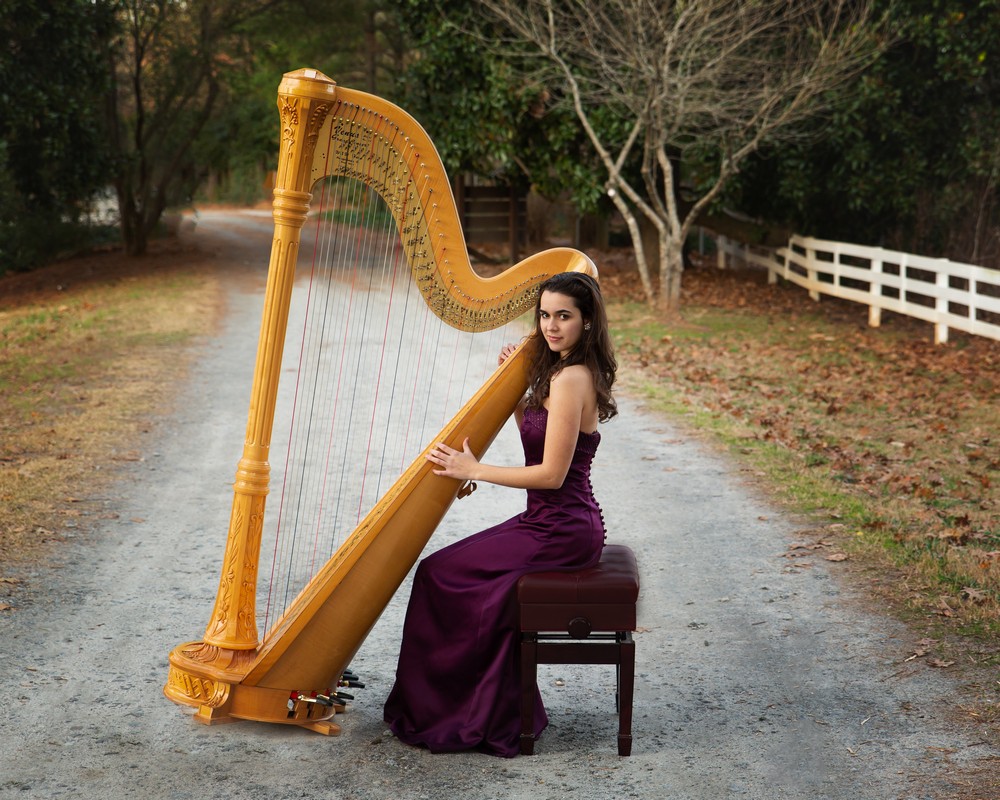 We had the good fortune of connecting with Laurel Buchanan and we've shared our conversation below.
Hi Laurel, we'd love to hear more about how you thought about starting your own business?
It was not until I was frustrated practicing the harp one day when my parents told me that if I learned how to play ten songs perfectly that I could be paid to play at weddings. I knew I wanted to do something more than just practice for the next week's lesson, and practicing for lessons was just not fulfilling my natural love of music and performing. I grew up singing in school talent shows and at churches, which is where I got a lot of feedback about my music. Audience members would come up to me after and tell me how much my music made them feel happy and relaxed, and how they would pay to hear more.  When harp came into the picture, I got the same kind of feedback. The idea of playing as a business was never really a formed plan, it just kind of happened. In middle and high school I volunteered to play mini-concerts at a senior home. I honestly was not super thrilled to do that, but my Godmother worked there at the time teaching art classes and was able to set up impromptu concerts for the residents there. The more I performed as I volunteer, the more it forced me to discipline myself to learn those ten songs for the mini-concerts. Soon after I booked my first wedding when I was fourteen years old through a cousin of mine.
Since then, through word of mouth, my performing opportunities began to skyrocket. I graduated in 2021 with a degree in Harp Performance, which required me to go through four years of orchestra. Orchestra concerts and connections with other musicians eventually turned into guest performances on Atlanta Live/ Channel WATC and came a lot of wedding bookings!
So, what first started out as a hobby, became a degree, and now a small business. I have a YouTube Channel, Instagram, and website which all showcase what I can do and what events/experiences I have been apart of. You can also book me specifically through my website. I have performed at multiple local wedding venues such as: Primrose Cottage, Biltmore Hotel, Cherokee Country Club, Brasstown Valley Resort, Perry Lane Hotel, and Willow Creek Farm.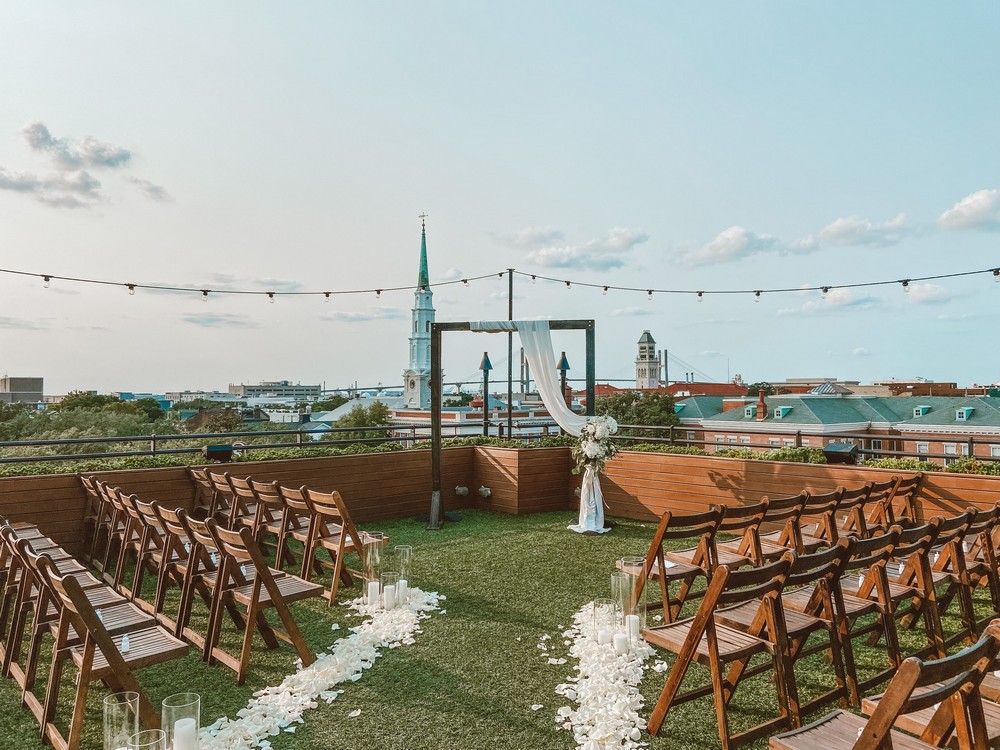 Alright, so let's move onto what keeps you busy professionally?
I play as an event musician throughout the Atlanta area, mainly for weddings. My two main instruments are the harp and voice and I have been classically trained in both. My music is inspired by my love for classic movies, instrumental soundtracks, and sacred hymns. My ability to add elegance and class to modern songs is what sets me apart from others.
I am excited about the New Year, 2022, and what opportunities it might bring. 2021 brought more than I could have imagined, including my own Christmas Show Special on Atlanta Live on network WATC that aired on Christmas Eve, and a wedding booking which took place on a rooftop of a hotel down in Savannah, GA.
One thing I am most proud of is my on-stage performance collaboration as a featured soloist with a group of percussionists. One member of the percussion studio composed a concerto specifically for harp and percussion. His piece of music was what he called a "battle of the sexes," where he had the girl percussionists on one side of the stage, the guys on the other, and the harp in the middle to represent a mediator between the two. Throughout the piece, the girls would play, the guys would respond, and vice versa.
The harp would then try to calm the two down with its own solo movements. The percussion studio's teacher, John Lawless, who conducted the piece and also plays percussion for the Atlanta Symphony Orchestra, originally had the idea for the collaboration and I never would have had that opportunity had it not been for him. (You can see this performance on my YouTube Channel. https://www.youtube.com/watch?v=3L9aFJASG5E)
When I was seventeen, I had the opportunity to perform for and be interviewed by gospel singer/songwriter, Babbie Mason, on her TV Show segment, "Babbie's House.
During Covid, a local restaurant owner in Roswell, GA had turned his restaurant, Table, and Main, into what he called "Table and Aid." While the restaurant remained closed, the kitchen remained open and made daily meals for those who were food insecure. Donations came in all forms in order to keep his idea going, whether it was through local farms donating food, or the local community giving money towards the cause. The owner, Ryan Pernice, wanted to give back to the community somehow, which is where the harp came in.
As a volunteer, I brought my instrument into an empty dining room filled with food supplies and played a live virtual concert on Facebook to bring some happiness and relaxation to those who watched. I loved being able to be a part of something big, something that could lift people's spirits during a time of uncertainty in just a few minutes.
One of the biggest challenges I faced along the way included the financing of my current concert-grand-sized harp, which I bought on a loan basis and worked three jobs at once in order to pay it off, which I was able to complete in less than 2 years.
As playing the harp takes its own special technique, the transportation of the harp also has its own. When I play for gigs or other events, it requires me to bring along an assistant in order to get the harp in and out of the car, as well as carrying around other necessities such as a music stand, bench, or folders of music. When you see the instrument, you do not always think of all the requirements that come with it.
Not only does it take an assistant, but also a car big enough for the instrument to go into, a dolly to move the harp around with, a customized case to protect it, and then hopefully not dealing with a lot of stairs when reaching the destination. Sometimes, venues only have gravel rock pathways or flights of stairs which can make moving the harp rather tricky.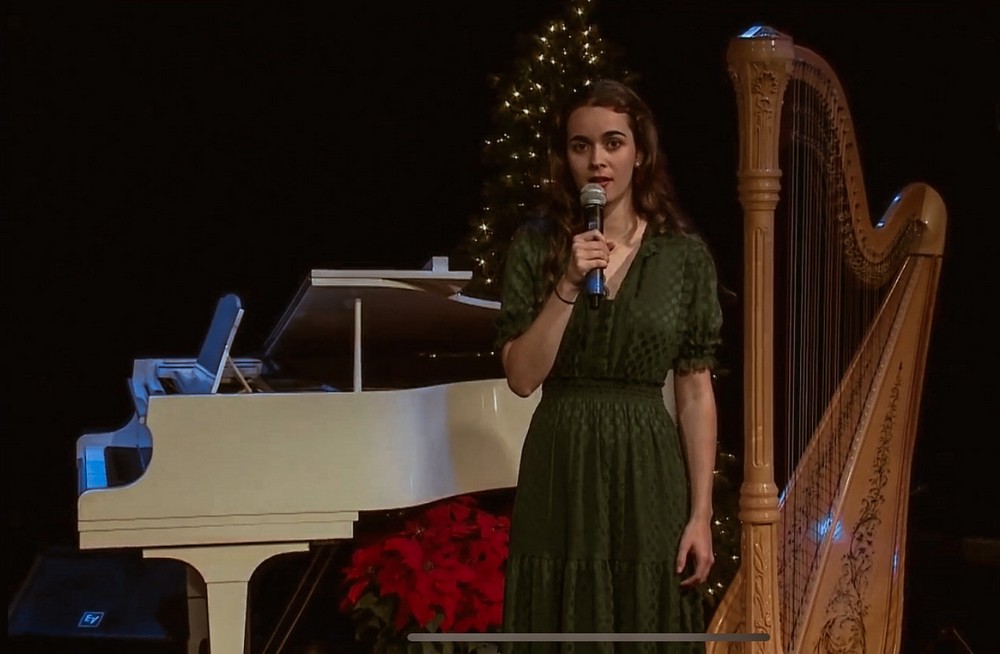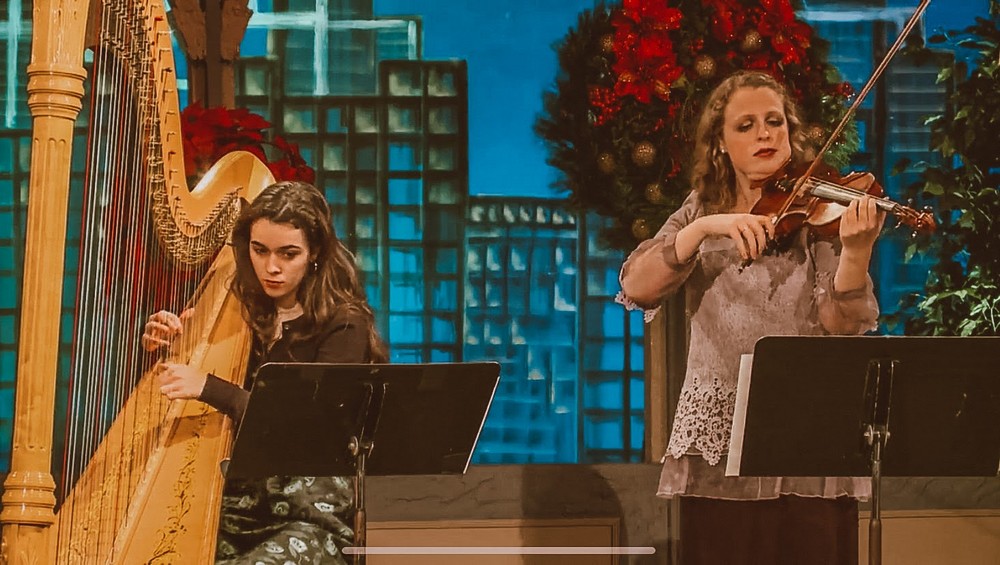 If you had a friend visiting you, what are some of the local spots you'd want to take them around to?
I love giving my friends tours of the area I grew up in. For someone who has never been to the Northern Atlanta suburb of Roswell, I would start with a morning hike at the Roswell Mill, where you can see the ruins of an old mill where factory workers made denim before it was burned by Union soldiers. The mill includes a beautiful waterfall tucked away where the water was dammed in order to create power to run the factory. The ruins of the factory with old machinery covered in ivy, and a huge covered bridge with multiple hiking trails makes for a gorgeous morning walk, especially for those interested in historical significance. Downtown Roswell in fact is called "Old Historic Roswell". I would then take the tour of the three Roswell plantations: Bulloch Hall, Barrington Hall, and the Smith Plantation. Each house comes with its own unique design and story, each having its own impact on the growth and production of Downtown Roswell. Canton Street offers its own southern charm as the Main Street of Downtown Roswell, including majority of Roswell's restaurants, breweries, and coffee-shops. Most of the buildings on the street are original businesses or residential homes built around the early 1900's that have since been renovated. A few of my favorite places to visit include Crazy Love Coffeehouse, which is a marketplace and a coffeeshop renovated from an historic residential home into a modern store. They are known for their Belgian Waffles. On Saturdays during the spring months, you may find a bus turned into a flower shop on wheels parked outside with freshly cut flowers, called Bursting Blooms.
Another favorite is Table and Main, owned by RO Hospitality. Known for having some of the best service, the best food, being family-oriented, and having one of the cutest patios, Table and Main was also renovated from a residential home built in the early 1900's into what is now a Simple, Seasonal, and Southern restaurant that is to die for! I recommend trying their Fried Chicken, and if its on the menu, their fried okra and brussel sprouts. I used to hate both of these vegetables until I tried them the way they make them.
About 15 minutes down the road is Downtown Alpharetta, similar to Roswell, just built up a little more. On Saturdays, Alpharetta has a farmer's market outside in front of the boutique stores. For coffee or drink recommendations or for a place to stay I would recommend checking out Valor Coffee, Jekyll Brewing Company, and the newest addition to Alpharetta, the Hamilton Hotel, with a 1920's themed Speakeasy hidden underneath.
If shopping is not successful in Alpharetta, then Avalon is the next stop. Avalon is similar to Atlantic Station and is a large outdoor mall that some say resembles Europe. The atmosphere alone is worth checking out. Nothing is better than sitting outside or walking past the shops listening to Frank Sinatra on a sunny day, or hearing old Christmas Classics as you watch people ice skate at the skating rink in December. Rumi's Kitchen is an incredible option for lunch or dinner. I think it is some of the best Persian food I have ever had. I would recommend trying their hummus appetizer, their Koobideh Kabob with the Grilled Vegetables, and their Baklava. If you do not want Baklava for dessert, you cannot go wrong with Jeni's Ice Cream or Cafe Intermezzo, which is just a few steps away.
Changing directions, there are a few places in Atlanta and Buckhead which are worth checking out. If you want a classy, upscale, and fancy experience with a view of the city's rooftop lights at night I highly recommend Capital Grille.
Piedmont Park is a small version of Central Park where I like riding scooters and playing games with friends on the lawn. You can even take a walk or bike the Beltline which will take you to Ponce City Market, which is an old Sears and Roebuck building built in 1925 that has since been renovated and contains multiple unique restaurants and stores, including a rooftop, which has a mini-golf course, carnival games, and sometimes a beautiful sunset view.
For a beautiful outdoor coffeeshop along the river, I recommend the Chattahoochee Coffee Company, located within an apartment complex that is open to the public during the week. It is a perfect place to enjoy a good book and good coffee.
Last but not least is the Marietta Square, also a historical place used as a train depot and built in 1833. I love eating at the Marietta Pizza Company or Taqueria Tsunami, and getting coffee at Cool Beans. For a fun gag gift, soda, or treat, then Rocket-Fizz is the candy store for you! My favorite part about it are their signs and posters with old fashioned movies, actors and quotes that are sure to give you a laugh or take you back in time.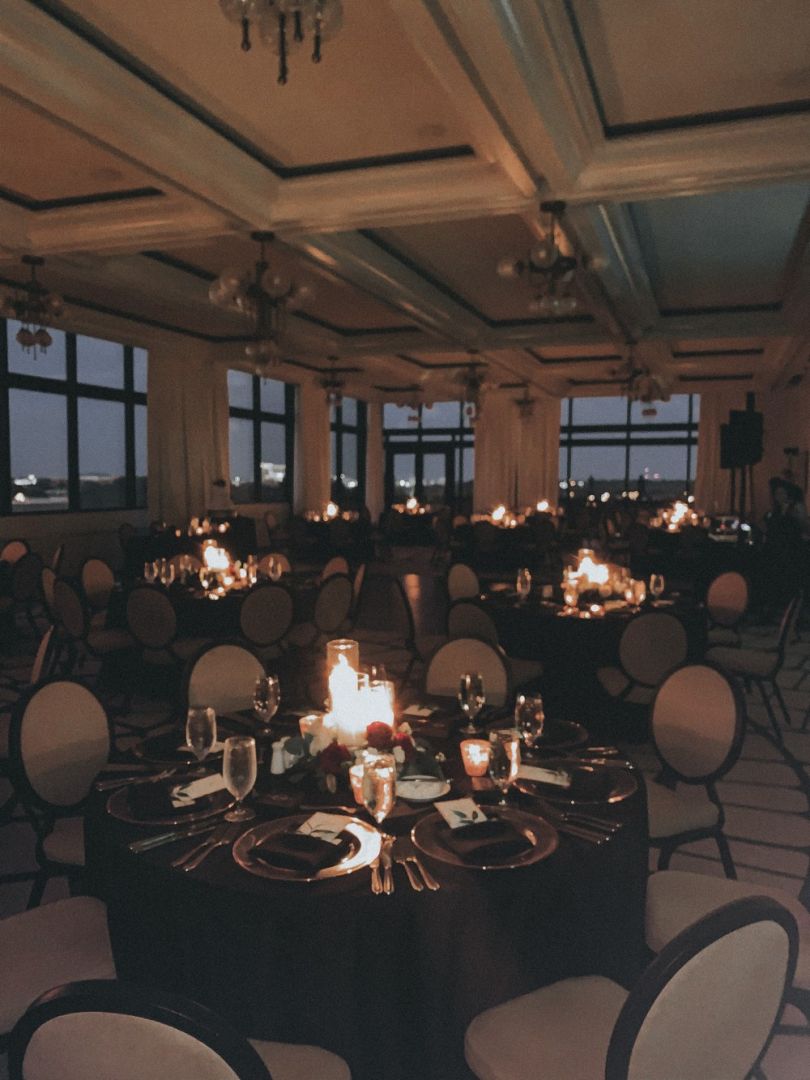 The Shoutout series is all about recognizing that our success and where we are in life is at least somewhat thanks to the efforts, support, mentorship, love and encouragement of others. So is there someone that you want to dedicate your shoutout to?
I would like to give a shoutout to my former and current voice teacher, Nathan Munson, who inspired both aspects of my music and who helped keep me sane throughout my college years. As a music major, I had around ten classes per semester, which included classes like music theory, aural skills, orchestra rehearsal, chamber rehearsal, lessons, electives, and several core classes. Voice lessons in this case counted as my elective credits. Nathan Munson performs voice throughout the Atlanta area and teaches as a professor of voice at Kennesaw State University in their music program. He was assigned to be my teacher the first semester of my freshman year. Mr. Munson was always very positive and encouraging towards both of my musical avenues. According to other students who had him as their teacher, his lessons were also a mini-therapy session when classes or life got tough for them. It was the same for me. Even though harp was what I was getting my main degree in, I still loved voice just as much and ended up pursuing it as an elective all four years. I do remember occasionally wanting to put off voice just because it was a lot of work having to practice both instruments for an appropriate amount of time each day and sometimes I felt I could not put in as much time dedicated specifically towards the harp as I should. However, Mr. Munson told me that I could do it and he knew my work ethic well enough to encourage me to continue. After putting all nerves and anxieties aside, together we came up with a practice system for both instruments as well as what kind of mindset it was important to have in order to handle both. This included paying attention to my own body's needs as music is very physically and mentally demanding. He also eventually encouraged me to perform along with other voice majors in front of the other voice faculty, even though I was not one and felt like I was not at the same level. He told me it would be good experience and he was there for every performance. It turned out, that he was right. I could totally do it, even though it was not always easy. He is a very dedicated teacher to his students, is an amazing vocalist, and not only do I consider him a teacher of mine, but also a friend.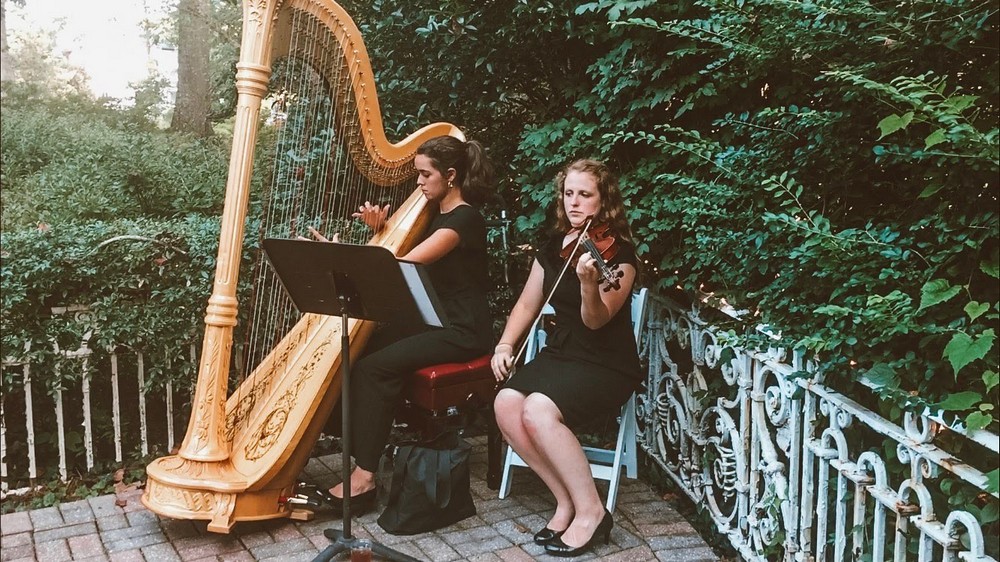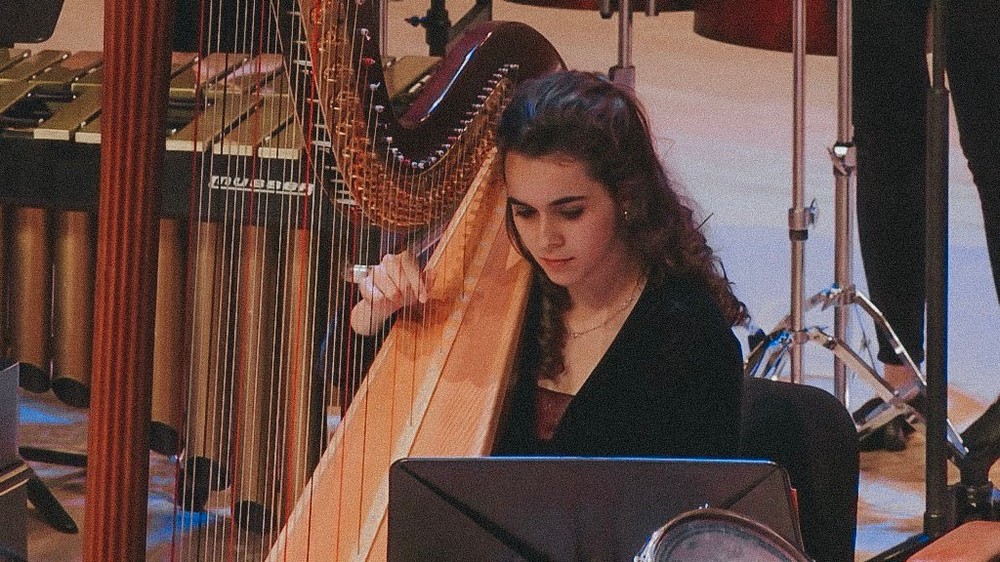 Website: https://www.singingharpist.com/
Instagram: https://www.instagram.com/atlanta_harpist/
Linkedin: https://www.linkedin.com/in/laurel-buchanan-71507b196/
Youtube: https://www.youtube.com/channel/UCMcDurM9MN4Kfje2y9ogM6A
Image Credits
Patrick Rogers Laurel Buchanan Debbie Wyatt Craig Obrist
Nominate Someone:
 ShoutoutAtlanta is built on recommendations and shoutouts from the community; it's how we uncover hidden gems, so if you or someone you know deserves recognition please let us know 
here.